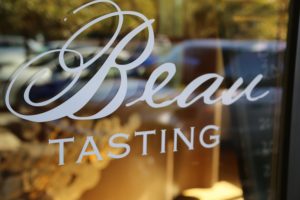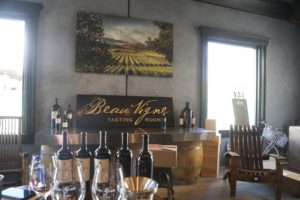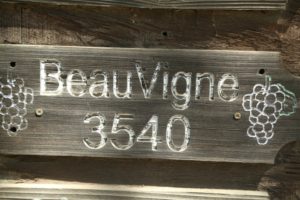 Beau Vigne Napa Valley (pronounced bo-veenya), meaning beautiful vineyard in French, was founded by Ed and Trish Snider with their first vintage dating from 2002; we originally spoke to both Ed and Trish when we wrote our initial notes for this review many years ago. Ed's family has deep roots in Napa Valley; his grandfather Martin Garzoli (died in 1938 at only age 44) arrived in Napa in 1913 as a child, a Swiss Italian who grew up making wine and was a rancher in Carneros. While working during the day farming in Napa and Sonoma, Martin would make home wine in the evenings. His son John would later be signed by the San Francisco 49ers football team in 1955 and coach football in the city of Napa. Ed is a native of Napa Valley and used to coach football at St. Helena High School. St. Helena is in the heart of Napa Valley and many children of vintners attend this school. As expected, a number of Ed's former students are now in the local and extended wine industry.
In 2018 Ed sold Beau Vigne to Arizona based individuals Don Dady and Jason Kyle. Jason used to be an NFL long snapper who played for 5 teams throughout his career including the San Francisco 49ers; Jason is an investor and co-owner of Press Coffee Roasters with select locations within Arizona. And Don is the co-founder of Annexus, a financial company based in Scottsdale and also owner of Seven Apart Winery located just north of the city of Napa.
Of hundreds of Napa Valley based brands who are no longer producing for whatever reason, it is always very interesting to dig into the reasons why a small brand is able to continue to find success despite changes in ownership. The right owners and timing certainly play a major role in continued operations. But so does the brand itself; Beau Vigne was already a well-established brand with an extremely loyal direct to consumer base. And it is important to note that it was not set up as a hobby brand but as a thoughtfully built operation with access to some of Napa's most premium vineyards and winemakers. And the results of their efforts were rewarded by wines that consumers developed a strong following for as well as prominent wine writers who often rewarded their top bottlings with handsome scores including a perfect 100-point score by Robert Parker for the 2013 Beau Vigne Reserve Napa Valley Cabernet Sauvignon.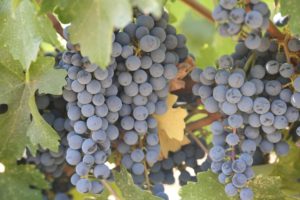 The vineyard source for creating their estate wines was from the Stags Ridge Vineyard, a 10-acre vineyard at about 1650 feet elevation on the slopes of Atlas Peak (at the top of Soda Canyon Road). This site was planted to 8 acres of Cabernet Sauvignon and a single acre planted to Cabernet Franc and Petit Verdot. Ed also sold this vineyard which is now a part of Seven Apart Winery's estate. Beau Vigne continues to source grapes from premium vineyards in Napa Valley.
In 2019 these individuals approached Appellation Trading Company about helping the liquidate inventory and close the Beau Vigne brand. Appellation Trading Company had different ideas. Now a part of their own portfolio of brands, they continued producing Beau Vigne but also created a number of other wines bottled under Beau Vigne, primarily for distribution.
Beau Vigne has always worked with highly regarded Napa Valley based winemakers. Dave Phinney was Beau Vigne's founding winemaker; he developed several very successful brands, including Orin Swift Cellars and the Prisoner (his early winemaking work in Napa Valley was at Robert Mondavi and Opus One). Kirk Venge has also crafted the wines and today winemaker Julien Fayard oversees their winemaking.
Fine vineyards, fine winemakers and a fine name: Beau Vigne translated from French into English, means fine wine.
Select Wines
Beau Vigne bottles wines under three different brands; the Legacy Series, the Signature Series and the Discovery Series.
The 2018 Beau Vigne Romeo Cabernet Sauvignon Napa Valley (Signature Series) is a blend of 92% Cabernet Sauvignon and 8% Petite Verdot; this wine is dark ruby and almost purple in color in the glass – it is nearly opaque. The bouquet is generous, filled primarily with darker fruit aromatics including of blackberry, boysenberry and dark plum along with violets. But there is also a pleasing union of lighter secondary aromas from the barrel aging including mocha, espresso, molasses and chocolate. The richness of fruit sings across the palate with flavors of dark cherry and blackberry, its generous and opulent but without any heavy-handed tannins. Structurally, one can feel the density of the tannins, but they are fairly rounded and fit in nicely, like perfectly matching a piece of a jig-saw puzzle. Lingers with a darker savory and spice note including of crushed pepper.
The 2018 Beau Vigne Juliet Cabernet Sauvignon Napa Valley (Signature Series) is as dark in the glass as the Romeo bottling and is a blend of 98% Cabernet Sauvignon and 2% Petit Verdot. The bouquet needs a bit more time to open than the same vintage of the Romeo but when it does, it shows plenty of dark fruit including dark plum, black cherry and boysenberry. These layered aromatics are framed by black licorice, dark chocolate, white pepper, old cedar box and subtle notes of clove. The palate is as dark as the bouquet with flavors of blackberry, dark plum and a light lingering tobacco spice. Shows a woodsy, dusty, savory and a dark spice finish anchored by gravelly structured tannins. Medium acidity.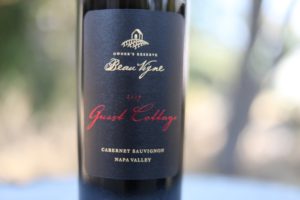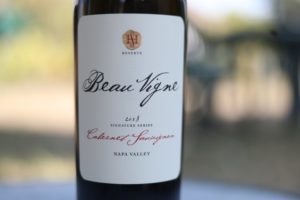 The 2018 Beau Vigne Reserve Cabernet Sauvignon Napa Valley (Signature Series) is even darker than the Romeo and Juliet bottlings; the 2018 vintage of any of the Beau Vigne wines is the last time grapes were used from the Stags Ridge Vineyard on Atlas Peak although grapes from other Atlas Peak locations are still being used in select bottlings. This wine is 100% varietal. The bouquet immediately offers dark, meaty and savory scents. It broods for a while but then opens to aromas of blackberry, violets, a rusting iron note, dark plum, old cedar box and some dark baking spices. This is a masculine showing across the palate, filled with dark savory notes both from the fruit and barrel aging. Structurally, it features a robust girth with dark, chewy, grippy, and extremely persistent tannins anchoring the very long finish. There is absolutely nothing shy about this bottling. Sizable cowboy hat, BBQ and big steak wine, enjoyed outdoors on a cool, but not cold evening. Would love to see where this wine is at in 10, 15 and 20 years.
The 2017 Beau Vigne Guest Cottage Cabernet Sauvignon (Owner's Reserve) was sourced from the Stags Ridge Vineyard on Atlas Peak. This wine is 100% varietal and was aged in 100% new French oak. Its name comes from the fact the grapes sourced for this bottling are from the highest block on the vineyard which borders the guest cottage. This wine is dark ruby in color; the bouquet offers a riper fruit forward showing including of blackberry, Santa Rosa plum and mulberry along with a diversity of intriguing baking and Asian spices. The palate offers a robust richness of fruit but is balanced with earthy, dense, dark, dry and gravelly feeling tannins. Lingers with some influence of alcohol and a dried tobacco leaf characteristic.
The 2016 Beau Vigne Cult Napa Valley is 98% Cabernet Sauvignon and 2% Cabernet Franc and was aged for 21 months in 90% new French oak; the simple label is silk screened with real gold. This wine is dark ruby in color with purplish tinges on the rim in the glass; the bouquet is focused on the richness of fruit with the oak acting as a complementary character. The aromas are opulent and ripe and show scents of blackberry jam, dark plum, sage and old tobacco box. Filled with layers of flavor followed by a lingering finish showcasing chewy, grippy, dry and persistent tannins along with dried tobacco leaf and old cedar. Structurally the tannins are very noticeable but are perhaps not as robust as one might think from a wine labeled as cult. This wine is nearly 16% alcohol although the acid helps keep the alcohol in check. There are several other cult bottlings from at least one other Napa Valley based producer, but the name cult cannot be trademarked due to its descriptive nature.
The 2008 Beau Vigne "Persuasion" is one of their few non-Napa Valley wines; this bottling was sourced from the Russian River region of neighboring Sonoma County. It was aged entirely in new French oak, of which about 25% were new barrels. The lively and very aromatic bouquet hints at the complexity of flavor to be found on the palate including tropical flavors of passion fruit and pineapple as well as melon. This wine has good weight; it is creamy without the buttery characteristics that are so often associated with California styled wines of this variety.
Their 2008 Beau Vigne Juliet Cabernet Sauvignon has a very appealing flavor profile; when we tasted this in 2011 it was their most produced wine. One of the most intriguing components of this wine is how balanced it is for being so young. The nose is elegant showing a lot of fruit aromas (more black fruit than red fruit). Black cherry and black currant are the core of the flavor profile. The dusty tannins are highly persistent.
The 2007 Beau Vigne Reserve Cabernet offers a bouquet that is slightly more restrained than some of the other bottlings; the nose is elegant. Notes of black fig and red cherry show on the richly flavored palate; this bottling is certainly drinkable now but should continue to evolve nicely for a number of years. It is a wine that is built to age. Again, this wine has Dave Phinney's signature trademark…balance.
Tastings, Vintner's Collective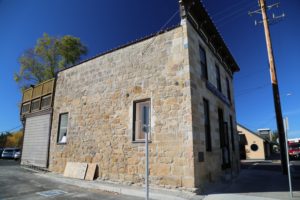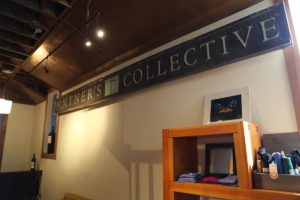 From 2010 until early 2020, Beau Vigne operated a small tasting room in Yountville behind Washington Square near R&D Kitchen and next door to the space that formerly housed the AERENA Galleries & Gardens. Starting in late 2022, Beau Vigne became part of a coveted collection of vintners represented at Vintner's Collective, the city of Napa's oldest collective tasting room. Select bottlings and vintages of Beau Vigne are available for tasting and purchase here. Vintner's Collective showcases wines from a select group of mostly Napa Valley based producers – most of which do not have their own tasting rooms. And it's not easy to have one's wines represented here. Vintner's Collective has an in-depth vetting process to make sure the wines match what their customers are interested in, including varieties, price points and wine styles.
The tasting flights differ everyday which is certainly part of the appeal for visitors. Unless one is acutely tuned into the world of boutique Napa Valley producers, one probably will never have heard of any of the labels that are being poured, and that is not a bad thing. These wines represented are typically from producers who have a maximum production of 1000 cases. A number of tasting flights are offered and are geared towards all levels of wine interest and prior knowledge.
Walk-in customers are generally welcome if space allows but appointments can also be requested including for more private tastings hosted upstairs.
—
Total production has increased significantly since Ed began Beau Vigne, although their signature series is still under 1,000 case per year while their distributed wines are closer to 20,000 cases per year. For more information, to join either their mailing list or wine club, or schedule a tasting, visit: www.beauvigne.com
Tasting room (now closed, but we keep these photographs here for historical reference).