Baldacci Family Vineyards is located in a beautiful part of the Napa Valley just off of the Silverado Trail (west side) slightly south of the Yountville Cross Road. The property was purchased by Tom & Brenda Baldacci in 1997 and was then replanted; they sold grapes for two years before making their own wine. Their first release was in 2003. Tom has a background in real estate development and planned on fixing up the property to sell – even putting in a cave. However, this is the Stags Leap District, one of the Napa Valleys most highly regarded Cabernet Sauvignon producing sub appellations and fortunately Tom decided to build the winery rather than selling the property. Perhaps his family heritage had something to do with his decision, being the grandson of Italian immigrants, who made their own wine.
The second generation has become involved in the family business – son Michael works on their wine making team.
The property was also valuable because there was already an existing separate turn lane on Silverado Trail. Since their original purchase they acquired additional vineyard land in the Napa Valley including property in the Carneros region (near Etude Winery) where they grow Chardonnay, Pinot Noir, Syrah and Gewurztraminer, Calistoga (near Diamond Mountain Road on the valley floor) where they grow Cabernet Sauvignon and a smaller vineyard block immediately south of their winery location.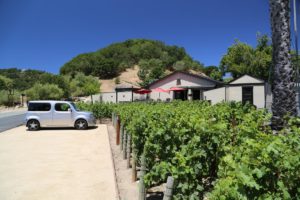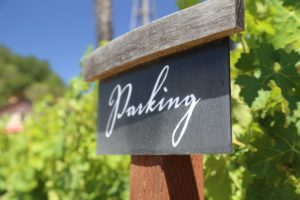 A tasting is relaxed and is held in a small house or weather permitting, is conducted outside on their patio. A glorious warm spring day with nearby vineyards full of golden mustard is a perfect time to visit this winery. Ask for a tour if they have enough staff in the tasting room – this is one of the highlights of visiting Baldacci. Your host will accompany you into the cave.
Several thousand square feet of wine caves were built into the hillside (next to the winery). Parts of the caves were drilled through almost solid rock and as a result the cave construction took significantly longer than originally anticipated. A visit here is a very personalized experience especially during the tour – and the staff is quite knowledgeable as evidenced during our first visit when we peppered the wine guide with a plethora of questions above and beyond what most tourists will ask (barrel aging, toasts, coopers, French/American Oak, etc).
It is always neat to see how a "vintage" shapes a wine and can create such a completely different wine from year to year. Such is the case with the 2006 and 2005 Baldacci Elizabeth Pinot Noirs from the Carneros region. The 2006 Baldacci Elizabeth Pinot Noir is lighter in color and body. It is a pleasing wine easily consumed with pretty floral and lavender aromas on the bouquet with just a hint of earthiness. The fruit is truly the backbone of this wine, strawberries and raspberry with mild tannins and a light finish. The 2005 Baldacci Elizabeth Pinot Noir on the other hand is much darker and the backbone of this wine are the spices both in aroma and on the palate. In addition, this is a very earthy wine with notes of black pepper and other darker spices among the strawberry and raspberry flavors.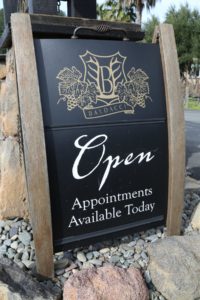 The Stags Leap District is one of Napa's most well-known regions for growing Cabernet Sauvignon and Baldacci's estate Cabernet does not disappoint. The 2005 IV Sons is named after Tom's four boys. This is a wine that will age very well – if you can't wait 5-7 years and you drink it early consider pairing this with food – especially something tomato based which will cut through the tannins and help smooth out the wine.
The 2005 Allwin Syrah is named after Tom's grandmother. The grapes for this wine come from the Coombsville area just east of the town of Napa which is a cooler growing region than on site. This is a very aromatic wine with vanilla, cherry and a hint of mocha on the nose leading to a full body with notes of blackberry and pomegranate. During a later visit, we tried the 2014 vintage. This wine still continues to over deliver for the price point.
For those who prefer white wines, be sure to try their Gewurztraminer. The 2016 Baldacci Gewurztraminer is rich in aromatics and flavor yet nicely balanced on the palate. Additional wines are made in extremely small quantities and are typically available only at the winery or through the wine club, "Baldacci Family Reunion".
Baldacci Family Vineyards currently produces about 8,000 cases a year. They were one of the early clients in Total Wine & More – back when they operated something like only 12 stores. Today this retailer operates more then 150 stores around select parts of the country and Baldacci's wines are still selectively carried in store.
NOTE: this review has been identified as needing a **major** update; we can't wait until all the construction is completed! We will revisit once their new hospitality center is open. Their original hospitality center is no longer open for tastings. However, retail sales are still available during their normal business hours and tastings have been moved to a temporary building on site.
Plans call for a new hospitality and visitor's center – with the hospitality center to possibly open by 2020 or 2021 and updates to their winery facility to possibly be completed in 2020 or 2021. Prior to their new hospitality center opening – a temporary tasting room opened in August 2017 (in conjunction with their new driveway) and this red barn stood in as a fake winery in a scene from the movie, Wine Country.
For more information or to join their wine club, visit: www.baldaccivineyards.com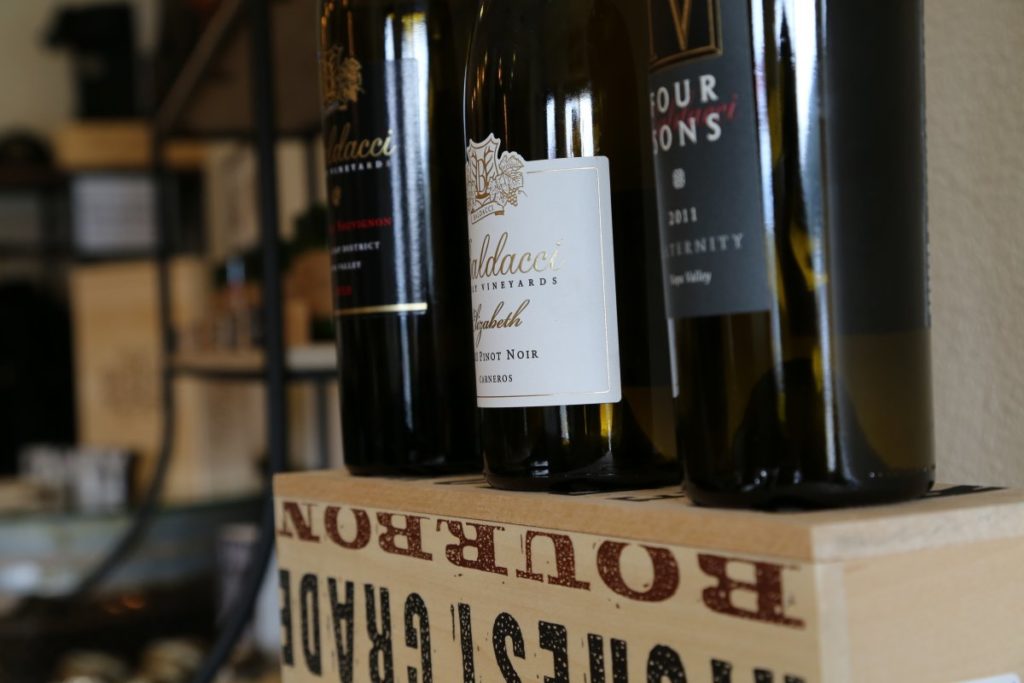 Red Barn

Winery