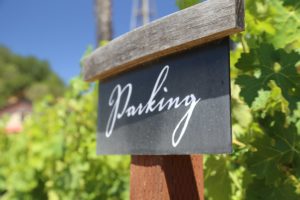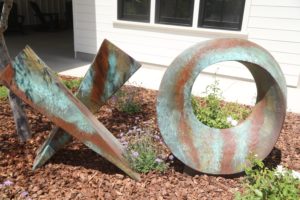 Baldacci Family Vineyards is located in a beautiful part of the Napa Valley just off of the Silverado Trail (west side) slightly south of the Yountville Cross Road. Records show the property was originally planted to grapes in 1888; it was purchased by Thomas (Tom) & Brenda Baldacci in 1998. The site caught their eye for several reasons: an unfinished house at the time on top of one of the coveted few knolls rising from the valley floor, the views from the site, an existing vineyard (which needed direction) and an already an existing separate turn lane on Silverado Trail (turn lanes are not cheap to put in, the bill for these is typically charged to new wineries).
The property had been on sale for about a year before Tom and Brenda made the purchase; they saw positives that others saw as detrimental. Interested parties saw the unfinished house as too much work, and those who wanted the property purely from a viticulture perspective were discouraged by the perceived significant amount of work needed in the vineyard.
The property is located in the Stags Leap District, one of the Napa Valley's most highly regarded Cabernet Sauvignon producing sub appellations. For approximately six years, the family sold grapes, including to notable producers such as Rombauer, Shafer Vineyards and Clos du Val. Eventually, Tom decided to build a winery rather than selling the property. Perhaps his family heritage had something to do with his decision, being the grandson of Italian immigrants, who made their own wine. Over the years the entire vineyard has been replanted. They made wine in 1998 and 1999 but not commercially – their first vintage was in 2000, released in 2003.
Tom's father, Paul Baldacci founded Castle Construction Company in 1966; over the years this family-owned business has built thousands of homes, primarily within the San Francisco Bay Area. Since their founding, they have diversified their construction services to also include commercial spaces, office, and warehouse facilities and have renovated a number of shopping centers.
Today the company is known as Castle Companies Inc, based in San Ramon, which also oversees Castle Management, a property management company. Tom is still the principal owner of the company – he used to be president of Castle Companies, Inc.
Since their original purchase of what is now called Winery Ranch in Stags Leap District (29 acres), they acquired additional vineyard land in the Napa Valley including the 23 acre Honey B Vineyard on the Napa side of Carneros District (near Etude Winery) in 2004 where Chardonnay, Pinot Noir, Syrah and Gewurztraminer are grown and the 17 acre Stella Knight Vineyard just south of Calistoga and slightly north of Diamond Mountain Road on the valley floor, planted entirely to Clone 6 Cabernet Sauvignon.
The second generation has become involved in the family business – son Michael has been winemaker since 2018, although he began working with the winemaking team in 2021. Texture is an extremely important component in his winemaking, self-admitting, "I am a texturally driven winemaker."
Hospitality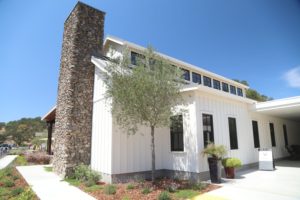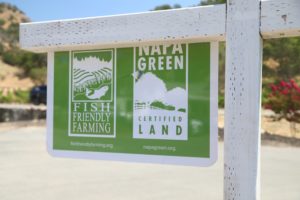 After about 7 years of both planning and construction, a new hospitality center opened in July 2021. This space was envisioned by Tom who worked with architect Douglas Thorney and builder, Bradley Mitchell. The space features a seated tasting bar plus several rooms for more intimate tastings. And a gorgeous exterior patio with seating overlooking both their vineyards and the surrounding picturesque terrain 9s also part of the hospitality experience.
Seven thousand square feet of wine caves were originally built into the hillside (next to the winery). Parts of the caves were drilled through almost solid rock and as a result the cave construction took significantly longer than originally anticipated. As part of their upgrade, another 11,000 square feet of caves were completed in 2020. For many years, an outdoor area next to the cave entrance was used for storing tanks and select fermentation – certainly a challenging environment with difficulty at times maintaining a desired temperature control. With the additional space, all their tanks are now stored inside the cave. The new part of the cave was drilled so the vertical reach is 22 feet from the floor to the ceiling, a much more spacious interior than most wine caves in the Napa Valley.
A visit here is a very personalized experience especially if one books a tour of the cellar. The staff is very hospitable, well trained, and knowledgeable about the wine industry. We experienced this during our first visit years ago when we peppered the educator with numerous questions above and beyond what most tourists ask (i.e., barrel aging, toast levels, types of coopers and types of oak used).
Select Wines
The 2017 Baldacci Family Vineyards Chardonnay (Sorelle) was sourced from their Honey B Vineyard on the Napa side of the Carneros District. After harvesting these grapes were whole cluster pressed and then fermented in French oak barrels (30% new) using indigenous yeasts. The wine went through full malolactic fermentation and was then aged for 9 months sur lie (stirred once a week). One notices the color immediately on this wine – its darker yellow then many Napa grown current-release Chardonnays. The bouquet shows aromas of honeycomb (smells like when we use to pull out the frames from our hives up in Calistoga), ripe yellow pineapple, hints of caramel and honeysuckle blossoms. Big but balanced, the palate shows richness of flavor combined with a slightly creamy mouth feel. Rounded on the finish – lingers with flavors of vanilla, hints of butter and some dessert spices. This is a rich expression of this varietal – a wine well worth seeking out.
Each Baldacci crafted wine is named after a family member or in tribute to family. This wine is a dedication to Tom's sisters (sorelle in Italian means sisters) – from the back label, "Beauty, strength and confidence are words to describe my sisters, Lisa, Loretta and Marilyn. This wine is created to share my love for these wonderful women."
The Baldacci Family Vineyards 2018 Elizabeth Pinot Noir, Honey B Vineyard is styled to be a more robust Pinot Noir but still reflects the varietal characteristics. Tom likes to say, "don't make a wimpy Pinot Noir" and Michael adds, "don't be scared of Pinot Noir in the vineyard or the cellar". This wine spent nearly 4 days cold soaking before fermentation started and was fermented with about 5% whole cluster. It was aged 11 months in 55% new French oak barrels. The wine is medium ruby in color; opens to aromas of raspberry, dried rose petals, old cedar box and white pepper. The palate shows more fruit than the bouquet (although the bouquet does show more fruit as it opens) with flavors of red licorice, raspberry and a note of red cherry. Has depth of flavor complemented nicely with a simultaneous suppleness running the breadth of the palate.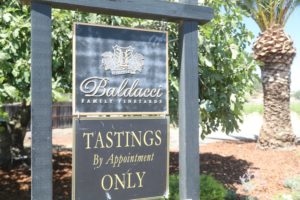 The 2018 Baldacci Family Vineyards Syrah, Honey B Vineyard is according to Michael, the most unique wine he makes each year. The grapes hang longer in the cooler Carneros marine influenced climate and are often the last of their varieties to be harvested each year. This wine is dark ruby in color with purple tinges on the rim; the aromatics are very distinctive and are floral including notes of violets and dried herbs. The aromatics are savory, yet they are also elegant. Highly youthful and energetic in the glass the wine offers mouthwatering flavors of dark cherry, black licorice and boysenberry. Fresh, lively and juicy. The tannins are well-textured and noticeable with a medium grip and are slightly chewy, but not course in their feel. These grapes can hold up to a heavier oak toast profile. There is plenty of life ahead of this wine. Allocated to members only.
Fraternity Red has evolved from a blend of wines that did not fit into the rest of their portfolio to a wine that is now crafted with more intent. Michael spends significant time on blending trials before making the final blending decision. The 2019 Baldacci Family Vineyards Fraternity Red is a blend of 46% Cabernet Sauvignon, 34% Merlot, 16% Syrah and 4% Cabernet Franc. Dark ruby in color, the aromatics include blackberry, boysenberry, cedar, a wintergreen sweetness and chocolate. Shows plenty of fruit on the palate with long lasting flavor and long lasting gravely textured tannins.
The 2018 Baldacci Family Vineyards Calistoga Cabernet Sauvignon is medium to dark ruby in color; offers very pretty aromatics that are ripe but not over ripe. Includes dark plum, blackberry and cedar. Also, a sweetness of fruit. The palate shows both red and dark fruits – and is very balanced from start to finish. Offers a surprising freshness across the palate that perhaps one doesn't always associate with warmer Calistoga vineyard sites. Features rounded and slightly chalky tannins.
Stags Leap District is one of Napa Valley's most well-known regions for growing Cabernet Sauvignon and Baldacci produces two 100% varietal wines from their estate (Winery Ranch); the Black Label and Brenda's Vineyard.
The 2018 Baldacci Family Vineyards Black Label Stags Leap District Cabernet Sauvignon is dark ruby in color; reveals aromas of dust, blackberry and other darker fruits. Also, savory and briary with a hint of pepper herb note along with cedar and an iron nuance on the bouquet. Shows plenty of textural density of tannins on the finish, gravelly, more rounded in feel than coarse and certainly long lasting. Some of the savory notes on the bouquet show on the finish including a hint of pepper and old cedar box.
The 2018 Baldacci Family Vineyards Brenda's Vineyard Stags Leap District Cabernet Sauvignon is a barrel selection of their best barrels of Cabernet Sauvignon each year. While this is a barrel selection, prior to harvest each year, Michael already has an idea of the best blocks that will be allocated to this particular wine, a reserve bottling if you will. This wine was aged in 85% new French oak. Offers plenty of darker fruit aromatics on the bouquet including blackberry and plum along with dark olive and dark chocolate. Opens to some dessert spices as it evolves in the glass including mocha and hints of cedar box. This wine offers an intensity of fruit across the palate (well layered) without being texturally heavy. Big but balanced. Texture is a hallmark of this beauty with its dusty, earthy and slightly chalky tannins. Allocated to members only.
Older vintages
The 2005 Baldacci Family Vineyards IV Sons is named in honor of Tom's four boys. This is a wine that will age very well – if you can't wait 5-7 years and you drink it early consider pairing this with food – especially something tomato based which will cut through the tannins and help smooth out the wine.
The 2005 Baldacci Family Vineyards Allwin Syrah is named after Tom's grandmother. The grapes for this wine come from the Coombsville area just east of the town of Napa which is a cooler growing region than on site. This is a very aromatic wine with vanilla, cherry and a hint of mocha on the nose leading to a full body with notes of blackberry and pomegranate. During a later visit, we tried the 2014 vintage. This wine still continues to over deliver for the price point.
—
Additional wines are made in extremely small quantities and are typically available only at the winery or through the wine club, "Baldacci Family Reunion". Baldacci Family Vineyards currently produces about 9,000 cases a year. They were one of the early clients in Total Wine & More – back when they operated less than 15 stores. Today this retailer operates more than 150 stores around select parts of the country and Baldacci's wines are still selectively carried in-store.
Also, interesting to note is the prominent old red barn just south of their cave and hospitality center; this stood in as a fake winery in a scene from the 2019 movie, Wine Country.
Baldacci Vineyards should never be confused for Balducci Vineyards, located in Augusta Missouri (slightly different spelling of the last name).
Old timers will recall the short turn lane into the original entrance. This has since been changed to a turn lane further south of the winery, with the driveway paralleling the Silverado Trail before reaching their parking lot. For more information, to schedule a visit and tasting or to join their wine club, visit: www.baldaccivineyards.com
Hospitality

Winery Cave

Winery Ranch, Stags Leap District

Honey B Ranch, Carneros
Photos coming soon.
Stella Knight Vineyard, Calistoga

Original Hospitality House/Winemaking

Red Barn