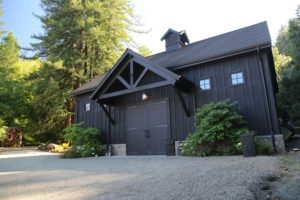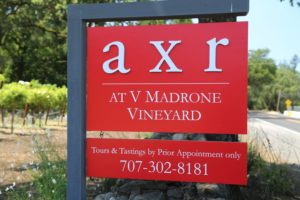 AXR Napa Valley is a partnership between four individuals including winemaker Jean Hoefliger. At first glance one might wonder why choose a name like AXR – based on the devastation wreaked by Phylloxera on this non resistant root-stock. We certainly thought this when we first heard about AXR several years ago in a random Korean restaurant in Koreatown, Los Angeles from one of the owners' daughters. But if you dig a bit deeper and explore Jean's own history working with grapes grown on AXR, the name makes perfect sense.
AXR (Aramond x Rupestris) rootstock was an integral component of growing grapes in California's modern wine industry. It also ties into the fact that Jean is originally from Switzerland – connecting both his European and American 'roots' so to speak. Despite the financial hardship of having to replant a significant number of vines in the state as a result of Phylloxera, it was a chance for vintners to reset and re-evaluate best suited root-stocks, clonal selections and varietals for their particular terroir.
Jean has worked with grapes growing on AXR rootock including at Newton Vineyards where a portion of their vines were never effected by Phylloxera. Based on our own visits and knowledge, select hillside vineyard pockets in Napa currently contain vines on AXR – where for whatever reasons there is no Phylloxera in the soils.
Born and raised in Laussane Switzerland, Jean has worked at a number of wineries in Europe including Château Lynch-Bages in Bordeax and further afield Meerlust Inc., in South Africa. He came to the Napa Valley in 2001 specifically to become the winemaker at Newton Vineyards. He was the founding winemaker and General Manager at Alpha Omega Winery (today he is consulting winemaker for Alpha Omega's three wineries). In addition he consults or makes wine for a number of mostly Napa clients.
When deciding which varietals to start producing they chose two varietals that Napa is known for, Cabernet Sauvignon and Chardonnay. The 'spices' as Jean calls them are additional wines that will be added to their portfolio in the ensuing years to showcase Napa's diversity of terroir.
Jean truly appreciates how wine brings people together and fosters what perhaps has become somewhat lost in modern society – the art of interaction and conversation. And the emotion wine evokes in people. He laments the fact that technology is taking away from time spent with family especially during meals.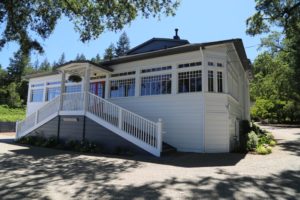 Just before we were about to taste the wine Jean informed us of something that no vintner has ever told us – his Chardonnay 'sucks'. Actually, this statement was about as far from the truth as possible – and if you spend any amount of time with Jean you quickly realize his dry sense of humor is an integral part of his personality!
If Jean only had one word to sum up his wine making it would be 'balance'. He has witnessed how Chardonnay styles tended towards the extremes based on various trends – in the 1980's Napa and California Chardonnays trended towards very oaky and buttery driven wines and later the trend was more crisp, unoaked Chablis style wines of this varietal. His goal with all his wines is balance but especially with so this varietal.
Jean ferments the Chardonnay slowly in barrel (all French oak, 50% new) – this vintage took about 10 months to fully ferment. Jean was perhaps one of the first winemakers in Napa to ferment in barrels in 2001. He recalls starting with just three barrel ferments – now he ferments over 1,000 barrels of wine each year. He tends to use indigenous yeast for his fermentations including for this wine.
The 2013 Chardonnay is lighter golden in the glass; it reveals aromas of pineapple, hints of caramel, honeysuckle and as it opens further the bouquet becomes sweeter in nature with aromas of honey along with tropical nuances. On the palate, it shows some nice weight and is lively in flavor and feel. Additional notes of pineapple show with just a hint of oak influence on the finish.
The 2013 Cabernet Sauvignon has an elegant smokiness that is immediately intriguing aromatically. Shows hints of delicate cedar, cigar smoke along with a floral component. The palate shows both red and dark fruit flavors – red currant, darker cherry and blackberry. Balanced beautifully. Lively on the palate with both fruit and dusty, earthy and somewhat dense tannins that persist on a long finish.
It is interesting to hear Jean's perspective on alcohol levels and ageability. At the time of our tasting he had returned from Italy the day before and spoke of tasting a number of older wines. Some of the best older vintages he recalled were from warm years in France with noticeably higher alcohol levels. But along with that came additional tannins. He strives to make wines that are approachable in their youth but will develop a balance as they age.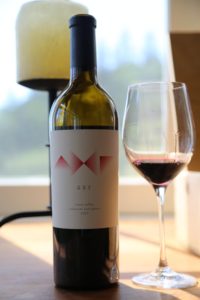 On January 1, 2017 AXR purchased the V Madrone property located just north of Saint Helena. The purchase included both the already planted 3 1/2 acres of vineyards, the winery and the V Madrone label and existing inventory. Both the AXR wines and the V Madrone wines will be produced here, visitors to the property can taste either wines.
The original winery on site operated in the 1880's; a successful lodge was in operation in the 1920's and 30's operated by a Hungarian family. This lodge was called "The Madrone's" named after the plethora of Madrone trees scattered around the property. There are still Madrone trees growing on site – quite obvious because of their reddish bark
The original winery on site was called August Hersch, named after the owner; 20,000 gallons were produced annually. The property is less then the 10 acre county minimum for building a winery, unless a pre-existing bond can be located. As luck would have it, a dedicated local historical researcher uncovered a story on the front page of an old St. Helena Star newspaper, identifying the original winery on site. The Victorian style building which served as headquarters for the lodge still exists and is built on top of the original stonework for the old winery. Tastings are held inside this building – it is a short walk to the winery on the back of the property for guests who wish to try some barrel samples.
Jean is a whirl wind wealth of wine knowledge. Imposing at 6'6″, his wit and self deprecating humor at times immediately puts one at ease. Visits are not meant to be rushed – the focus is on the wines and good conversation. And sometimes Jean is available to host the tastings.
For more information or to join their mailing list or wine club, please visit: www.axrwinery.com
Hospitality

Estate Vineyard