AXR Napa Valley is a partnership between four individuals (referred to as the FAB 4) including winemaker Jean Hoefliger, Don Van Laeken, Kelly Trevethan and Mark Schratz. At first glance one might wonder why choose a name like AXR – based on the devastation phylloxera wreaks on this nonresistant rootstock. We certainly thought this when we first heard about AXR several years ago in a random Korean restaurant in Koreatown, Los Angeles from Allie Schratz, daughter of co-founder Mark Schratz. But if you dig a bit deeper and explore Jean's own history working with grapes grown on AXR, the name makes perfect sense.
AXR (Aramond x Rupestris) rootstock was an integral component of growing grapes in California's modern wine industry. It also ties into the fact that Jean is originally from Switzerland – connecting both his European and American 'roots' so to speak. Despite the financial hardship of having to replant a significant number of vines in the state as a result of Phylloxera, it was a chance for vintners to reset and re-evaluate best suited rootstocks, clonal selections and varietals for their particular terroir.
Jean has worked with grapes growing on AXR rootock including at Newton Vineyards where a portion of their vines were never affected by Phylloxera. Based on our own visits and knowledge, select hillside vineyard pockets in Napa currently contain vines on AXR – where for whatever reasons there is no Phylloxera in the soils.
Born and raised in Laussane Switzerland, Jean has worked at a number of wineries in Europe including Château Lynch-Bages in Bordeaux and further afield Meerlust Inc., in South Africa. The first winery he worked at was Clos de la Republique Fonjallaz Patrick on the shores of beautiful Lake Geneva. Jean came to Napa Valley in 2001 specifically to become the winemaker at Newton Vineyards. He was the founding winemaker and General Manager at Alpha Omega Winery. In addition, he consults or makes wine for a number of mostly Napa Valley based clients.
When deciding which varieties to start producing wines from, AXR chose two varieties that Napa is most known for, Cabernet Sauvignon and Chardonnay. The 'spices' as Jean calls them are additional wines that have been added to their portfolio showcasing Napa's diversity of terroir including both valley floor and hillside sites. These are single vineyard 100% varietal Cabernet Sauvignon wines from some of the valley's most prestigious vineyards.
Clos de la Republique Fonjallaz Patrick

Jean truly appreciates how wine brings people together and fosters what perhaps has become somewhat lost in modern society – the art of interaction and conversation. And the emotion wine evokes in people. He laments the fact that technology is taking away from time spent with family especially during meals.
Just before we were about to taste the wine Jean informed us of something that no vintner has ever told us – his Chardonnay 'sucks'. Actually, this statement was about as far from the truth as possible – and if you spend any amount of time with Jean you quickly realize his dry sense of humor is an integral part of his personality!
It is interesting to hear Jean's perspective on alcohol levels and ageability. At the time of our first visit to AXR, he had returned from Italy the day before and spoke of tasting a number of older wines. Some of the best older vintages he recalled were from warm years in France with noticeably higher alcohol levels. But along with that came additional tannins. He strives to make wines that are approachable in their youth but will develop a balance as they age.
Select Wines
Whites
If Jean only had one word to sum up his wine making it would be 'balance'. He has witnessed how Chardonnay styles followed extremes based on various trends. In the 1980s Napa and California Chardonnays became very oaky and buttery driven wines while later the trend was towards more crisp, unoaked Chablis style wines of this variety. Jean's goal with all his wines is balance but especially with so with Chardonnay.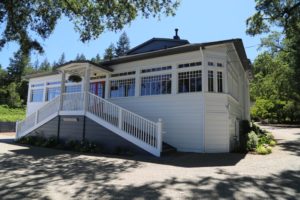 Jean ferments his Chardonnay slowly in barrel (all French oak, 50% new) – the 2013 vintage took about 10 months to fully ferment. In 2001, Jean was perhaps one of the first winemakers in Napa Valley to ferment in barrels. He recalls starting with just three-barrel ferments; now he ferments over 1,000 barrels of wine each year. He tends to use indigenous yeast for his fermentation, including for this wine.
The 2013 AXR Chardonnay is lighter golden in the glass; it reveals aromas of pineapple, hints of caramel, honeysuckle and as it opens further the bouquet becomes sweeter in nature with aromas of honey along with tropical nuances. On the palate, it shows some nice weight and is lively in flavor and feel. Additional notes of pineapple show with just a hint of oak influence on the finish.
And the vines that produce the Chardonnay for their Russian River Ritchie vineyard designate wine, are all planted on AXR rootstock.
Reds
The 2013 AXR Cabernet Sauvignon offers an elegant smoky aroma which is immediately intriguing. This wine shows hints of delicate cedar, cigar smoke along with a floral component. The palate shows both red and dark fruit flavors including red currant, darker cherry and blackberry. Beautifully balanced. It is lively on the palate with both fruit and dusty, earthy and somewhat dense tannins which persist on a long finish.
As a small producer Jean spoke of how it was helpful to be nimble during the 2017 vintage. This was the year of the terrible fires in both Napa and Sonoma County and as soon as the fires began in early October Jean was able to coordinate vineyard picks at the last minute including harvesting their grapes and bringing them to the winery before the skies filled with smoke. Jean appreciates the 2017 vintage because the AXR the grapes were picked earlier because of the fires and as a result the wines generally have very good acid.
The 2017 AXR Sleeping Lady Cabernet Sauvignon. The bouquet is elegant showing blue fruit aromatics with notes of cedar plank and a floral nuance. This is a fun wine to keep smelling. Supple across the palate this wine is very approachable in its youth. For such a young wine the tannins are already quite well balanced; smoothly polished they linger softly and are well integrated into the finish.
The 2017 AXR To Kalon Vineyard. This hefty bottling shows a perceptible sweetness of aroma including a diversity of fruit, dried cranberries along with darker cedar notes. It is somewhat brooding as the bouquet evolves in the glass. This wine also shows notes of blackberry, white pepper, brown chocolate and coffee grinds. It offers plenty of aromatic depth – just give it some time. The layers of flavor build across the palate until its crescendo featuring a dense framework of tightly gripping tannins along with vivid acidity.
The 2017 AXR V Madrone Vineyard Cabernet Sauvignon like all of Jean's wines is very dark in color – inky shades of dark red. The fruit is the dominant characteristic on the bouquet – showing less influence of oak then several of the other single vineyard wines in the portfolio. Features dark fruit including blackberry and plum along with bittersweet chocolate, cloves and other darker spices. Somewhat savory and showcasing an intensity of aroma. An opulence of fruit shows across the palate, framed by young still tightly woven tannins which are slightly chewy on the finish.
The 2017 AXR Denali Vineyard Cabernet Sauvignon offers both red and darker fruit aromatics with both a minerality and a floral note (violets). Dried tobacco leaf. Somewhat briary. Intensely flavored, it is complemented by a bright acidity anchoring the palate – a freshness if you will. This bottling shows more red fruit tones than darker fruits including flavors of red cherry, plum along with blueberry. It lingers, mouthwatering with firm, drying and dusty tannins anchoring a long finish.
Still without a proprietary name, the flagship wine is simply referred to as AXR Napa Valley; this wine is a blend of fruit built from an impressive collection of all of their single source vineyards. The 2017 AXR Napa Valley is dark ruby with plenty of riveting aromatics including tobacco leaf, cigar smoke, scorched earth, dust, black olive and blueberry. The power of this wine on the palate is in its intensity of fruit – it just keeps coming! Finishes with notes of cigar smoke, dustiness and gripping tannins. Broad shouldered and well-built for ageability.
In 2022 AXR released the inaugural vintage of thvs, a 2019 two-barrel production of 95% Cabernet Sauvignon and 5% Cabernet Franc. One has to be creative these days with wine brand names due to so many names already being trademarked. This wine is named using the first initial of each of the AXR founders last names: Kelly Trevethan, Jean Hoefliger, Don Van Laeken, and Mark Schratz. In homage to the redwood trees, and specifically the redwood circle growing on the AXR property, the founders used an imprint of redwood tree rings as the graphic for this label.
Swiss wines
In 2023 AXR released two wines that Jean produced from Swiss vineyards, a Doral and a Gamaret produced at Cave de la Côte Winery in Vaud, Switzerland. Jean's cousin, Julien Hoefliger is the president of this winery. Cave de la Côte was founded in 1929 and currently works with growers who farm approximately 450 hectares. The winery owns and farms approximately 50 hectares of vineyards. Doral is native to Switzerland and is the resulting variety from a cross of Chasselas and Chardonnay in 1965 producing a very aromatic white wine. It is fairly resistant to diseases in the Swiss cooler climate and is flexible in the type of wines it produces ranging from sparkling to still to sweet wines. It only is planted in Switzerland and does well in limestone soils. Cave de la Côte produces about 90% of the entire production of this variety within Switzerland.
And Gamaret is a red variety also native to Switzerland resulting from a cross of Gamay and the German red grape, Reichensteiner in 1970. Sometimes Gamaret is referred to as the "Swiss Syrah". The grapes for these wines were sourced from La Côte in the hills above the shores of Lake Geneva, about a 40 minute drive from Geneva.
The 2021 Cave de la Côte Gamaret is deep ruby in color; the bouquet shows a medium intensity with aromas of red cherry, cranberry, plum and an herbal note including pink peppercorn. The red fruited freshness of the bouquet is echoed on the palate with flavors of currant, cherry and cranberry. This wine is brightly lit from the entry through the mouth-watering finish. The tannins are grainy anchoring a savory, lightly astringent finish with a note of crushed black pepper. We immediately thought of pairing this wine with pizza or pasta. This particular vintage is clearly expressed in this wine it was a challenging year with rain and especially cold growing conditions.
In contrast to the 2021 vintage, 2020 was a warm and generally sunny year. The 2020 Cave de la Côte Gamaret Reserve is 100% varietal; it spent 16-20 months aging in both French and American oak barrels of which 20% were new barrels. This wine is medium ruby in color; the bouquet is red fruited with a note of dried herbs, white pepper and a light oak spice. This balanced bottling offers flavors of currant, cranberry, red cherry and red licorice vine. Its freshness and brightness is like an energetic young twirling dancer in a Degas painting. The finish is mouth watering accompanied by a light tart character and crushed black pepper. The tannins are light gravelly in texture and persist for quite some time.
The 2022 Cave de la Côte Doral Expression is medium golden in color; the bouquet offers a diversity of tropical notes along with honeysuckle, jasmine, peach, and nectarine. During warm years this variety produces wines which are more tropical in aromas and flavors. The palate offers bright acidity with flavors of apricot, yellow peach, lychee, red apple and a ligth citrus nuance. It finishes bright and refreshing with flavors of pear, apple and white peach. This wine was only exposed to stainless steel during its fermentation and aging (no oak was used). And it is a versatile wine for pairing with foods, especially with spicy Asian cuisine.
—
History
On January 1, 2017, AXR purchased the V Madrone property located just north of Saint Helena. The purchase included both the already planted 3 1/2 acres of vineyards, the winery and the V Madrone label and existing inventory. Both the AXR wines and the V Madrone wines were initially produced here (most of the winemaking has since been moved off site), visitors to the property can taste wines from either brand although the focus of a visit is on the AXR wines.
The original winery on site operated in the 1880's; a successful lodge was in operation in the 1920's and 30's operated by a Hungarian family. This lodge was called "The Madrone's" named after the plethora of Madrone trees scattered around the property. There are still Madrone trees growing on site – quite obvious because of their reddish bark.
The original winery on site was called August Hersch Winery, named after the owner; 20,000 gallons were produced annually at the height of his production. The property is less than the 10-acre county minimum for building a winery. The only way to build a new winery on smaller sites such as these is to locate a pre-existing bond. However, that can be difficult and numerous small vineyard sites in the Napa Valley have never been home to wineries.
Fortunately, a dedicated local historian (John Kelly), uncovered a story on the front page of an old St. Helena Star newspaper, identifying the original winery on site. Prior owners Chris and Pauline Tilley acquired the property in 2001 and oversaw the planting of 3.5 acres of vineyard and construction of the winery. The primary building on the property is an old Victorian style house which served as headquarters for a lodge and restaurant; it is built on top of the original stonework for the old winery.
And in September/October 2020, part of the Glass Fire burned all the way down to the back of their property – in the hillsides just above the winery. This author along with other friends helped deliver two trucks filled with 8 totes of water to the property most of which was unloaded into their existing tanks and subsequently used by several firefighters including those from the San Jose Fire Department.
—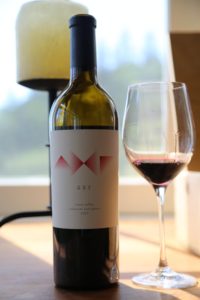 Visits are not meant to be rushed as the focus is on the wines and good conversation; tastings take place inside the modern interior of the old lodge building. And the wines are paired with a locally legendary snack – delicious potato chips covered in some sort of finely grated cheese served on parts of old barrel staves. Visits also include a stop at the winery towards the back of the property. Sometimes Jean is available to say stop by for a quick chat during the tastings. He is a whirl wind wealth of wine knowledge. Imposing at 6'6″, his wit and self-deprecating humor at times immediately puts one at ease and brightens the conversation at any tasting.
Futures of the very limited production vineyard designate Cabernet Sauvignon wines are sold prior to release. Futures are sold in three packs at pretty significant discounts below the normal per bottle price of current release wines. For more information or to join their mailing list or one of several wine clubs, or to schedule a tasting, please visit: www.axrnapavalley.com
Hospitality, Main House

Hospitality, Barn

V Madrone Estate Vineyard