Avinodos was co-founded in 2012 by two individuals, Dan Dexter and Lorn Brambilia. Lorn's father, Gustavo Brambila was their winemaker – one of Napa's venerable and well regarded winemakers (more than 40 vintages to date). Today Dan and his wife Julie are the proprietors of Avinodos Wines and in 2014 Dan took over winemaking from Gustavo.
Dan met Lorn in San Francisco when both were working for a finance company. Working for finance was a big switch in Dan's life as he grew up working on his family farm in Indiana where they grew corn and soy beans. While both were working in San Francisco Lorn invited Dan up to Napa to help with his family's harvest. Having a familiarity and pull towards agriculture, Dan quickly became fascinated with the process of making wine.
Fortuitously the company he was working for closed their USA based operations. By this time Dan had caught the "wine bug" and proposed to Lorn they start their own wine brand.
They creatively decided on a name by combining several words in Spanish – as a tribute to Lorn and Gustavo's heritage. And in addition choosing words that represent wine making – literally translated into Spanish, Avinodos means "To Wine Two" – in this case referring to the two partners making wine as well as Lorn being a second generation vintner.
When Dan talks about making the switch from working in finance to working in the wine industry you can almost hear him breath a sigh of relief. He says his new career choice "is not like work anymore – it becomes more of a lifestyle" – with the caveat of, "other than working at 2am during harvest".
Gustavo and Lorn own a vineyard management company – currently managing about 80 acres in various parts of the Napa Valley. As a result, they have full control of the vineyards they source fruit from for Avinodos – essentially total control from vine to bottle. And they source from premium vineyards in select sub appellations including the Oak Knoll District, Atlas Peak and Diamond Mountain.
The focus of Dan's wine making is creating food friendly balanced wines often showing more restraint then some of Napa Valley's more opulent offerings.
Select Wines
The first vintage of Avinodos Sauvignon Blanc was 2012 – this wine shows gooseberry, notes of pear – sweet aromas of citrus blossom. The wine finishes clean and crisp with notes of green apple. It has very good acidity.
The 2013 Avinodos Sauvignon Blanc is from the exact same vineyard as the 2012 (Oak Knoll District) – but perhaps is a bit more complex of a wine. Aromatically it shows pleasing floral notes – aromas of citrus blossom. The mouth feel is clean – grapefruit, lemon with some mineralities. Again very good acidity but not bracing acidity – plenty of fruit keeps this wine in balance.
The 2014 Avinodos Sauvignon blanc is from the same vineyard but from a different block where the soils are fairly chalky. It is interesting to note the noticeable differences in the vintages – this wine was pulled from a barrel sample.
Interestingly, they chose a 100% varietal single vineyard Malbec to be their first red wine release. The grapes for this wine were growing in a vineyard that Gustavo had never worked with and in his long tenure in the valley – and over the span of his wine making career, had never made a single vineyard single varietal Malbec. There are not many wineries in the valley making a 100% varietal Malbec.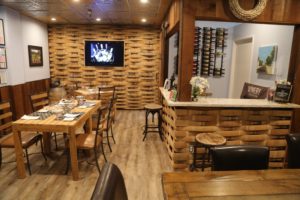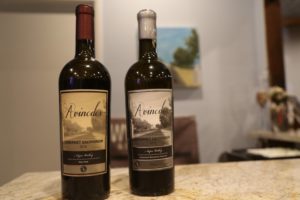 The 2012 Avinodos Malbec was sourced from Oak Knoll (towards the southern part of the Napa Valley). Aromatically it is an elegant nose – showing notes of sandalwood, darker liqueur (some sweet notes), cedar box aromas and a floral component – lavender. The tannins show delicately on the front of the palate and linger on the finish becoming more complex towards the back of the palate. As with all the wines we tried, both in bottle and in barrel – this wine has very good acidity.
The 2013 Malbec (barrel sample) is a different wine altogether – aside from being a year younger. It was sourced from the same vineyard blocks – but saw longer maceration. It is deep dark and brooding – with a robust structure. Notes of cedar show on the front of the palate (should dissipate as the wine ages and goes into bottle). This is a robust wine with good age-ability.
Several wines that were not yet been released at the time our first visit were a single vineyard Atlas Peak Cabernet Sauvignon and a single vineyard Diamond Mountain Cabernet Sauvignon. All wines are priced very reasonably based on quality and pedigree of the vineyard sites.
—
Avinodos used to be a member of the Crusher Wine District; all member wineries are located in the business park along Kaiser and Napa Valley Corporate Drive just south of the city of Napa. There are both advantages and disadvantages to being this part of the Napa Valley – one of the big advantages is cost savings on land – the wineries here are production facilities and or production combined a hospitality element (no vineyards). The Crusher Wine District held special tastings quarterly – for one price one was able to visit any of the member wineries.
Most of the wineries here are very small production and work with family owned vineyards. A number of the wineries in this business park also have adjoining tasting room for appointment only visits including Avinodos' own small nicely appointed tasting room where visitors can taste their own wines as well as wines bottled under the J Moss brand.
In 2019 Avinodos moved a short distance from their original tasting room location and now maintain a tasting room in the same building as J Moss Winery. The tasting room is small but nicely decorated using interior furnishings created from old barrel staves. And if one visits during late morning and into the afternoon, an excellent taco truck is often parked almost directly across the street.
For more information about Avinodos, to join their wine club and or to make an appointment, visit: www.avinodos.com
NOTE: this review has been identified as needing a *major* update.
Current Tasting Room

Winery

Original Tasting Room