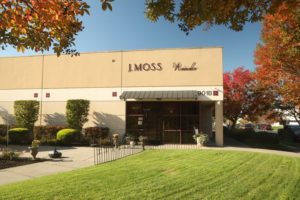 Avinodos was co-founded in 2012 by two individuals, Dan Dexter and Lorn Brambilia. For several early vintages, Lorn's father, Gustavo Brambila was their winemaker. Gustavo is one of Napa Valley's most venerable and well-regarded winemakers and has crafted more than 40 vintages to date. Today Dan and his wife Julie are the sole proprietors of Avinodos Wines and in 2014 Dan took over winemaking from Gustavo.
Dan is originally from small town Toulon, Illinois where he was raised on a 400-acre grain operation which his family has owned since 1836; he met Lorn in San Francisco when both were working for a finance company. Working for finance was a big switch in Dan's life from his family farm where they grew corn and soybeans. While both were working in San Francisco Lorn invited Dan up to Napa to help with his family's harvest. Having a familiarity and pull towards agriculture, Dan quickly became fascinated with the process of making wine.
Fortuitously the company he was working for closed their USA based operations. By this time Dan had caught the "wine bug" and proposed to Lorn they start their own wine brand. They creatively decided on a name by combining several words in Spanish – as a tribute to Lorn and Gustavo's heritage. And in addition, choosing words that represent wine making – literally translated into Spanish, Avinodos means "To Wine Two" – in this case referring to the two partners making wine as well as Lorn being a second-generation vintner.
When Dan talks about making the switch from working in finance to working in the wine industry you can almost hear him breathe a sigh of relief. He says his new career choice "is not like work anymore as it has become more of a lifestyle" – with the caveat of, "other than working at 2am during harvest".
Gustavo and Lorn own a vineyard management company and currently manage about 80 acres in various parts of Napa Valley. As a result, they have full control of the vineyards they source fruit from for Avinodos – essentially total control from vine to bottle. And they source from premium vineyards in select sub appellations including the Oak Knoll District, Atlas Peak and Diamond Mountain.
The focus of Dan's wine making is creating a diversity of food friendly balanced wines often showing more restraint than some of Napa Valley's more opulent bottlings. Oak is always a complementary character rather than a dominating one. All the Avinodos wines are priced very reasonably based on quality and pedigree of the vineyard sites. While their wines have received accolades, they are still too far under the radar for most visitors to Napa Valley. But hopefully that will change.
Select Wines
The 2020 Avinodos Sauvignon Blanc Los Carneros is deep straw in color; the sweetly floral bouquet offers aromas of honeysuckle and various tropical white flowers along with ruby grapefruit, lemongrass, pine branch, kumquat and yellow pineapple. The palate offers an immediacy of intensity including flavors of lemon/lime, green apple and a lingering presence of a sweet/sour tangy-like acidity. Closer to room temperature, its texture is supple and fleshy, but texturally 'tightens up' when the wine is served at a cooler temperature. This wine would be an ideal pairing with either raw or fried oysters. We are thinking picnicking at Tomales Bay in Marin County; it is mid Fall, a time of year when the fog backs off from the cool waters of the Pacific Ocean and the afternoons are often warm.
The 2013 Avinodos Sauvignon Blanc is from the exact same vineyard as the 2012 (Oak Knoll District) – but perhaps is a bit more complex of a wine. Aromatically it shows pleasing floral notes with aromas of citrus blossom. The mouth feel is clean offering grapefruit, lemon with some mineralities. Again, this wine shows very good acidity but is not bracing as plenty of fruit keeps this wine in balance.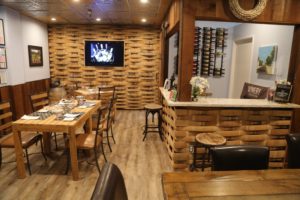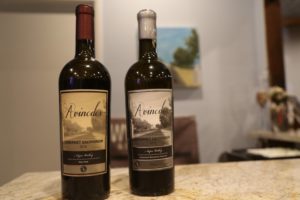 The first vintage of Avinodos Sauvignon Blanc was 2012; the 2012 Avinodos Sauvignon Blanc shows gooseberry, notes of pear and sweet aromas of citrus blossom. The wine finishes clean and crisp with notes of green apple. It has very good acidity.
Interestingly, Avinodos bottled a 100% varietal single vineyard Malbec as their first red wine release. The grapes for this wine were growing in a vineyard that Gustavo had never worked with and in his long tenure in the valley and over the span of his wine making career, had never made a single vineyard single varietal Malbec. There are not many wineries in the valley making a 100% varietal Malbec.
The 2016 Avinodos Malbec was sourced from the Oak Knoll District. This part of Napa Valley is located towards its more southern reaches and is an appellation known for its diversity of both white and red varieties. This wine is dark ruby in color and almost opaque to look at. At 6 years post vintage at the time of our tasting, the bouquet is not shy with its secondary aromatics. Open and inviting this wine offers aromas of dark plums, roasted coffee, nutmeg, brown sugar, mocha and Graham cracker. In the mouth this wine is seamless from the attack through the finish featuring flavors of both red and darker fruits complemented by a lingering savory character and pop of acidity. It finishes with finely knitted silty-like textured dusty tannins. Noteworthy is this wines' balance. Avinodos has produced their Malbec from Oak Knoll since their first vintage of this wine in 2012.
The 2012 Avinodos Malbec was sourced from Oak Knoll. Aromatically it is an elegant nose showing notes of sandalwood, darker liqueur (some sweet notes), cedar box aromas and a floral component including of lavender. The tannins are framed delicately on the front of the palate and linger on the finish becoming more complex towards the back of the palate. As with all the wines we tried, both in bottle and in barrel, this wine has very good acidity.
Aside from being a year younger, the 2013 Malbec (barrel sample) is a different wine altogether. It was sourced from the same vineyard blocks but went through a longer post alcoholic fermentation maceration. It is deep dark and brooding with a robust structure. Notes of cedar show on the front of the palate (should dissipate as the wine ages and goes into bottle). This is a robust wine with good age-ability.
The 2018 Avinodos Cabernet Sauvignon Oak Knoll District is dark ruby in the glass; the bouquet offers expressive darker fruits including ripe Santa Rosa Plum and blackberries along with rusting iron, dark olive, sage, subtle spearmint notes and as the wine evolves in the glass, offers a note of cocoa powder. Generous in its flavor profile, the mouth showcases both dark and red fruits accompanied by lively and mouth-watering acidity across the palate. This wine lingers with some dark notes of crushed pepper deep in the finish along with a light to medium grip of tannins and a slight dryness. This bottling is superbly balanced in its youth and should remain that way for years to come. A contemporary Napa Valley Cabernet Sauvignon that is less than 14% alcohol. Believe it.
The 2018 Avinodos Cabernet Sauvignon Stags Leap District offers ripe, generous and fruit-forward scents focusing on darker fruits including blackberry and boysenberry along with chocolate and cassis. The aromatics are dark and richly layered showcasing an alluring amalgam of both primary fruit and secondary oak characteristics. Those looking for crowd pleasing pleasure providing Napa Valley Cabernet Sauvignon, need look no further than this wine. Hedonistic across the palate its flavors are of dark plum, blackberry and some notes of tobacco spice. The abundant and persistent tannins show both a chewy-like density and chalkiness of texture. They are long lasting but are not course in their textural feel. While a riper bottling, like the other Avinodos wines, this wine is still anchored by excellent acidity. This is a very cellar worth wine.
The 2017 Avinodos Cabernet Sauvignon Two Barrel Reserve Oakville is dark ruby in the glass and opaque; initially the aromatics ar a bit brooding with some meaty-like, leather and earth driven characteristics, but be patient as the bouquet needs time to open further. And when it does it offers darker fruits including black plums and currant along with a light touch of old cedar box, mocha and dried herbs. The lift of acidity across the palate is quickly noticeable featuring a tangy/tart liveliness and freshness which causes an immediate mouth-watering sensation. Higher toned and nimble, this wine offers flavors of red cherry, currant and cranberry. The persistent tannins still show a bit tight with a medium structured grip.
—
Avinodos is located in the Crusher Wine District, a part of south Napa in the business park near Kaiser Road and along Napa Valley Corporate Drive. There are both advantages and disadvantages to being this part of Napa Valley; one of the big advantages is cost savings by not owning vineyard land. The wineries located here are production facilities and or production combined a hospitality element (no vineyards).
Most of the wineries in the Crusher District are very small production and source grapes from family-owned vineyards. There is a certain creative element from wineries in this part of Napa Valley certainly facilitated by a number of young winemakers willing to take risks and explore vineyards outside of Napa Valley. Some of the wineries in this business park also have adjoining tasting rooms for appointment only visits including Avinodos' own small nicely appointed tasting room where visitors can taste their own wines as well as wines bottled under the J Moss brand.
In 2019 Avinodos moved a short distance from their original tasting room location and now maintain a shared tasting room in the same building as J Moss Winery. The tasting room is small but nicely decorated using interior furnishings created from old barrel staves. And if one visits during late morning and into the afternoon, an excellent taco truck is often parked almost directly across the street.
This winery is pet friendly. We have always found plenty of curbside parking within easy walking distance of their tasting room. For more information about Avinodos, to join Club Avinodos (with 4, 6 or 12 bottle two automatic annual shipments) and or to make an appointment for either a Current Release or Reserve wine tasting, visit: www.avinodos.com
Current Tasting Room

Winery

Original Tasting Room