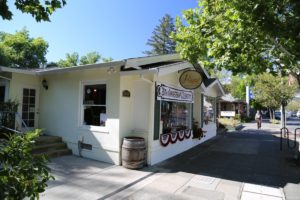 August Briggs Winery is a small family owned and operated long time Napa/Sonoma producer with a tasting room located in downtown Calistoga. Founder and winemaker, Joe Briggs started making his own wine in 1995 under the August Briggs label after consulting for select wineries for a number of years. In 2003 he built a physical winery on the northern part of the Silverado Trail but sold both the winery facility and property to another Napa producer as well as the August Briggs label to his nephew (who is now the primary winemaker) and three other partners (long time employees).
The four partners have opened a tasting room in downtown Calistoga and are part of a number of relatively new tasting rooms to open in the city limits. With four partners there is no need to hire tasting room staff and one if not more of the owners are always on hand to pour the wines. The tasting room is small but is divided into two tasting counters, one for the general public and one for their mailing list customers.
Parking can be an issue in the tiny downtown of Calistoga but no so here – along with several other vintners in the same building they share a parking lot for guests. During the weekend when the nearby bank closes additional parking is available in the same lot.
August Briggs is noted for their diversity of wines – as of the time of this review they produce 16 different wines! Their wines are sourced from a number of vineyards, primarily in both Napa and Sonoma counties. After selling their Calistoga winery, once again they are technically a Sonoma County winery as their production was moved to a winery in Western Sonoma County. August Briggs established relationships with their growers over the years regardless of the change in ownership, continue to source from these same vineyards.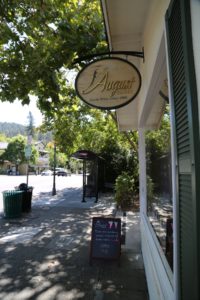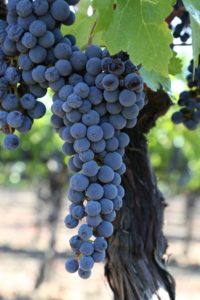 Like Pinot noir? Joe certainly does – he worked with this varietal in Oregon as well as cooler growing regions in Northern California including the Russian River, Sonoma Coast and Carneros. For a winery "up valley" they produce quite a few different Pinot noirs – although none are grown on the estate as this part of Napa is a bit warm for high quality Pinot noir. During our latest visit we tried the 2009 Russian River Pinot. This wine shows notes of melon and lemon twist on the bouquet with citrus on the palate and a a zesty mid palate to finish. The mid palate has some nice weight and viscosity. The finish is clean and shows hints of mineralities.
The 2008 Dijon Clone Napa Valley Pinot noir is a winner. The fruit is sourced from a vineyard south of Carneros. This is a very fruit driven Pinot both on the nose and on the palate. Delicious concentrated flavors show including cherry and strawberry with some clove and white pepper spice that show up on the mid palate.
Also of note is their Zinfandel – it is sourced from old head pruned vines (dating from 1908) located about a mile from their tasting room. The 2009 we tried is not jammy or heavy rather it is medium bodied with good balance and shows excellent fruit (notes of cherry pie). Zinfandel at times can overpower food; not so with this one.
August Briggs produces several Cabernet Sauvignons including a wine from the historic and well-known Monte Rosso Vineyard located at about 1000 feet in the Mayacamas mountains in Sonoma County. Production was lower in 2008 due to weather related issues and this vintage is concentrated and displays a very aromatic bouquet. More red fruit shows than dark fruit. This wine has good natural mouth watering acidity.
One wine you rarely see available from Napa wineries is the Italian varietal Charbono – the reason being is there are less than 100 acres of this varietal planted in the entire state! There are several vineyards of this varietal planted in the Calistoga appellation. Another varietal that in our Napa tasting experience is quite rare is the Pinot Meunier which is a close relative of the Pinot noir grape. Pinot Meunier is normally grown in a select part of France and used as a sparkling wine varietal but it grows well in the southern/cooler part of Napa Valley and makes a nice still wine. Besides the August Briggs label, they also produce wine for the NASCAR Driver Jeff Gordon – called the Jeff Gordon Collection.
Visit: www.augustbriggswines.com