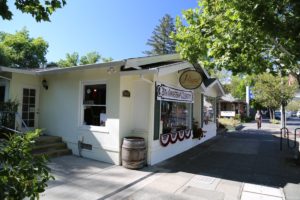 August Briggs Winery is a small family owned and operated long time Napa/Sonoma producer with a tasting room located in downtown Calistoga. Founder and winemaker, Joe Briggs started making his own wine in 1995 under the August Briggs label after consulting for select wineries for a number of years. In 2003/2004 he built a physical winery on the northern part of the Silverado Trail (within the Calistoga city limits) and along with his wife Sally (who we originally met with) sold both the winery facility and property to another Napa producer as well as the August Briggs label to several long-time employees. Today these former employees, Colette Milliman (who grew up in Occidental in neighboring Sonoma County) and Matthew Gacso (previously worked at Bouchaine Winery), are now the co-owners of August Brigs Winery. The original August Briggs Winery is now home to Brian Arden Winery and guests who visited this space while it was August Briggs would no longer recognize the changes and updates the current owners made.
Colette and Matthew currently operate a small tasting room in downtown Calistoga; when they opened this space, they were among a number of relatively new tasting rooms to open within the city limits. Often either Colette or Matthew will be inside the tasting room greeting visitors. The tasting room is tiny and is divided into two tasting counters, one for walk-in visitors and one for their mailing list customers. Several tasting options are offered. And weather permitting, an outdoor patio with several tables can also be used for tastings – a relaxing space along the banks of the overgrown Napa River.
Parking can be an issue in the tiny downtown of Calistoga but no so here – along with several other vintners in the same building they share a parking lot for guests. During the weekend when the nearby bank closes additional parking is available in the same lot.
Winemaker Jesse Inman's childhood is a story that sounds right out of California's mining lore – he grew up in the small town of Yreka in Northern California in a cabin with his family (no electricity or flush toilets) – his father mined for gold in the area on his mining claim. Jesse's uncle is Joe Briggs. Jesse first joined August Briggs in 2006 as an assistant winemaker and has been the head winemaker since 2011.
August Briggs is noted for their diversity of wines and as of the time of this review they produce 16 different wines. Their wines are sourced from a number of vineyards, primarily in both Napa and Sonoma counties. And some of their vineyard sources are truly historical treasures – the Luvisi Vineyard in Napa dates back to 1908 and the Canard Vineyard in Calistoga according to the Vineyard Historical Society is one of the two oldest planted still producing vineyards in all of Napa Valley (the other one being just south of St. Helena owned by Dave Phinney and providing the fruit for the Crane Assembly. August Briggs also sources from the Frediani Vineyard (also in Calistoga) planted in the 1950s, and the Monte Rosso Vineyard in Sonoma County which dates back to the 1880s.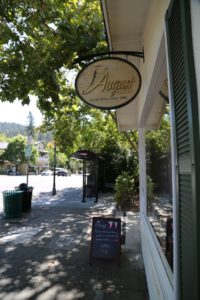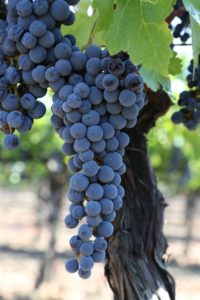 After selling their Calistoga winery, once again they are technically a Sonoma County winery as of our last update to this review, their production is currently in a winery in Santa Rosa. August Briggs established relationships with their growers over the years and regardless of the change in ownership, they continue to source from some of these same vineyards.
Select Wines
Enjoy Pinot Noir? Joe certainly does – he worked with this varietal in Oregon as well as cooler growing regions in Northern California including the Russian River, Sonoma Coast and Carneros. His passion for this varietal rubbed off to his nephew – Jesse continues to craft numerous different wines from this varietal. Note that none of their Pinot Noirs were ever planted on their former Calistoga estate (it is to warm here for growing premium wines of this varietal). Today they produce Pinot Noir from select neighboring vineyards in mostly Sonoma County including from the Russian River Valley.
The 2009 Russian River Pinot Noir shows notes of melon and lemon twist on the bouquet with citrus on the palate and a zesty mid palate to finish. The mid palate has some nice weight and viscosity. The finish is clean and shows hints of mineralities.
The 2008 Dijon Clone Napa Valley Pinot Noir is beautiful wine. The fruit is sourced from a vineyard south of Carneros. This is a very fruit driven Pinot Noir both on the nose and on the palate. Delicious, concentrated flavors show including cherry and strawberry with some clove and white pepper spice that show up on the mid palate.
Also of note is their Zinfandel sourced from old vines; the 2009 August Briggs Zinfandel is not jammy or heavy rather it is medium bodied with good balance and shows excellent fruit (notes of cherry pie). Zinfandel at times can overpower food; not so with this one.
The 2013 August Briggs Zinfandel is similar in style to previous vintages of this varietal we have tried on earlier visits – very food friendly and balanced. This wine was sourced from two of the oldest Zinfandel Vineyards in the Napa Valley – the younger Luvisi Vineyard and the 'ancient' vineyard, Canard.
Refreshingly, this is not a super ripe, jammy feel the burn alcohol wine that this varietal is often known for. Plenty of fruit on the bouquet (red cherry and rasperry) complemented nicely with dessert spices including clove. Balanced on the palate the wine offers mouthwatering acidity, especially on the finish with a slightly lingering tartness (red cherry and cranberry).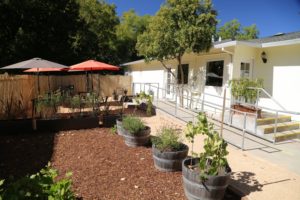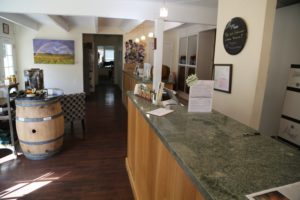 The 2013 August Briggs Petite Sirah was sourced from Calistoga – vines that date from the 1950s; dark crimson in the glass is offers appealing aromatics include chocolate (especially as the wine has to breathe) along with a subtle dried rose petal nuance. But mostly the bouquet is about the fruit – showing darker fruit aromas including plum and boysenberry. Big but with restraint the palate shows plenty of red fruit flavors including cranberry. Very good acidity.
August Briggs produces several Cabernet Sauvignon wines including a wine from the historic and well-known Monte Rosso Vineyard located at about 1000 feet in the Mayacamas mountains in Sonoma County. Production was lower in 2008 due to weather related issues and this vintage is concentrated and displays a very aromatic bouquet. More red fruit shows than dark fruit. This wine has good natural mouthwatering acidity.
One wine you rarely see available from Napa wineries is the Italian varietal Charbono – the reason being is there are less than 100 acres of this varietal planted in the entire state! There are several vineyards of this varietal planted in the Calistoga appellation.
Another varietal that in our Napa tasting experience is quite rare is the Pinot Meunier which is a close relative of the Pinot Noir grape. Pinot Meunier is normally grown in a select part of France and used as a sparkling wine varietal, but it grows well in the southern/cooler part of Napa Valley and makes a nice still wine. Until 2013 August Briggs was sourcing this varietal from a vineyard in Calistoga (not a part of the valley known for this varietal due to the warmer conditions here). When the vineyard was replanted, August Briggs began sourcing Pinot Meunier from neighboring Sonoma County.
In the past the winemaking team at August Briggs also produced wine for NASCAR Driver Jeff Gordon called the Jeff Gordon Collection but that these wines produced under the Jeff Gordon label were discontinued in early 2018.
Today production is around 3,500 to 4,000 cases annually mostly sold direct through the tasting room or their wine club. Sometimes some of their smaller production wines will be sold out. For more information and or to join one of their two wine clubs, visit: www.augustbriggswines.com