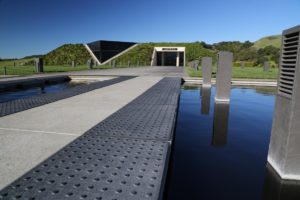 Artesa Winery is located in the Carneros District and is a very unique winery as the main building is mostly buried and constructed within an entire hill. As a result it is a very architecturally pleasing building and it is difficult to distinguish where the winery ends and where the natural ground begins. In other words Artesa fits extremely well within its natural surroundings. The top of the hill was leveled – the winery was built there and then the earth was moved back over. Four levels are built deep into the hill. Artesa is owned by the Spanish Codorniu Winery Holdings – which traces its winery history back to the mid 1500's! Codornui is the world's producer of bottle fermented sparkling wine (in Spain called Cava).
Their original intent with this "new world winery" was to make sparkling wines which became their initial focus for a number of years. Eventually they converted to still wines and that was when they changed their name over to Artesa from Cordorniu (considering that Codorniu is synonymous with sparkling wines). Artesa means craftsman or something that is hand crafted in the Catalan language of Spain. However, as of our latest update, they do still make several sparkling wines through a unique arrangement with Mumm winery. Artesa no longer has their own sparkling production equipment so in part they use Mumm's facilities – and Mumm being a sparkling producer that produces a still Chardonnay uses Artesa's facilities for this one wine. Not a bad arrangement!
From their outside porch on a clear day you can see the skyscrapers of San Francisco far in the distance, several Bay area bridges, Mt. Tamalpais, Mt. Diablo, the San Pablo Bay – and in the foreground, the di Rosa Art Preserve and Domain Carneros. Artesa has very nice grounds including modern statues, waterfalls, and a serene inner courtyard. After you climb up the steps from the parking lot you will walk down a long path to the entrance – across what appear to be square concrete pavers. You are walking directly on top of their barrel room so if your footsteps sound a bit hollow, there is a good reason for it.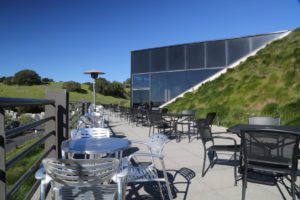 They also have a wine members only tasting room – visible from the outside so you can see who is inside. However, we recommend they take the next step in VIP room windows like the one in the Kodak Theatre in Hollywood. The Kodak has installed "soft glass" so that when you walk past the outside of the room, the windows instantaneously turns fuzzy and you cannot make out the features of those inside. However at certain angles you can see who is inside; this is done so those outside of the VIP room have at least a glimpse of who is inside there, but at the same time gives the VIPS their privacy.
Tours at Artesa are given daily at 11 and 2pm sharp. A tour which includes a tasting takes about an hour and weather permitting starts outside on their porch. Check out the statue of the Madonna in their central courtyard. You won't see many Madonna's with braids like this one has. Also note the very unique reflected image of this Madonna that is seen indoors – which varies in location depending on the time of year and the sun's angle. The tour covers the winery & Carneros history, and includes a stop in their production facilities.
Their barrel room is one of the larger ones you will see in Napa Valley. Oh, and Benedictine monks are continuously chanting which adds an "old world" flavor to a stop here. Perhaps this soothing music is even good for the wine as it ages, who knows?! Our guide was a Carneros local and grew up before the rolling hills were covered in grapes – this entire area used to be sheep and dairy farms. Lots of art decorates the inside and outside of the winery. This art is the brainchild of Gordon Huether who has been the resident artist at the winery since 1997. He has his own studio just north of the town of Napa – visit: www.gordonhuether.com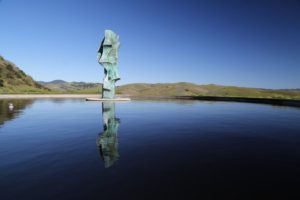 Choose from two tasting flights including their "classic" and the Limited Release & Reserves. Despite having a number of tasting counters on site, summer weekends can get pretty crowded. We recommend spending the extra $5 to taste their limited releases. Saunter over to the wine bar after you pay for your tasting at the main entrance. Their Limited Release wines are very smooth and very drinkable now. Excellent Sauvignon Blanc – the 2005 Reserve has rich aromatics and a wonderful creamy mouth feel – fruit includes melon and pear with notes of caramel and vanilla from the oak aging. There is a pleasant nuance of ripe banana that lingers on the finish. Other nice wines are the 2006 Carneros Pinot noir, the rich concentrated fruit flavors of the 2004 Reserve Merlot, a Cabernet Franc and their very food friendly Reserve Cabernet Sauvignon. True to their Spanish roots Artesa produces an Albarino wine – we know of only one or two other Napa wineries producing this varietal. Pick up a copy of their monthly newsletter – recipes, wine info & more!
Serious wine lovers may want to take a look at Artesa's "Candlelit Barrel Room Tasting". This tasting by appointment only is limited to only wines produced in quantities of less than 700 cases and includes a tour of the winery by one of their wine educators. This special tasting is only offered on Saturdays and Sundays. Visit: www.artesawinery.com