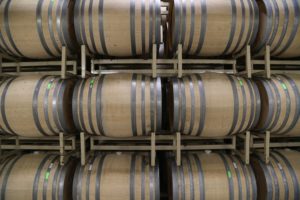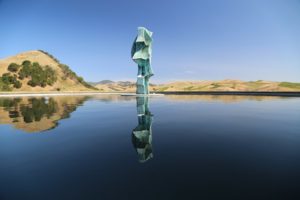 Artesa Winery is located in the Carneros District of southern Napa Valley; from an architectural point of view this is a very unique winery – the main building is mostly set within the confines of a small hill rather than located above ground. As a result, it is somewhat difficult to distinguish where the winery ends and where the ground begins. In other words, Artesa fits extremely well within its natural surroundings. During construction (designed by Barcelona architect Domingo Triay), the top of the hill was leveled – the winery was then built, and the earth was moved back over. Four levels are built deep into the hill. And wondering if that hill directly behind the winery has a name? It does, it is referred to as Milliken Peak (named after an earlier settler in the area).
Artesa is owned by Spanish Raventós Codorníu group (the Raventós family, with Sergio Fuster the managing director of the Raventós Codorníu group) and The Carlyle Group, a USA based publicly traded financial investment firm with more than 200 billion USD in assets. Codorníu traces their winery history back to 1551 and is the world's oldest producer of bottle fermented sparkling wine and one of the largest producers. Note that in Spain, sparkling wine is called Cava. Born in Barcelona, Raised in Napa Valley – the winery's tagline.
Codorníu's original intent with this "new world winery" was to make sparkling wines; these wines became their initial focus for a number of years. Eventually they converted their production to still wines which was also when they changed their name over to Artesa from Codorníu Napa (a change that made sense, considering that Codorniu is synonymous with sparkling wines). In the Catalan language of Spain, Artesa means craftsman or 'something that is hand crafted'.
They own their own sparkling wine production equipment, and their sparkling wines are 100% estate – all grapes come from their vineyard, and the wine is made, aged and bottled on site.
From their outside porch on a clear day, one can see the skyscrapers of San Francisco far in the distance, several Bay area bridges, Mt. Tamalpais, Mt. Diablo, the San Pablo Bay – and in the foreground, the di Rosa Art Preserve and Domain Carneros. The entire estate property is 350 acres of which nearly 200 acres are planted to vine. Much of Carneros is planted at a lower elevation but this part of Carneros is typically higher than the surroundings – their vineyards are planted at an elevation from 200 to 400 feet above sea level.
Artesa has picturesque grounds including modern statues, waterfalls, and a serene inner courtyard. After you climb up the steps from the parking lot you will walk down a long path to the entrance – across what appears to be square concrete pavers. You are walking directly on top of their barrel room so if your footsteps sound a bit hollow, there is a good reason for it.
And those in the know – have discovered Artesa's side entrance (also for wheelchair users) and good for drivers who want to make an under the radar trip to the bathroom (located right next to the elevator on the hospitality floor). Once you enter from the outside, you will be next to the barrel room and some intriguing plaques on the wall highlighting the history of the region from the 1700's through to present day. An elevator will take you to the hospitality floor and the main tasting salon.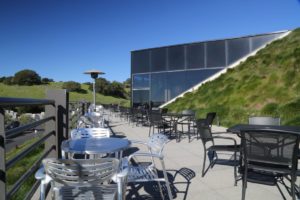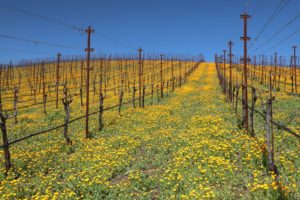 A wine members only tasting room is located near the main tasting salon – visible from the outside so you can see who is inside. However, we recommend they take the next step in VIP room windows like the one in the Dolby Theatre in Hollywood. The Dolby has installed "soft glass" so that when you walk past the outside of the room, the windows instantaneously turn fuzzy, and you cannot make out the features of those inside. However, at certain angles you can see who is inside; this is done so those outside of the VIP room have at least a glimpse of who is inside there, but at the same time gives the VIPS their privacy.
We have been visiting Artesa off and on for more than 15 years – and we have noticed they often change the interior of the hospitality center (more than most wineries) – updating either the spatial arrangement of how tastings are conducted or interior decoration. As a result, if your visits are several years apart, you probably won't recognize the interior of the tasting salon because it has been altered since your last visit.
Tours at Artesa are given daily at 11 and 2pm. A tour also includes a tasting and lasts about 90 minutes; weather permitting the tour begins outside on their porch (overlooking the rolling hills of Carneros with the San Pablo Bay in the background). As you move inside the winery, notice the statue of Madonna in their central courtyard. Not many Madonna statues will have braided hair such as this one. Also note the very unique reflected image of this Madonna seen indoors – this image varies in location depending on the time of year and the sun's angle. The tour highlights both the history of Carneros and the winery and includes a stop in their production facilities.
Their barrel room is one of the larger ones you will see in Napa Valley. You may hear Benedictine monks chanting from the hidden speakers which adds an "old world" flavor to a stop here. Perhaps this soothing music is even good for the wine as it ages, who knows? During one of our tours, the guide was appropriately a Carneros local and grew up before the rolling hills were covered in grapes – this entire area used to be sheep and dairy farms.
Notice the art decorating the inside and outside of the winery. These pieces are from noted local artist Gordon Huether – he has been the resident artist at the winery since 1997. He maintains his own studio just north of the town of Napa.
The exterior of Artesa played a role in one scene in the movie Wine Country starring Amy Poehler and Tina Fey (released in 2019). A movie poster and a signed bottle of wine by the actresses in the film are on display inside the tasting room.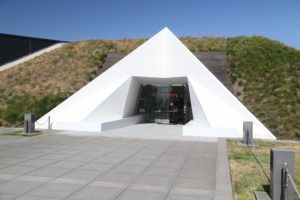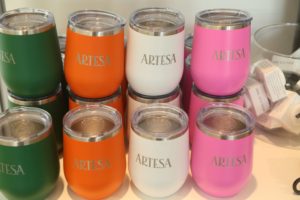 Choose from two tasting flights; a Salon Bar tasting (indoors either physically at the circular bar or seated on tables near the bar) or the outside Terrace tasting (weather permitting). Despite having a number of tasting spaces, summer weekends are typically crowded, and advance reservations are strongly recommended.
Select Wines
True to their Spanish roots Artesa produces two Albariño wines; we know of only several of other Napa wineries producing wine from this variety from Napa Valley grown grapes. In addition to Artesa, Stewart Ranch located just south of the city of Napa, the Hibbard Ranch in the deep end of Carneros, Neal Family Vineyards in Rutherford and a hillside planting in Deer Park owned by Fleury Winery are planted to this variety. The 2018 Artesa Vineyards Los Carneros Albariño (planted on their estate vineyard) is a fruit forward representation of this variety – especially on the bouquet. Light straw yellow in the glass. Smells lovely with ripe aromas of yellow pineapple immediately showing along with sweet aromatic floral threads of citrus blossom and jasmine and ripe pear. Well-balanced, the palate offers more citrus notes then the bouquet would lead one to believe. Great acidity, with flavors of lime, flinty mineralities and mandarin. A lively finish with flavors of green apple and a subtle tartness that lingers. Should pair well with oysters and sashimi. 1200 cases produced.
The 2021 Artesa Pyramid Block Estate Vineyard, Albariño Los Carneros was fermented and aged entirely in concrete. The wine is noticeably golden in color; the bouquet is immediately intriguing offering a union of dried herbs, honey comb and sweetly fruited melon. One could almost describe these scents as racy. The texture complements the brightness of acidity which persists across the palate. This mineral-driven wine offers flavors of citrus, mandarin, lemon and lemongrass. Lingers tangy and mouthwatering. Albariño thrives in cool conditions – as a result Artesa grows this variety on one of the cooler parts of their property. And inherently it reaches phenological ripeness without high sugar levels. The Artesa Albariño's are well worth seeking out for those who prefer lower alcohol and interesting white wines, especially from Napa Valley where the envelop on white wine alcohol levels seems to continue to rise during the early 2020s.
The 2016 Artesa Vineyards Los Carneros, Napa Valley Estate Vineyard Chardonnay shows a pretty yellow hue in the glass. This wine immediately reveals aromas of popcorn butter on the bouquet but as the wine breathes, the aromas offer much more. This wine shows scents of melon, white peach, dried straw, honey, a sweetness of vanilla and a slightly tropical floral note. It is velvety across the palate and silky without being overtly creamy in texture. Shows concentrated flavors, mineralities and lively acidity. The finish is very clean with just a kiss of baking spice and a buttery component that lingers. It is well focused with plenty of depth. 2,500 cases produced. Very nicely done.
Artesa produces an excellent Sauvignon Blanc on a consistent basis; the 2005 Artesa Reserve Sauvignon Blanc has rich aromatics and a wonderful creamy mouth feel with flavors of fruit including melon and pear along with notes of caramel and vanilla lingering softly on the finish. Other nice wines are the 2006 Artesa Carneros Pinot Noir, the rich and concentrated 2004 Artesa Reserve Merlot, a Cabernet Franc and their very food friendly Reserve Cabernet Sauvignon.
And Artesa is one of the few Napa Valley wineries to produce multiple bottlings of sparkling wine.
—
And for serious wine lovers, or for those looking to simply have a fun experience, be sure to check out the remarkable variety of pairings and special culinary focused tastings (including pinxtos or tapas or caviar, among other offerings) available only by appointment. These are either held in the main salon or in a smaller more intimate room.
As of our latest update to this review, including Artesa and Cavas Codorníu, Codorníu Winery Holdings owns 7 winery/vineyard sites from Europe to South America. They are Bodega Bilbainas, the oldest winery in Rioja Spain, Raimat (about a 2-hour drive west of Barcelona), Bodegas Legaris (north of Madrid) in the Ribera del Duero region, Scala Dei in the Priorat and Septima in Mendoza, Argentina. We will visit all of these properties and will update this review as time and budget allows.
Their monthly newsletter includes recipes, wine information & more. For more information, to schedule a visit to the winery, to sign up for their mailing list or to join the Club Artesa wine club, visit: www.artesawinery.com
Artesa Winery, Exterior

Artesa Winery, Interior

Artesa Winery, Vineyards

Cavas Codorníu
While documentation shows the company dates back to 1551 when founder Jaume Codorníu grew and made wine, it is much more recently that Cavas Codorníu began making sparkling wine. Their sparkling wine lineage dates from 1872 when Josep Raventós created the first bottle of Cava in Spain (his family married into the Codorníu family back in 1659). In 1885 Josep's son Manuel hired prominent Spanish architect Puig i Cadafalch to design a grandiose winery – construction began in 1895 and finished by 1920 with the caves ready for use by 1915. The company focused its winemaking efforts entirely on Cava beginning in 1895.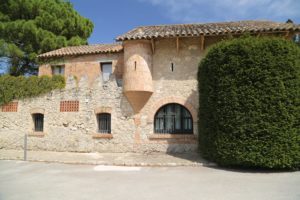 Cavas Codorníu was under family ownership until late 2018 when after 17 generations of ownership, The Carlyle Group (an International asset management fund/private equity firm) purchased a majority interest in their parent company. Today along with owning Artesa, the company also owns 13 other wineries, all of which are in Spain other then Séptima Winery located in Mendoza, Argentina.
Conveniently located only about 35 minutes from the Barcelona Prat Airport (BCN) or about 50-60 minutes from the center of Barcelona, a visit to Cavas Codorníu should be on any sparkling wine enthusiasts list. Accessible via Barcelona by bus or train (the winery is about a 30-minute walk from the closest train station of Sant Sadurní d'Anoia). If driving, after parking across from vineyards visitors enter the welcome center, often called "the Cathedral of Cava" due the architecture of this building perhaps resembling both the exterior and interior of a cathedral. This was one of the more enjoyable winery tours we have been on (and we have been on several hundred over the years). The combination of the family's history, site and entertaining guide made for a memorable tour.
Highlights include a visit to "Cellar Gran" Museum which displays a number of historical wine making pieces of equipment as well as a sensory table highlighting specific aromas found in wine followed by a visit to the underground cellars.
Not many wineries have caves large enough to justify offering train tours – the other one that comes to mind is the train tour we took of Cricova Winery in Moldova. During our visit to Cavas Codorníu, our tour guide took us on a high speed 'race' through a small section of the 18.6 miles of Codorníu's caves – followed by a visit to a large underground tasting room where samples were provided of two of their wines. Several private tour and tasting experiences can also be booked through their website.
Incidentally the largest export markets for their wines are Belgium and the United Kingdom. For more information about Cavas Codorníu visit, www.visitascodorniu.com
Cavas Codorníu, Exterior

Cavas Codorníu, Reception/Wine Shop

Cavas Codorníu, Wine Museum

Cavas Codorníu, Cellar

—
Bodega Septima, Mendoza Argentina
Bodega Septima – along with Artesa are the only two wineries under the Raventos Codorníu group located outside of Spain. The property for the winery was located and purchased in 1999 (was not planted to vines at that time) and the winery was completed in 2002. The core of their wines are grapes sourced from three separate estate owned properties totaling 300 hectares of which 150 hectares are planted to vines: the vineyards surrounding the winery in Luján de Cuyo, Valle de Uco, Tupungato and Los Chacayes in Tunuyán. Varieties grown by Bodega Septima include Cabernet Franc, Cabernet Sauvignon, Chardonnay, Malbec, Pinot Noir, Sauvignon Blanc and Tannat.
Located along Route 7 only about a 30-minute drive from central Mendoza. One can continue past their property high into the Andes following the roads that eventually will connect to Santiago Chile – highlights of this route are the Parque Provincial Aconcagua where one has views from afar of the highest mountain above water in the world outside of the Himalayas. We have made this park in about 1:40 minutes but 2:15 minutes is more the normal pace.
In addition to their own vineyards, the winery also purchases grapes for their needs from select growers in the Mendoza region. Their harvest typically begins sometime in February for their sparkling wines – harvesting the Chardonnay and Pinot Noir and lasts until the first week of May when their late harvest Gewürztraminer is usually picked. As of our latest update Bodega Septima produces 8 different lines of still wines and one sparkling wine, the María Codorníu.
The winery was designed by Mendoza architectural firm Bórmida & Yanzón and features a building whose walls were created by manually stacking rocks on top of each other. Because there is a law in Argentina that prohibits making sparkling wines inside the same winery as still wines are made – all their sparkling wines are made at an offsite location.
An open-air terrace located between the winery building and the Maria Restaurant provides exceptional views in all direction of their vineyards. Wide open panoramas of both vineyards and the Andes mountains to the east.
Tours (in English and Spanish) begin with a welcome wine at the elegant visitor center located on the first floor and then proceed up to the terrace for the wow views and some introductory history of the Raventos family as well as the history of Bodega Septima. Tours continue into the cellar with a bird's eye view looking down onto the tanks and barrels – followed by a stop in their warehouse to see hundreds and hundreds of cases of final product waiting to be shipped. Tours last about 40 minutes and can either be followed by a tasting or a lunch at the Maria Restaurant with a pairing of current release wines.
Unlike the Napa Valley where regulations prohibit wineries from also operating restaurants, wineries in Mendoza with restaurants are quite common. Maria Restaurant is located upstairs and features a regional cuisine which complements their wines. The menu changes seasonally and uses fresh products and ingredients sourced locally as much as possible. Plenty of seating with lots of space between tables – windows on one side of the restaurant overlook the vines and the Andes. A sommelier will present each of the wines during the pairings. An outdoor patio area is often used for special culinary events.
Total production is around 250,000 cases per year – with select distribution across 6 continents. A variety of oak is used within the winery including American, French, Hungarian and at the time of our visit, the winemaking team was conducting small experiments with both Slovenian and Romanian oak barrels.
vineyards

winery

maria restaurant

CODORNIU WINERY HOLDINGS, WINERIES
Bodegas Bilbainas Rioja, Spain
Visit coming at some point.
Bodegas Legaris, Spain
Visit coming at some point.
Raimat, Spain
Visit coming at some point.
Scala Dei, Priorat Spain
Visit coming at some point.