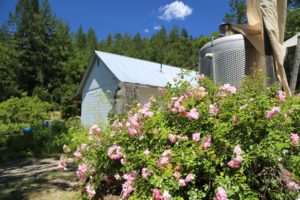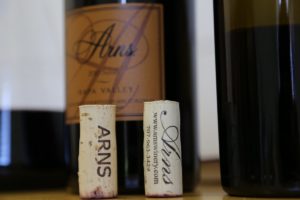 Arns Winery is located merely 10 minutes from the hustle and bustle of Silverado Trail in the northern part of Napa Valley yet it seems miles away. Here time seems locked in to an era that focuses on the land and what it can produce – that in today's urban environments is mostly lost. This is a farm centered lifestyle focused around agriculture – in this case vineyards. The tiny winery sits on approximately 165 acres of which only approximate 10 acres are planted to vines. Most of the land is still native vegetation on rolling hillsides.
The vineyards are separated into 9 blocks, each with their own clonal differences which makes each block unique. The soils are generally deep on site and as a result little or no irrigation is required. Long time Napa vineyard manager and owner John Arns tends to these vineyards – he used to manage more vineyards in the valley but over the years has pulled back his other vineyard management duties to focus on this property.
While this is not technically in the Howell Mountain Appellation – it might as well be, as soils on their property and vegetation are very similar to Howell Mountain (the actual appellation starts at 1400 feet). The soils are very rocky here – in fact much of the stones for the large stone building that now houses the Culinary Institute of America in nearby St. Helena came from this property. The quarries that produced the stone for this building now serve as deep ponds on the property.
John and his wife Sandi are only the 3rd owners in the properties history since it was homesteaded in 1863. And both John and Sandi have enjoyed lengthy career in the world of wine; Sandi has been making wine in the Napa area for more than 30 years and consults for wineries abroad including Thailand and China. As a result, Arns wine is one of the few Napa wines you can find at select locations in Bangkok including the famous historical Oriental Hotel!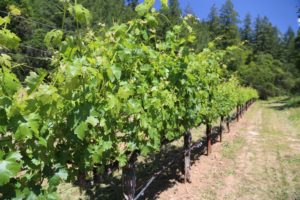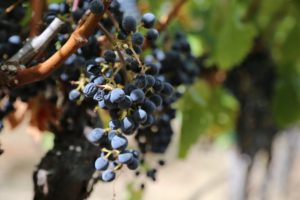 Both Sandi and John were extremely busy with their consulting and vineyard work but began discussing the possibility of building a winery in the 1980's. Finally the right timing presented itself; their first commercial vintage was released in 1992.
Arns Winery is small and their total production is about 1000 cases of which the majority is their estate Cabernet Sauvignon. They also make two other wines, a Syrah and a Napa Valley Cabernet. All their wines are 100% varietal.
A visit here is for the serious wine enthusiast and a tasting is typically with Sandi or John; if the weather permits is held outside their home overlooking the vineyards or inside the small winery. A fine place for a photo is in front of the tall wooden bear that John and several wine maker friends hauled back to the Napa Valley from Lake Tahoe during the middle of a harvest a number of years ago.
Their Syrah is one of the more elegant Syrah's we've tasted over the years working in Napa. It has the Syrah characteristic smokiness and pepper flavors but these do not overwhelm the wine as it is beautifully balanced. Their estate Cabernet Sauvignon is also a favorite. Characteristic of their particular vineyard, this wine is very dark and inky in color. The 2004 vintage is a balanced premium Napa Cabernet Sauvignon – with notes of cherries in the aromas and more anis as the wine starts to open up. The palate has nice notes of chocolate and dark cherry.
Two newer wines in the Arns portfolio are IMPROMP22 – a rare non vintage Napa Cabernet Sauvignon and a 2015 Arns Chardonnay sourced from the Sonoma Coast (in neighboring Sonoma County). The vineyard source contains some of the oldest Chardonnay vines in all of Sonoma County.
For an off the beaten path personal tasting experience where you enjoy sampling premium hand crafted wines, it doesn't get much better than this. Joining their mailing list gives one the opportunity to sometimes purchase older vintages (when re-released). For more information or to join their mailing list, visit: www.arnswinery.com