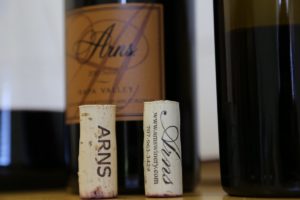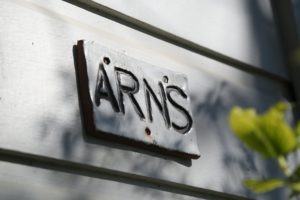 Arns Winery was located merely 10 minutes from the hustle and bustle of Silverado Trail in the northern part of Napa Valley yet it seemed miles away (note the winery and property was sold in 2019 – the wines are now being made at a winery west of the city of Napa). Here time seemed to be locked in an era that focuses on the land and what it can produce – which in today's growing urban environments, is mostly lost. This farm centered lifestyle was focused around agriculture – in this case vineyards. The tiny winery sat on approximately 160 acres of which only 10 acres are planted to vines. Most of the land is still native vegetation on rolling hillsides. The winery and buildings on the proprety, tragically all burnt to the ground in the Glass Fire in late 2020.
The vineyards were separated into 9 blocks, each with their own clonal differences which makes each block unique. The soils are generally deep and as a result little or no irrigation is required. Their Cabernet Sauvignon vines are a mix of premium cuttings including Caymus Special Selection and Shafer Hillside, clone 337. The yields are generally quite low often 1 to 2 tons per acre.
Long time Napa vineyard manager and owner John Arns used to tend to these vineyards (with the help of a local long time vineyard management company); he used to manage more vineyards in the valley but over the years has pulled back his other vineyard management duties to focus on this property.
While this is not technically in the Howell Mountain Appellation – it might as well be, as soils on their property and vegetation are very similar to Howell Mountain (the actual appellation starts at 1400 feet). The soils are very rocky – in fact much of the stones for the large stone building that now houses the Culinary Institute of America in nearby St. Helena came from this property. The quarries that produced the stone for this building now serve as deep ponds on the property, well stocked with fish.
John and his wife Sandi were only the 3rd owners in the properties history since it was homesteaded in the late 1880s (the first vines ever planted on the property were Zinfandel). John's father Robert Arns, a chemist from MIT moved to Berkeley to run the west coast division of Ortho. He purchased this property in the 1950's as a weekend getaway and began replanting grapevines in the late 1960s.
Over the years fruit from this property has been sold to a variety of wineries including artin Ray of Santa Cruz, Burgess Cellars, Ballentine, Dunn Vineyards, Spring Mountain and Merryvale.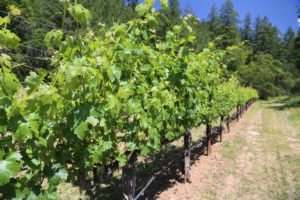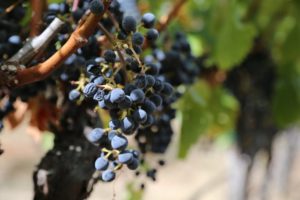 Both John and Sandi have enjoyed lengthy careers in the world of wine; Sandi went to UC Davis for graduate work without an plans to become a winemaker. Hooked by the wine bug at Davis, she has been making wine in the Napa Valley since 1972, including at Chateau Montelena and Heitz Cellars (where she worked on the heralded 1974 Martha's Vineyard Cabernet Sauvignon).
Her longest winemaking stint was for Long Vineyards on Pritchard Hill (now Gandona Estate Winery). She spent 27 years there – she has also worked in the Barossa Valley, Australia and has consulted for wineries abroad including Thailand and China. As a result of their Thailand connections, Arns wine has been one of the few Napa wines available at select locations in Bangkok including the prestigious and historical Oriental Hotel.
John graduated from the University of California Berkeley with a degree in Art and Sculpture, however he has nurtured a passion for growing things all his life. It was while working at Peter Lehmann Winery in the Barossa Valley, Australia where he discovered his interest in working with grapevines. Peter encourage him to pursue his interests – upon returning to California John enrolled at the University of California Davis and completed his degree in Viticulture and Enology.
Both Sandi and John were extremely busy with their consulting and vineyard work but began discussing the possibility of building a winery in the 1980's. Finally the right timing presented itself; their first commercial release was the 1992 vintage, 600 cases of estate Cabernet Sauvignon.
Arns Winery is small; their total production is around 1000 cases of which the majority was their estate Cabernet Sauvignon along with a smaller production of Syrah. Since the sale of the property they have been working with a Cabernet Sauvignon vineyard on Howell Mountain.

All their wines are 100% varietal. And they are not quick to market – Sandi bottles when she feels the wine is ready to do so and often ages the wine in bottle for several years before release. As a result, their current release wines are usually 5 to 6 years behind the vintage date.
A visit is for the serious wine enthusiast wanting wanting to learn more about winemaking or vineyards or just to have fun (typically hosted by Sandi or John although Kathi, Sandi's daughter is often on site as she is the assistant winemaker).
The tall wooden bear that used to standing next to their original winery was always a good conversation piece; John and several wine maker friends hauled this chainsaw created back to the Napa Valley from Lake Tahoe during the middle of a harvest a number of years ago.
Select Wines
Their Syrah is one of the more beautiful wines of this varietal from the Napa Valley that we have tasted over the years. The several vintages we have tasted show the characteristic hallmarks of this varietal – the smokiness and pepper nuances – but these characteristics are not overwhelming and are captured as lesser influences, rather then dominating the wine. This wine generally spends 4 years aging in French oak (some new and used barrels).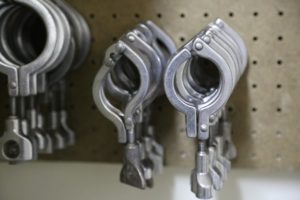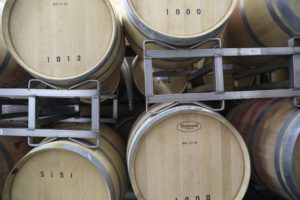 The 2013 Arns Melanson Vineyard Syrah (a vineyard located on Pritchard Hill near Colgin Cellars – planted by John) is very dark in the glass showing darker fruit on the bouquet including plum, blackberry and dark cherry. Somewhat meaty in its olfactory approach, its aromatic savoriness immediately invites a sip. As the wine opens additional aromas show including darker dessert spices and hints of mocha. Big flavor with the savory characteristics on the bouquet also present on the palate. Cigar smoke, pepper and well-integrated tannins show on a long lasting finish. Drinking this wine made us immediately think what to pair it with on the BBQ on a warm summers evening.
The 2012 Arns Estate Vineyard Cabernet Sauvignon is opulent with powerful fruit showing on the bouquet – with aromas of ripe blackberry and blueberry tinged with aromas of old cedar box. Both red and darker fruit shows on the palate; this is a very well balanced wine between fruit, structure and acidity. More red fruit shows on the finish – with a slight red cherry tartness complemented by dusty elegant tannins (no monster gripping finish here). This is a wine that should age very well for years to come.
Two newer wines in the Arns portfolio are IMPROMP22 – a rare non vintage Napa Cabernet Sauvignon and about 200 cases of a Chardonnay sourced from the Heintz Vineyard in Sonoma Coast. These Chardonnay vines are the second oldest Chardonnay vines in all of Sonoma County. Their vineyard source contains some of the oldest Chardonnay vines in all of Sonoma County.
The 4th release of IMPROMP22 is 100% varietal Cabernet Sauvignon (a compilation of three different vintages). The bouquet is focused on the fruit rather then influences from oak – primarily ripe boysenberry and blackberry jam aromas along with notes of black licorice. As the wine continues to open – the bouquet eventually reveals very subtle aromas of vanilla. Well put together on the palate – with a noticeable intensity of mostly darker fruit flavors and depth of flavor that runs the length of the palate. A lingering spicy fruit combination persists for some time – with well-integrated tannins. Only 200 cases were produced.
—
Sandi and John often participate in select tastings around the country including the annual Wine Classic at Loyola Marymount University in Los Angeles – usually held in January (along with a number of other mostly premium Napa vintners). They also showcase their wines at the annual Napa Valley Wine Library tasting held every August at the Silverado Country Club. Their wines are distributed in select markets around the country.
Joining their mailing list gives one the opportunity to sometimes purchase older vintages (when re-released). For more information, visit: www.arnswinery.com
NOTE: as of 2019, the Arns physical winery and property was been sold to David Abreu. The Arns brand was not sold. We will update or archive this review as more information becomes available. This review has been identified as needing a major update.
Original property (we keep these photographs here for nostalia sake)