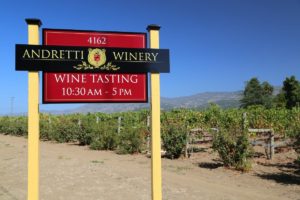 Andretti Winery was established in 1996 by the famed race car driver, Mario Andretti. However Mario doesn't mix his wine and auto racing so don't expect to find any race cars here. The winery is located only about 10 minutes north of downtown Napa, on Big Ranch Road – about 1/2 way between the Silverado Trail and Highway 29.
Interestingly enough, Laird Family (prominent growers and winery in Napa) own the physical winery on site and also lease the tasting room to Andretti. The winery is in the somewhat cooler (when compared to the warmer up valley) growing location of the Oak Knoll district. Andretti leases approximately 42 acres surrounding the winery and tasting room; it is planted to Cabernet Sauvignon, Merlot and Sauvignon Blanc. They also purchase grapes from other vineyards in select locations in the Napa Valley.
Mario became more interested in the wine business after a wine was produced in his honor in the mid 1990's to honor the end of his illustrious racing career.
He was born in Croatia (not the only Napa 'vintner' with this distinction, Mike Grgich was also born in Croatia). Mario grew up in Italy surrounded by wine; during his numerous trips around the world he would seek out the finest wines in various regions and wine became a part of his lifestyle. Eventually he teamed up with Joe Antonini, former CEO of Kmart (and one of Mario's sponsors during his racing days) to form Andretti Winery.
Andretti Winery is small with a faux Italian/Tuscan feel from the courtyard, fountains, and landscaping. Their main courtyard is a great place for photos.
They produce several brands under the Andretti label including their Napa Valley Series (wines that are not vineyard designates), the Villa Andretti Series (reasonably priced limited production wines that focus on Italian varieties (wines not often found in the Napa Valley), and the Montona Series (named after Mario's childhood home in Italy featuring very their most premium limited production wines).
If you enjoy a style of Chardonnay that is slightly buttery and somewhat oaky, their Montona Series Reserve Chardonnay is made in this style.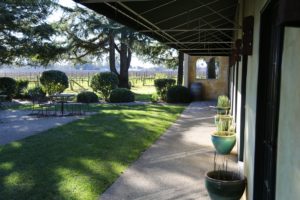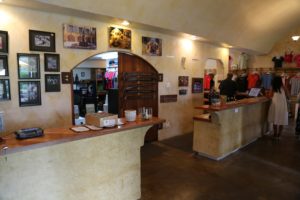 You don't always see Pinot Grigio on the tasting lists of Napa wineries; the one here is worth seeking out. The 2015 Napa Valley Pinot Grigio is a light salmon color in the glass (this wine sees more skin contact then the few Napa Pinot Grigio's we have tried. Not overly citrus on the bouquet or palate. Shows hints of floral aromas along with raspberry. The wine is balanced nicely with both crispness along with a noticeable weight on the palate. Very refreshing and drinks well by itself.
The 2015 Carneros Pinot Noir shows an intriguing bouquet – it is somewhat savory with notes of bacon fat and smoke along with fruit aromatics including red berries. Fairly soft entry on the palate, balanced and rounded in feel – decent acidity with fine grained tannins. Not necessarily a delicate Pinot Noir.
Try their Sangiovese – we tried their 2006 vintage. It is a very well balanced wine with a hint of oak along with cherry flavors.
Another wine worth mentioning is their Blanc de Noir Sparkling Wine made from Cabernet Sauvignon grapes. Very few wineries in the valley make a sparkling wine – theirs has some interesting hints of toast and raspberries which when mentioned together sound like an odd combination, but it really works with this wine. We tried the 2001 vintage.
We also found the Merlot and their limited release Port styled wine to be worth trying.
Larger group tour vehicles often stop here and like other popular walk-in wineries the tasting room can become very crowded quickly (it is not a large space). If the weather is good, chairs and tables are available in the courtyard not far from the rows of grapes. And a nice touch we don't always see in public tasting rooms, a small refrigerator is on site providing select cheeses and other artisan bites for sale. Grab a few of these paired with one of their wines – and enjoy your tasting outside.
A membership in their wine club offers you tickets to their member only parties (there are lots!), a chance to meet Mario and other benefits including the opportunity to customize your wine shipments. Winery apparel and Mario Andretti books & souvenirs are available for sale in the winery.
And you know your in wine country when the winery cat is named Merlot.
Looking for a private wine tasting experience? Andretti offers this as well as numerous other private tour options including a winery tour + tasting, vineyard tour, a blending class, a sensory class, barrel tasting, sweet wine tasting, and tastings of select library vintages. And Andretti can host private and corporate events on site.
For more information and or to join their wine club, visit: www.andrettiwinery.com
NOTE: this review has been identified as needing a major update.