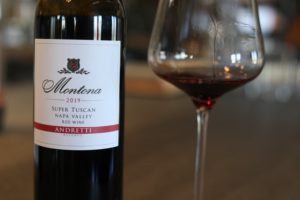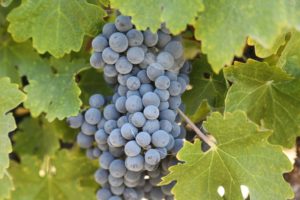 Andretti Winery was established in 1996 by the famed race car driver, Mario Andretti when they purchased land along Big Ranch Road in Napa Valley's Oak Knoll District (a short drive north of the city of Napa). In 2001 they sold this property to Laird Family Winery with a 20-year operational lease for the Andretti Winery and hospitality space. That lease expired in March 2021 at which point Andretti Winery closed its doors and no longer sees visitors at this winery location. However, in late April 2022 Andretti Winery began seeing visitors by either walk-in or appointment at Feast it Forward tasting room in downtown Napa. See our notes at the end of this review for more details.
Andretti leases approximately 42 acres in the Oak Knoll District (a few minutes' drive north of the city of Napa). Their vineyards are planted to Cabernet Sauvignon, Merlot and Sauvignon Blanc. They also purchase grapes from other vineyards in select locations in Napa Valley.
Mario was born in Montona d'Istria, Italy, but what is now called Motovun and is in Croatia; at the time of his birth in 1940 this was part of Italy but after World War II it was annexed by the former Yugoslavia. Mario and his identical twin brother Aldo (died in 2020) were interested in racing at an early age, driving small go carts up and down hillsides. His family was directly affected by the war; they fled for Lucca in Italy and for several years they lived in a refugee camp. In 1955 the family immigrated to Nazareth, Pennsylvania in the United States to live with relatives. He and his brother began racing at a local track even before they were of age to legally do so. Mario's first official race was in 1959 on a dirt track in Pennsylvania. One of the first people Mario met once arriving in Pennsylvania was his English tutor Dee Ann Hoch – both were in their teens at the time, and she was two years younger. In 1961 Mario married her and they were married more than 55 years until she passed away in 2018.
Mario is not the only Napa 'vintner' with the distinction of being born in what is now Croatia – Mike Grgich was also born in the small village of Desne, Croatia. Mario fell in love with wine through numerous trips around the world as a result of his racing career; he would seek out the finest wines in various regions and wine became a part of his lifestyle.
His racing career is long and accomplished. He is one of only three drivers to date to have won races in Formula One, IndyCar World Sportscar Championship and Nascar. He won the Indianapolis 500 for the first and only time in his career in 1969; some refer to his never winning this race again nor any of his family members in the racing industry as the Andretti curse. His professional career began in 1968 and ended with his retirement in 1994 (although he had been racing vehicles since the late 1950s). Like other race car drivers, he has suffered a number of crashes – some could have been life threatening (reference his time racing in 1970). In 2005 Mario was inducted into the Automotive Hall of Fame located in Dearborn, Michigan.
Mario became more interested in the wine business after a wine was produced in his honor in the mid 1990s to honor the end of his illustrious racing career. Eventually he teamed up with Joe Antonini, former CEO of Kmart (and one of Mario's sponsors during his racing days) to form Andretti Winery. Both men are still involved in Andretti Winery although their travel schedules have been significantly cut back in recent years.
And while he has been the subject of numerous books, Mario is also an author several times over including of What's It Like Out There? published in 1970.
Select Wines
Several brands are produced under the Andretti label including their Napa Valley Series (wines that are not vineyard designates), the Villa Andretti Series (reasonably priced limited production wines that focus on Italian varieties from grapes typically not growing in Napa Valley) and the Montona Series is named after Mario's childhood home in Italy and features their most premium limited production wines with a number of bottlings less than 50 cases. The Villa Andretti Series are their most distributed wines, available in select retail outlets and restaurants in about 10 states.
The Andretti wines we have tried over the years are balanced, flavorful and very food friendly bottlings. These are distinctive wines, each with their own characteristics. With a few exceptions, the focus of their winemaking is on 100% varietal wines.
The 2020 Andretti Winery Sauvignon Blanc Napa Valley was 100% fermented in stainless steel tanks. This wine is pale to medium yellow in color; the bouquet offers a diversity of aromas including honeysuckle, vanilla, tapioca, melon, lychee and notes of yellow pineapple. Give this bouquet time to breath; it will open up and continue to reveal additional aromas including citrus blossom. On the palate it is mineral laden with flavors of light lemon zest, apple, mandarin, grapefruit and pomelo. A noticeable brightness persists on the finish. This is a well-balanced offering which nicely straddles the line between California ripeness and varietal characteristics. We immediately thought of pairing this with some of the delicious oyster offerings provided by the roving Oyster Girls (a San Francisco Bay Area based traveling oyster bar).
The 2020 Andretti Winery Montona Napa Valley Chardonnay went through full malolactic fermentation and was aged 16 months in 30% new French oak barrels. With that stated, this is not an oak nor buttery offering, especially on the bouquet. It is pale to medium golden in color; the bouquet offers bright aromatics including a very floral driven presence of jasmine and citrus blossom along with stone fruit aromas of pear and peach. Its texture is rounded but not viscous; features flavors of pear, butter and some toasted oak spices, especially lingering towards the finish.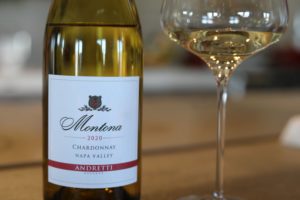 One doesn't always see Pinot Grigio on the tasting lists at Napa wineries; the one here is worth seeking out. The 2015 Andretti Winery Napa Valley Pinot Grigio is light salmon color in the glass (this wine sees more skin contact than the few Napa Valley produced Pinot Grigio wines we have tried. It is not overly citrusy on the bouquet or palate. This wine shows hints of floral aromas along with raspberry. It is nicely balanced with both crispness along with a noticeable weight on the palate. It is very refreshing and drinks well by itself.
The 2020 Andretti Winery Montona Merlot (with 2% Cabernet Sauvignon) is medium ruby in color; the bouquet is brambly, spicy and offers aromas of dark pepper, spicy plum skin and old cedar box along with a hint of darker chocolate. The aromatics are elegant. This is a very balanced, flavorful and food friendly bottling. It offers flavors of red cherry and red plum framed by rounded, well-integrated and slightly drying tannins. It also lingers with a dark spicy note and dry tobacco leaf. This wine was aged for 16 months in 50% new French oak barrels.
The 2019 Andretti Winery Montona Napa Valley/Oakville Cabernet Sauvignon (100% varietal) is dark ruby in the glass; offers aromas of Graham cracker, milk chocolate, caramel, brown sugar, blackberry and black licorice. The bouquet smells like desert – like someone is baking for the holidays. Balanced across the palate, it offers more red fruit than dark fruit flavors including of red cherry and pomegranate. This wine lingers with earthy, gravelly textured and slightly drying tannins along with notes of dried tobacco leaf. It was aged for 28 months in new French oak barrels.
The 2019 Andretti Winery Montona Super Tuscan Napa Valley Red Wine is a blend of 70% Cabernet Sauvignon and 30% Sangiovese. This wine is dark ruby in the glass; it delivers a well-layered and diverse bouquet with aromas of dark plum, dried herbs – including sage, old cedar box, dark chocolate and deeper in the aromatics, hints of Graham cracker and darker dessert spices (clove and crushed peppercorn). There are certainly some brambly and savory characteristics here. The palate is big but balanced with darker flavors including cherry, black licorice and toasted cedar. Structurally this wine features a noticeable density of rounded tannins (no sharp edges). Lingers with some light tannin induced dryness and notes of tobacco. This wine was aged for 28 months in 50% new French oak barrels.
The 2015 Andretti Carneros Pinot Noir shows an intriguing bouquet; it is somewhat savory with notes of bacon fat and smoke along with fruit aromatics including red berries. The wine shows a fairly soft entry on the palate; it balanced and rounded in feel showcasing decent acidity with fine grained tannins. This is not necessarily a delicate Pinot Noir.
Another wine worth mentioning is their Blanc de Noir Sparkling Wine made from Cabernet Sauvignon grapes. Very few wineries in Napa Valley make a sparkling wine from this variety; theirs offers hints of toast and raspberries which when mentioned together sound like an odd combination, but it really works with this wine. And they also produce another unique bottling – the Vin Brulé, an Italian styled mulled wine. Only one winemaker in Napa Valley produces these types of wines for his own label, and that is Mike Sjoeblom (Sjoeblom Cellars). Mike also produces these two wines for Andretti Winery.
A membership in their wine club (Pisa) offers customers tickets to their member only parties, discounts on wine, complimentary wine tastings when visiting Andretti and other benefits including the opportunity to customize wine shipments. Total production has significantly varied over the years from a high of over 30,000 cases to as of our latest update to this review, approximately 15,000 cases per year. For more information, to setup a private tasting and or to join their wine club, visit: www.andrettiwinery.com
—
Studio by Feast it Forward Napa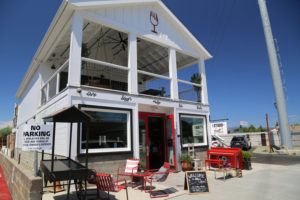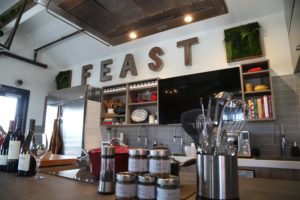 Select Andretti wines are available for tasting at the Feast it Forward tasting room in downtown Napa. A private tasting can be arranged by appointment, with one of the Mario Andretti Winery employees. Guests will choose ahead of time which flight of wines they would like to try. Or visitors can taste several of their entry level wines without an appointment, served by the folks at Feast it Forward.
The studio is located directly across from the Oxbow Public Market in downtown Napa and packs numerous experiences into a small space. This two-story building houses an "experiential showroom", as founder Katie Hamilton Shaffer calls it – with a focus on wine, food and music. Each vintner represented offers several wines and several of the showroom's sponsors have prominent placement including guitars from Gibson Brands, Inc. and furniture from Crosley. A chocolate tasting is also offered oddly enough sponsored by Sherman Williams and a vinyl station if offered for playing a variety of old records. Upstairs features a demonstration kitchen; when shows are being filmed here, televisions downstairs broadcast the live feed. This kitchen can also be used for guest chefs to offer culinary classes.
And visitor's will want to stop by their bathroom to read the latest in all the graffiti and words of wisdom that visitors mark on the walls. The site can be used for a number of events including the availability of plenty of space in the back of the building. The Yard is a sizable outdoor space featuring several stages, cute places to taste wines, a lemonade stand, a place for food trucks and a comfortable fake lawn. The Ultimate Airstream Film Lounge trailer is often be parked in The Yard; this trailer is used when the Feast it Forward team is on the road hosting unique lifestyle events and it also serves for private tastings on site or for special events. One such event at the showroom has included "Terrible Tuesdays" in which bad films with cult like followings are shown.
The second floor features a sizable surround building deck and a swinging 'bed'. This is an ideal perch to watch pedestrians walking to Oxbow Public Market or those enjoying the park next to the Napa River. These are also some of the best seats in the area to watch live performances at the nearby green. And the interior features a full kitchen used for various culinary TV shows. This space is where Andretti Winery prefers to host visitors.
Original Winery (we keep these photographs for historical reference).