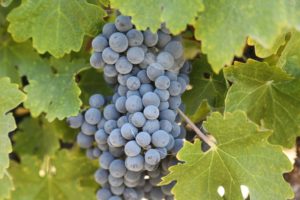 Andretti Winery was established in 1996 by the famed race car driver, Mario Andretti. Until early 2021, Andretti Winery was seeing visitors at their leased winery location on Big Ranch Road. However in March 2021 Andretti Winery closed its doors and no longer sees visitors at this winery location. However in late April 2022 Andretti Winery began seeing visitors by either walk-in or appointment at Feast it Forward tasting room in downtown Napa. See our notes at the end of this review for more details.
Andretti leases approximately 42 acres in the Oak Knoll District (a few minutes drive north of the city of Napa). Their vineyards are planted to Cabernet Sauvignon, Merlot and Sauvignon Blanc. They also purchase grapes from other vineyards in select locations in Napa Valley.
Mario was born in what is now called Motovun, Croatia; at the time of his birth in 1940 a part of Italy but after World War II annexed by the former Yugoslavia. His family was directly affected by the war – in 1948 they fled for Lucca in Italy and in 1955 immigrated to the United States. Mario is not the only Napa 'vintner' with the distinction of being born in what is now Croatia – Mike Grgich was also born in the small village of Desne, Croatia. Mario fell in love with wine through numerous trips around the world as a result of his racing career; he would seek out the finest wines in various regions and wine became a part of his lifestyle.
His racing career is long and accomplished. He is one of only three drivers to date to have won races in Formula One, IndyCar World Sportscar Championship and Nascar. He won the Indianapolis 500 for the first and only time in his career in 1969 – and some refer to his never winning this race again nor any of his family members in the racing industry as the Andretti curse. His professional career began in 1968 and ended with his retirement in 1994 (although he had been racing vehicles since the late 1950s). Like other race car drivers he has suffered a number of crashes – some could have been life threatening (reference his time racing in 1970).
Mario became more interested in the wine business after a wine was produced in his honor in the mid 1990's to honor the end of his illustrious racing career. Eventually he teamed up with Joe Antonini, former CEO of Kmart (and one of Mario's sponsors during his racing days) to form Andretti Winery.
And while he has been the subject of numerous books, he is also an author several times over including of What's It Like Out There? published in 1970.
Select Wines
Several brands are produced under the Andretti label including their Napa Valley Series (wines that are not vineyard designates), the Villa Andretti Series (reasonably priced limited production wines that focus on Italian varieties (wines not often found in the Napa Valley), and the Montona Series is named after Mario's childhood home in Italy and features their most premium limited production wines. The Montona Series Reserve Chardonnay is made in a style that is slightly buttery and somewhat oaky.
One doesn't always see Pinot Grigio on the tasting lists at Napa wineries; the one here is worth seeking out. The 2015 Andretty Winery Napa Valley Pinot Grigio is light salmon color in the glass (this wine sees more skin contact then the few Napa Valley produced Pinot Grigios we have tried. It is not overly citrusy on the bouquet or palate. This wine shows hints of floral aromas along with raspberry. It is nicely balanced with both crispness along with a noticeable weight on the palate. It is very refreshing and drinks well by itself.
The 2015 Andretti Carneros Pinot Noir shows an intriguing bouquet; it is somewhat savory with notes of bacon fat and smoke along with fruit aromatics including red berries. The wine shows a fairly soft entry on the palate; it balanced and rounded in feel showcasing decent acidity with fine grained tannins. This is not necessarily a delicate Pinot Noir.
Another wine worth mentioning is their Blanc de Noir Sparkling Wine made from Cabernet Sauvignon grapes. Very few wineries in the valley make a sparkling wine – theirs has some interesting hints of toast and raspberries which when mentioned together sound like an odd combination, but it really works with this wine.
We also found the Merlot and their limited release Port styled wine to be worth trying.
NOTE: THIS REVIEW AND TASTING NOTES HAVE BEEN IDENTIFIED AS NEEDING A *MAJOR UPDATE*.
—
Studio by Feast it Forward Napa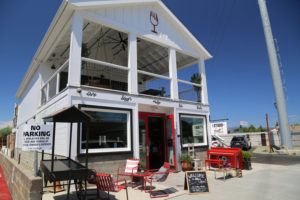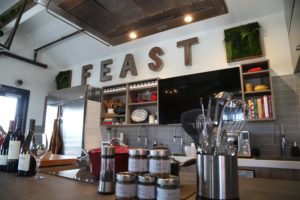 Select Andretti wines are available for tasting at the Feast it Forward tasting room in downtown Napa. A private tasting can be arranged by appointment, with one of the Mario Andretti Winery employees; this special tasting features their full lineup of current releases. Or visitors can taste the wines without an appointment, served by the folks at Feast it Forward.
The studio is located directly across from the Oxbow Public Market in downtown Napa and packs numerous experiences into a small space. This two story building houses an "experiential showroom", as founder Katie Hamilton Shaffer calls it – with a focus on wine, food and music. Each vintner represented offers several wines and several of the showroom's sponsors have prominent placement including guitars from Gibson Brands, Inc. and furniture from Crosley. A chocolate tasting is also offered oddly enough sponsored by Sherman Williams and a vinyl station if offered for playing a variety of old records. Upstairs features a demonstration kitchen; when shows are being filmed here, televisions downstairs broadcast the live feed. This kitchen can also be used for guest chefs to offer culinary classes.
And visitor's will want to stop by their bathroom – a television embedded in a mirror plays Feast it Forward culinary shows. The site can be used for a number of events including the availability of plenty of space in the back of the building. The Ultimate Airstream Film Lounge trailer is often be parked in the back; this trailer is used when the Feast it Forward team is on the road hosting unique lifestyle events and it also serves for private tastings on site or for special events. One such event at the showroom has included "Terrible Tuesdays" in which bad films with cult like followings are shown.
The second floor features a sizable surround building deck and a swinging 'bed'. This is an ideal perch to watch pedestrians walking to Oxbow Public Market or those enjoying the park next to the Napa River. These are also some of the best seats in the area to watch live performances at the nearby green.
A membership in their wine club offers customers tickets to their member only parties, a chance to meet Mario and other benefits including the opportunity to customize your wine shipments.
For more information and or to join their wine club, visit: www.andrettiwinery.com
Original Winery (we keep these photographs for historical reference).