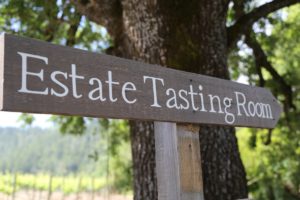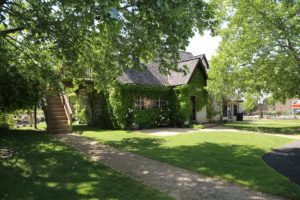 Anderson's Conn Valley Vineyards is located a few miles in from Silverado Trail on several very windy narrow roads through rolling hills and countryside native vegetation. The terroir here is definitely not the flat valley floor vineyard land. There is no signage whatsoever until you reach the main winery gate. Allow at least 15 minutes to reach the winery from the Silverado Trail. Todd Anderson & his father originally built this winery and vineyards from scratch – they planted all the grapes you see and Todd was the winemaker for many years until the business became large enough so he hired an expert winemaker.
The winery dates from the mid 1980's with their first commercial vintage in 1987. There is an interesting story that goes along with the acquisition of the property. The main hurdle they had to overcome at the time was that the property was not for sale! However, 15 months later the 40-acre site was owned by the Anderson's. As of the time of this review, they typically produce around 8,000 cases. Two sets of caves are on the property – one for Anderson's Conn Valley and one for Todd's father Gus who runs the next door Eagle's Trace Winery. They also converted an old building on site to a winery which now houses a number of their wine tanks.
Your tour and tasting will often be with Todd, one of their hospitality staff or their winemaker. It is a one on one event that can last a long time – often running several hours depending on who provides your tasting experience. If your tasting is with Todd, this can be by far the longest tour/taste you will take at any Napa Winery. If you do not want to be rushed, set aside at least a half day for a visit. The entire purpose of the tour is educational – you will be shown the vineyards, the wine production facilities, the caves and taste through a wide variety of wines in their larger cave from both barrel and bottle.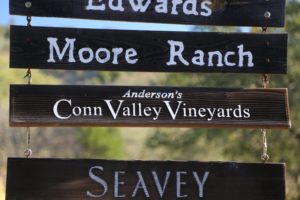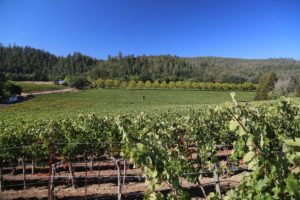 They welcome questions about wine making, production, growing – really anything related to wine!
Their current release Chardonnay is typically offered during the tasting. They were one of the first wineries in the area to not use Malolactic Fermentation on their Chardonnays, which often results in a less buttery creamy wine. Todd told us often guests tell him they don't like Chardonnay but leave with bottles of this particular styled wine!
We also tried the crisp 2005 Sauvignon Blanc (sourced from Lake County) & then tasted through a short vertical of their delicious Pinot Noir. Their Right Bank is an interesting blend of Merlot and Cabernet Franc that has a very smooth mouth feel yet is richly concentrated with good fruit flavors. The Eloge is their Bordeaux styled predominately Cabernet Sauvignon blend.
Their Signature Cabernet Sauvignon is barrel selection that differs each year depending on the vintage. The 2012 Signature shows darker fruit notes on the bouquet along with a spicy toasted oak component. As the wine breathes a tinge of mocha creeps onto the bouquet. Higher toned fruit with good acidity lingers on the finish – red cherry, black currant along with firm slightly chewy tannins that last for some time.
Todd also runs one of the most prestigious and limited production Napa area labels called Ghost Horse (first vintage was from 2000); it is usually sought out by extremely wealthy collectors with both domestic and international buyers. The amounts of wine produced each year are counted in bottles rather than cases. The only white wine under the Ghost Horse label is a Chardonnay. The Ghost Horse Cabernet Sauvignon is priced at $500/bottle with his other labels Fantome, Apparition and Spectre even more sought out and priced accordingly. A newer label, the Premonition was introduced in 2010 – this wine takes the Ghost Horse scarcity to the next level; only six, 6 Litre bottles were crafted. On the price alone, several of the Ghost Horse labels are well above the typical bottle price of the seven established Napa "cult" wineries.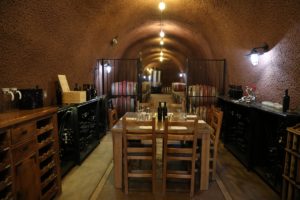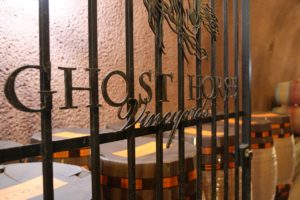 The tiny vineyard for this wine (all the reds) is located in Coombsville (southern part of the Napa Valley) and encompasses slightly less than 2 planted acres. All the wines from this vineyard for the Ghost Horse label are 100% varietal. Despite the vineyards' size tiny blocks are harvested separately creating each of the Ghost Horse wines.
For many years Ghost Horse was only available through knowing Todd and visiting the winery; in more recent years he selectively distributes the wine to several high end restaurants and resorts in Las Vegas.
Serious collectors can visit the winery and choose from a variety of exclusive Ghost Horse tasting and experience options including a BBQ, various dinners and one tasting in which you will taste older vintages. Membership to this wine club is very exclusive and ensures you access to a variety of interesting perks including participating with Todd in some of his adventures. There are two tiers of membership to this wine club, one starts at $500,000 and the other is a million dollars. When people come to the Napa Valley – mentioning the price of these two tiered wine club membership is always a good conversation piece.
Be sure to ask Todd about the many worldwide wine events that he conducts and participates in. He keeps a travel schedule that would bring younger men to their knees. For more information about Ghost Horse visit: www.ghosthorseworld.com and the Anderson's Conn Valley website here: www.connvalleyvineyards.com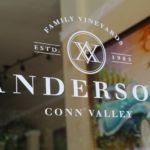 NOTE: Astute followers of Anderson's Conn Valley will remember that in September 2017 Anderson's Conn Valley partnered with the Thorn Hill tasting room on Main Street in downtown St. Helena to offer their wines to visitors (without needing an appointment). Even some of their entry level coveted Ghost Horse Vineyard wine was available here. Visits were by walk-in hosted either at the sit down tables or at the bar the small patio in the back where customers could bring and eat their lunch either before or after a tasting. As of October 2018, Anderson's Conn Valley is no longer tasting their wines here.
Video Todd, tasting