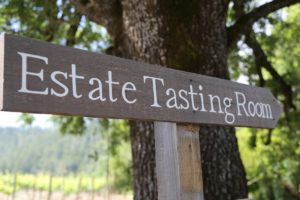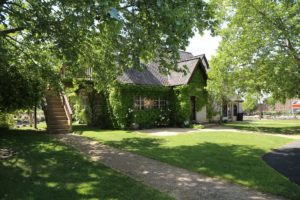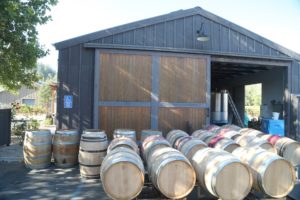 Anderson's Conn Valley Vineyards is located a few miles in from the Silverado Trail on several very windy narrow roads which meander through rolling hills – some planted to vineyards. Their property is not flat but rather a series of rolling hills next to valley floor land (the physical winery is located on the lower part of the property which is at an elevation of around 400-600 feet). The winery location is marked with very few signs until arriving at their main gate. Allow about 10 minutes to reach the winery from the Silverado Trail.
Todd Anderson & his father Gus originally built the winery and planted the vineyards from scratch; Todd has a degree in Geology from the University of Pacific in Stockton. He was the winemaker for many years until the business grew to the extent that he had to hire a winemaker (and now employs a small winemaking team).
The winery dates from 1983 with their first commercial vintage in 1987. When the Anderson's initially looked at this property it was not for sale (despite their interest in purchasing it). However, the Anderson's persevered and eventually were able to acquire the 40-acre site. As of our latest update to this review, they typically produce around 6,000 cases per year. Two sets of caves are on the property – the primary cave houses Anderson's Conn Valley and the smaller one was used for many years by Todd's father Gus (who died in 2016 at age 86) for his own winery Eagle's Trace (no longer producing). The lower cave (tends to be slightly cooler than the upper cave) and is now used for their white wine production.
And Todd and his father are not the only winemakers in the family; Todd's son Mike runs the cleverly named MGTA Cellars (using the first initial of his name, his father and his grandfather).
Hospitality
Visitors to the property will sometimes be hosted by Todd (who strikes a larger than life pose and personality at 6'5″ and is often wearing his trademark black cowboy hat), but more likely by one of their hospitality staff or sometimes their winemaker. Visits are personalized experiences which can last a long time – depending on who provides your tasting experience. If your tasting is with Todd, the conversation flows effortlessly, and tastings can often last several hours.
If you do not want to be rushed, set aside several hours for a visit. The focus of their quick tour is educational – visitors are shown part of the vineyards, wine production facilities (the original winery is an old barn the family converted) and the main cave. Guests are treated to a wide variety of wines from bottle and sometimes from barrel – while relaxing and seated in a small alcove in the larger of the two caves.
The hosts create a welcoming environment and enjoy answering questions about wine making, production, growing grapes and really anything related to wine.
Wines/Winemaking
Anderson's Conn Valley Vineyards produces wines from both their estate vineyard as well as purchased fruit from select vineyards in the Napa Valley. Several of their plantings came from budwood secured from iconic vineyards in the valley including formerly Silver Oak's Bonny's Vineyard in Oakville and the Eisele Vineyard in Calistoga. Their wines are food friendly, balanced with great acidity – especially their whites. Some of their smaller production wines are only available for tasting or purchase through visits to the winery.
A current release Chardonnay is typically offered during the tasting. They were one of the first wineries in the valley to inhibit secondary fermentation (malolactic fermentation) on their Chardonnays – with the intent to create a wine that does not have overt buttery characteristics or is creamy in texture. A byproduct of secondary fermentation is diacetyl which can cause the buttery flavors in wines. During one visit with Todd, he told us often guests tell him they don't like Chardonnay but after trying his Chardonnay, they decide they do in fact enjoy Chardonnay.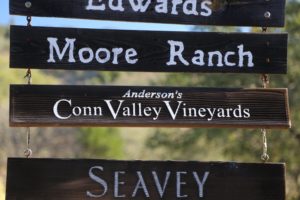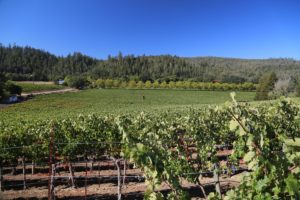 Anderson Conn Valley used to produce a Sauvignon Blanc from Lake County but they no longer source grapes from Lake County, preferring to work with vineyards closer to home. The 2018 Anderson's Conn Valley Vineyards Sauvignon Blanc is a blend of 90% Sauvignon Blanc and 10% Sémillon – both varieties are from Yountville. The Sémillon in particular is worth highlighting – it's from a block that dates back to the early 1960s, perhaps the oldest Sémillon in Napa Valley. This wine was 80% barrel fermented in used French oak, 10% in stainless steel tanks about 10% in Acacia puncheon. Winemaker Robert Hunt mentioned he uses the Acacia to help give some aromatic lift to the bouquet. Offers aromas of lemon/lime and a floral note including citrus blossom and honeysuckle. The texture is slightly rounded but complemented nicely by the bright acidity. Notes of green apple and pear on the palate. Very bright mouthwatering finish.
The 2018 Anderson's Conn Valley Vineyards Sarah's Cuvee 100% varietal Sémillon (also from this old block in Yountville). Shows aromas of dried straw, and a sweetness as the wine opens further including honeysuckle. Still a bit closed aromatically at the time of our tasting and needs time to open to tease out the aromatics. Rounded on the palate with mouthwatering acidity – flavors of kiwi and green apple. A brightness lingers all the way until the end.
The "Right Bank" red wine is always a blend of Merlot and Cabernet Franc; the 2017 Anderson's Conn Valley Vineyards Right Bank is 56% Cabernet Franc and 44% Merlot. Shows pretty fruit on the bouquet including plum, dark cherry, dark raspberry, licorice, mocha and hints of cedar. Features dark fruit on the palate with tannins that fit nicely into the wine's profile – no harsh edges here. Lingers with a smoky tobacco note, cedar and white pepper.
Eloge is their Bordeaux styled red blend – with a backbone of predominately Cabernet Sauvignon. The 2017 Anderson's Conn Valley Vineyards Eloge is a blend of 62% Cabernet Sauvignon, 29% Cabernet Franc and 4% Petit Verdot. Offers fruit forward aromatics including of blackberry and boysenberry, tinged with some secondary aromatics including hints of tobacco, dessert spices and some dust nuances. Has some weight – this wine is juicy across the palate, has plenty of complexity without being heavy. Slightly savory with mouthwatering acidity. Darker tannins linger with some grip and notes of tobacco leaf and cracked peppercorn. And Eloge in French translates to "praiseworthy" in English.
The 2016 Anderson's Conn Valley Vineyards Gustaf Cabernet Franc is 86% Cabernet Franc and 14% Merlot. It is dark ruby in color – offers catchy aromatics of dark spice, pepper, tobacco, dried rose petal and blackberry. Plenty of depth with mouthwatering acidity. Both red and darker fruits – but more high-toned flavors. The tannins are broadly distributed granular and somewhat dry tannins. The texture is a lovely attribute of this wine.
The Signature Cabernet Sauvignon is a barrel selection that differs each year depending on the vintage. The 2012 Anderson's Conn Valley Vineyards Signature Cabernet Sauvignon (100% varietal) shows darker fruit notes on the bouquet along with a spicy toasted oak component. As the wine breathes a tinge of mocha creeps onto the bouquet. This wine reflects higher toned fruit with good acidity which is noticeable on the mouthwatering finish. Offers flavors of red cherry and black currant along with firm slightly chewy tannins which linger for quite some time.
The Estate Reserve Cabernet Sauvignon is the first wine that was produced back in the 1980s (for several years they only produced this one wine). The 2016 Anderson's Conn Valley Vineyards Estate Reserve is dark ruby in color with an appealing bouquet including some floral notes (rose petal and violets). Somewhat briary and somewhat savory. The palate has plenty of complexity and depth for serious Cabernet Sauvignon enthusiasts with a firm unyielding grip of tannins that persist – along with notes of cedar and some dark spiciness including cracked peppercorn. Plenty of density in this wine. Sees about 60% new French oak.
Ghost Horse Vineyards
Todd also runs one of the most prestigious and limited production Napa area wine brands called Ghost Horse Vineyards (first vintage was from 2000); these wines are usually sought out by extremely wealthy collectors including both domestic and international buyers. Todd counts the production of Ghost Horse Vineyards each year in bottles rather than cases.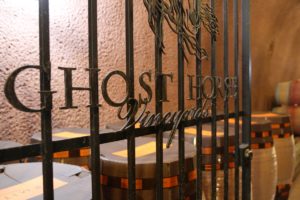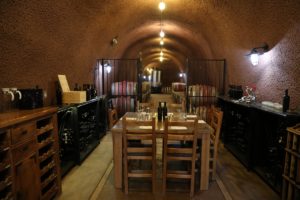 The only white wine under the Ghost Horse label is a Chardonnay. The Ghost Horse Cabernet Sauvignon (the entry level wine) is among some of the highest priced wines in all of Napa Valley with his other labels Fantome, Apparition and Spectre even more sought out and priced much higher. A newer label, the Premonition was introduced in 2010 – this wine takes the Ghost Horse scarcity to the next level; only six, 6 Litre bottles were crafted. On the price alone, several of the Ghost Horse wines are well above the typical bottle price of the seven established Napa Valley "cult" wineries (Bryant Family, Colgin, Dalla Valle, Eisele Vineyard, Grace Family, Harlan Estate and Screaming Eagle).
The tiny vineyard for this wine (all the reds) is located in Coombsville (southern part of Napa Valley) and encompasses slightly less than 2 planted acres. All the wines from this vineyard for the Ghost Horse label are 100% variety. Despite the vineyards' size – tiny sub blocks are harvested separately creating each of the Ghost Horse wines.
For many years Ghost Horse was only available through personal relationships with Todd and visiting the winery; in more recent years he selectively distributes the wine to several high-end restaurants and resorts in Las Vegas.
Serious collectors can visit the winery and choose from a variety of exclusive Ghost Horse tasting and experience options including a BBQ, various dinners and a Library tasting featuring older vintages. Membership to this wine club is very exclusive and ensures one has access to a variety of interesting perks including participating with Todd in some of his adventures such as auto racing, downhill skiing, cigar smoking and other experiences. There are two tiers of membership to this wine club, one starts at $500,000 and the other is a million dollars. When people come to the Napa Valley – mentioning the price of these two-tiered wine club membership is always a good conversation piece.
Be sure to ask Todd about the many worldwide wine events that he hosts or participates in. He keeps a travel schedule that would bring younger men to their knees. For more information about Ghost Horse Vineyards visit: www.ghosthorseworld.com and the Anderson's Conn Valley website here: www.connvalleyvineyards.com
NOTE: Astute followers of Anderson's Conn Valley will remember that in September 2017 Anderson's Conn Valley partnered with the Thorn Hill tasting room on Main Street in downtown St. Helena to offer their wines to visitors (without needing an appointment). Even some of the entry level coveted Ghost Horse Vineyard wine was available here for a very short while. Visits were by walk-in hosted either at the sit-down tables, the bar or on the small patio in the back where customers could bring and eat their lunch either before or after a tasting. As of October 2018, Anderson's Conn Valley is no longer tasting their wines here and the Thorn Hill Tasting room is permanently closed.
Signs

Vineyards/Estate

Caves