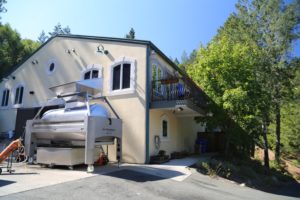 Amici Cellars was started after winemaker, Jeff Hansen and friends crushed a few tons of grapes in 1991 for their own personal use. "This was good wine", they unanimously agreed and soon thereafter released their first commercial vintage. The name Amici means "friends" in Italian and is a tribute to the friends who started this winery as well as to their Italian heritage. Coming up with a slogan to honor this, their wine is "created by friends for friends". And over the years, the winery has had several owners and production facilities. Today the owners of Amici Cellars are John Harris and Bob and Celia Shepard.
Bob was one of the co-founders of Amici Cellars – born and raised in the San Francisco Bay Area he graduated from San Jose State with a degree in Economics. Bob was introduced to wine while in college – after graduating he took a class with Master of Wine Peter Marks (who earned his MW in 1995 and is still part of a very select groups of Masters of Wine living in the United States). Besides running Amici Cellars – Bob's other career has long been in real estate investing and the world of finance.
Celia graduated from Santa Clara University in 1988 and spent a number of years working and traveling intentionally for Macromedia, Inc – a graphics and web development software company (no longer in business). She and Bob married in 1996.
John Harris is originally from Houston – came to the San Francisco Bay Area to work with a startup company. While living oversees he became interested in wine – helped in part through a French distributor that was working for his firm. When he moved back to California he took advantage of his proximity to the Napa Valley and spent free time exploring the region.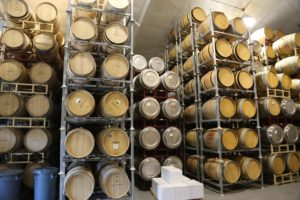 Today 'virtual' wineries are an integral part of Napa's wine scene – a winery that doesn't necessarily own vineyards or a physical winery. This is the role Amici played for many years – initially they maintained a tiny vineyard on the slopes of the little known Jericho Canyon at the base of Mt. St. Helena in the northern part of the valley, just north of Calistoga and rented space at other wineries to make their wines.
However in 2012 they found a permanent home – acquiring an existing winery off of Old Lawley Toll Road but continue to source fruit from premium vineyards mostly in Napa but also selectively in Sonoma for all of their wines. This winery facility was originally founded by Greg Brown (the original founder of T Vine Wines). Over the years several winemakers have produced their wines here including for several years, Joel Aiken (who spent 25+ years at Beaulieu Vineyard).
Tastings are conducted outside, weather permitting on a picnic table under the shade of nearby trees. A tasting here is very personalized and relaxed and features several small production wines that are not distributed.
During our first visit with Amici Cellars, we had the pleasure of initially tasting with their assistant winemaker; we started with the 2006 Sauvignon Blanc sourced from the Mello Vineyard in Yountville (only two wineries source from this particular vineyard). Half of the grapes for this wine are the Musque Clone which is known for its very floral qualities on the nose. This wine is made in a crisp style, almost flinty both in the bouquet and on the palate with great citrus and guava flavors.
The 2014 Amici Cellars Spring Mountain Sauvignon Blanc shows a nice interplay of both citrus blossom and stone fruit aromatics (apricot) along with hazelnut and almond (this nutty component becomes stronger as the wine breathes). A roundness on the palate with some creamy weight is balanced by decent acidity – lingering notes of spice and a lemon meringue tartness.
The 2013 Russian River Pinot Noir shows a spicy sweetness of aromas including a reminder of a faded memory of the smell of bubble gum sealed in old baseball cards from years ago. Sweet raspberry, and plum aromas show. The palate shows a diversity of flavor with lingering earthy well weaved (no harsh edges) delicate tannins.
During our initial tasting, the 2003 Amici Cellars Cabernet Sauvignon was current release making this among the older of the current releases we have tried. Their philosophy is to give this Cabernet some additional bottle aging as well as providing a slightly aged wine for the consumer, as most consumers of everyday drinking wine will consume the wine within hours of purchase with little patience or space for aging wine. This wine has 10% Merlot blended in mainly to enhance the mouth feel and aromatics. There is a touch of vanilla and spice on the nose with a very soft rounded mouth feel. This is a perfect everyday affordable Cabernet Sauvignon.
Want an even more affordable Cabernet Sauvignon? Try their second label called Olema; the first release was 2005. Of note are their prices; they are extremely reasonable for Napa standards and as of the time of this review you can buy the Olema Sonoma Cabernet Sauvignon for under $25 a bottle. Olema means means "coyote" in Miwok and typically features Sonoma County wines. Not many Napa based wineries we have visited produce a Sonoma Cabernet Sauvignon at this pocket pleasing price point.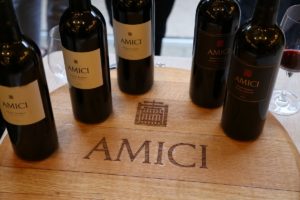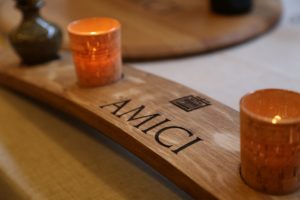 In the past, Amici has sourced Pinot Noir grapes from Mendocino County. With limited productions, their Pinot Noir wines tend to sell out quickly.
The owners of Amici also spend significant time in Bordeaux France, and often rent out their villa there and in Napa. In Napa the "villa" is a Tuscan styled luxury home located in the north part of the valley near Calistoga. It is called Domaine Beau Soleil.
Total production annually is around 10,000 cases. For more information and to schedule an appointment please visit: www.amicicellars.com
NOTE: this review has been identified as needing an update. Stay posted.