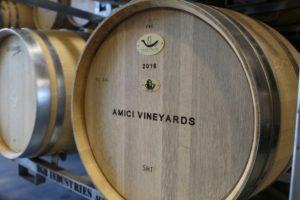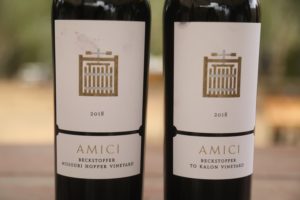 Amici Cellars was started after winemaker, Jeff Hansen and friends crushed a few tons of grapes in 1991 for their own personal use. "This was good wine", they unanimously agreed and soon thereafter released their first commercial vintage. The name Amici means "friends" in Italian and is a tribute to the friends who started this winery as well as to their Italian heritage. Coming up with a slogan to honor this, their wine is "created by friends for friends". And over the years, the winery has had several owners and production facilities. Today the owners of Amici Cellars are John Harris and Bob and Celia Shepard.
Bob was one of the co-founders of Amici Cellars; born and raised in the San Francisco Bay Area he graduated from San Jose State with a degree in Economics. Bob was introduced to wine while in college; after graduating he took a class with Master of Wine Peter Marks (who earned his MW in 1995 and is still part of a very select groups of Masters of Wine living in the United States). Besides running Amici Cellars, Bob's other career has long been in real estate investing and the world of finance.
Celia graduated from Santa Clara University in 1988 and spent a number of years working and traveling intentionally for Macromedia, Inc – a graphics and web development software company (no longer in business). She and Bob married in 1996.
John Harris is originally from Houston and moved to the San Francisco Bay Area to work with a startup company. While living oversees he became interested in wine – helped in part through a French distributor who was working for his firm. When he moved back to California, he took advantage of his proximity to Napa Valley and spent free time exploring the region.
Today 'virtual' wineries are an integral part of Napa Valley's wine scene and are brands who do not necessarily own vineyards or a physical winery. This is the role Amici played for many years; initially they maintained a tiny vineyard on the slopes of the little-known Jericho Canyon at the base of Mt. St. Helena in the northern part of the valley, just north of Calistoga and rented space at other wineries to make their wines.
However, in 2012 they found a permanent home and acquired an existing winery off of Old Lawley Toll Road but continue to source fruit from premium vineyards mostly in Napa but also selectively in Sonoma for all of their wines. This winery facility was originally founded by Greg Brown, the original founder of T Vine Cellars and is who we first met on this property. Over the years several winemakers have produced their wines here including Joel Aiken (who spent 25+ years as winemaker at Beaulieu Vineyard in Rutherford).
Tastings are conducted outside, weather permitting on a picnic table under the shade of nearby trees or under a tent. A tasting is a very personalized and relaxed experience and features several lighter style wines prior to delving into their single vineyard Cabernet Sauvignon wines. A tasting always includes wines which are not distributed.
Select Wines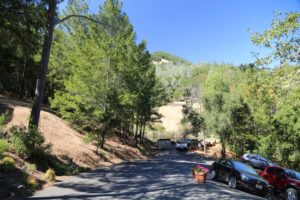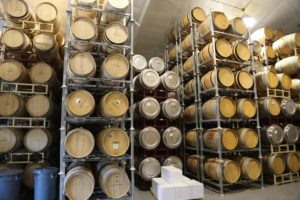 The 2019 Amici Cellars Hyde Vineyard Chardonnay is from the Napa side of the Carneros District. The vineyard is owned and farmed by Larry Hyde and his family, both growers and producers of primarily Chardonnay and Pinot Noir. This wine is deep golden in color; offers aromas of melted butter, vanilla, hazelnut, baked apple, spiced pear and hints of yellow pineapple. Offers a perceived ripeness of fruit on the palate with flavors of pineapple, Golden Delicious apple, tangerine and honeycomb. An intense showing, especially on the finish. The texture is creamy and supple from the attack through the end but is not viscous. Features a noticeable richness and brightness of acidity on the finish with both fruit and some dessert spice characteristics lingering. This wine was entirely fermented in barrel, went through full secondary fermentation and was aged for 15 months in 35% new French oak barrels.
The 2018 Amici Cellars To Kalon Vineyard Cabernet Sauvignon is dark ruby in color; the bouquet keeps evolving so give it some time to open in the glass. Offers aromas of Asian spices, Graham Cracker, toasted oak and a tobacco smoke note. As the wine continues to breath, reveals aromas of mocha and espresso. Plenty of fruit on the palate including plum and darker cherry. The tension between the fruit and the tannins is classic To Kalon – offering noticeable power yet also some restraint. The broadly distributed dusty tannins are gravelly in their textural feel. The finish is mouthwatering and long, lingering with plenty of acidity, fruit and notes of dried tobacco leaf. Drinks nicely now, but we will venture a guess that this wine will continue to improve nicely over the next 5-20 years given a proper cellar temperature.
To Kalon Vineyard is most often associated with Cabernet Sauvignon but this hallowed ground also produces exceptional Cabernet Franc. Recent other producers of Cabernet Franc from To Kalon include Tor, Realm, The Debate and Purlieu.
The 2018 Amici Cellars Cabernet Franc (85% Cabernet Franc and 15% Cabernet Sauvignon) is dark ruby with plenty of purple color in the glass; the aromatics are dark including of blueberry, hint of chocolate and as it evolves opens to notes of lavender. Opulent and plush across the palate, this wine is well layered with flavors of plum and ripe dark cherry complemented by darker spices. The density of the slightly drying tannins is one of this wine's hallmarks, tightly packed but rounded in their textural feel. This is a big but balanced showing – lingers with both fruit but also hints of white pepper and dust. Once can almost taste the soils of this part of Oakville in this wine. It was fermented in stainless steel and then aged for 22 months in new French oak.
The 2018 Amici Cellars Hirondelle Vineyard Cabernet Sauvignon (from the Stags Leap District) is a blend of 81% Cabernet Sauvignon and 19% Cabernet Franc. This wine is dark ruby in the glass; the aromatics are more similar to the bouquet on the 2018 To Kalon Cabernet Sauvignon as compared to any of their other wines from this vintage. Offers darker initial aromas of earth, mushroom and Graham Cracker. As it breathes shows a variety of dessert spices along with a toasted oak character. Offers an intensity of ripe fruit across the palate (plum) including some complementary notes of cardamom. Juicy and mouthwatering but without heavy tannins. This wine was fermented entirely in stainless steel tanks and aged 22 months in 100% new French oak barrels.
Missouri Hopper is one of Napa's oldest continuously farmed vineyards. It is located next to and west of Highway 29 slightly north of Yountville and about a mile south of its more famous neighbor to the north, To Kalon. The vineyard site is 45 acres owned and farmed by Andy Beckstoffer. It is named Missouri after one of its early owners, Charles Hopper who gifted the site to his daughter, Missouri. It is one of Beckstoffer's six heritage vineyards, the most prized Napa Valley vineyards in their portfolio due to their historical significance, pedigree of the site and exceptional quality of wines.
The 2018 Amici Cellars Missouri Hopper Cabernet Sauvignon (100% varietal) is a robust wine for serious Cabernet Sauvignon enthusiasts. We call this a Napa Valley 'Texas' sized wine due to its intensity of fruit and massive texture. Offers intense aromas of plum, blackberry and dark licorice. On the palate there is a noticeable energy with robust, chewy, dusty and very long-lasting tannins. This wine needs some time to calm down due to its youthful boisterous nature, but it has plenty of life ahead.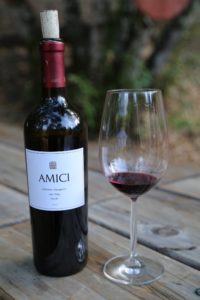 During our first visit to Amici Cellars, we had the pleasure of initially tasting with their assistant winemaker; we sampled the 2006 Amici Cellars Sauvignon Blanc sourced from the Mello Vineyard in Yountville (only two wineries source from this particular vineyard). Half of the grapes for this wine are from the Musqué clone, known for its very floral aromatic qualities. This wine is made in a crisp style, almost flinty both in the bouquet and on the palate with enjoyable citrus and guava flavors.
The 2014 Amici Cellars Spring Mountain Sauvignon Blanc offers a nice interplay of both citrus blossom and stone fruit aromatics (apricot) along with hazelnut and almond (this nutty component becomes stronger as the wine breathes). A roundness on the palate with some creamy weight is balanced by decent acidity with lingering notes of spice and a lemon meringue tartness.
The 2013 Amici Cellars Russian River Pinot Noir shows a spicy sweetness of aromas including a reminder of a faded memory of the smell of bubble gum sealed in old baseball cards from years ago. Also offers sweet raspberry and plum aromas. The palate features a diversity of flavor with lingering earthy finely weaved (no harsh edges) delicate tannins.
During our earliest visit, the 2003 Amici Cellars Cabernet Sauvignon was a current release. Their philosophy is to give this particular wine some additional bottle aging as well as providing a slightly aged wine for the consumer, as most consumers of everyday drinking wine will consume the wine within hours of purchase with little patience or space for aging. This wine has 10% Merlot blended in mainly to enhance the mouth feel and aromatics. There is a touch of vanilla and spice on the nose with a very soft rounded mouth feel. This is a perfect everyday drinking affordable Cabernet Sauvignon.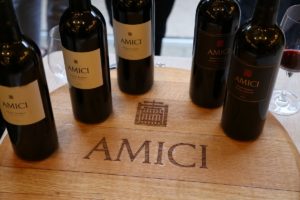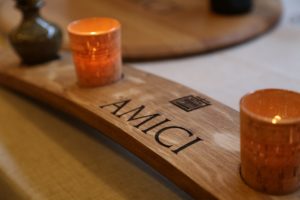 Amici produces a second label called Olema; the first release was 2005. These are wines produced from Sonoma County vineyard sites and are priced extremely reasonably. Olema means "coyote" in the Miwok language, a native American tribe who used to live in what is now Northern California. Not many Napa Valley based wineries we have visited produce a Sonoma County Cabernet Sauvignon at this pocket pleasing price point. And Amici produces another second label for distribution, called No Curfew, focused on wines from California.
In the past, Amici has sourced Pinot Noir grapes from Mendocino County. With limited productions, their Pinot Noir wines tend to sell out quickly.
Total production annually is around 10,000 cases annually with select distribution primarily through Total Wine & More stores. For more information, to join their wine club (4, 6 or 12 bottle shipments annual) or to schedule an appointment, please visit: www.amicicellars.com