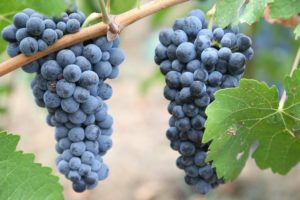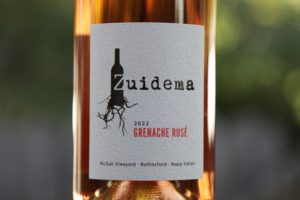 Zuidema Wines is a partnership between long time Napa winemaker Rudy Zuidema and his wife Amy. Rudy was born in Sacramento but grew up in nearby Davis, a town known for its university. Conveniently Rudy was accepted to UC Davis where he spent three years studying photography and design with the intent to eventually create logos and designs for sports equipment. However, he eventually discovered this was not a career field he was passionate about. He became intrigued with the world of wine while taking an introductory course to viticulture – which inspired him to switch majors to Plant Science and Viticulture. Graduating in 1991 he moved to Napa; his first job in the valley was working in retail at the Oakville Grocery (back when Joseph Phelps owned this iconic purveyor).
He would often taste up to 300 wines per month – one of these wines was from St. Clement which he was happy to sell and promote at Oakville Grocery. But after being told to replace those wines with some of the Phelps offerings he quit and decided to pursue winemaking. He showed up at St. Clement unannounced and spoke to their winemaker at the time, Dennis Johns – Rudy quickly reminded him that he was the guy helping to sell all that St. Clement wine at the Oakville Grocery – and then asked Dennis if he needed any winemaking help. Dennis soon hired him; this was Rudy's first winemaking job in the Napa Valley.
Over the years Rudy has made wine at a number of well-regarded Napa based wineries including Cuvaison, Honig, Ehlers Estate and White Cottage Ranch. It was at Ehlers that he was introduced to Biodynamic farming through their General Manager at the time who learned about it when he was at Quintessa. Quintessa had just begun farming biodynamically. And while at Ehlers, Rudy began his own consulting business – today he crafts wine for a number of premium boutique Napa based producers but also provides consultation in regard to vineyard management and biodynamic farming.
Rudy has made many excellent Cabernet Sauvignon wines over the years for his clients and wasn't interested in making another Cabernet Sauvignon for his own label. Long time followers of Rudy's career will remember his first label, Calix Cellars (a partnership which produced Syrah and Cabernet Sauvignon). The focus of Zuidema Wine Co is merely on a single wine each year – from a variety seldom associated with the Napa Valley – Grenache – grown in perhaps a surprising location, Rutherford. The source is McGah Family Vineyards (neighbors with one of Beckstoffer's heritage vineyards, Georges III). When the McGah family decided to replant part of their vineyard they sought advice from Rudy, winemaker Kale Anderson and their vineyard manager at the time. Perhaps expecting them to suggest other Bordeaux red varieties – the family must have been surprised when rather than encouraging them to plant more Cabernet Sauvignon, they suggested Grenache.
From an economic standpoint Grenache is a hard sell in the heart of Napa's Cabernet Sauvignon country. But after discussing how to farm it and acknowledging this varieties' tendency to produce a sizable crop, they elected to farm the vines in what Rudy calls "the flop" or the traditional head-trained spur pruned vine – saving additional farming and management costs associated with managing trellised vines. They planted 3.5 acres of Grenache of which Rudy sources just over an acre.
Rudy loves the lack of consistency this vineyard block produces. Part of the block is shaded much of the day; some vines have partial shade and others see full sun throughout the day. This varying exposure contributes different nuances towards each of the blocks.
The grapes are destemmed and fermented in open top tanks – primary fermentation is allowed to start and finish mainly using non-inoculated yeasts. Prior to dryness the wine is moved into Pennsylvania oak barrels at around 4-5% residual sugar and allowed to complete their fermentation in the oak. According to Rudy these are the heaviest and densest wood/grain barrels he has ever used. The wine is aged in 20% new oak.
Select Wines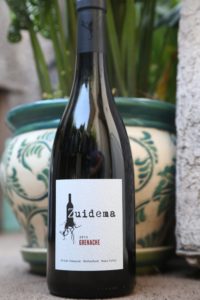 The Zuidema Grenache rosé is also sourced from the McGah Vineyard in Rutherford and is blended from two separate picks and includes both saignee and a direct to press, blending less ripe grapes (in the 21 brix range) with those that are much riper (26 brix). The 2022 Zuidema McGah Vineyard Grenache Rosé is deep copper in color; the bouquet is fruity offering scents of watermelon jolly rancher, raspberries, strawberries with some citrus influence as well including orange blossom. There is also a subtle herbal note that reminded us of water infused with freshly cut cucumber slices. Balanced, flavorful and texturally driven with a creamy character, on the palate this wine offers notes of rhubarb, strawberry, cranberry, pomegranate and watermelon. It finishes bright and with a lingering herbal sweetness somewhat reminiscent of fennel. We wouldn't mind pairing this wine with lightly seared tuna.
The 2021 Zuidema McGah Vineyard Grenache Rosé is deep copper in the glass; the bouquet offers attractive aromatics including of strawberries, raspberries, lychee, Crenshaw melon, rose petals, blood orange, a hint of pineapple and passion fruit. A subtle dried herb nuance is also at play here, perhaps closely resembling thyme and oregano. The palate offers a rounded texture but is not quite as creamy as the 2022 bottling. This wine reveals flavors of ruby grapefruit, raspberries, cranberries and currant. This is a balanced bottling showcasing a bright but not bracing acidity which is especially noticeable on the finish. Tasting this wine made us want to pair it with home-made Gravlax (shout out to the cool folks at Santa Rosa Seafood for the fresh salmon), cream cheese and a toasted bagel.
The 2015 Zuidema McGah Vineyard Grenache (100% varietal) is crimson and almost brick red color in the glass. Shows plenty of color for a variety that can sometimes be a bit light in color or even border on translucent at times. Features bright aromatics on the bouquet including red licorice, raspberry along with a cinnamon like spice, hints of old cedar box and lesser notes of crushed black pepper. The bouquet continues to change nicely given time; it also sports a dried herb savory nuance. Balanced across the palate, the wine features fairly well-integrated and well-managed tannins. Excellent acidity. The finish is extended, not necessarily with structure but with fruit. Only 107 cases of this wine were produced although it should be noted that production nearly doubled in 2017. The first vintage was in 2014.
Grenache is a fun wine for Rudy to make and to sell. He has found that approaching wine buyers with a Napa Grenache rather than the obligatory Chardonnay or Cabernet Sauvignon often elicits more interest.
—
Over Rudy's 25+ years making wine in Napa Valley he has picked up a number of winemaking ideas and techniques. While visiting Stony Hill for the first time he was given a tour of the winery by long time winemaker Mike Chelini. Rudy was impressed by their commitment to tradition but when walking through the winery he noticed a number of old barrels and casks, some with dates on them indicating decades old use. He asked Mike why he was taking up valuable winery real estate 'with these historical decorative wine making relics'. Shocked by the reply, Mike told him all the old casks and barrels were still in use for their white wines. He explained why he uses the old wood – to preserve the varietal characteristics, the purity of the fruit as he put it. Rudy took this to heart and for the select white wines he makes for clients – he still uses barrels he began using back in the 1990s.
Flash Wine Technologies
Rudy and Amy founded this business in 2012; at the time they were the first such company to service the Northern California wine industry with both small and large lot needs. They typically process some 800 to 1000 tons of fruit a year for approximately 60 clients. Historically this technology has been used in parts of Europe, South America and Australia. Essentially grapes are heated to extreme temperatures followed by a quick cooling in a vacuum chamber – helping extract color and flavors. No chemicals are added. Their operations are located at Kunde Family Winery in neighboring Sonoma County (Sonoma Valley).
Winery demand for this technology has been strong for a number of creative uses. It has been extremely beneficial in removing smoke taint. One of Rudy's clients drops fruit just after veraison – grapes that are not yet ready to make wine. The flash détente technology removes the greenness – and the winery then holds onto these early harvested grapes, fermenting them and then blending the wine back into the wine fermented from grapes that they allow to fully ripen (this gives them the flexibility to control the wine chemistry naturally). And another client – rather than selling or bulking off the part of their premium vineyard which does not always fully ripen – uses this technology to remove greenness and then blends grapes from that part of the vineyard with grapes from their entire vineyard.
This technology was particularly useful in removing smoke taint from wines following the fires in 2017 through 2020 in Napa Valley and Sonoma County. There are different levels of smoke taint; some of the worst smoke tainted wines we have tried were from British Colombia. They tasted and smelled like ashtray – certainly not something consumers want to experience in wines. The minimum quantity needed for treatment at Flash Wine Technologies is 8 tons.
—
The Zuidema wines are almost exclusively sold direct to consumer and what has been a rather remarkable sales outlet, nearly all their wine has been sold through people posting related photos and comments on Instagram. For more information and to purchase some of this extremely limited production wine, visit: www.zuidemawines.com