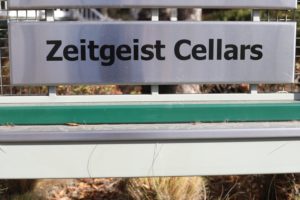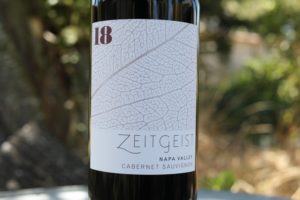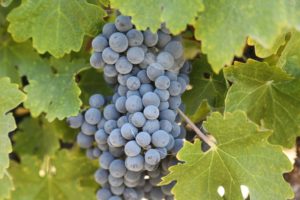 Zeitgeist Cellars was founded by winemaker Mark Porembski; later joined by his wife, also a winemaker, Jennifer Williams. Both work on Zeitgeist but also consult for several other small wineries in the area. Mark moved to the Napa Valley in 2000 and joined Anomaly Vineyards in St. Helena two years later; he has been the primary winemaker there since 2005. Jennifer's first winery job in the Napa Valley was an internship at Beaulieu Vineyard. She was head winemaker at Spottswoode Estate from 2006 through 2010 and currently consults for several small premium Napa Valley based wineries.
Mark's background is not in wine – rather his degree is in poetry. He remembers first becoming interested in wine while in college even before he was of legal drinking age. While studying in Dallas he incidentally met two guys from St. Helena. We have met some winemakers in the valley who have truly followed their passion and thrown caution to the wind. Take Mark for instance; after college he packed everything into his car and drove out to Napa Valley without even lining up a job ahead of time. Fortunately, he arrived in 2000 during harvest when seasonal jobs are easier to find and as it were, he found a job the day he arrived. Jobs at notable Napa Valley wineries included Far Niente, Araujo Estate (now the Eisele Vineyard) and El Molino Winery.
Zeitgeist's first vintage was 2005 and included a Napa Valley Cabernet Sauvignon and a Santa Barbara Syrah; other than that first year, they used only two vineyard sources for their first few vintages – from St. Helena and from Farella Vineyard in Coombsville near the town of Napa. Over the years their vineyard sources have increased; today they continue to source from Napa Valley vineyards while sourcing from one vineyard in neighboring Sonoma County. One of their flagship vineyards is the historic Lewelling Vineyard in St. Helena. Lewelling Vineyard is one of the oldest continuously owned family vineyards in the Napa Valley with family roots dating back to 1864 when the family patriarch John Lewelling moved to St. Helena. The vineyard itself is located at the base of the Mayacamas mountains on the western side of the valley. The vines grow on rich benchland soils, several premium producers' source from this vineyard.
While they currently produce two highly unusual wines for a Napa Valley based producer (old vine Chenin Blanc from St. Helena and a very rare Trousseau Gris from neighboring Sonoma County), the focus of their production is Cabernet Sauvignon. They used to source small quantities of Syrah in the past (although this was not made every year).
The name Zeitgeist means "the spirit of the times" first created by German Romanticists to describe the mood or feeling of a particular time period. This is a term that relates to the current wine industry very well. For example, in the 1960s there were less than 30 wineries in Napa Valley; we maintain a list of wineries dating from 1979 and before who are still in business today. That list numbers approximately 70 producers. Currently there are approximately 500 physical wineries within Napa Valley with well more than twice that number being virtual producers. And in the spirit of the times, as Mark told us, "There are many smaller virtual producers today who are helping push the envelope for quality." This has led to better quality wines both from improved practices in the vineyard and in the winery – it is an exciting yet certainly a very challenging time to be a small producer in Napa Valley.
Zeitgeist is very careful during their winemaking, most notably during two stages; one with their sorting; they sort multiple times taking care to remove any desiccated fruit or unripe berries and then again during their blending trials. They will only blend the highest quality barrels and if a barrel "is on the fence" as Mark says, it will not make the final blend. One year they started with 18 barrels and ended up only using 5 for their final wines.
Select Wines

Never had a glass of Trousseau Gris? You are not alone. The Zeitgeist Trousseau Gris (also known as Grey Riesling) is from the Fanucchi-Wood Road Vineyard off of River Road near the town of Fulton, just north of Santa Rosa. One of the few plantings of this variety in California these vines date back to 1981 and are growing on AXR-1 rootstock (not yet infected by phylloxera). Doing a quick search for this variety often brings one back to this particular vineyard as several producers make a 100% varietal wine from the Fanucchi-Wood Road Vineyard. They have one of the largest plantings of Trousseau Gris in California at 10 acres. According to Mark, the only Trousseau Gris in Napa Valley is a very tiny planting in the experimental vineyard at Larkmead Vineyards in Calistoga.
The 2018 Zeitgeist Trousseu Gris is 100% varietal and underwent no secondary fermentation. Pale straw yellow in the glass, this wine offers aromas of lemon and green apple with flavors of apple and gooseberry and a mineral nuance. The acidity is lively but not bracing and dances across the palate from start to finish. This wine remains fresh and bright. Its balance is also noteworthy and is seamless, this wine drinks very nicely in its youth.
Chenin Blanc is no longer a common variety in the Napa Valley; one of the latest crop reports shows a mere 8 acres in the entire county – although more recently there is a renewed interest in this variety, especially from some of the younger winemakers in the valley. Several producers we are aware of who grow this in Napa Valley include Ballentine Vineyards, Casa Nuestra, Chappellet Winery, Salvestrin, QTR, a two-acre block planted in Oak Knoll in 2021 and another old hillside block in Pope Valley. And finding 'old' Chenin Blanc is even more of an undertaking. Zeitgeist located a small vineyard in St. Helena with older vines and have worked with this vineyard since 2014.
The 2018 Zeitgeist Chenin Blanc was fermented and aged sur lie in used French oak barrels for 10 months and underwent no secondary fermentation. Initially shows hints of petrol on the bouquet but as the wine opens, is replaced by hints of sweet fruit and floral notes along with a very slight lanolin nuance more in the background. This is an easy drinking wine with flavors of lemon, red apple and a lingering note of mandarin orange. Crisp and balanced. A wine well worth seeking out for both its profile and the fact this varietal is so rare in Napa Valley.
The 2018 Zeitgeist Napa Valley Cabernet Sauvignon (with 1% Cabernet Franc in the blend) is dark ruby in the glass; this wine is highly aromatic, and we smelled its dark fruits immediately upon opening. The bouquet offers notes of dark plum, blackberry and boysenberry. Accompanying the fruit are aromatics that are slightly savory and brambly including some darker wood spice notes and crushed peppercorn. This wine is juicy across the palate with bright acidity and flavors of red plum, cherry and red currant. The still somewhat tightly woven tannins (tasted 4 years post vintage date) show a medium but long-lasting grip, finishing with darker spices. This wine is balanced in its youth but also has the character to age for years to come. It was sourced from premium vineyards including Sleeping Lady, Oakville Station, Lewelling, Farella and Rafael.
During our first visit with Mark, we tried the 2006 and 2007 Zeitgeist vintages of Cabernet Sauvignon both sourced from the same two vineyards. Each wine shows noticeable differences, some of which can be attributed to bottle age, vintage and proportion of vineyard source used. According to Mark, the St. Helena vineyard source tends to contribute more fruit to the blend while the Farella Vineyard (slightly cooler growing region) contributes the structure and layers.
The 2006 Zeitgeist Napa Valley Cabernet Sauvignon shows an elegant bouquet with a mix of both red and dark fruit notes including red plum, red and black cherry. This is a classic Napa Valley Cabernet bouquet with just a hint of dustiness. The palate shows good acidity and balanced fruit. The finish is pleasing; it is clean and supple with just a hint of lingering mocha on the palate. The tannins are fine grained and soft, complementing rather than dominating the finish.
The 2007 Zeitgeist Napa Valley Cabernet Sauvignon features a more restrained bouquet than the 2006 vintage with pretty notes of sweet fruit on the bouquet including red cherry and raspberry. This is a layered wine with bigger structure than the 2006. We tried this wine right before release; it should benefit from additional bottle age. It has good structure, depth and acidity to carry it for a number of years.
Heron House, Yountville
Zeitgeist was a member of the Heron House in Yountville until December 11, 2022, when the Heron House closed permanently. We keep these notes and photographs for historical reference. Heron House opened the day after Thanksgiving 2019 and was a retail wine tasting space in SoYo (South Yountville) which featured a select number of small-brand producers who did not maintain their own tasting rooms.
The Heron House was setup to feel like walking into someone's living room – comfortable, cozy and inviting. The retail portion of the space was open during normal business hours and included mostly locally crafted products including select works of art. Two private tasting rooms were available by reservation. Several curated flights were offered, each containing wines from the various producers represented. Hours are subject to change, but as of our latest update to this review, this space is daily from 10am until 6pm with the last tasting appointment at 5pm.
Zeitgeist has a fairly good distribution within Napa Valley; one can sometimes find the wines at ACME Wine Shop and V Wine Cellars in Yountville. For more information, to schedule a visit or to join their mailing list, visit: www.zeitgeistcellars.com