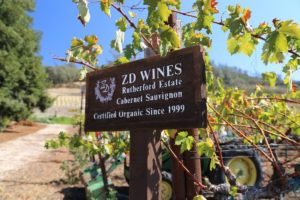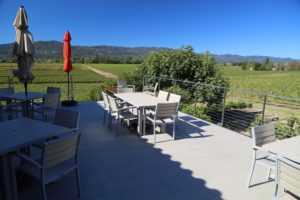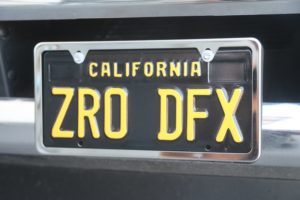 ZD Wines was founded in 1969 as Zepponi and deLeuze Winery, ZD Wines by two engineers, Norman deLeuze and Gino Zepponi. The winery is still family owned and operated with co-founder Norm deLeuze and his wife Rosa Lee's children and grandchildren now involved. Gino, owned Winery Systems a consulting and winery equipment provider – and was also a consultant for several wineries and worked at Domaine Chandon where he developed and introduced a custom made gyropalette (to automate the riddling of the sparkling wines). Tragically he died in 1985 from a car accident in Lodi, Norm died in 2007 and Rosa Lee (who we met briefly, at their Carneros property died in 2018). Z and D, are the initials of the co-founders last names but perhaps more meaningful is the reference to the term zero defects – used in engineering – and meaning without flaws. Norm deLeuze was working as an aeronautical engineer designing rockets at AeroJet-General in Sacramento (now AeroJet Rocketdyne) when he began making wine in 1969.
ZD received their first application for bond and label approval in Sonoma County not far from the town of Sonoma (not many Napa County wineries can say this). They rented farm buildings on the Sonoma side of Carneros and made their first 10 vintages here. In these early days both deLeuze and Zepponi had full time jobs and were only able to spend time making wine on the weekends and other days off. They were the first winery to put Carneros on a wine label, beginning with their inaugural vintage of Pinot Noir in 1969. The family moved their winery operations to Rutherford in the Napa Valley in 1979/1980.
Their grapes are sourced from numerous locations within the Napa Valley including their two estate properties, the vineyard surrounding the winery and hospitality center in Rutherford and also on the Napa side of Carneros. Their Rutherford estate is planted to about 3.2 acres of three clones of Cabernet Sauvignon (7, 15 and 337); the grapes from these vines form the majority of their ZD Reserve Cabernet Sauvignon.
Their 34-acre Carneros property is planted to 23 acres of Chardonnay and 6 acres of Pinot Noir. The deLeuzes have owned the Carneros property since 1996, however they were sourcing fruit for a Chardonnay from Carneros 9 years prior to acquiring their own vineyard. Along with their own vineyards, ZD Wines only works with growers who are certified organic farmers.
While not open to the public, their Carneros property features a modern "barn" housing various farming equipment and a historic house dating from 1897 (great views overlooking the gentle rolling Carneros vineyards from both the house and the barn). Once a year the property is open for a few hours for their annual Napa Valley Summer Wine Celebration, a food and wine charity event benefiting the Boys & Girls Clubs of Napa Valley's Teen Center.
Hospitality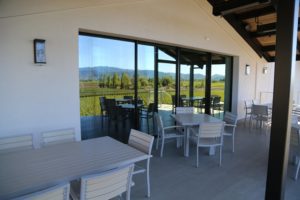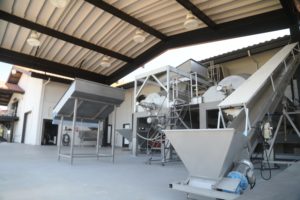 The hospitality center underwent a major renovation in 2018/2019 – with a focus being on more intimate sit down tastings rather than seeing visitors at a wine bar (like their old setup). Tastings are either by walk-in or reservation. One of the highlights of the hospitality center is the Vineyard View Room & Deck – a contemporary indoor space for seating tastings along with an outdoor wrap around deck offering visitors gorgeous panoramic vistas overlooking the Napa Valley. A lounge for private tastings is located adjacent to the reception downstairs.
And the Chardonnay grapevine hanging against the wall near the reception was originally planted in 1982 in their Carneros property – uprooted in its entirety in 2019, this vine clearly shows the great length of mature grapevine roots.
Several tasting experiences are offered including the popular Vineyard View Tasting (especially for walk-in visitors), focusing on a flight of current release wines. Additional more in-depth tastings are offered by appointment including The ZD Experience (a private tour and tasting of library or reserve wines) and The Abacus Experience, a private tour and tasting of their most premium wines including the multi-vintage and their flagship wine, the Abacus.
During a number of visits over the years, we have found the ZD hosts to be very hospitable and extremely knowledgeable about not only ZD Wines but also other area wineries and restaurants. Rather than simply pouring the wines, offering canned verbiage and then walking away, they spend quality time with guests.
Select Wines
The focus of their winemaking is on Chardonnay, Pinot Noir and Cabernet Sauvignon. The majority of their wines come from both of their estate vineyard properties – but they also source grapes from other growers including several from outside of the Napa Valley. Unlike most Napa Valley wineries that commonly use French oak, ZD Wines has long embraced the use of American oak (with that said they also use a limited amount of French oak).
Tempranillo is a variety is not often found in the Napa Valley – ZD Wines was planning on producing a Tempranillo from Lake County (to the north of Napa County) when they received a call from Tony Truchard of Truchard Vineyards in Napa's Carneros region. He said he had some Tempranillo come available and they could purchase it if still interested, so they did. The 2018 ZD Wines Rosa Lee Tempranillo offers ripe fruit aromatics including cherry along with dried rose petal. As the wine breathes the bouquet becomes more savory. Lively acidity across the palate – juicy with flavors of blackberry. Supple front and mid palate with still tightly woven tannins on the finish. Lingers with a dry dust nuance and darker spices. Great food wine – we enjoyed ours with a plate of freshly made paella.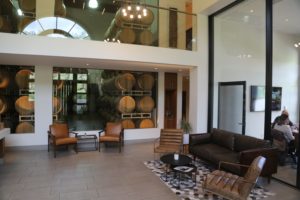 The 2017 ZD Wines Napa Valley Reserve Chardonnay was barrel fermented and spent 15 months in American oak of which 50% was new. This wine was not put through malolactic fermentation. Offers a sweetness of aromatics including apricot, honeycomb, honeysuckle, mango and papaya with underlying aromas of vanilla. Shows flavors of golden delicious apple, various baking spices and vanilla. Has a lovely texture – supple and slightly creamy across the palate which is complemented nicely by decent acidity. Intensely flavored with a rich finish. It is refreshing to discover a more unique style of Chardonnay – with the American oak offering texture but not dominating flavor – and inhibiting secondary fermentation, leaves good acidity.
The 2018 ZD Wines Napa Valley Pinot Noir was sourced from several Pinot Noir vineyards in Carneros including from their estate. Spent 10 months in all French oak. The bouquet immediately offers spice notes including white pepper, complemented by cherry cola and dried rose petal along with a more subtle bouquet sweetness (mocha). Lively acidity with savory characteristics across the palate. Shows flavors of red cherry, red currant and cooked rhubarb – lingers with a tartness of fruit and tobacco spice. Supple tannins.
The 2016 ZD Wines Rutherford Reserve Cabernet Sauvignon was aged for 3 years in American oak of which 30% was new – the majority of this wine is from their own vineyard with other lots coming from select vineyard sites, also in the Napa Valley. The bouquet is immediately appealing – with both dessert spices (mocha) and a generous helping of fruit including ripe boysenberry and blackberry. Very well balanced – savory, bright acidity and fruit flavors of red cherry and raspberry along with toasted oak. The friendly tannins are finely dispersed – layered but not at all aggressive in their feel. An approachable offering.
Over the years, ZD wines have been served at several Presidential State dinners.
ZD Wines celebrated their 50th anniversary in 2018 – and to commemorate this occasion they produced a 50th Anniversary Cuvée, (a Blanc de Noir) made from a majority of Pinot Noir but also with Chardonnay – both from their Carneros estate. Every single bottle was hand riddled in traditional slightly leaning wooden racks. And this was released about a year after the produced their first sparkling wine, a Blanc de Blanc (so far these are the only two sparkling wines they have ever produced).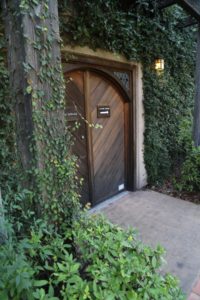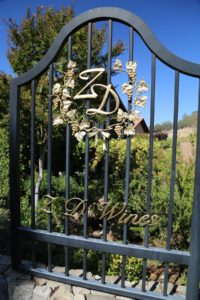 Abacus is one of the most unique Cabernet Sauvignon wines in all of the Napa Valley; it is a multi-vintage wine – very few producers in the valley make a multi-vintage wine. The first release was in 1999 – subsequent releases always increase by one year, solera style so each new release contains Reserve Cabernet Sauvignon wine from every year dating back to the first vintage of 1992. Wines from each vintage that are not bottled remain in barrel. The youngest vintage included in any Abacus spends at least 3 years in barrel.
And in 2017 the winery created the Abacus Presentation – a pyramid of all their Abacus wines in barrel (American oak puncheon, back-lit by lights with the barrels resting on custom made metal racks).
—
The family also runs the deLeuze Family Charitable Foundation and over the years have generously supported a variety of causes including supporting a non-toxic cure for lymphoma, other cancer research and the Boys and Girls Club of the Napa Valley. One of their primary avenues of fundraising is through the annual Crush Challenge, hosted by ZD Winery featuring wine tastings, a bike ride and a wine dinner.
Guests driving along the Silverado Trail should look for the ZD Winery sign with its raised gold lettering fastened to a large rock next to their short steep driveway leading down to the parking lot. Only about a 10-minute drive from the town of St. Helena. An electric vehicle charging station is located on site. Total production each year is around 30,000 cases with the majority of that their California Chardonnay. For more information and or to join their wine club (First Taste), visit www.zdwines.com
Rutherford Winery

Carneros Estate

Original Sonoma Carneros location