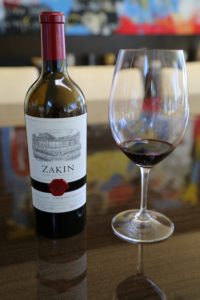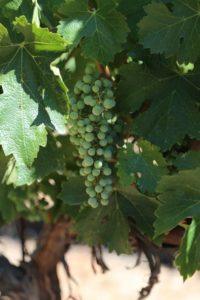 Zakin Estate is perched high on the western facing hillsides of the Vaca Mountain Range about 1/2 way between Calistoga and St. Helena. The focus of their production is currently on one estate Cabernet Sauvignon produced from just over 3 acres of planted vineyards. Founder Johnathan Zakin purchased this property in 1999 and soon set about securing the necessary permits for planting vineyards on steeper hillsides. Napa enacted a hillside ordinance in 1991 prohibiting vineyards from being developed on hillsides with a greater than 30% slope and any future development on slopes above 5% needed county approval for erosion control plans. Jonathan was able to secure these valuable permits although it took 4 years before he was granted permission to plant the vineyards. The vines were planted in 2004.
The site is located within the Napa Valley appellation; they are merely several hundred feet below the lower fringes of Howell Mountain AVA. This is a premium vineyard neighborhood including Dana Estate's Lotus Vineyard, Cakebread's Dancing Bear Ranch and nearby vineyard property with grapes that are sold to Lokoya.
Currently there are three separate blocks on the property – all at an elevation of around 1200 feet. The pool block is a vineyard with an exceptional view of much of the Napa Valley far below. This block is merely 0.67 acre of all clone 4 Cabernet Sauvignon. This block is appropriately named as it is located just below their pool. Rather than the vines being terraced on this steep hillside, they are planted in rows following the natural contour of the hillside and run down these very steep rocky slopes.
Their other two vineyards are planted on the eastern side of the property, a vineyard they refer to as the Ridgeline block – this planting is comprised of two blocks; and upper and a lower and usually ripens later then the Pool block. The upper block is planted to Cabernet Franc and Petite Verdot. Their focus on managing the grapes is for concentration of fruit yet balance within the wine. The vines are thinned to only one cluster per shoot; as a result, the already limited hillside production becomes even smaller. While the grapes from the Pool block bring a certain ripeness and fruit forward characteristic to the wine, these other two blocks balance this out with an elegance from good natural acidity as well as a floral note.
While west facing their vineyards typically do not get as warm as the more open west facing slopes on Pritchard Hill to the south. There is a gap in the neighboring Mayacamas mountains somewhat across from their property which leads to Sonoma County and the cooler breezes from the Pacific Ocean. Often this site starts cooling down in the mid to late afternoons with good air flow through the vines.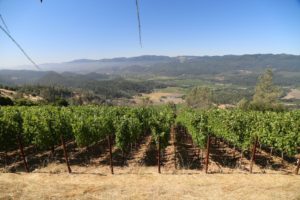 While this is a story of producing the best possible wines from this particular terroir, the property also has additional meaning for Jonathan and his wife Janice. They actually met for the first time on the property. Jonathan has a diverse background across a wide genre of fields including data communication equipment (spent 10 years with U.S. Robotics, Inc.), finance and film among others. Janice is a physician who is active in San Francisco.
Jonathan has enjoyed drinking premium Bordeaux wines for many years and is attracted to the Bordeaux style of red wines and their age worthiness. It is certainly appropriate that his winemaker trained in Bordeaux and is from France. This would be well-regarded long time Napa winemaker Philippe Melka who was hired in 2009 to oversee their wine making operations. With a degree in Geology and in wine making, 20+ years working in Napa and an exceptional palate – his services are much in demand in the valley and beyond. Philippe enjoys the unique intricacies of working with Napa hillside vineyards. As he mentioned to us a few years back, "hillside vineyards are more of a challenge".
Several earlier vintages were made but were not up to their exacting specifications for quality so were not released. Presumably, part of this was to let their vineyard mature and allow them to determine best practices for blending and managing each of the blocks.
Select Wines
The first wine released is the 2013 vintage at merely 200 cases. Thirty Magnums were also produced of this wine. All wine is sold in three packs and can be shipped overseas for international clients. The 2013 Zakin Estate is elegant on the bouquet, initially showing a pleasing dusty note, with the core showing aromas of blackberry compote and additional notes of sweeter black cherry and a dried flower nuance. As the wine opens subtle aromas of brown chocolate show. This wine is very approachable young with good acidity that is well balanced by the complexity of the fruit. Shows a clean finish with well-integrated polished tannins that accentuate the fruit rather than being a detriment. Fairly seamless across the palate.
—
Currently each vintage is sold direct to consumer via a mailing list. For collectors looking to get onto the ground floor of a location that showcases a premium vineyard, a top wine making and vineyard management team, and the exclusivity of a limited production high end handcrafted Napa hillside wine – this is an excellent opportunity to do so by joining their mailing list. For more information visit: www.zakinwines.com