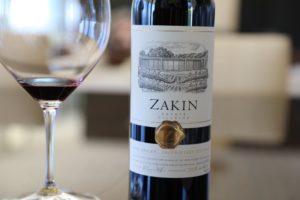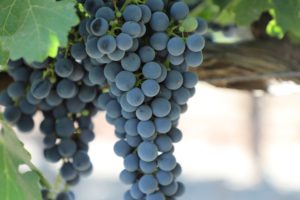 Zakin Estate is perched high on the western facing hillsides of the Vaca Mountain Range about 1/2 way between Calistoga and St. Helena. The focus of their production is currently on one estate Cabernet Sauvignon produced from just over 3 acres of planted vineyards. Founder Jon Zakin purchased this approximately 150 acre property in 1999 without any intent to plant grapes or produce wine. Daniel Johnnes, the sommelier at Montrachet in New York heard that Jon had purchased property in Napa Valley and connected him to winemaker Helen Turley. She told Jon she was not getting involved in any more projects but after she walked the site she was impressed by its potential for growing red grape varieties. So he soon set about securing the necessary permits for planting vineyards on steeper hillsides. Napa Valley enacted a hillside ordinance in 1991 prohibiting vineyards from being developed on hillsides with a greater than 30% slope and any future development on slopes above 5% needed county approval for erosion control plans. Jon was able to secure these valuable permits although it took 4 years before he was granted permission to plant the vineyards. The vines were planted in 2004. Plans call for planting a small amount of additional vines on their property.
The site is located within the Napa Valley appellation; they are merely several hundred feet below the lower fringes of Howell Mountain AVA. In 2020 paperwork was filed for what would be Napa Valley's 17th sub appellation, Crystal Springs. If this is approved their vineyards would be within this sub appellation.
This premium vineyard neighborhood includes Dana Estate's Lotus Vineyard located slightly lower than their property and Cakebread's Dancing Bear Ranch on the upper slopes. A nearby vineyard property grows grapes which are sold to Lokoya.
Currently there are three separate blocks on the property all at an elevation of around 1200 feet. The pool block features an exceptional view of much of Napa Valley far below. This block is merely 0.67 acre of all clone 4 Cabernet Sauvignon. This block is appropriately named as it is located just below their pool. Rather than the vines being terraced on this steep hillside, they are planted in rows following the natural contour of the hillside and run down these very steep rocky slopes.
Their other two vineyards are planted on the eastern side of the property, a vineyard they refer to as the Ridgeline Block – this planting is comprised of two blocks; and upper and a lower and usually ripens later then the Pool Block. The upper block is planted to Cabernet Franc and Petite Verdot. Their focus on managing the grapes is for concentration of fruit yet balance within the wine. The vines are thinned to only one cluster per shoot; as a result, the already limited hillside production becomes even smaller. While the grapes from the Pool block bring a certain ripeness and fruit forward characteristic to the wine, these other two blocks balance this out with an elegance from good natural acidity as well as a floral note.
While west facing their vineyards typically do not get as warm as the more open west facing slopes on Pritchard Hill to the south. There is a gap in the neighboring Mayacamas mountains somewhat across from their property which leads to Sonoma County and the cooler breezes from the Pacific Ocean. Often this site starts cooling down in the mid to late afternoons with good air flow through the vines.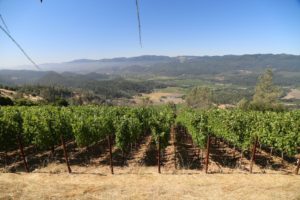 While this is a story of producing the best possible wines from this particular terroir, the property also has additional meaning for Jon and his wife Janice. They met for the first time on the property. Jon has a diverse background across a wide genre of fields including data communication equipment (spent 10 years with U.S. Robotics, Inc.), finance and film among others. Janice is a physician (OB-GYN) who is active in San Francisco and consults for NASA.
Jon has enjoyed drinking premium Bordeaux wines for many years and is attracted to the Bordeaux style of red wines and their age worthiness. It is certainly appropriate that his winemaker trained in Bordeaux and is from France. This would be well-regarded long time Napa winemaker Philippe Melka who was hired in 2009 to oversee their wine making operations. With a degree in Geology and in wine making, 20+ years working in Napa and an exceptional palate, his services are much in demand in the valley and beyond. Philippe enjoys the unique intricacies of working with Napa hillside vineyards. As he mentioned to us a few years back, "hillside vineyards are more of a challenge".
Several earlier vintages were made but were not up to their exacting specifications for quality so were not released. Presumably, part of this was to let their vineyard mature and allow them to determine best practices for blending and managing each of the blocks.
Select Wines
After years of pouring Chardonnay as a welcome wine at events Jan realized it might be nice to bottle wine from this variety under Zakin. They were able to source two barrels of Chardonnay from the acclaimed Ritchie Vineyard in the Russian River Valley of neighboring Sonoma County in 2020. This was the inaugural vintage of Zakin Chardonnay. They continue to produce a limited bottling of this wine each year from the Ritchie Vineyard.
The 2021 Zakin Ritchie Vineyard is deep gold in color. California Chardonnay has a perception as being oaky and buttery and sometimes even containing a little residual sugar. This wine has none of those characteristics. The bouquet offers aromas of melons including cantaloupe and opens up to vanilla, crème Brule, caramel and generous helpings of tropical fruits including pineapple, ripe papaya and banana. The palate is refreshingly bright and lively from its generous acidity. It offers flavors of mandarin orange, pineapple, several honeyed notes including of honeydew melon and a light nuance of warm butter. Its slightly creamy texture is offset nicely by its persistent verve. This is a refreshing bottling, rather than a meal in the glass. It did not go through any malolactic fermentation. Beautiful done.
The 2019 Zakin Estate is deep ruby in the glass and nearly opaque. The bouquet offers a perfect aromatic expression of ripeness versus restraint. It reveals scents of blackberry, plum, and some mineral notes along with tobacco spice and dark chocolate. This bottling is balanced from the entry through to the rich fruit filled finish. It offers flavors of plum and cherry complemented by bright acidity. It is both both complex and layered but approachable in its youth. The grainy tannins are integrated and linger softly with red fruits and a note of dried tobacco leaf.
The 2019 Zakin Hillside Cabernet Sauvignon is deep ruby and nearly opaque in the glass; the bouquet offers darker fruit aromas including of blackberry, blueberry, plum, an earthy note and a sweet tobacco spice. Clearly noticeable here is the freshness of the fruit. The palate is equally as dark fruited with flavors of blackberry and plum. It is layered, complex and a texturally driven wine featuring long lasting grippy and grainy tannins. A drying character outlasts the fruit on the extended finish. This wine is built to age.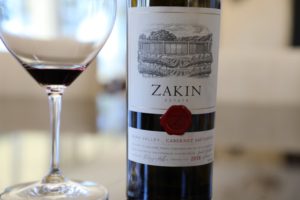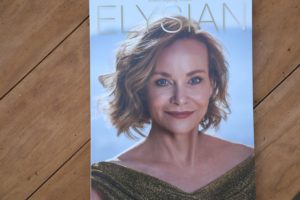 The 2018 Zakin Estate Cabernet Sauvignon is 99% Cabernet Sauvignon and 1% Cabernet Franc. It was aged in aged in 56% French new oak barrels for 20 months. This wine is deep ruby in the glass; the bouquet offers aromas of red chili spices, a light cedar note and its fruit including blackberry, raspberry and pomegranate. This wines' youthfulness, even 5 years post vintage at the time of our tasting is readily apparent, especially on the palate. It offers flavors of red cherry, plum and currant. The finish is bright and red-fruited with an herbal freshness which continues to linger for some time along with a tobacco spice. The tannins are grainy and gravelly displaying a light drying character.
The 2018 Zakin Hillside Proprietary Red Blend is 81% Cabernet Sauvignon and 19% Cabernet Franc. This wine is deep ruby and opaque; the bouquet shows as a bit riper and perhaps less shy than the 2018 Zakin Estate Cabernet Sauvignon. The bouquet offers aromas of blackberry, blackberry jam, dark cherry and boysenberry along with a thread of dried tobacco leaf and dried herbs. The tannins are drying, gravelly and persist with a note of dried tobacco leaf and white pepper. Tasting this wine made us want to reach for a medium rare steak from the BBQ.
The 2017 Zakin Estate Cabernet Sauvignon is 92% Cabernet Sauvignon and 8% Cabernet Franc. This wine is deep ruby and opaque; the bouquet reveals aromas of dark cherry, boysenberry, blackberry and a note of dark chocolate. The focus is on the fruit and its darker characteristics. We have noticed several 2017 Napa Valley Cabernet Sauvignon bottlings have needed time to fully develop. This bottling was also slow to express itself. Jan started noticing its transformation in early 2023. The palate is savory and filled with mouth watering fruit including spicy plum, red cherry, pomegranate and assorted darker spices. The tannins are grainy but very well integrated.
The 2016 Zakin Estate Cabernet Sauvignon is a blend of 91% Cabernet Sauvignon and 9% Cabernet Franc. This wine is dark ruby; the nose is sweetly fruited including aromas of dark cherry, boysenberry and Pakistani mulberry. There is also a floral tone here, including scents of rose petals and violets. And additional aromatics include darker baking spices, tobacco, chocolate and a light note of Graham cracker. The gravelly tannins are long-lasting (so is the fruit) and support a highly energetic and savory finish. This wine was aged for 20 months in 80% French new oak. We tasted this wine eight years post vintage; it is savory fresh, and still shows very youthful.
The Glass Fire started in late 2020 just below their property. Its cause was never determined; early thoughts were it started from an electric fence sparking and later it was thought possibly a faulty solar cells may have been the cause. But ultimately there was never any evidence of its cause. Regardless, it was a devastating fire in the central and northern part of Napa Valley damaging or destroying some 35 wineries. Remarkably despite burning all around and through the Zakin property, their home did not burn.
However the resulting smoke was some of the worst we have ever seen including several days where resembled what the sky might look during a global apocalyptical event. With friends we spent a week helping deliver water to properties that needed it; this is a week we never want to live through again. As a result of the terrible smoke, many Napa Valley based wineries did not make red wines from vineyards in Napa Valley. Zakin also did not directly release any red wines from their estate, rather they sold off the resulting wine to another Napa Valley winery. But after a client wanted some wine from this vintage, Zakin purchased back a barrel. After delivering some of the wine from barrel to their client, they were left with a total production of 22 cases. They bottled this wine under Zakin with the name of the label, Smoking Hot by Zakin – with the caveat that one should drink it early in its life.
The inaugural Zakin red wine was the 2012 vintage; merely 200 cases of this bottling was produced. Thirty Magnums were also bottled of this wine. All wine is sold in three packs and can be shipped overseas for international clients. The 2013 Zakin Estate is elegant on the bouquet, initially showing a pleasing dusty note, with the core showing aromas of blackberry compote and additional notes of sweeter black cherry and a dried flower nuance. As the wine opens, it reveals subtle aromas of brown chocolate. This bottling is very approachable young with bright acidity that is balanced nicely by the complexity of the fruit. It sports a clean finish with well-integrated polished tannins that accentuate the fruit rather than being a detriment. It is fairly seamless across the palate.
The image on their wine labels depicts Jonathan and Jan's modern looking home located on the property. This house was designed by Stanley Saitowitz of San Francisco based Stanley Saitowitz | Natoma Architects Inc.
Zakin also produces a very limited production olive oil from approximately 50 French and Italian olive trees growing on their property. While showcasing a freshness it doesn't offer the overly herbal and spicy finish that sometimes are expressed in limited production olive oils from Napa Valley. This olive oil is so pleasant and smooth one could drink it straight… and we have. And in an an homage to Jan's career, the olive oil is bottled in varying sized medicinal looking glass bottles.
And Jan was featured on the front cover of the Fall 2022 Travel & Technology issue of ELYSIAN Magazine.
Initially the wines were sold direct to consumer via a mailing list but over the years Zakin has developed a number of local placements including at the French Laundry, Press and Charter Oak. Tastings are made by appointment and are hosted at Brasswood Cellars just north of St. Helena where the Zakin wines are made. Alternatively, they can be tasted at Monica Stephens tasting salon, 1299A located in St. Helena. For more information visit: www.zakinwines.com