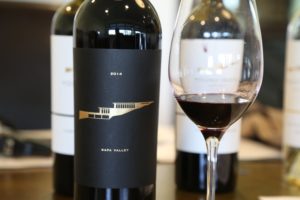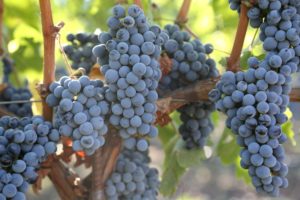 Yount Ridge Cellars is located in the southern part of the Oakville Appellation (bordering Highway 29). This is a coveted vineyard neighborhood – the property is located next to Cardinale, across from Far Niente and near the Morlet Family owned and prized Coeur de Vallée Vineyard. The winery is named in tribute to George Yount, whose vast land grant encompassed this part of the Napa Valley including the site of Yount Ridge Cellars.
Yount Ridge Cellars was founded by Eric Sklar (long history in the wine industry including as one of the founders of Alpha Omega Winery along with numerous other ventures including as founder of Burrito Brothers, a Washington DC based small restaurant chain and later, co-founder of the Napa Valley Cannabis Association and involvement in politics). Founding winemaker, Celia Welch specializes in consulting for ultra-premium wineries and is well known throughout the valley for her attention to detail and high-quality wines. Celia is a highly regarded long time Napa based winemaker (been making wine in the valley for more than 30 years) and has consulted for a number of select premium clients over the years. She also produces her own small label called Corra.
Born and raised in Medford, Oregon – her introduction to wine came early through her father's passion for wine. He was a home winemaker and collector, and she grew up helping him make wine. Her first introduction to Napa Valley was in the 1960s during trips with her family. She graduated from UC Davis in 1982 with a degree B.S. degree in Fermentation Science at a time when a number of now prominent women winemakers were enrolled including Pam Starr and Heidi Peterson Barrett and others who work in Napa and beyond.
Burrito Brothers, Capitol Hill Washington DC

Continuing her education after graduating, she embarked in extensive travels through a number of wine regions including domestically in the Pacific Northwest, the East Coast and then New Zealand – finally working in the Barossa Valley in Australia. She then moved to the Napa Valley and worked at a number of wineries including Silverado Vineyards in 1987, was assistant winemaker at Robert Pepi Winery (now the home of Cardinale) and began her consulting career in 1992 for Staglin Family Winery.
Her focus on consulting is generally for premium producers who own their own vineyards (rather than labels who source fruit) – often (but not always) from hillside locations in the valley. And her work has been highly recognized throughout the industry – in 2008 she was named Winemaker of the Year by Food and Wine Magazine and has been inducted into the Winemakers Hall of Fame through the organization, Women for Winesense.
The Yount Ridge vineyard is 25 acres that are organically farmed – planted to Sauvignon Blanc and several Bordeaux red varieties including Cabernet Sauvignon Malbec, Merlot and Petit Verdot. Fruit from this vineyard has been selectively used in premium wines including Entres Nous (Philippe Melka used to make those wines). The property changed hands a number of years ago – overseen by the current owners.
The Residence at Yount Ridge
They also operate the Residence at Yount Ridge, formerly the Mansion at Yount Ridge and before that, called the Castle in the Clouds – a bed & breakfast perched on the top of one of the Yountville Mounts (small hills that rise above the valley floor).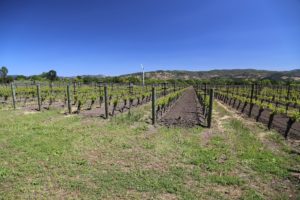 The Residence at Yount Ridge is reached via a steep driveway leading off of Highway 29 just north of Yountville. The Residence features 6,300 square feet (interior) with plenty of space outside on the deck – the best views are from the rooftop deck. The space includes two kitchens, a primary one indoors and a smaller one outdoors and several contemporary looking rooms. This is a rare site indeed with a B&B located on top of one of the coveted hills rising from the valley floor. And it is located within a short drive of some of Napa's finest restaurants – located in nearby Yountville (arguably the culinary capital of the valley).
The property is listed on BeautifulPlaces (a villa rental agency focusing on California wine country properties); reservations require a two-night minimum stay.
Most people driving by the property on busy Highway 29 may not be aware there is a cave located under the hill – a short distance in on the driveway leading to The Residence at Yount Ridge. This cave was drilled by Napa Valley modern wine cave pioneer Alf Burtelson. Alf is well into his 80s now and long since retired although is still living in the northern part of Napa Valley.
Select Wines
We first tried Sauvignon Blanc from this vineyard many years ago at the Taste of Oakville (an annual trade event held at Robert Mondavi Winery every April and featuring wineries with vineyards in Oakville). This is a surprising variety to discover growing in Oakville among premium vineyards mainly planted to red Bordeaux varieties. The 2016 Yount Ridge Sauvignon Blanc is a blend of both Sauvignon Blanc and about 1/3 Sauvignon Musqué. Barrel fermented the wine aged sur-lie for six months.
Golden straw colored in the glass the bouquet shows a sweetness of fruit with lively aromatics including yellow pineapple, honeysuckle and hints of lemon. A noticeable supple feel runs the breadth of the palate – complemented by flavors of pineapple, citrus notes and mineral nuances on the finish. Leans neither toward being too ripe nor to lean – a nicely balanced wine. Two characteristics stand out; the pretty aromatics and the wonderful mouth feel. Celia has built her reputation upon the back of creating exceptional red wines – but this, one of only several Sauvignon Blancs she makes, is a wine well worth pursuing.
The 2014 Yount Ridge Proprietary Blend is dark crimson in the glass showing notes of mocha, coffee, plum and dark cherry aromas on the bouquet. Drinks well young – very approachable delivering layers of flavor without the heavy grip of tannins. Balanced across the palate, there are no harsh edges. An elegant showing.
The 2014 Yount Ridge Cabernet Sauvignon features darker fruit on the bouquet with a noticeable dustiness or earthy note – plenty of fruit, namely plum along with a tobacco leaf, old cedar, cigar smoke and vanilla. Let this wine open – it is built on elegant fruit which needs some time to be revealed. Juicy with excellent acidity, the palate delivers flavors of red and darker cherries anchored by a mouthwatering finish. Lively acidity, a density of fruit and tender slightly dusty tannins linger for quite some time. But is is mostly the fruit that leaves the lasting impression.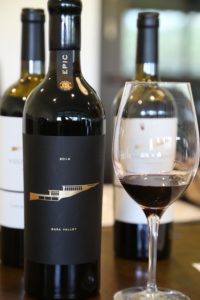 For their flagship wine, simply named Epic, Celia selects the best barrels of Cabernet Sauvignon from the property from that particular vintage. The 2014 Yount Ridge Cellars Epic is 100% varietal. Dark fruit aromatics that are slightly brooding until the wine has a chance to open. Somewhat savory, aromas show dark spices, black olive, bittersweet chocolate and raspberry. On the palate one immediately notices the density of fruit – layers of flavor anchored by well-structured but not gritty tannins. Slightly chewy in nature. A robust wine, but not out of balance. This wine is built to age – but can certainly be enjoyed in its youth.
The gold logo on the bottles immediately catches one's eye – a stair step conceptual design of a gravity flow winery – embossed with a thumbprint pattern to represent the heart of the Napa Valley.
While the first commercial release was from the 2014 vintage, Celia has made wine for the owners since 2006. And once they released the 2014 vintage, they decided to label the older vintages under Yount Ridge Cellars. Those who join the wine club have access to select older wines from 2006 through 2011.
Total production is around 1,000 cases per year. The wines are available in small amounts in Texas, Florida and several other states. Locally some of the wines can be found at ACME Wine shop in St. Helena, the Bounty Hunter in the city of Napa and area restaurants including Morimoto and Mustards Grill. For more information and or to join their wine club, visit: www.yountridge.com
The Mansion at Yount Ridge