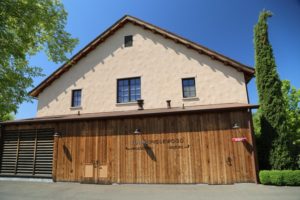 Young Inglewood Vineyards – While the last name of the proprietors of this winery is "young" the property ownership is anything but that. Four prominent names in the valley have owned this property over the years – starting with Edwin Bale who sold to the Lewelling family (nearby Lewelling Lane, a historic winery in St. Helena, vineyards and wine) who sold to the Jaeger family in the 1950's. The Jaegers are well regarded vineyard owners in the Napa Valley who were part owners of both Freemark Abbey and Rutherford Hill wineries. They even produced a Jaeger Inglewood vineyard designated Merlot from this property in the 1980s and early 1990s. The Jaegers in turn sold the property to the current owners, Jacky and Jim Young in 2007.
Jim and Jacky, along with partner Mike Murdock founded the successful software company, Sirsi Corporation in Alabama in 1979. The focus of the company was on a library automation system in part allowing libraries to share information with other libraries. This company since merged and is now known as SirsiDynix (Jacky and Jim are no longer involved).
Jacky was born in the United Kingdom – after they sold their company they initially looked for vineyard property in Europe. After returning to the states, they had their eyes set on finding property in the Napa Valley, in part looking to maintain their rural lifestyle change. Their son Scott initially moved onto the property after the purchase. Friends convinced him to make wine – ultimately he took an internship at a winery in Burgundy, eventually moved back to the valley and worked harvests at Long Meadow Ranch and at Spottswoode Winery.
Today Scott is the head winemaker (he spent several harvests working at Domaine Leflaive in Burgundy) along with help from his mother (she attended UC Davis taking winemaking classes) – they also employ a vineyard consultant and wine-making consultant – Doug Hill farmed this property for many years and managed the vineyards until more recently. The vines are all farmed organically. Both Jacky and Jim and their son Scott and his wife live on the property – their respective commutes to the winery are less than a minute!
The philosophy at Young Inglewood is to create wines that are European influenced in style and most importantly are balanced. Their elegant label ties in perfectly with this philosophy. It is of a tight rope walker – balancing across a high wire. This is one of the more impressive wine labels we've come across on this project, coming up with a representation that ties in grace, balance and art with similar desired qualities in the wine.
Napa certainly has a number of small vineyards that boasts multiple soil types – often between vineyard blocks which are in close proximity to each other. This property is not one of those. It has similar soils throughout – deep gravelly loam. When their barrel room was under construction, crews dug down 25 feet – similar soil was found at that depth as at the surface.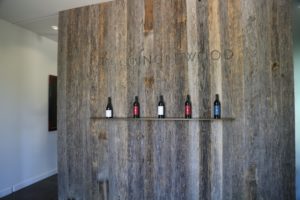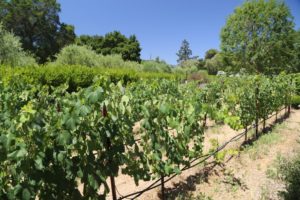 It is unusual to have a barrel room set deep under the valley floor – however, this makes sense from an energy efficiency point of view. The concrete walls are very thick and well insulated. 50% of the winery is powered by solar cells.
Select Wines
Their first vintage is from 2009 although Scott made several earlier vintages which they did not bottle commercially. Today they produce only around 900 cases annually; all the fruit is from the estate with the exception of their Chardonnay sourced from the Oak Knoll District in the southern part of the valley. All of their wines are extremely food friendly.
Out of all the vineyards we have visited in the Napa Valley this is the first one we've come across that has planted, Aligoté, a Burgundian white varietal. We have heard that only one other vintner in the Napa Valley has planted this varietal – a few vines at Hudson Vineyards in Carneros. This is the only Napa winery producing wine commercially from Aligoté, albeit a minuscule production. Time spent by the family in Burgundy was certainly influential in the decision to plant this variety in Napa. About 2/3 of an acre surrounds the winery – planted in 2013 it's first vintage was from 2015 (a very tiny production of 10 cases that they ended up squeezing the grapes by hand).
The 2016 saw a whopping 19 cases bottled – they harvested the grapes in very early August. The Young Inglewood 2009 Aligoté inaugural release offers a nice mix of both tropical and citrus aromas (orange blossom) with minerality notes. On the palate the wine is very balanced, rounded almost slightly creamy at times – with flavors of citrus and apple and a hint of spice. Very clean finish – drinks very well by itself. Looking to have a wine from a white varietal that absolutely no one else in Napa makes – this is it.
In 2018 a society was formed in Burgundy to promote Aligoté called Les Aligotéurs. Young Inglewood was one of their invited guests pouring their wine at this groups first ever Aligoté tasting.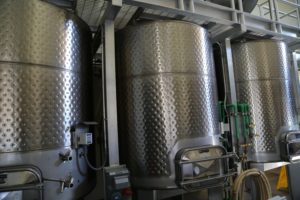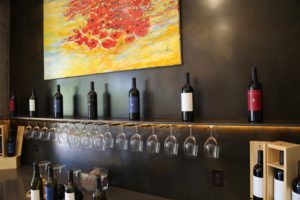 The 2010 Young Inglewood Chardonnay is from the Sonoma Coast Appellation – although if you look at a map of this AVA you will notice that this appellation actually winds inland around and near the town of Sonoma (which is where these grapes are sourced from – and are not from the coast at all). Their approach to producing Chardonnay is a gentle and long one – the whole clusters are pressed in their basket press and then fermented slow and cold in barrel. The bouquet on this vintage shows floral notes, cut grass and citrus blossom – it is rounded and creamy on the palate without being overly viscous. Mineralties, flinty notes show mid palate with a lingering rounded finish – which has decent weight.
Since we tried this vintage, Young Inglewood now sources their Chardonnay from the Napa Valley – from Steve and Jill Matthiasson's Linda Vista Vineyard in the Oak Knoll District.
The tiny 120 case production 2009 Young Inglewood Right Bank Blend is a blend of Cabernet Franc and Merlot. The nose is inviting, a beautiful meld of earthiness with just a hint of herbal characteristics. As the wine opens, more high toned fruit shows – red fruits, raspberry, red cherry. The wine is dark in the glass – it is balanced. The finish shows somewhat dusty but with well integrated tannins.
Their flagship wine, the 2009 Young Inglewood Estate Cabernet Sauvignon shows very dark in the glass – the bouquet reveals complex layered aromatics – namely darker fruits. The bouquet is lively and slightly dusty. Dark fruit shows on the palate with good acidity – and a decent structure. There is a pleasing balance between fruit, acidity, alcohol and structure. We tasted this wine again in 2017 – it is aging very nicely and has a lot of life ahead of it.
Several very small lot wines are crafted just for their Membership offerings – including the estate Cabernet Sauvigon and a 100% Cabernet Franc – often these wines are as tiny a production as a single barrel. With 40 olive trees on the property (four of which are at least 150 years old) the winery also produces limited production olive oil.
—
Their cleverly titled FYI wine club Membership includes not only wine shipments but concierge assistance in regards to your trips to Napa – where to stay, where to eat and what to experience in the valley. From a hospitality point of view, this is certainly a much needed value ad on that wineries often overlook.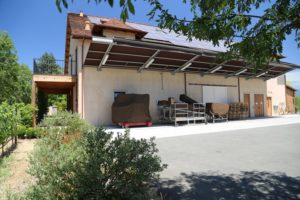 Guests typically discover Young Inglewood through word of mouth and referrals. This is only one of two wineries on Inglewood Avenue – the other a bit further down the road, Sinegal Estate, founded by the founders of Costco.
Visits to Young Inglewood are highly personalized and are private for your party – and typically include some discussion about the family's intriguing collection of art, a walk through a part of their vineyard, a winery tour which is followed by a tasting. Tastings include an older vintage of their Estate Cabernet Sauvignon. The winery is located only a short drive from the usually very busy Highway 29.
Their wines are distributed to several wines shops locally including ACME & 750 Wines in St. Helena. They currently sell some of the fruit each year to several premium wineries. They are also at fine restaurants in the valley including Bouchon and Press. Members of their allocation list are called FYIers (friends of Young Inglewood) and can choose from several membership options. For more information, to join their mailing list or to purchase wines, visit: www.younginglewood.com