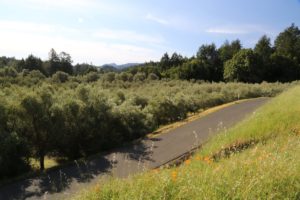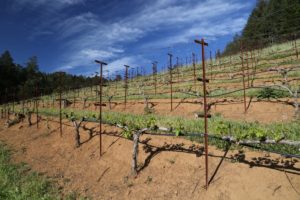 York Creek Vineyards (named after the creek of the same name on the property) is owned by successful entrepreneur Fritz Maytag, whose family is synonymous with the Maytag home appliance corporation (no longer owners) and Maytag Dairy Farms. In addition their family developed and currently produces the famous Maytag Blue Cheese. York Creek Vineyards is one of those select Napa wineries who own all their vineyards in Napa but make their wine outside of Napa County. In this case their winery is located several miles south of downtown San Francisco in an industrial part of town, just down the street from where Crushpad was founded (a custom wine making facility). York Creek was the first modern day winery to return to San Francisco. Their winery is across the street from one of Fritz's other long time successful ventures, Anchor Brewing Company.
Fritz is one of the modern day vineyard pioneers of Spring Mountain having first acquired his vineyards in 1968. Today 125 acres of vines containing a number of different varietals are located near the ridge-line of the Mayacamas mountains in the Spring Mountain district. Most of their vineyards are on the Napa side with a small amount of their "port varietals" coming from the Sonoma side. Their uppermost vineyards are among the higher vineyards on Spring Mountain and are located at about 2100 feet. As a result of their elevation and location harvest typically runs several weeks later than the valley floor and can run all the way from September into the first few days in November. Fritz also planted olive trees on the property and presses them for his own oil (never been sold commercially). They were planted near the riparian zones on the property and as a side benefit they seem to form a barrier against the glassy winged sharpshooter which when feeding often carry's Pierces disease (harmful to grapevines).
Fritz has been a grape grower for over 40 years and initially sold all his grapes to other premium producers. Even today they still sell the majority of their crop to other producers including to Ridge Vineyards. Fritz made home wine for a number of years before starting York Creek. The wineries' first vintage was in 1994 (made at other Napa wineries) and Cathy Corison who now has her own winery just south of St. Helena, was their winemaker. In 2000 they moved the winery operations to San Francisco and truck down fruit at select times during harvest.
Today Fritz is the winemaker along with Tom Holmes (who we met with). By focusing on small lots York Creek has been able to enjoy a fair amount of experimentation and testing over the years on the winemaking side of things. York Creek owns some of the more interesting tanks we've seen on this project. Fritz designed them from scratch – they hold just over 1.5 tons and are extremely customized to handle a number of aspects during harvest (various macerations, temperature, and pump-overs).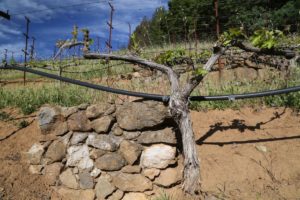 Often winemakers will make the types of wines they enjoy to drink and there are two wines in particular that are close to home for Fritz. One is their Bordeaux blend – Fritz has been drinking Bordeaux wines since the 1960's – and the other is Port. We do not often get to sample high end Ports from Napa and it was a real treat to try this wine (tasting notes below).
Having a barrel room in say, San Francisco versus somewhere up valley in Napa, is much easier on the electric bill. With the persistent fog that San Francisco is known for this is an ideal location for a winery and barrel aging room. Also having your own brewery right across the street has its advantages. For one, during certain years they take the pressed pomace from the winery across the street where they make a grappa. In addition their port uses non aged brandy made from their own grapes and then is taken to the winery when needed.
York Creek Vineyards currently produces about 3000 cases. However unlike many small wineries who produce just a few wines, each vintage typically sees up to 15 or so different wines, some produced in quantities of merely a barrel or two. They also produce a number of small lot Cabernet Sauvignon wines each year – these are typically made from unique blocks on the property.
The 2005 MXB (Red Wine Zinfandel Blend) is named in tribute of "Mixed Black" a term that used to refer to vineyards with multiple red wine varieties. This is a unique blend that is very fruit forward both on the nose and palate. Aromas of ripe blackberry and black cherry lead to a palate with a big juicy mouth feel. Rich tannins form a well structured finish.
Their flagship wine is the Estate Cabernet Sauvignon which is always blended in smaller percentages with several other Bordeaux varietals; we tried the 2004 vintage. This wine strikes a nice balance between elegance and richness – and is a good representation of their terroir as a number of blocks from various locations on the property are used to create the final blend. The bouquet shows a mix of spices including white pepper with nuances of toasted oak. As this wine breathes the nose opens up releasing additional fruit aromas. There is a nice dusty or earthy quality on the palate with a slightly smoky finish. This is a good wine to pair with food.
As with all the red wines we tried, their wines have excellent color and are very dark in the glass. The 2004 Port is the darkest of the wines we tried almost hinting at the complexity of flavor to come. This wine includes three major Portuguese varietals (Touriga Nacional, Tinto Cao and Tinta Roriz) as well as a "California twist" with small percentages of Petite Sirah and Zinfandel added. Its hard to find Portuguese varietals growing in the Napa Valley and we are aware of just several vineyards in the area growing these.
This vintage is high in alcohol and sugar but does not have overly ripe prune-like flavors and is certainly not overly viscous. The fruit flavors are concentrated and rich but in balance and in our opinion that is a sign of a well made port. A slightly higher acidity content is also not a bad thing for this wine. The bouquet is well layered with spices and a ton of fruit followed by a rich palate again full of fruit including flavors of dark cherry, almost a fine cherry liqueur, blackberry jam, dark chocolate, hints of vanilla and a nice smoky finish that is full of concentrated fruit of great length. There is definitely a good tannin structure to this wine.
Note the label on each of their bottles – 24 trees are pictured as a tribute to all the native trees that have been identified growing on the property.
You can often find their wine locally at Cal Wine in the town of Napa, Groezinger's Wine Shop in Yountville, the St. Helena Wine Center in St. Helena and the Wine Garage in Calistoga. You can also purchase directly through their website and a real benefit to the consumer is York Creek also has older vintages for sale from their library collection. For limited production wines from an artisan producer who specializes in small lot wines, their prices are set very reasonably.