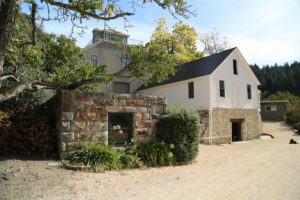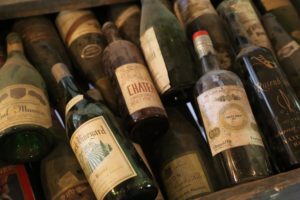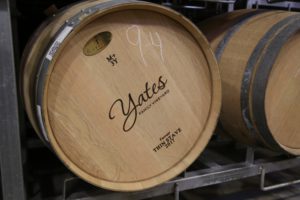 Yates Family Vineyard is located on the slopes of Mt. Veeder; this is one of the southern most vineyards in the Mt. Veeder Appellation. The Yates family has owned this slice of Napa Valley since 1950 making this the oldest continuously owned vineyard & winery property in Mt. Veeder. The property is 270+ acres and was originally purchased by Perry Yates. Perry also owned land in Oakville and Rutherford but sold these parcels in 1973.
A stone winery in this part of Mt. Veeder was originally built by German immigrant George Barth in the 1870s. Unfortunately nothing remains of this winery; any winery from the 1870s built in Napa Valley is part of an elite historical category of which there are very few Napa 'members'. Another stone winery (on their property), originally called Castle Rock Vineyard was completed in 1884; this was one of the earlier wineries built in the hills of Napa County and it is still standing. It was named for a prominent rock formation on the property. In 1902 a larger building was added on to the existing winery.
This winery contains a well-preserved extremely rare Roman Press made of a giant piece of Redwood; it is one of only two that we are aware of still in existence in Napa County – the other is housed at Nichelini Winery. This press sits above concrete vats – these were used for small lot fermentation when this was a working winery and these are also extremely rare; we are only aware of one other winery using these built in vats (Mayacamas Winery, also on Mt. Veeder). Walking into the old cellar is like walking back in time with old wine making equipment strewn about, bottles (still with labels), old tanks and hand pumps among other equipment lay unused covered in dust, relics from another era.
For the past 60+ years their 34 acre vineyard has been supplying a number of well-known Napa Valley based wineries with fruit for their own wines. As with many vineyard managers and growers they made home wine on the side for friends and family; ultimately they produced their first commercial wine in 1999. Their wine makes up a small portion of the overall vineyard as they continue to sell grapes to a number of premium clients.
As a testament to the vineyards and wine making, some of their home made Cabernet Sauvignon and Chenin Blanc from the cellar is tasting great more than 30 years later. This is evidence of the complexity of Mt. Veeder's terroir in regards to producing extremely age-worthy wines.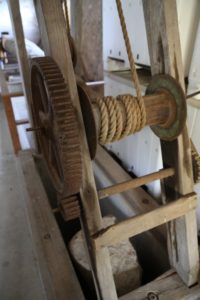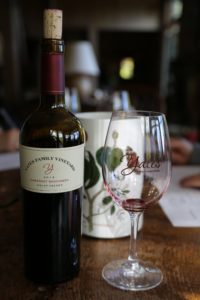 This part of Mt. Veeder historically was known as Napa Redwoods, named after a large grove of redwoods similar but smaller in size to the Armstrong Grove in neighboring Sonoma County. In tribute of the redwoods that grow here, they used the name Napa Redwoods Estate for seven years, but for branding and marketing purposes, Yates Family was eventually chosen as a more desired name of their brand.
This is truly a family run affair. Perry's grandson, Michael Yates is the co-winemaker (self-taught); he has a degree in Agriculture, but for many years ran a construction company. Michael's daughters Whitney and Mary are also extremely involved in the winery operations; Whitney assists her father in winemaking and helps out in the vineyards while Mary oversees the business side of the operations and is the winery CFO.
Production as of the time of this review is around 700 cases per year.
The vineyards are in a spectacular location, with most of the blocks very steeply planted ranging in elevation from 900 to about 1,300 feet. On a clear day, a drive to the ridge top above the vineyards reveals 3-bridges in the distance; the Golden Gate Bridge next to San Francisco, the Richmond Bridge and the Bay Bridge. Mt. Diablo can also seen far in the distance.
Select Wines
Their focus is on layered wines without the robust tannins often seen from mountain grown fruit. These are wines that can age but can certainly be consumed young. All their wine is made at a nearby winery (also located in Mt. Veeder). All vintages during our first visit to the property were from 2004 which was the last year they used the Napa Redwoods Estate label. We have since revisited the property and tasted additional releases. The only white they produce is a 100% varietal Viogner from their vineyard on Mt. Veeder (the most recent wine addition to their portfolio).
The 2019 Yates Family Vineyard Viognier is medium gold in color; sports aromatics of bubblegum, honeysuckle, vanilla, butter, honeycomb and some notes of pineapple and apricot. As it continues to evolve in the glass, opens to aromas that are both floral and tropical. The bouquet is well layered and simply put – it smells pretty. This wine offers a creamy texture across the palate with both richness and weight. Shows flavors of mandarin, lemongrass, white peach and lime. It is nicely balanced and lingers with both plenty of flavor and a noticeable spice note towards the end of the finish. This spice must be inherent to the varietal and the site as this wine was aged entirely in stainless steel barrels.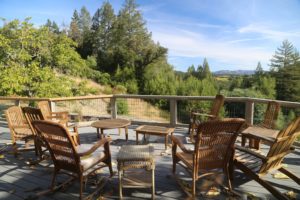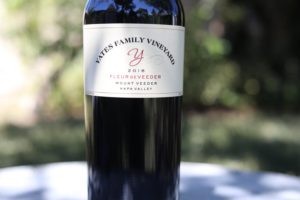 Yates Family specializes in four red wines, Fleur de Veeder (Merlot), Cheval (Cabernet Franc), Cabernet Sauvignon and Alden Perry Reserve (a blend named after Whitney's grandfather and great grandfather).
The 2016 Yates Family Vineyard Fleur de Veeder Merlot is deep ruby in color; shows a nice union of both darker fruit (blackberry and plum), cassis and barrel spices including leather, dark desert spices (cardamom), mocha, espresso, brown chocolate and old cedar box. There is also some notes of dried herbs and sage. Offers flavors of spicy plum, white pepper, red cherry, currant and pomegranate on the palate. This is a very food friendly offering with bright acidity and plenty of flavor. The finish is savory with both wood spices, crushed peppercorn and a lingering liveliness of both fruit and acid. The tannins are earthy, dark and medium textured. This just might be a good candidate for pairing with some BBQ ribs.
The 2018 Yates Family Vineyard Alden Perry Reserve Red Blend is generally a Cabernet Sauvignon driven blend with varietal percentages in the wine varying year to year; this wine is dark ruby in color. The bouquet offers aromas of ripe blackberry, boysenberry and dark cherry complemented nicely by some barrel influence including old cedar box, dark pepper and some darker dessert spices including notes of mocha as the wine continues to breath in the glass. The tannins are not course but are rather gravelly in texture, slightly drying, chewy and long lasting. There are plenty of savory characteristics here from both its mouth watering acidity, wood spices, spicy plum, dried herbs and notes of crushed peppercorn. This wine overdelivers for the price.
The 2013 Yates Family Vineyard Cabernet Sauvignon shows dark ruby in the glass with elegant notes of bright and aromatic fruits including blackberry and darker cherry framed with tinges of toasted cedar and cocoa powder. As the wine breathes a dry dusty nuance evolves on the bouquet. A dried tobacco leaf characteristic shows on the palate – the wine is still a bit tight with young grippy tannins showing for quite some time on the finish. With good structure, acidity and fruit, this wine should age well for many years and we would enjoy revisiting it after 10 and then 20 years.
All their red wines are rather dark in color and their Cabernet Franc is no different. We spotlight this because it was among our favorite of the Yates Family wines. The 2004 Yates Family Vineyard Cabernet Franc is a superbly crafted wine. There is lots of fruit on the nose including cherry followed by a mouth feel that is well-textured with, concentrated flavors yet smooth tannins. This wine lingers with an exotic spicy finish, notes of black pepper, cloves and more that continue to evolve until the last flavors have run their course.
—
St. Helena Wine Merchants Connection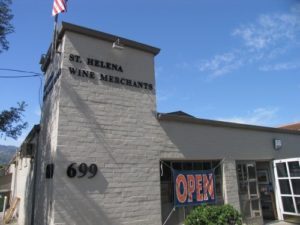 Round Hill and Rutherford Ranch founders, Ernie and Virginia Van Asperen (owners of some 80+ shops around the San Francisco Bay Area in the 1960s, called Ernie's Wine & Liquor) opened St. Helena Wine Merchants in 1973, a wine shop that was located just south of St. Helena.
They eventually sold this shop in 1983 to Alden Yates and his son Jeff took over the operations when Alden died in 1989. Jeff is the brother of Yate's Family Vineyards' winemaker, Michael. The shop continued under Jeff's ownership until 2011 (and as expected wines were available from Yates Family Vineyard) when it was sold and for several years was the tasting room for Vine Cliff Winery.
Studio by Feast it Forward Napa
As of late 2021, Select Yates Family Vineyard wines are available for tasting at the Feast it Forward tasting room in downtown Napa. Yates Family Vineyard generally offers three different wines for tasting. A private tasting can be arranged by appointment, typically with one of the McKahn family; this special tasting features their full lineup of current releases.
The studio is located directly across from the Oxbow Public Market in downtown Napa and packs numerous experiences into a small space. This two story building houses an "experiential showroom", as founder Katie Hamilton Shaffer calls it – with a focus on wine, food and music. Each vintner represented offers several wines and several of the showroom's sponsors have prominent placement including guitars from Gibson Brands, Inc. and furniture from Crosley. A chocolate tasting is also offered oddly enough sponsored by Sherman Williams and a vinyl station if offered for playing a variety of old records. Upstairs features a demonstration kitchen; when shows are being filmed here, televisions downstairs broadcast the live feed. This kitchen can also be used for guest chefs to offer culinary classes.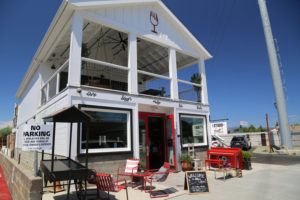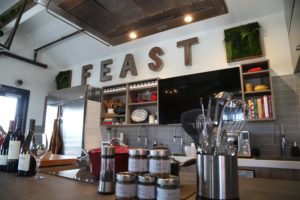 And visitor's will want to stop by their bathroom – a television embedded in a mirror plays Feast it Forward culinary shows. The site can be used for a number of events including the availability of plenty of space in the back of the building. The Ultimate Airstream Film Lounge trailer is often be parked in the back; this trailer is used when the Feast it Forward team is on the road hosting unique lifestyle events and it also serves for private tastings on site or for special events. One such event at the showroom has included "Terrible Tuesdays" in which bad films with cult like followings are shown.
The second floor features a sizable surround building deck and a swinging 'bed'. This is an ideal perch to watch pedestrians walking to Oxbow Public Market or those enjoying the park next to the Napa River. These are also some of the best seats in the area to watch live performances at the nearby green.
—
For Mt. Veeder grown fruit, the wines are priced quite reasonably by Napa standards. The family participates in select consumer tastings throughout the year including the always lovely and annual Mt Veeder Appellation Tasting held at Hess Collection Winery. You can find their wine locally at the St. Helena Wine Merchants in St. Helena. For more information or to join their wine club, visit: www.yatesfamilyvineyard.com
Estate

Old Winery