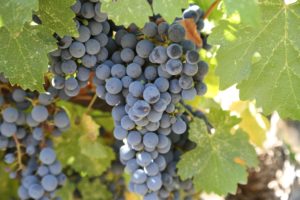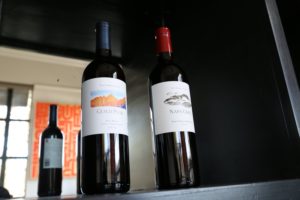 Yao Family Wines was founded with their 2009 vintage and takes its namesake from founder Yao Ming, a retired professional basketball player for the Houston Rockets. During his career, he made the NBA All-Star team five times. Standing at 7 feet 6 inches, Yao is certainly the tallest Napa Valley wine brand owner. He made his mark in the world of basketball and now he is focusing on producing premium wines from Napa Valley.
He was introduced to wine through a friend during his time playing professional basketball. And from our experience visiting Houston – there are certainly a plethora of steak restaurants; when one has steak, an ideal pairing is with a good red wine. Yao's passion and knowledge for wine grew and ultimately he decided to start Yao Ming wine brand. His home base is in Shanghai and he is in Napa Valley several times a year.
When Yao first voiced interest in making premium Napa wines he visited a number of larger wineries in both Napa and Sonoma but these wineries wanted to market his wine with their name as a part of the brand. Eventually he found industry veteran Tom Hinde (who we originally met with). Tom has worked in the wine industry for over 3 decades spending 18 years with Kendall-Jackson, serving as their General Manager for some 9 years. He was also General Manager of La Crema and more recently President, CEO and Director of wine making for Flowers Vineyard and Winery (Sonoma Coast). In 2007 he started his own business, Wine Trends Marketing and currently works with a number of premium smaller brands. Note: Tom is no longer the winemaker for Yao Ming.
Since his partnership with Yao, Tom has visited China numerous times (learning some Mandarin in the process, not always an easy language because of its tonal nature for native English speakers).
Winemaking/Select Wines
Their winemaking team prefers parts of the valley that have moderate temperatures during the growing season and tend to source grapes from locations that are geographically closer to the center of the valley. Currently they source from six vineyards in Napa County ranging from Coombsville in the south to several mountain vineyards (Atlas Peak, Soda Canyon) up through Yountville and St. Helena.
The focus is on two labels: YAO MING (their flagship wine) and Napa Crest.
YAO MING Wines
The 2015 YAO MING Family Sauvignon Blanc (their first ever white wine) includes a tiny percentage of Sémillon. There is a noticeable spicy note on the nose – the palate has good acidity with notes of green and red apple. There is also a hint of residual sugar but it is somewhat masked by the acidity.
The 2014 YAO MING Family Gold Peak is a very good value; this wine isn't necessarily built upon layers of complexity as their premium wines, but is very approachable and an easy to drink everyday wine.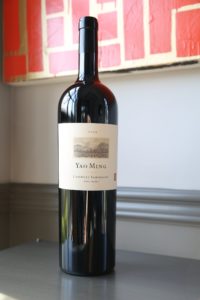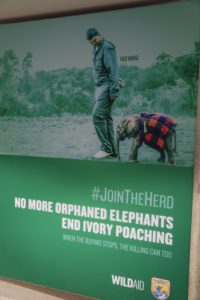 The 2012 YAO MING Family Cabernet Sauvignon is a Cabernet Sauvignon based blend. It is brick red in the glass with just a hint of herbal notes on the bouquet (perhaps eucalyptus), saddle leather and mocha. This wine is rounded with layers of flavor and dusty well integrated both oak and grape tannins.
The 2012 YAO MING Family Reserve Cabernet Sauvignon shows mostly red fruit on the bouquet with hints of vanilla. The palate is lively and features robust yet tight grained tannins on the finish. These tannins are somewhat chewy and linger for quite some time. This is a complex and well layered wine and should age well for many years. Only 179 cases were produced.
Napa Crest Wines
The 2012 Napa Crest red wine (Bordeaux-styled blend) is a Cabernet Sauvignon based blend with Merlot and Petit Verdot rounding out the varietals. There is a sweet note to the bouquet – perhaps like a candied apple with hints of dried sage. The wine is light upon the entry but gains in complexity by the finish. Notes of tobacco spice. The tannins are noticeable – mostly on the sides of the palate rather than the back and are not over powering in their textural feel.
Note: additional tasting notes from current release Napa Crest wines coming by end of 2022 or 2023.
Yao Family Wines became the world's first winery to offer a wine at auction paired with NFt digital collectible with the release of their 2016 CHOP. The label on these extremely coveted and limited production bottles is the Chinese chop, a seal which dates from the Shang Dynasty (商朝), ruling from 1600 BC to 1046 BC.
Former Tasting Room (permanently closed)
In late February 2016 Yao Ming moved into a tasting room in south St. Helena (built by prior owners). In 2020 this tasting room closed permanently and Yao Family wines vacated the building. Following a period of vacancy, as of our latest update, the building is temporarily home to Vine Star, a wine and espresso bar; the owner Jay is involved with the Yao Ming brand and as a result, visitors may be able to still taste select Yao Ming wines here.
Note: As a result of the closure of their tasting room – this review has been identified as needing a *major* update including adding current release tasting notes.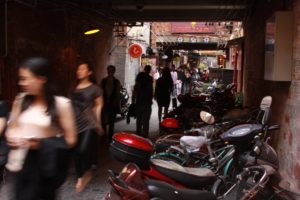 When this tasting was opened, they offered three distinctive tastings – the Access tasting included both Yao Ming and Napa Crest wines. The Reserve Tasting featured limited production more exclusive wines and the Library Tasting featured select older vintages. The Reserve and Library tastings required reservations and both tastings were paired with a light charcuterie and local cheeses.
In addition to the main bar tasting area, three private tasting rooms and an outdoor patio area were also available. The size of this tasting room was deceiving; it was certainly one of the more sizable stand alone (no winery) tasting rooms in all of Napa and was able to see 130 people at any one time.
The tasting room also offered select number of limited edition wines personally signed by Yao Ming. And what used to grab visitor's attention immediately when entering the tasting room, was a full size cutout of Yao allowing people of 'normal' height a sense of just how tall he is. Yao's Hall of Fame jacket was also on display.
(we keep these photographs here for historical reference)

Yao is not only involved with his own winery but he has become a humanitarian over the years – establishing the Yao Ming Foundation in 2008 after the terrible earthquake in China's Sichuan Province and continues to contribute to educational causes in both the US and China. And he is credited with significantly decreasing shark fin consumption in China with his work to ban shark fin soup.
Production is currently around 8,500 cases with select distribution in 16 states as well as in parts of China. After closing their tasting room in 2020, Yao Ming Wines began accepting private tastings by prior reservation only available Thursday through Sundays. For more information, to purchase wines, to join their wine club or to make a reservation, visit: www.yaofamilywines.com