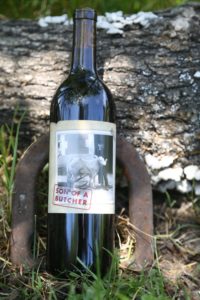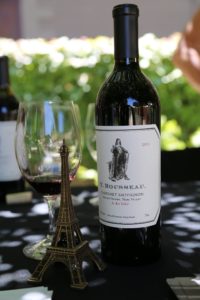 Y Rousseau Wines are owned by the husband and wife team of Yannick and Susan Rousseau. Yannick was born in the Gascony region of southwest France (bordering Spain) in a small town about 90 minutes from Bordeaux and about two hours from Saint-Émilion and Pomerol. This part of France contains some of the country's most well-known wine regions. As in a number of western European countries, when one is raised in a wine region, wine is well integrated into one's lifestyle. Yannick enjoyed his first wine early, he remembers at the age of 5, trying his grandfather's homemade wine. His father was a butcher.
Yannick became interested in how wine was made in his late teens. In 1998, he earned a master's degree in Enology and Viticulture from the University of Paul Sabatier in Toulouse and worked for several years in the local wine industry. He then became interested in adding some international wine work to his resume.
He immigrated to the United States in 1999 as a direct result of a meeting that was setup in Paris between, he and Dr. Su Hua Newton, proprietor of Napa Valley's Newton Vineyards. She interviewed him for a job at Newton which was to be a fairly short-term position but ultimately after the meeting, Yannick was offered a much longer contract.
After working at Newton Vineyard, he spent 6 years years on Mt. Veeder with Chateau Potelle. When Chateau Potelle sold to Kendall-Jackson he decided to create his own label and Y Rousseau Wines was born. The focus of Y Rousseau's production in Napa is on Mt. Veeder wines. Currently Y Rousseau Wines produces two Napa wines – both from Mt. Veeder – a Cabernet Sauvignon and a Chardonnay as well as several wines from Sonoma County including a rare Colombard and select other regions in northern California.
Colombard is an interesting variety with origins in southwest France (Gascony region) where Yannick was raised. There are currently only two Colombard vineyards in the Russian River in neighboring Sonoma County – when Yannick found the vineyard, he currently sources from – it was from a grower that was having a hard time selling all his fruit. Yannick tasted some of the fruit and wine that was strictly being used to blend into another wine for the purpose of adding natural acidity. He immediately realized the potential that this wine would have with the proper winemaking style.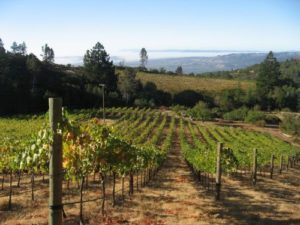 Colombard is one of the most planted white wine varieties in the state of California – with large productions coming from the Central Valley where production is very high and is predominantly used in blending and jug wine. It is also often made slightly sweet. As a result, its reputation has been somewhat tarnished in the "circles of fine wine."
However, Y Rousseau's Colombard is not sweet, and it is hand crafted and produced in small quantities. Many wine varieties originating in France of course do not have the name "French" associated with them. For some reason "French" became part of the Colombard name in the USA in the 1970's – and is more often associated with the cheaper wines made from this variety. Yannick decided to simply call his wine Colombard which isn't as well known as "French Colombard" but perhaps helps to differentiate his wine from a quality standpoint.
2008 was their first vintage – as a Napa producer, it took some guts to release a Colombard as a first ever wine. This, however, was a variety Yannick was familiar with as it is commonly produced in Gascony; he was also familiar with it from a winemaking perspective as he first made wine from this variety a decade prior.
The Colombard from this particular Russian River Valley vineyard (Dorothy Cameron) is very late ripening (for a white variety). In recent years Yannick has picked it in mid to later October – which is unusual because by this time nearly all other white wines from Napa and Sonoma are typically already harvested and fermented. For the last several years, he has picked his Cabernet Sauvignon at nearly the same time as the Colombard.
Yannick wants wines that will age but also be approachable in their "formative" years. He harvests based on taste and flavor and finds a balance between ripeness and acidity with hang time in the vineyard. He wants wines with good acidity – wines that will pair well with food.
Select Wines
The 2011 Y Rousseau Colombard was 500 cases; initially it shows some graphite on the bouquet along with aromas of citrus blossom. This wine has a nice complexity of aromas – some tropical notes are present including passion fruit. As the wine opens in the glass the bouquet becomes very elegant and floral in nature with pleasing aromas of Jasmine. The mouthwatering natural tart acidity is clearly present on the palate – the crisp finish shows lingering notes of lemon.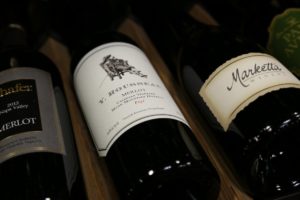 Influenced by fermenting with indigenous yeast through his work at Chateau Potelle – Yannick ferments his Chardonnay with yeast already present on the grape skins; this wine sees no malolactic fermentation. The 2009 Y Rousseau "Milady" vintage is from a block that tops out at 1900 feet. This wine is golden in the glass with a bouquet of beautiful and layered aromas of baking spices, crème brule, browned sugar, hints of vanilla and honeydew melon. The palate is perfectly balanced with good integration of flavor. The mouth feel is rounded and smooth, yet a decent acidity is clearly present.
The 2008 Y Rousseau Mt. Veeder Cabernet Sauvignon (Le Roi Soleil) is blended with 3% Merlot. Yannick is a managing partner in a small production French cooperage and uses barrels from his cooper to age this wine. The fruit is sourced from the same Mt Veeder vineyard as the Chardonnay. This is a dark wine in the glass with a ripe aromatic bouquet showing cassis, cherry liqueur and blackberry. While the bouquet showcases the fruit – it is not too ripe, rather it is more elegant in nature. With "mountain cab" the tannins start early – they are dry and dusty from mid palate to the finish and linger for some time.
Yanick also produces a second label called SOB – not son of a xxxxx, but rather Son of a Butcher, with the letters SOB printed on the top of every cork. This is a California Red every day drinking wine. Identified by both vintage and lot number, we tried the 2017 Son of a Butcher No. 0003. As written on the back label, this wine is a blend of 90% elbow grease and 10% je je sais quois. Cute, in reality the blend is 45% Tannat, 25% Cabernet Sauvignon, 15% Merlot and 15% Cabernet Franc. Spent 18 months aging in French oak barrels (15% new, the remainder neutral). Dark ruby color. The lively bouquet offers generous aromatics of ripe fruit including blackberry and plum – also woven in is some spicy characteristics, aromas of old cedar and dried elderberry. The palate is supple and smooth – this is not a tannic Tannat – a description we often associate with this variety – but certainly tempered by the other varietals in the blend. Lingers with both fruit and some tobacco smoke. Priced very reasonably.
Y Rousseau also produces a varietal Tannat (another variety historically grown in southwest France and often associated with wines from Uruguay) from neighboring Sonoma County and Lake County further to the north.
Their logo is a "plume" and is a tribute to D'Artagnan, a man born in Gascony in 1611 who became known as an ambassador of sorts for the Gascony lifestyle. A fictionalized account of his life was later presented in the book and subsequent multiple French and American movies, "The Three Musketeers". This plume is their representation of a feather that D'Artagan might have worn in his cap.
VAULT Wine + Artifacts

Y Rousseau is part of a select group of vintners hosting tastings by appointment in VAULT Wine + Artifacts in Calistoga. Y Rousseau began to show their wines here in early summer 2022. This space was previously the home of ROAM Antiques; in early 2021 ROAM Antiques closed permanently, and the building underwent a major renovation which was completed by late summer 2021. The VAULT Wine + Artifacts space anchoring the south side of Lincoln Avenue on the far west side of Calistoga is a partnership between Mario Sculatti and Trevor Mallett.
The space re-opened as VAULT Wine + Artifacts in Fall 2021, a wine tasting space for several brands owned by Trevor and Mario, along with select other wines from Stringer Cellars and Sarah Francis, among others. In the spirit of the previous antiques business, a number of historical wine objects are displayed inside. These include winemaking equipment, hand-blown glass and an impressive collection of corkscrews. Other than the large items, most everything is for sale in the gallery.
The centerpiece of the space is an old Roman press, whose heritage Trevor told us, is possibly from either Austria or the Ukraine. Old wooden Roman presses are extremely rare in Napa Valley. The only two wineries we know of who own Roman presses from earlier winemaking days are Nichelini Family Winery and Yates Family Vineyards. Another smaller wooden press is from Germany with words in German engraved in the wood which roughly translate to: "In good times and in bad times we still make red and white wine"!
As of our latest update to this review, VAULT Wine + Artifacts offers three tastings including Valley Floor, Mountain and Unique Varieties. Visits are preferably by appointment, but staff will try to accommodate walk-ins if not busy. A side room seats up to 8 people for a private and more intimate tasting. A large mirror greets visitors inside this room; it doubles as a secret door to another room, containing a library and and office. Private tastings can be requested to be hosted by Faith as schedules allow.
FRANCE CONNECTIONS
Y Rousseau VRBO, Bezolles France (Gascony)
This charming and secluded property is about a 2-hour drive from the Bordeaux airport (BOD) in Merignac. And only a 5-minute drive into the tiny village of Bezolles (or about a 20 – 25-minute walk). This cottage was originally built in 1821 as a bakery for the immediate region. One pulls into the property on a narrow gravel road, and one is immediately transported back in time.
This is a gorgeous property with plenty of history – but its attraction is certainly where it is located. Ideal for those wanting a country getaway – away from it all. During our drive and visit to the property we passed through acres and acres of agriculture – primarily wheat. Spring is a great time to be here – the surrounding rolling hillsides are all green and the weather is warmer than the previous winter months. Narrow little traveled roads, often one lane pass through the fields, sometimes by grazing cattle and every so often, through small villages. There are no vineyards in the immediate vicinity of the property.
Lupiac
This picturesque hillside village (about a 30-minute drive from the Y Rousseau VRBO) is located in the Gers department; this town is the birthplace of Charles de Batz de Castelmore (otherwise known as D'Artagnan) – and one realizes this immediately upon entering the city limits with several signs mentioning this famous man and even some metal sculptures greeting visitors in his likeness.
Visitors should make a beeline for the center of the village – the main plaza where one greeted by a prominent statue of D'Artagnan. Several attractions are worth visiting including the town hall across from the statue, the small but impressive Eglise Saint-Barthelemy cathedral and a bit further on the edge of town, the tiny d'Artagnan de Lupiac Museum (a visual and audio look into the man's life and accomplishments).
Madiran
This is the town near where Yannick was born and raised (population of about 400). And it is also a town known for its vineyards- especially Tannat along with being home to several wineries. Not as charming as some of the other towns in the region, the majority of the town is built along D48, the main road. Features couple of tasting rooms, a camp site on the edge of town, several restaurants and at least one place to stay. Incidentally this is where famed French oenologist and research Émile Peynaud was born (taught at the University of Bordeaux and mentored numerous students including several farmers/winemakers with strong connections to the Napa Valley including Philip Togni and Alfred Tesseron).
One can often find their wines locally at Backroom Wines in the city of Napa. Wineries are not always next to vineyards; in reality, there are numerous small and larger producers with wineries in business and industrial parks in or near the city of Napa. Such was the case with Y Rousseau's former winery and tasting room in a business park located just south of the city of Napa; this is now closed, and Y Rousseau is no longer seeing visitors here.
Guests who do have an appointment will generally taste directly with Yannick. He is one of the most down to earth winemakers you will ever meet in the Napa Valley. Personable, engaging, and at times humorous, your visit will be an enjoyable one.
Former tasting room photos for historical reference

For more information or to join one of several wine club options, visit: www.yrousseauwines.com