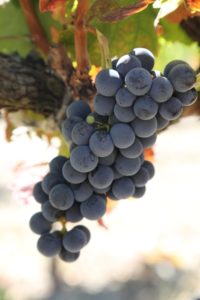 Xtant Wines was founded by two partners, Jeffrey O'Neill and Laurence Vosti both of whom have strong ties to the wine industry. Jeff is a past president of The Wine Institute and former CEO of Golden State Vintners. Laurence went to school in the Bordeaux region of France, has owned a retail wine business and has been a collector of California & French wines for many years.
Jeffrey O'Neill runs O'Neill Vintners & Distillers a California based producer of various wines, bulk wines and spirits (with a major winery in Parlier – about a 30 minute drive from Fresno). Jeff founded the company in 2004 and in a relatively short amount of time has grown the company into one of the largest wineries in the entire state.
Winemaker Jeff Gaffner has strong ties to the neighboring Sonoma County wine scene. He began what has become a long career as a winemaker in 1981 at Chateau St. Jean in Kenwood. A name that rings a loud bell in Sonoma County is Dick Arrowood, Jeff's mentor at the time who taught him the equal importance of keeping an eye on details both in the vineyard as well as in the winery. Jeff helped make some very well regarded wines at Chateau St. Jean including the 1996 Cinq Cepages which earned the Wine of the Year from the Wine Spectator.
In 1997 Jeff launched his own wines – Saxon Brown, named after the heroine in Jack London's book, "Valley of the Moon". The focus of the Saxon Brown wines are on old vine Zinfandel and Sémillon – using field blends. Along with these varieties Jeff also produces a wide range of other wines sourced from various vineyards throughout Sonoma County.
Jeff O'Neill enlisted the help of Gaffner in 2001 – the inaugural release of Xtant.
Jeff has his feet in both counties; he is consulting winemaker for a number of wineries both in Sonoma and Napa. The Xtant Wines are made at Laird Estate just south of Yountville where we had the privilege of meeting with Jeff. Xtant sources their fruit from select vineyards that they have hand picked based on the quality of fruit available from the various sites.
Since the beginning Xtant has sourced from within the historic Lewlling Vineyards in St. Helena each year. Lewelling Vineyards is one of the oldest continuously-owned family vineyards in the Napa Valley with family roots dating back to 1864 when the family patriarch John Lewelling moved to St. Helena. The vineyard itself is located at the base of the Mayacamas mountains on the western side of the valley. The vines grow on rich benchland soils; several premium producers source from this vineyard.
The fifth and sixth generations are now running Lewelling Vineyards and the seventh generation is already running among the vines. David Wight is the primary winemaker and his brother Doug has built a successful vineyard management company and has farmed the family property for the last 40 years. Today Wight Vineyard Management company manages 500 acres of vines in the Napa Valley.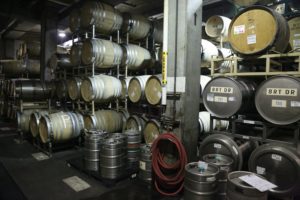 Two other vineyards Xtant sources fruit from are the Kletter Vineyard in St. Helena (located next door to Duckhorn) and an extremely usual vineyard source – Oakville Station, an experimental vineyard owned and managed by the University of California Davis. Xtant sources from a small block of Malbec in this vineyard.
Initially and for several years Xtant produced a single wine, a Bordeaux styled red. In 2005 Xtant produced a second label made from barrels of wine that did not make their way into the primary label – this second label is called Petit Batard which from French to English, translates to "Little Bastard". Ha, not many wines are named something like this! This particular wine is Cabernet Sauvignon, created from barrels of wine that are not used in the Xtant wines. It is Cabernet Sauvignon based and is available at a very good price point – we've had wines of this quality and structure easily 2x the value of what this wine is priced at.
Once the grapes come into the winery they are typically cold-soaked for three days before starting fermentation in small fermentation tanks. Once the wine has fermented to dryness – the wine is pressed and then transferred to barrel for malolactic fermentation. Jeff told us that Xtant ages their wines for an extra year compared to most Napa wineries. They use very tight grained oak barrels from coopers selected from certain geographical regions in France. As a result despite the extra aging, their wines are not "oaky" in flavor rather the flavors imparted from the wood are slightly spicy and sweet at the same time.
As the wines are aging in barrel, Jeff continuously smells and tastes the wine from each barrel – helping formulate an idea of which barrels will go into the primary and secondary labels. Once the final barrel selection has been made, the wines are bottled – Xtant typically sees a year in bottle before being released and the Petit Batard spends about 6 months.
Select Wines
The 2004 Xtant Cabernet Sauvignon is a rich complex multi-faceted wine. The Cabernet Sauvignon is blended with Malbec and Merlot. The Malbec brings a violet and lavender complexity to the palate; one can also pick up on notes of cherries and red currants. The finish on this wine is remarkably long.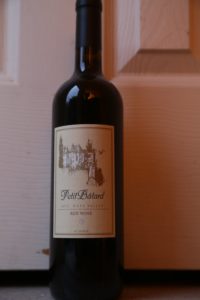 The Petit Bâtard (meaning little bastard in French) is marketed like no other Napa Valley wine label we have come across – the front label depicts a fancy presumably French Chateau with a man throwing another man off of one of the turrets – falling down what looks like hundreds of feet over the castle walls. The 2013 Petit Bâtard is dark maroon color in the glass – offers aromas of dusty blackberry, ripe but not overripe with notes of brown chocolate and cloves – drinking beautiful 6+ years after vintage date – shows a pleasing light tension across the palate framed by silky smooth tannins. Flavors of blackberry and boysenberry with hints of rhubarb on the finish. Drinks very well by itself.
And in a not so subtle hint on on the back label – indicating that this wine is being sold at a great value to price point, it is written, "Petit Bâtard is the illegitimate offspring of Xtand. It is of limited quantity and is being sold at a huge loss for Mssrs. O'Neill and Vosti. The loss involved caused some extensive discussion resulting in Mr. O'Neill being ejected from World Headquarters as shown." WTF? Certainly a great conversation piece when consuming this wine.
View Jeff speaking about Xtant