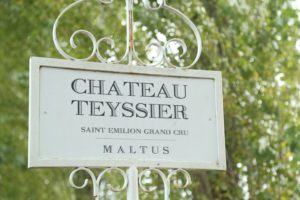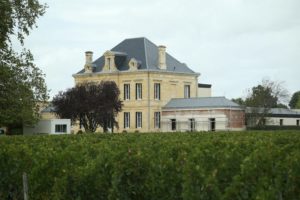 World's End Wine. Founder Jonathan Maltus was born in Lagos Nigeria, and educated in England but spent much of his formative years on the road in various countries. He began a petrochemical company at age 21 working with a variety of products including gas, electricity and pharmaceuticals and at one point operating five companies in five different countries. He sold his company at age 36 and moved to Cahors in southern France and began to learn winemaking from one of his neighbors.
While at a dinner party he met an English winemaker who complained to him that he was unable to sell his wine. Jonathan offered to talk to a retailer in the UK – and did so, this retailer ended up purchasing half of the wines available.
Château Teyssier, Bordeaux France
Triggering an interest in pursuing winemaking, Jonathan and his wife Lyn purchased Château Teyssier (5 hectares) in Vignonet, Bordeaux in 1994 (a commune located about a 15-minute drive south of the town of Saint-Émilion). The property was originally a farm, grapes were planted on site in the early 1870s by a previous owner – who also built the prominent chateau.
Their vineyard holdings have expanded significantly since this initial purchase – today they own around 60 hectares spread over several vineyard sites, all in Bordeaux. Jonathan also modernized the existing winery and built a second winery. Their first vintage was from 1994; today the winery produces seven single vineyard and blended wines from the various properties they own – 6 reds and one white.
During a recent visit to Château Teyssier we tried several 2018 barrel samples of at the time, soon to be bottled wines. 2018 featured a cold and wet winter with late bud break and rain well into May. Summer was very dry – the grapes harvested had a fairly high skin to juice ratio.
Le Dôme is the wine that introduced Château Teyssier and Maltus to the world of fine wine consumers – their first vintage was in 1996 and Robert Parker awarded their 2010 vintage a perfect 100-point score. People begin to take notice when Parker awards 100-point scores to smaller producers. This wine is a Cabernet Franc dominated blend with Merlot. The vineyard source is slightly larger than 3 hectares, slightly west of Saint-Émilion. This wine is always dominated by Cabernet Franc – 70% of the vineyard is planted to this variety with the remainder being old-vine Merlot (dating from the 1950s).
The 2018 Le Dôme (80% Cabernet Franc and 20% Merlot) is dark red in the glass; the wine offers an intriguing bouquet with notes of dry dust, hints of oregano and thyme. Somewhat briary on the nose. Well layered with beautiful depth, shows flavors of plum and blackberry anchored by gravelly tannins. A dark earth, tobacco and darker spice note lingers on the finish. A savory showing that should age very well for years to come. While only a barrel sample, it is obvious this wine has all the hallmarks to be a beautiful, finished wine once in bottle.
And in late 2019, the 25th anniversary of Château Teyssier plans were unveiled for Château Le Dôme, a dedicated winery in Saint-Émilion. The architecture was designed by Foster + Partners, the same firm that built the Nouveau Chai at Chateau Margaux (that building opened in 2015). Now that this is completed, we will visit as part of one of several upcoming Napa Valley related trips to Bordeaux.
The 2018 Château Teyssier is 70% Merlot with 30% Cabernet Franc. This wine was aged in 20% new French oak and the remainder once used. It is their largest production wine. Pretty aromatics include blackberry, hints of menthol, a sweetness of fruit and subtle notes of vanilla and cinnamon. Lively, bright fruit shows across the palate with flavors of cranberry and red cherry. Balanced right out of the gate, this wine is anchored by lively acidity – mouthwatering especially on the finish.
World's End, Napa Valley
With such an international background it only makes sense Jonathan's wine ventures would span the globe. In 2002 he purchased three separate blocks in both the Barossa and Eden Valleys; grapes from one of the vineyard sites was used at one point in Penfold's iconic Grange program. These vineyards were the founding of The Colonial Estate wines, which Jonathan operated until he sold in 2009.
He had already set his sights on Napa Valley, initially looking at purchasing property high on Spring Mountain in 2008. That fell through with the faltering economy but that same year he met grower Andy Beckstoffer – was able to quickly secure fruit sources and remarkably produced three wines, his inaugural vintage (Crossfire, Good Times Bad Times and Wavelength). No World End wines were produced in the challenging year of 2011 with its cool weather and moisture at inopportune times – also no wines were produced in 2012.
For several years the wines were made at a winery in American Canyon; as of our latest update to this review, the wines are being made at Miner Family Winery in Oakville. Frapes are sourced from select premium vineyards in the valley including several Beckstoffer owned vineyards, among them, Georges III in Rutherford and To Kalon in Oakville. The focus is of their varietal selection is Cabernet Sauvignon – showcasing both vineyard sites and varieties.
The name World's End was chosen in homage to the district of Chelsea in London where Jonathan and Lyn lived for some time in an apartment. And Jonathan has named all his Napa Valley wines after prominent Rock & Roll songs that he enjoyed listening to in his youth – from artists such as Jimi Hendrix, Bob Marley and Led Zeppelin among others.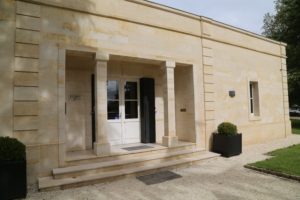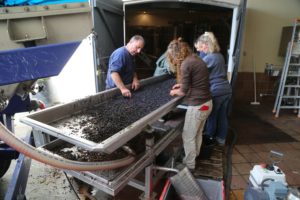 The 2014 World's End Rocksteady, named after a type of music that originated in Jamaica in the mid 1960s, this wine is a unusual (for the Napa Valley), a proprietary red blend with 49% Merlot, 18% Syrah, 15% Petit Verdot, 13% Cabernet Franc and 5% Cabernet Sauvignon. The Merlot was sourced from a Beckstoffer owned Carneros vineyard. Immediately shows bright red fruit aromatics on the bouquet including red cherry, along with hints of mushroom, rosemary and sage and as the wine breathes further hints of dry earth and oak. Balanced with tannins that are long lasting and slightly chewy but not harsh. Lively acidity.
The 2014 World's End Crossfire Cabernet Sauvignon was sourced from the George III Vineyard in Rutherford (nearby neighbor is Caymus Vineyard). This wine is 100% varietal. Shows a diversity of fruit aromatics on the bouquet including blackberry, boysenberry with tinges of raspberry and hints of white pepper and as the wine opens further, a sweetness of mocha, toasted oak and vanilla. Well-defined yet well-integrated tannins linger softly along with darker cherry, plum and a hint of black licorice.
Total production of the World's End wines varies each year but is often around 4,000 cases. Select vintages and wines can often be found at Total Wine & More. World's End wines are very selectively available for tastings in Napa Valley by appointment and visitors to Bordeaux can schedule a visit and tasting at Château Teyssier (visits include a short tour and either a tasting of 2 or 7 wines). For more information, visit: www.maltus.com
NOTE: World's End may possibly no longer be producing. We will keep an eye on this and will archive this review if we can determine there are no more wines being produced under World's End.
Château Teyssier

Miocene Winery, American Canyon (previous production winery for World's End Wines)