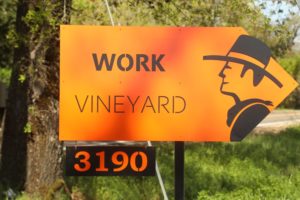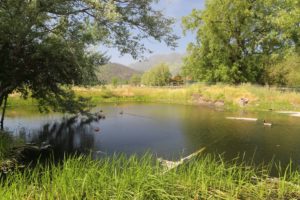 Work Vineyard is a 5 acre vineyard site located north of the town of Calistoga. It was originally planted to Sauvignon Blanc in 1976; founders of Work Vineyard, Karen and Henry Work produced their first commercial vintage in 1984. In addition to producing a Sauvignon Blanc from the property, the Works also sold grapes to Duckhorn and Cakebread. Karen and Henry sold Work Vineyard in 2007 to Sam and Lamya Malhotra.
Perhaps the only Napa Valley vineyard owner from Iraq (raised in Baghdad), Lamya remembers her early connection to wine was through her grandfather who produced wine in his cellar for his local church. Even today when Lamya walks into a wine cellar, she is immediately brought back to her grandfather's cellar – the musty smells, the aromas of wine in barrels. Wine to Lamya is a feeling, the tastes and smells yes, but more than this – the warmth and shared connectedness to family and friends and the memories created.
While working in Baghdad for Sabena Airlines (a Belgium carrier that is no longer in business) and Air India she met her future husband Sam for the first time in passing in 1980. Sam would come to Iraq as part of his work at the time involving construction. They reconnected 2 years later and ultimately moved to the USA in 1985. For nearly 10 years, Lamya operated her own travel agency – Zina Travel International (named after their daughter). Sam is from New Delhi, India and at the time of this review, is one of only three Indian American vineyard owners in the Napa Valley (the other two being Dr. Madaiah Revana of Revana Vineyards and Arvind Sodhani of Sodhani Vineyards, although there are several other vintners involved with Napa Valley wineries with heritage from India). And Sam is also a published author, having written Destiny, a spirituality focused book and also Wine & Dine In Style.
In 2000 Lamya and Sam began producing wines under the Lamya label – buying grapes in part from Sonoma Mountain in Sonoma County and producing a variety of wines ranging from Chardonnay to Syrah and Zinfandel. After purchasing the vineyard site Lamya and Sam decided to remove the old Sauvignon Blanc vines and replant to Cabernet Sauvignon. With the help of Dr. Paul Anamosa founder of Napa based Vineyard Soil Technologies they identified the site as being suitable for growing Cabernet Sauvignon. In 2009 they planted one acre of Cabernet Sauvignon – and in 2015 planted the remaining two acres, also to Cabernet Sauvignon. The site is surrounded by neighboring vineyards and several wineries including Tamber Bey and Summers Estate. And these are vines with great views of Mt. St. Helena to the north of the property.
Winemaker Kari Auringer became the Work Vineyard winemaker in 2012. After working in Dallas for 15 years in graphic design Kari relocated to the San Francisco Bay Area to work for a startup company. After this dot.com company eventually closed she took advantage of her proximity to the Napa Valley and moved to the city of Napa. She took winemaking classes at Napa Valley College and at UC Davis and spent a number of years as assistant winemaker to Celia Welch (helping her craft the Scarecrow wines as well as select other premium brands). Today Kari consults for several small Napa Valley based producers.
Her style of wine making focuses on balanced food friendly wines that are enjoyable young but also have the backbone to be able to age well. These are wines that have excellent acidity.
Select Wines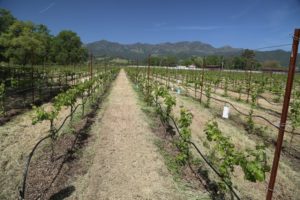 The 2017 Work Vineyard Jacklyn's Chardonnay was sourced from neighboring Sonoma County. It was barrel fermented in 50% new French oak – the wine went through 100% secondary fermentation with the lees being stirred during aging. The resulting wine is golden yellow in the glass and offers a diversity of aromas including citrus, pineapple and a lemon zest. Immediately noticeable on the palate is the suppleness from entry through to the finish – a creamy or rounded mouth feel. Intensely flavored with a sweetness of fruit (no residual sugar). The finish is extended and lingers with notes of vanilla, various baking spices and a hint of popcorn butter.
The 2016 Work Vineyard Zina's Pinot Noir (named in honor of Lamya and Sam's daughter Zina) was sourced from the Petaluma Gap in Sonoma County. Ruby red in color, reveals loads of fruit aromas yet simultaneously shows an elegance in the bouquet. Lively with aromas of raspberry along with darker spices including hints of white pepper. Somewhat savory on the bouquet. Balanced throughout the palate – seamless in its presentation from start to finish this wine shows beautifully in its youth. Anchored by lively acidity the palate lingers with an earthy and subtle spice nuance and a bit of red fruit tartness. Very long finish.
Adrian's blend, named after Lamya and Sam's grandchild is created with Cabernet Sauvignon from their estate vineyard as well as other non-estate red varieties. This wine is generally approachable in its youth – a wine that Kari calls "the crowd pleaser." The 2016 Work Vineyard Adrian's Blend was blended with roughly 1/3 grapes from their Calistoga Vineyard. Immediately shows aromas of plum and blackberry – there is a sweet thread of darker fruit throughout the bouquet including aromas of black licorice. Also, more subtle hints of bittersweet chocolate and Graham cracker. Mouthwatering on the palate – somewhat savory on the finish shows more dark fruit then red fruit flavors with somewhat tightly woven tannins lingering on the finish.
The 2015 Adrian's blend is seamless from start to end – with tannins so delicate they harmoniously integrate with the fruit on the finish.
The 2014 Work Vineyard Lamya's Cabernet Sauvignon (their second vintage of Cabernet Sauvignon from the estate offers bright fruit aromatics including red cherry, plum, a hint of dry dust and slight baking spices. Savory. Balanced but richly layered on the palate – extremely age worthy with mouthwatering acidity. Shows very good structure for this particular vintage (often associated as being a vintage in the valley that is more approachable in its youth – as compared to the 2013 vintage). Long lasting somewhat drying tannins persist. There is also a hint of white pepper.
The 2016 Work Vineyard Lamya's Cabernet Sauvignon (this is their flagship wine, showcasing 100% varietal Cabernet Sauvignon from the estate vineyard) offers elegant fruit on the bouquet – slightly floral in nature with hints of old cedar box. Blackberry and raspberry – an aromatic sweetness of fruit if you will. Highly approachable as a young wine offers flavors of red and darker cherry with well-integrated tannins. Superbly balanced.
And in an unusual for a Napa Valley offering, Work Vineyard produced a late harvest noble rot (created from naturally occurring botrytis spores on the grapes) wine made from the Sauvignon Blanc vines before they were pulled out. The last vintage was from 2009 – dessert wine enthusiasts will want to seek out this particular wine. The 2009 Work Vineyard Late Harvest Sauvignon Blanc is golden color with appealing and sweet aromas of honey, honeycomb, cloves – tropical fruits and other dessert spices. Clean and balanced across the palate – the wine is guarded from being too sweet by a lower residual sugar and complemented nicely by good acidity.
Lakeside Beverages

The Malhotra's first wine store, John's Food & Liquor was founded in 1992 (named after their son John) and was located in Carmichael a suburb of Sacramento. They opened Lakeside Beverages in the Granite Bay shopping center in 1997 (address: 7130 Douglas Blvd). For a year they operated both stores before selling John's Food & Liquor in 1998. It was through their retail stores that they were originally introduced to the wines from Work Vineyard.
Remarkably, this shopping center has another Napa Valley connection. Peter Story, founder of St. Helena based St. Helena Winery operates Uva Vin tasting room focusing on wines from Mount Saint Joseph (the brand he started after selling St. Helena Winery).
Lakeside Beverages offers a sizable selection of beer, wine and spirits including an excellent selection of premium Napa Valley based producers including wines from Work Vineyard. And this was one of the early wine & liquor stores in northern California to offer a tasting experience within the store. A tasting bar is located at one end of the shop – visitors can sample wines from Work Vineyard as well as other select wines and even spirits. Visit www.lakesidebeverages.com for more information.
While production is small each year (typically around 500 cases) some of the wines are selectively distributed internationally including in South Korea and in Australia and New Zealand. Locally, the Calistoga Inn often carries select vintages on their wine list. And the wines have rated very highly in both Robert Parker's Wine Advocate and placed well in the San Francisco Chronicle's annual wine competition. For more information about Work Vineyard or to join one of their wine clubs, visit: www.workvineyard.com
Editor's Note: this was our milestone 1,000th review written on this site but was not the 1,000th Napa Valley based winery or producer visited with. During this project we visited and wrote about several what turned out to be non-Napa Valley producers and in addition some of our reviews are of collective tasting rooms or spaces/wine shops that offer tasting experiences but are not producers of Napa Valley wines.

In summary, of the now 1,100+ reviews on this site, after careful review, we have identified 28 reviews of tasting rooms (who do not make their own wine) or wine shops offering tastings who again do not make their own wine – and a couple of producers we reviewed either by accident or in a couple of exceptional cases, on purpose – who make their wine outside of Napa Valley.
Work Vineyard

Lakeside Beverages, Granite Bay CA