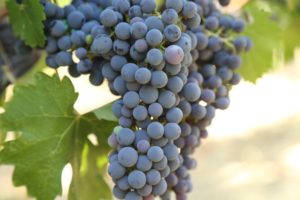 Wolf's Head Wine is a partnership between winemaker Cameron Woodbridge and Shaun Mesher (a chemist involved in the oil industry). Both men are from Canada. Shaun has met several Napa Valley vintners whose relationships led to wine business opportunities including the founder of Essere Franco wines, Frank D'Ambrosio. Shaun was one of Essere Franco's wine club members; he and Frank bonded over a shared interest of wooden culinary cutting boards. One day Frank mentioned having issues with a finish on one of his cutting boards. Shaun suggested a certain material for the finish which was superior to what Frank was using. Both men became friends; when Frank decided to retire, he sold Essere Franco to Shawn and several of his wine enthusiast friends. Shawn is also one of the partners in Mia Carta, a tasting room collective located in downtown Napa featuring wines from 8 small brands.
Cameron was born in Ontario, Canada and was introduced to wine early in life with his family embracing a European openness to alcohol, allowing their children to sample tiny amounts of wine with food. His father worked in television and in radio as a program director for radio stations. During high school the family lived in Edmonton. The drinking age in Alberta is 18 years old. Cameron recalls his attraction to wine even then. During the winter months he would sometimes cool a bottle of Riesling by putting it into a snowbank outside the family house until ice crystals would start to show inside the bottle. Then he would pour himself a glass, cozy up to a warm fire, put on a composition by Pyotr Ilyich Tchaikovsky and engross himself in a good book. His father would often receive free tickets to opening night performances of various shows including at the Citadel Theatre in Edmonton; Cameron recalls various Champagnes and wines served at these events, furthering his exposure to wines at a young age.
Cameron remembers tasting and being impressed by one of the Harlan Estate bottlings during an early trip to Napa Valley in 1999 and having its flavor and textural profile committed to memory. His first cellar work was with his brother Jayson Woodbridge (Hundred Acre) in 2004, working a harvest in the Barossa Valley and then also at Hundred Acre in Napa Valley.
Cameron has learned winemaking by working with and apprenticing with other accomplished winemakers. And he learned quickly; for a couple of years, he was working two harvests a year, one in the Barossa Valley and one in Argentina. And at one point he worked three harvests in a year including in Napa Valley. His winemaking is in the details and through learning by doing. Early on in his winemaking career, he recalls how he noted the tannin development of a particular Cabernet Sauvignon from the 2007 vintage. Early on while in barrel its texture developed from showing more on the back of the palate, then after additional aging time, evolved to showing mostly on the front, then the sides and finally became so integrated the word seamless best described its textural feel. And while working with a particular vineyard for several years after the grapes were harvested, each year he noticed the fruit was measuring a low malic acid level. It took him some time to research the reason for this – ultimately discovering the vineyard had an issue with potassium.
The inception of the label can be directly attributed to the South Napa earthquake on August 24, 2014. Cameron had recently moved his wines (Stormy Weather brand) out of Hundred Acre Winery in the northern part of the valley and the winery he wanted to move them to (which had minimal damage following the earthquake) wasn't quite ready to receive them. So, he transferred them into one of the barrel storage facilities at Laird Family Winery. Unfortunately, the resulting damage from the earthquake was great and he lost most of his 2013 vintage.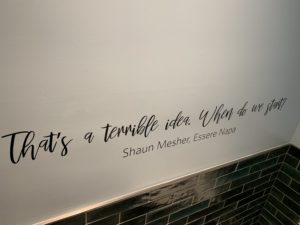 The limited number of new barrels full of wine he saved were racked into used oak barrels, therefore creating a different profile than for the Stormy Weather wines. Shawn was already familiar with the Stormy Weather wines when a mutual friend invited a number of friends out for a long weekend on Vancouver Island. He and Cameron became friends and thinking about the remaining 'earthquake' wines, Cameron suggested starting a new wine brand together, Shawn agreed. There is a humorous quote from Shawn written on the wall of the men's bathroom at Mia Carta which simply reads, "That's a terrible idea. When do we start?". They started in 2014 with the first vintage of Wolf's Head.
The image of the wolf on the label was inspired by the shape of the outline of a 120-acre property that Cameron formerly owned in Pope Valley near Aetna Springs. The property encompasses both valley floor land and as well as some of the nearby hillsides. The site would often cool down significantly in the afternoons and evenings due to influence from the Pacific Ocean and the Chalk Hill gap allowing these cooler breezes to reach this northern part of Pope Valley. The problem was both in not having access to water due to various existing water rights as well as not finding a high enough flow rate on their property despite drilling a well. He eventually sold this property.
While walking the property with Cameron, Shawn started making comments about a wolf's head and a wolf's ears. Cameron had no idea what Shawn was talking about until he explained that the outline of the property roughly resembled the shape of a wolf. And it really does; for reference, an outline image of this property is printed on the wine's back label. Cameron struggled to find an artist that would depict exactly the image he had conceptualized for the label. He wanted a wolf that looked stern but not angry or aggressive.
One day a stylized image of a horse head on a Bulgarian bottle of wine (a Salla white wine label) caught his eye. He tracked down Bulgarian based artist Jordan Jelev, a label designer who operates his business under the name of The Label Maker. Cameron reached out via email and sent Jelev a satellite photograph for reference. Jelev had never drawn a wolf's head before in his life. He used the image as a template to create nearly 20 renditions before finalizing one similar to the current design.
Select Wines
The 2019 Wolf's Head Cabernet Sauvignon is 100% varietal and was aged for 30 months in 53% new French oak and 47% once used French oak barrels. This wine is deep ruby in color; the bouquet offers a diversity of aromas including bramble, violets, old cedar box and an appealing union of spices and darker fruits. As it evolves in the glass it reveals scents of mocha and cocoa. As this wine ages we could see it developing some even darker notes including of leather. The palate offers flavors of plum, blackberry and boysenberry. Despite being a young wine, it features a soft texture with finely grained and integrated tannins. The finish lingers bright and energetic along with some notes of toasted oak and darker spices. This wine is one of Napa Valley's better quality to value Cabernet Sauvignons.
Wolf's Head does not own any vineyard land, rather they source from vineyards ranging from southern Napa Valley to the north in Calistoga. And vineyard sources have changed over the years.
While today the focus is on a single bottling each year, in the past Cameron has also produced several other wines bottled under Wolf's Head including select one-off bottlings. These include, Wolf's Head Iberia, a red field blend crafted created from Spanish and Portuguese varieties, Haymaker, a Cabernet Sauvignon from Calistoga and two fortified red wines, Wolf's Head Iberian Ruby and Wolf's Head Apennine Ruby.
—
For more information, to join their mailing list or to purchase select vintages, visit: www.wolfsheadwines.com
Photographs below provided by Wolf's Head Wines