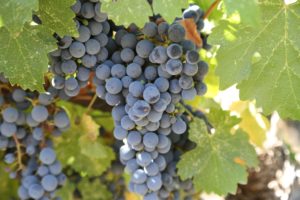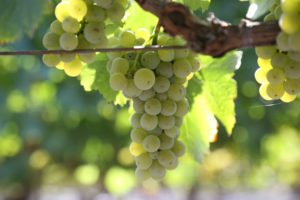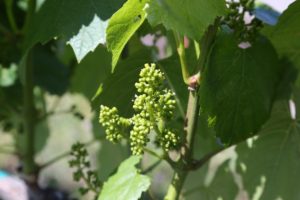 Wolf Family Vineyards was established in 1997 by Jane and Doug Wolf. Doug is a graduate of the University of California Berkeley as well as a graduate of Bolt Law, also at UC Berkely. He has had an extremely successful career in the world of finance having founded the merchant bank, Intercontinental Pacific Group. Today he is one of the founding principals in PCG Equity, a private employee owned investment company focusing on commercial real estate.
The original property Wolf Family Vineyards acquired in 1996 is quite historic – it was first planted in 1881 with the first vintage of wine produced in 1884. The original winery dated back to the early to mid 1880s. Wolf Family Vineyards and winery were located at the end of Inglewood Ave in St. Helena – they sold this historical estate in 2013. Previous owners, the Jaeger family had owned the property since 1965. The Jaegers were co-founders of Freemark Abbey and founders of Rutherford Ranch Winery. The Wolf's sold the property to David and Shelley Sinegal and the existing winery has since been completely remodeled and is now the home of Sinegal Estate.
Pivoting to a smaller property – today the Wolf's own nearly 7 acres of vines, located on the east side of Highway 29 (mere minutes from their former estate) on the southern edge of St. Helena (near V Sattui Winery) – all managed by Oak Knoll Farming (a vineyard management company).
Winemaker Emeritus Karen Culler (who we originally met with numerous years ago for this review) made wine for many of their vintages. After purchasing their original vineyards, the Wolfs with Karen Culler's insights replanted the entire vineyard with Cabernet Sauvignon and smaller percentages of other varietals. The only varietal that was not removed was the Cabernet Franc; it was originally planted in the 1970's and these vines produced the fruit for their Cabernet Franc wine for many years. Their first vintage in 1997 was from their original Cabernet Franc vineyard.
Their vineyard at the end of White Lane in St. Helena is planted to approximately 5 acres of Cabernet Sauvignon with a 1 acre block of Sauvignon Blanc. Again, Karen Culler was responsible for the vineyard layout, varietal, clone and rootstock selections.
Select Wines
As of our latest update, they focus on two wines, an estate Sauvignon Blanc, and an estate 100% varietal Cabernet Sauvignon called Phaedrus, which in Greek, means wolf. And as of the 2016 Phaedrus, all of the grapes for this wine are sourced from their own estate.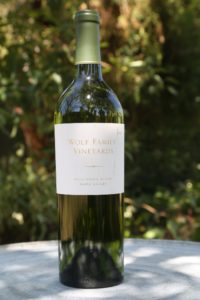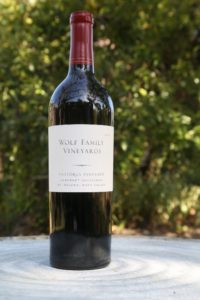 Their Sauvignon Blanc, which like all their wines, is produced in limited quantities. Compared to Cabernet Sauvignon, there certainly is not a lot of Sauvignon Blanc grown in the St. Helena appellation and their vineyard showcases this varietal well. The focus on the winemaking side of things is to present the varietal characteristics rather than over stylize the wine. Case in point is the minimal use of oak, as the the fermentation is mostly conducted within small stainless steel barrels and then left to age on the lees.
The 2018 Wolf Family Vineyard Sauvignon Blanc is pale to medium golden in color. Immediately following opening the bottle, the bouquet initially offers aromas of cut grass but then evolves into additional fruit and secondary aromas. Melon, white peach, honeysuckle, and some floral notes including citrus blossom and jasmine. As the wine opens further, hints of vanilla show on the edges of the bouquet. Lovely and lively fruit dance across the palate supported by a creamy textural weight (was partially aged in French oak barrels and presumably was stirred on the lees). Citrus flavors. Bright acidity, especially on the finish with some steely minerality notes that linger. Mouth watering. And very balanced.
The Wolf Family Vineyard 2006 Sauvignon Blanc is a blend of two clones, Musque and Clone 1. It has a luscious rounded mouth feel with plenty of fruit up front and more of a herbal minty flavor on the mid palate. Great natural acidity and a clean crisp finish make this wine perfect for pairing with a meal.
It is always a delight to find a nice Cabernet Franc and Wolf's 2006 vintage does not disappoint. A small percentage of Cabernet Sauvignon is blended to provide additional depth and structure on the finish. Their Cabernet Franc vines are vigorous yet older, which as a result produces berries that are quite small resulting in very concentrated flavors. This is a smooth elegant wine with soft delicate tannins that anchor the long finish.
The 2016 Wolf Family Vineyards Phaedrus is 100% varietal Cabernet Sauvignon – the wine was aged for 20 months in about 2/3 new French oak barrels. It is dark garnet in the glass. Savory and meaty on the bouquet, shows notes of dark chocolate, plum and blackberry. Time in the glass further teases out wonderful fruit aromatics along with various secondary aromas including mocha, coffee grinds and dark chocolate. The palate tends to be on the riper side – juicy but is complemented nicely by great acidity. Lively on the palate. Features a long finish with firm still somewhat tightly woven tannins which are also slightly chewy. This wine has excellent aging potential. Well worth seeking out – and also available at a reasonable price point.
Those interested in trying their wines can do so in local wine shops within the Napa Valley including often select vintages at Backroom Wines in the city of Napa. The wines are also distributed in select markets in New York, Chicago and parts of California. Their total typical annual production used to run between 1000 and 1500 cases but today they have downsized production to only around several hundred cases annually.
The family also used to produce olive oil from the olive trees growing on their former estate.
For more information and or to purchase wine, visit their website: www.wolffamilyvineyards.com
Note: this review has been identified as needing a *major* update.