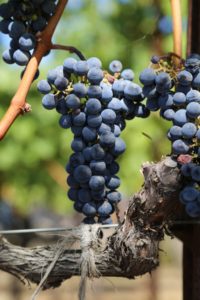 Wise Acre Vineyard – There are a number of very small producers in the Napa Valley, many of whom produce under 500 cases – but then there is "tiny" and this is uniquely defined by Wise Acre Vineyard. This 1/2 acre commercially producing vineyard is managed by Lynn and Kirk Grace and is located at the 600 foot elevation below Howell Mountain. They are currently one of the smallest commercial producers in the Napa Valley.
The Grace's purchased the property in 2003 and planted their vineyard in 2005. Lynn grew up in the Napa Valley; her family owned a small ranch in Oakville and she grew up managing vineyards. Naturally she spends significant time in and among their vines however, when you are responsible for a small label, financially it does not make sense to have employees. She wears many "hats", handling all aspects from the vineyard details, to sales and shipping.
Kirk's parents founded Grace Family Vineyards in St. Helena and Kirk and Lynn sourced both root stock and cuttings from Grace Family when establishing their own vineyard. The vineyard is 100% varietal Cabernet Sauvignon and produces one wine each year.
With larger vineyards you hear about managing block by block – here with such a small piece it is literally vine by vine. This has to be one of the most loved small vineyards in the Napa Valley. Their philosophy is to "manage the soil, not manipulate it" – they realize quality starts with the soil or terroir if you will. They spend significant time managing both the soil and the vineyard – sheep are brought in to graze seasonally, great care is spent on their cover crop, compost teas are made on site and they use use "bio correct" and organic farming practices.
This is a unique location; it is somewhat of a banana belt. Even during 2008 when Napa was hit with its coldest freeze in 35 years and some vintners in the Vaca mountains (rising above the eastern part of the valley) lost significant portions of their crop, their vines sustained minimal frost damage.
Kirk is most at home when he is farming – he has been working with vineyards in the Napa Valley since the late 1980's – today he is responsible for managing the vineyards at Stag's Leap Wine Cellars and the best of the practices that he has developed over the years are put to good use here.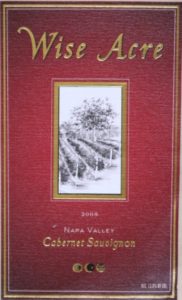 Ideally with a "normal" year and their farming practices Wise Acre would like wines around 13.5% alcohol. Kirk remembers some of the top wines in the valley from 30 years ago were often in the high 12 to low 13 percent alcohol range. Wise Acre's highest alcohol wine to date has been 13.9%. Their wines are elegant, balanced and traditionally styled.
We sampled the 2010 vintage from barrel – about a month before bottling. The bouquet is elegant featuring plenty of fruit but without being too showy or too ripe. Red fruit, raspberry, cranberry and a floral component show on the nose. A delicate smokiness underlies the fruit – a smokiness that shows no greenness of aroma. The wine's acidity is all natural and immediately causes one to salivate. For such a young wine and for being a barrel sample, the palate is remarkably balanced between fruit, acidity and structure. Notes of both black and red fruit including black cherry and cassis show with lingering delicate tannins which anchor a pleasing rounded finish.
While young wines have many rough edges you can often determine the character and quality of a vineyard in the early stages of the wine's development. The 2011 barrel sample while not yet integrated by any means, with some air reveals a lively mid palate already showing a complexity of fruit.
With only one other vineyard nearby and most of the land behind their property in its natural state – they have a significant bird population. This hasn't been favorable to their crop – until recently they've lost a significant portion each year to bird damage. The vineyard will be netted from now on which will help protect their already tiny production.
While their farming and vineyard management practices are serious – the name of their label is not so much. "Wise Acre" stands for the fun and joy they have with farming and also represents their philosophy of managing this vineyard – using wise practices that are natural, clean and focus on drawing out the most desirable qualities that their soil has to offer.
Their label contains the symbols for the sun, moon and rain on soil – and represents the interaction of the primary elements that are needed for successful farming.
Ideally their production would be merely around 100 cases each year in a normal growing season. To date they've produced commercial releases ranging as low as 20 cases to 70 cases. With such a small production, they have no distribution whatsoever and nearly all of their wine is sold directly through a mailing list. Because of their very limited production, pedigree of clone, and attention to detail and quality in the vineyard already serious collectors have discovered their wine.