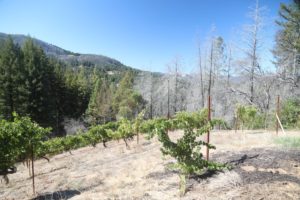 Wing Canyon Vineyard is owned by Bill Jenkins and Kathy Dennett and is located on the very windy Mt. Veeder Road; the winery is accessible from either Oakville Grade to the north or about a 30-minute drive from downtown Napa to the south. This small and remote winery is located at the bottom of a very steep hillside vineyard. The winery is next door to their residence; a visit here is for very serious wine enthusiasts only as they are not open to the public.
Of the 1,100+ Napa Valley wineries and brands we have visited; this was the only winery that was accessible entirely via a dirt 4WD road. If one was not in a 4WD vehicle, one had to park at the top of their dirt driveway just off of the paved Mt. Veeder Road and hike into the winery (a bit less than a mile) or Kathy or Bill would often pickup visitors and drive them to their winery. After the Nuns Fire (see more details below), the entire road has since been paved. Any appointments should be made well in advance to accommodate their schedule. A visit to this winery is the antithesis of perhaps preconceived notions of a "normal Napa wine experience". This is a highly personalized experience with either Kathy or Bill, or both.
Wing Canyon sits in the heart of the Mayacamas mountain range in the Mt. Veeder appellation. Mt. Veeder is named for the German Presbyterian pastor, Peter Veeder who is buried in Tulocay Cemetery in the city of Napa. Vineyard land is at a premium in this particular appellation and unlike some of the valley floor appellations in Napa, Mt. Veeder offers a balance between vineyard land and biodiversity of the natural surroundings. After leaving Santa Barbara where both were involved in the baking industry (Bill founded a whole grain bakery called Sunrise which was located on De La Vina Street), Bill purchased 160 acres in 1982 and over the next few years, cleared 10 acres to vine. He worked for several area wineries including one of their neighbors, Mayacamas Vineyards. Their first vintage was in 1991 and their typical annual production is usually around 800 cases.
However, history of vineyards on the property dates back to the early 1860s and are the earliest known vineyard plantings in all of Mt. Veeder. Namesake, Captain Stalham Wing and his wife Elizabeth (the former Elizabeth Van Pelt, niece of Commodore Cornelius Vanderbilt) came to California in 1853 to settle the estate of John Van Pelt (Elizabeth's brother). Stalham and Elizabeth arrived in Napa Valley in 1858. They purchased land on Mt. Veeder (including what is now Wing Canyon) and the first recorded Veeder wines date from 1864 when the captain entered 6 bottles into the Napa County Fair along with Charles Krug and several other very early Napa Valley vintners.
Tragically the Nuns Fire of October 2017 burned both the rammed earth home and the winery, leaving only the walls standing. Since the fire, their house pad was expanded and by early 2021, both the construction on their private home and adjoining winery were completed (no longer built of rammed earth). Of the wineries that burned in Napa Valley between 2017 and 2020, Wing Canyon was the first winery to completely rebuild. The fire also destroyed approximately 6 acres of their vineyard (Cabernet Sauvignon), leaving three acres of producing vines.
Prior to the Nuns Fire, this was only one of two wineries in Napa County that we knew of created from rammed earth (the other being part of Long Meadow Ranch in the hills above Rutherford); this is a mix of earth and concrete which is compressed on site during construction. The walls were 2 feet thick and as a result, moderated the temperature inside very well throughout the year. Their home was also built from rammed earth; Kathy was the designer and contractor. Similar in size to their original winery, the rebuilt winery is tiny (under 800 square feet) and is usually packed tight with barrels.
Original winery

Wing Canyon specializes in several types of wine: small lot productions of Cabernet Sauvignon, Merlot, Cabernet Franc and a Chardonnay. Some of their wines are produced in quantities of merely 24 cases (1 barrel). All their wines are hand crafted and grown on site with the exception of some grapes that they source from one of their Mt. Veeder neighbors.
This is about as artisan as one will find in Napa Valley; Bill manages his vineyard with the help of one employee. All bottling and labeling is done by hand on site, although at the time of our latest visit they were looking into the possibility of using a mobile bottling service with a vehicle that could actually make the drive both up and down their road. They are off the grid and use solar to power their home and winery.
Because of their small production (and the fact they don't sell any grapes) they can pick when they want and may only harvest certain parts of their vineyard at a time. Sometimes they pick around rows and will return later when these particular parts of their vineyard are ripe. As a result, harvest can stretch out over multiple days or weeks. This is important in making high quality wines and ensures that only the best, ripest fruit is used. Most of their acreage is dry farmed which along with their rocky hillside soils, results in lower yields (merely 1.5 tons/acre on average) but more richly concentrated fruit.
In addition, they use 100% sustainable farming practices and plant beneficial cover crops both for the soil and to attract beneficial insects to the vineyard. They don't use herbicides, pesticides or synthetic fungicides.
Besides producing several red wines, sometimes they have a very small amount of Chardonnay available; production is so small (1 or 2 barrels) that sometimes they do not bottle it for sale. However sometimes there is some left over from what they consume at the winery and one can find this for sale on their website.
Select Wines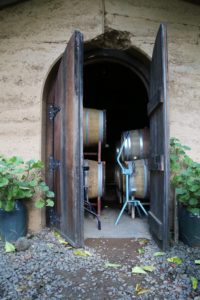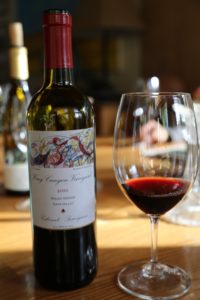 Their tiny block of Chardonnay vines are planted to about equal amounts of both the Wente and Dijon clones; these vines are between 25 and 35 years old. The 2014 Wing Canyon Mt. Veeder Chardonnay was pressed whole cluster and then fermented in 100% new French oak barrels. Fermenting in oak barrels allows the wine to better integrate with the oak rather than fermenting in a different vessel and then transferring it to the oak barrels. And it went through 100% malolactic fermentation. But this wine is neither oaky nor buttery. This vintage shows some initial minerality notes on the bouquet and opens to citrus blossom along with a hint of pineapple and banana. It also offers a slight raciness on the bouquet which Chardonnay can sometimes have. On the palate it is creamy but not oak driven or buttery. Rounded and rich, this very balanced wine delivers pretty fruit flavors including notes of tangerine. This bottling offers a pleasing balance between fruit and acidity. It drinks very well by itself. Only 48 cases were produced of this delicious, but very limited production wine.
The 2021 Wing Canyon Chardonnay is a medium straw color in the glass; this wine offers aromas of honeysuckle, honeycomb and light citrus blossom. It offers flavors of melon and apple on the palate. The word balanced immediately came to mind when we tried this bottling. It is bright and lively from the entry through to the finish. The several vintages of Wing Canyon Chardonnay bottlings we have tried over the years are always among some of our favorite Napa Valley produced Chardonnays; this wine is highly enjoyable to drink by itself. The Wing Canyon Chardonnay can age well and always carries a freshness which Bill attributes in part to glutathione, or what he calls, a 'freshness molecule'; it is also an antioxidant.
The 2018 Wing Canyon Cabernet Franc is a blend of 80% Cabernet Franc, 10% Cabernet Sauvignon and 10% Merlot. The wine is medium to dark ruby in color. The bouquet is immediately like walking into a kitchen during the holidays where a variety of baking spices and desserts are being prepared; offers aromas of chocolate brownie, melting brown chocolate, brown sugar, molasses, caramel corn (reminded us of walking past such vendors on warm nights at county fairs), mocha, espresso, prunes and dark cherries. The initial burst of baking spices straight from the bottle dissipates as the wine evolves in the glass. A lively spice note immediately hits the front of the palate, dark with nutmeg and clove, light flavors of freshly picked mint along with black pepper. Lingers with a brightness of red fruits, acidity and a hint of dried tobacco leaf. The tannins are dark, gravelly in texture and very long lasting. This wine doesn't feel or taste like the listed 15.5% alcohol.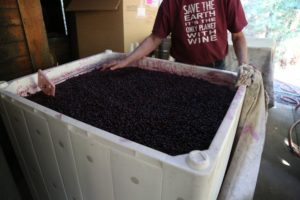 This wine was fermented in open top fermenters with punch downs occurring twice a day during fermentation. It was then pressed off directly into barrel where it was aged for 24 months. Only 70 cases were produced.
The 2018 Wing Canyon Cabernet Sauvignon is blend of 85% Cabernet Sauvignon, 10% Merlot and 5% Cabernet Franc. This wine is dark ruby in the glass; offers ripe and sweet aromatics of blackberry, boysenberry and dark licorice. The bouquet also shows notes of old saddle leather, toasted oak and a hint of Graham cracker. On the palate, this wine is big, juicy and overflowing with flavor! Lingers with a brightness and still very youthful tannins that feature a medium grip. The finish is lively and savory, showing notes of dark pepper, dust and tobacco leaf. It is warm outside as we are tasting this; we are thinking an ideal pairing for this wine would be a well marbled rib-eye steak, directly off of the BBQ.
—
Kathy is a prolific and talented artist and hand paints a different label for each vintage. Some of her works are available for sale on their website. These colorful paintings will quickly catch one's eye and are sure to elicit a smile when one sees them. For more information about this very unique and resilient producer, and or to schedule a tasting or a visit to Kathy's art gallery, please visit: www.wingcanyonvineyard.com