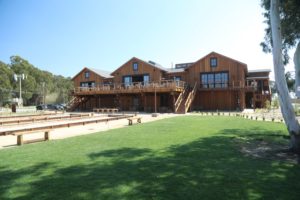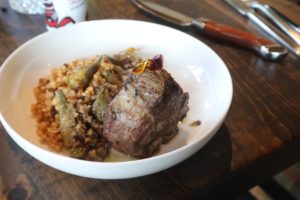 This prestigious hunting, fishing and culinary ranch is located in neighboring Sonoma County (easily seen from and bordering the north side of Highway 37). Co-founders, the Sutso family have generationally owned and overseen hunting operations in this part of Sonoma County, initially as Black Point Sports Club dating back to 1964 (which sold in 2013). Co-founder Darius Anderson is also the Founder and CEO of Kenwood Investments and along with his team, Sonoma Media Investments (the largest publishing company in the North Bay).
With the vision and foresight and financial fortitude, the founders have built a remarkable operation on property that we have always referred to as 'no man's land' due to its location just below sea level, proximity to the tidal fluctuation of the San Pablo Bay and very little human development in the region. A series of dikes protect against the tidal zone fluctuation.
In 2020 a state of the art and world-class private members clubhouse (capped at 400 memberships) opened featuring two levels containing men and woman's locker rooms, a sports shop featuring an exceptional collection of fine outerwear, footwear and other high-quality sports related items, a gun cleaning room, an impressive gun vault with a massive Fort Knox door, an excellent restaurant led by renowned chef Charlie Palmer with both indoor and outdoor terrace seating (great views looking north over the ranch), the Trap bar next to a large rustic yet elegant lounge seating area and a more private cigar room.
And equally as impressive as all of the other spaces is the Akin Family Wine Cellar (named after a pioneering family that immigrated to the United States in the 1660s and whose heirs over the generations have been outdoor enthusiasts and conservationists. One family member, Veterinarian Dr. Howard Akin oversaw a California based team that eradicated tuberculosis in livestock. This wine cellar contains a number of wine lockers for members including prominent display spaces and small screens with founding vintner members speaking about their passions including Silver Oak.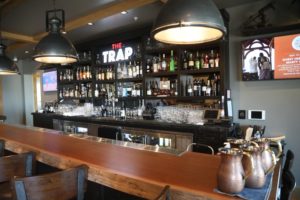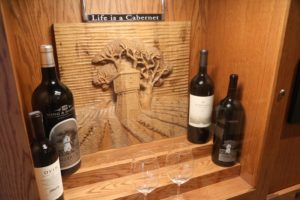 A portion of the ranch is set aside for dry farmed seasonal crops including wheat and rye – the majority of the property is still in its natural state with plenty of natural water bodies on site including the Sonoma and Tolay creeks. Specific parts of the ranch are set aside for shooting with about a mile in diameter circumference Sporting Clays Course for trap and skeet action with 15 shooting stations including one specifically for Silver Oak. This is the only course on the west coast designed by acclaimed shooting instructor and gun fitter, Chris Batha.
One of the most popular activities is hunting for pheasant, chukar and quail in one of 24 hunting fields. And many other activities are offered such as fly fishing for bass or seasonally for trout (catch and release), expert gun instructors, shooting with winemaker days, a kids Adventure Camp, culinary instruction, special gun sales and seasonal trail rides on horses.
One typically comes here to hunt or shoot but also to be a part of a strong community. And there are also plenty of opportunities and experiences for non-hunting enthusiasts.
For more information or to become a member and schedule a visit – see: www.wingandbarrelranch.com