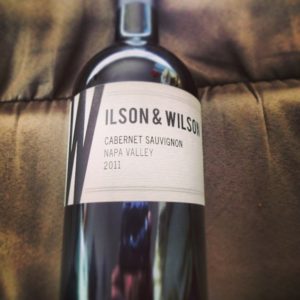 Wilson & Wilson was founded by Ted Wilson Jr. and his father Ted Wilson Sr in 2011. Their focus is on producing wines that are a throwback to the roots of the Napa Valley – wines that helped put Napa on the map, a style of wine that has good structure and texture, flavor, acidity, balance and elegance.
Their inaugural vintage was 2011 – moving forward with later vintages, they have secured grapes from a tiny hillside vineyard in eastern Napa County and will continue to source from this vineyard. While wine making starts and ends with terroir – barrel selection is an extremely important part of their wine making program. They work mostly with very small coopers – hand selecting barrels based on certain components they want represented in their wines.
We recently tasted a number of barrel samples from the 2012 vintage. Same fruit but different barrels – the results were remarkable. Some bring a weight component to the mid palate, others a big finish – one with a meaty almost savory characteristic to the finish. They respect and highly value the flexibility and variety that this type of barrel program brings to their wine making – especially after the aging when they make their final blending decisions. Similar to a chef, the unique barrels bring a variety of "spices" and components to their final blend. Not only are they using a variety of barrels but they are also using larger barrels as part of their tannin management program.
Wilson & Wilson traces its roots to when Ted was living and going to college in Geneva New York. Conveniently this is in the Fingerlakes wine growing region. Ted was playing soccer on the collegiate level and looking for something to do during the off season, he started working at a local wine shop. Then he blew out his ACL and his soccer playing days were quickly over.
After learning the business in the wine shop, he soon started working in the vineyards of local wineries, spending three harvests learning both about vineyard management practices as well as wine making skills. Next up was a stint for a wine distribution company in New York – he started at the bottom, simply as a driver, delivering the product.
However, he quickly moved up in the company, eventually becoming Senior V.P. and Director of Operations and opened a new sales office for the company in Brooklyn. During this time he would fly out to Napa on a number of occasions securing contracts for private label customers as well as restaurants producing their own "house" wine. During a wine tasting in New York City, he met Napa winemaker Alan Viader. While being born in Argentina, Alan "grew up" in the vineyards of Napa Valley. His family winery, Viader released their first vintage in 1989 and Alan has been making wine for his families winery for a number of years.
For a young guy, Ted has already experienced many facets of the wine business. A natural progression was to start his own winery. Both he and Alan started discussing the possibilities of Ted building a wine brand. It was a perfect match – With Alan's wine making expertise and Ted's passion and multi faceted knowledge about wine.
Wilson & Wilson's inaugural release, the 2011 Cabernet Sauvigon shows mostly red fruit shows on the bouquet, red cherry, currant – it is wonderfully aromatic and as it opens it shows a bit of spice and barrel influence (cedar and cocoa). A big bold Napa Cabernet, this is not. A delicate elegant entry shows on the palate which displays good acidity. Mineralities linger on the finish – it is a clean finish. The tannins are managed well during the wine making and it certainly shows in the wine with its soft finish. For a young wine, this drinks very well right now.
As Ted Jr says, "I want to touch each of the bottles" – he does, all 2640 bottles from this vintage were numbered by hand on the back label.
Ted Sr is no stranger to the world of food and wine. He ran a meat packing business in Michigan, sold that and eventually opened two restaurants outside of Kansas City. During his years with the meatpacking business – one of their products was aged beef. His long time interest in wine comes from its symbiotic relationship with food.
Ted Jr makes the comparison of role models with sports and wine. Kids who were into basketball in the 1990's might have had a poster of Michael Jordan hanging on the wall while growing up. If there was an equivalent comparison with wine, Ted would have a poster with an image of the 1986 Diamond Creek Volcanic Vineyard bottle hanging on his wall. In reverent tones, he speaks highly of this wine – it has everything in it that he strives to create with the Wilson & Wilson wines – bright acidity and fruit, even with a number of years of bottle age.
With production of their first vintages only in the 200 case range, their distribution is selective – to certain restaurants and retail outlets in California, Michigan and New York (all based on regional connections Ted and his father maintain). They want to keep the their production small, eventually growing to about 500 cases. While their first few vintages focused on a single wine, a Cabernet Sauvignon – they made a Rose in 2013 and ultimately want to introduce a premium single vineyard Cabernet Sauvignon to their portfolio.