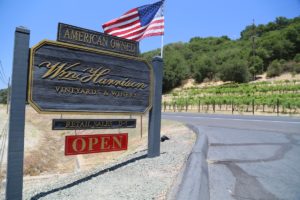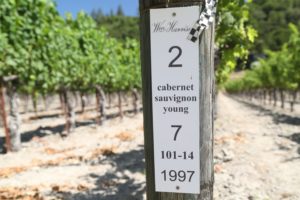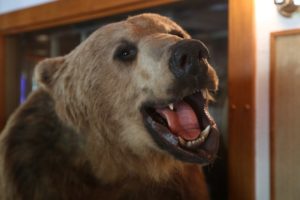 William Harrison Vineyards & Winery was founded by William (Bill) Harrison; he traces his family winemaking heritage back to the early 16th century in southern Italy (he is the 12th generation family member involved in the wine business). Bill's great grandfather Guiseppi owned a winery in the Puglia region of southern Italy, wrote books about wine and developed a bladder for transporting wine.
Bill's grandfather Antonio immigrated to the United States from Italy in 1902, worked for the Italian Swiss Colony winery at one point and later owned the Schmidt vineyard and winery and planted grapes near the town of Windsor in neighboring Sonoma County (now site of Windsor Oaks Vineyards). Prior to Prohibition, Antonio moved to Mexico and founded a winery and planted vineyards – during the height of his investment, he controlled over 700 acres of vines.
In 1936 only several years after the repeal of Prohibition, Antonio opened A. Perelli-Minetti & Sons Winery in Delano California (about a 30-minute drive north of Bakersfield). Antonio was actually the first California winemaker to have a wine-making degree having graduated from the Royal Institute of Viticulture and Enology in Conigleano, Italy.
Bill lived in Delano until 12 before moving to Santa Rosa, California. A fellow Santa Rosa High School graduate (class of 1959) he later graduated from Santa Clara University with a bachelor's degree in marketing and then earned an MBA at UC Berkeley. After serving for two years in the Army he went to work for his uncle Mario at the California Wine Association (CWA) beginning in 1966 (Bill's family were one of the association's owners). At one point CWA was a major wine company owning over 200 winery brands.
Bill purchased his Rutherford property in 1983 and soon approached his uncle about building a winery, he told Mario, "If I build a winery, will you lease it"? Mario agreed, the winery was completed in 1985 along with the tasting room; the wines poured in the tasting room then were produced by Perelli-Minetti Winery. Because of county ordinances, wineries outside of the city limits in the Napa Valley must be built on a minimum of 10 acres of land. William Harrison's property is less then 10 acres; they built their winery before the ordinance went into effect.
Bill, his son, and his brother-in-law built the winery from scratch doing much of the work themselves – the exterior looks like a cross between an old western building (think of the TV show Bonanza) and a two-story California mission style architecture. The rock used for the first-floor walls was quarried from the nearby hills across from the vineyard just east of the Silverado Trail. A wooden boardwalk is located in front of the building – a bocce ball court is on site and picnic tables are also available for use.
Mobile Bottling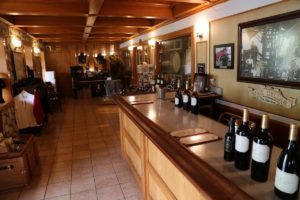 Besides his extensive family contributions to the California wine industry, Bill's personal contributions to the industry are notable in their own right. He was one of the early pioneers of mobile bottling services for wineries (as he recalls the 3rd such mobile bottling company in existence). Harry Hakala founded Mobile Wine Line, a mobile bottling service in Lodi in 1978. Harry told us about the idea for his mobile bottling business came from his mother. And according to Bill, the second such business was founded by Don Hudson who was operating a mobile bottling service slightly before Bill.
Bill began Estate Bottling in 1982 and over the decades has bottled for numerous wineries and producers with clients in both California and Texas. It wasn't easy getting the necessary loan to start the business – Bill applied for 39 loans before one bank actually gave him a loan on his 40th request. At the height of his career – he was spending 9 months on the road traveling between various production facilities. Three factors contributed to starting his own mobile bottling services. His family no longer owned a physical winery but were still producing wines from various vineyard sources in both Monterey and Napa and required their wines to be bottled at the respective winery/vineyard sites. In addition, the two companies already in business were not able to adhere back labels to the bottles at the time and lastly, Bill noticed in the early 1980s that the wine industry was entering a period of significant growth with numerous new brands and wineries entering the business.
His original mobile bottling business spawned numerous similar other services; many of the owners of mobile bottling services now based in Napa and Sonoma & beyond received their training under Bill. Today it is common for smaller wineries to employ the services of mobile bottling trucks – they avoid the often-high costs of owning and maintaining their own bottling equipment and they can still label their wines as "estate bottled".
And in case you are wondering if William Harrison owns their own standalone bottling line – the answer is no. During several of our visits, we always have seen one of their bottling trucks parked next to the winery – they bottle their own wines using one of Bill's Estate Bottling trucks.
Vineyards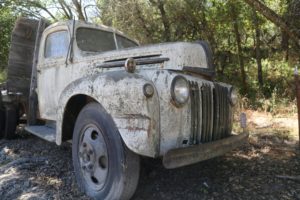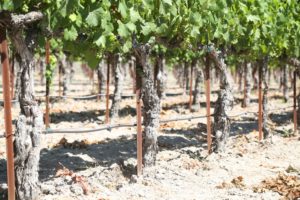 In the early 1980s Bill and his wife began looking for property in the country, a place to call home since Bill was on the road for such a significant amount of time because of his mobile bottling business. Through one of his mobile bottling clients, Bill was told about a small parcel of land in Rutherford that was for sale just off of the Silverado Trail. Bill ended up purchasing 8 acres of land including vineyards that at the time were planted to old head trained Chenin Blanc and Petite Sirah. For several years Bill sold the fruit to the Napa Valley Co-op (site of what is now Hall Winery in St. Helena).
Eventually Bill removed these old vines due to various disease and replanted seven acres to five Bordeaux red varieties including Cabernet Sauvignon, Merlot, Petit Verdot, Malbec and Cabernet Franc. These grapes are used for their premium estate red wines; in addition, they source fruit from the Sonoma side of the Carneros appellation (near the town of Sonoma and including from the acclaimed Sangiacomo Vineyards for their Chardonnay and Pinot Noir).
Select Wines
William Harrison produces wines that are layered, balanced, approachable in their youth but have the 'stuffing' to be able to age for years. These are carefully hand-crafted wines that over deliver quality in relation to pricing. While William Harrison has employed several winemakers over the years, winemaker Phillip Titus has been consulting with them since their first vintage. Philip is well respected in the industry and has been winemaker in the Napa Valley for more than 30 years including at Chappellet Winery and Titus Vineyards.
The 2015 Estate Cabernet Sauvignon offers a pretty and an intriguing nose focused on bright fruit including blackberry, ripe boysenberry and plenty of dessert spices, mocha and chocolate. It is extremely approachable in its youth; the palate is full-bodied with plenty of layers with tannins that complement the finish rather than dominate. There is also a hint of spice on the finish. This wine has no harsh edges.
Cabernet Franc is perhaps the wine they are most known for. The 2013 William Harrison Cabernet Franc (100% varietal) is dark ruby red in the glass; the wine shows aromas that are simultaneously both floral and fruit driven. The palate is lively with flavors of blackberry and blueberry – this is a superbly balanced wine from start to finish. Like their other estate wines we tried, this wine has wonderful texture – the finish lingers with dusty tannins that are slightly chewy along with a nuance of cocoa powder. This is one of the nicer 100% varietal Cabernet Franc wines that we have tried in the Napa Valley and is a wine well worth seeking out. The tasting room staff recommend pairing this wine with various Italian pastas or BBQ steak.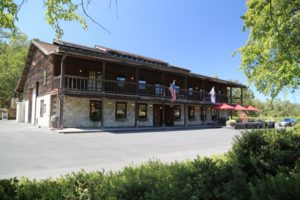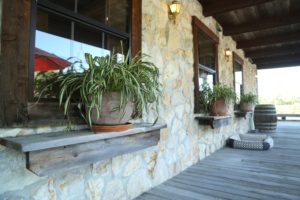 Rutherford Red is William Harrison's Signature wine – this is always made in fairly small quantities; the varietal percentages vary from year to year although Cabernet Sauvignon typically forms the bulk of the blend. The winemaker chooses the best barrels each vintage, regardless of variety and creates several blends choosing the final blend prior to bottling.
The 2013 Estate Rutherford Red is a blend of Cabernet Sauvignon, Cabernet Franc, Merlot, Malbec and Petit Verdot. This wine is savory, meaty and gamey on the bouquet with aromas of thyme, pipe tobacco, a noticeable herbal character, red berry fruits, plum, red licorice, cassis and a lighter note of chocolate found deeper in the bouquet. This wine has a lovely balanced between fruit, acidity and texture. We tried this wine 10 years post vintage and it is still veined with layers of fresh fruit flavors including plum, cherry and currant. This wine lingers with tannins that are lightly gravelly in texture but are not coarse or harsh. The savory character on the bouquet is also mirrored on the palate. It finishes bright, juicy and mouthwatering with some darker spice notes including of crushed pepper. This wine is holding up very nicely.
The 2007 William Harrison Carneros Chardonnay. This undergoes only partial malolactic fermentation and is not overly creamy. The fruit is well represented both in the bouquet and on the palate. Aromas of honeysuckle, dried apricot and mineral nuances show leading to a palate offering flavors of pear, vanilla and just a touch of toasted oak towards the finish.
The 2005 William Harrison Simpatico is a "Right Bank Bordeaux" style wine made from grapes from the estate. It is a blend of Cabernet Sauvignon and Cabernet Franc. This was very drinkable in its youth. The 2005 William Estate Cabernet Franc offers some minty and herbal qualities in the bouquet with touches of mocha followed by a palate layered in flavor including raspberry and some earthiness. The 2003 William Estate Cabernet Sauvignon offers a bouquet brimming with black currant along with notes of cedar and mocha; the palate is juicy with black cherry and black currant flavors.
Weather permitting, an outside tasting is recommended on the boardwalk near the surrounding vineyards; this is a low-key relaxing place to enjoy their wines. With only several employees this is very much a small winery. As a side note, they are the only wine tasting room that we have visited in Napa Valley that contains a bear – a stuffed Alaskan Brown that Bill brought back from an impromptu hunting trip in Alaska. It is so lifelike looking that it has become a star on social media – with visitors often capturing selfies of themselves in front of this stuffed animal.
Their total production rarely exceeds 2,000 cases which makes them one of the smaller wineries in the Napa Valley with their own tasting room. As a result of their low production the wines often sell out relatively quickly. Most of their production is sold directly to consumers with limited distribution in California only (to restaurants).
For more information and or to join their wine club, visit: www.whwines.com
Hospitality

Winery

Vineyard