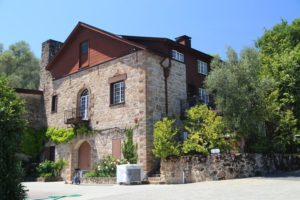 William Cole Vineyards is a premium winery located just north of St. Helena with a production of around 800 cases annually. By Napa standards that is small; they are also the smallest producing winery that we know of in Napa Valley to have their own bottling line on site. This has its unique advantages as they are not tied into the schedules of having a mobile bottling truck come to the property.
Founders Bill and Jane Ballentine purchased this property in 1999. Bill is the vineyard manager and winemaker; his family has a deeply rooted history in the Napa Valley dating back to 1906 when his great grandfather on his maternal side, Libero Pocai, an immigrant from Lucca, Italy purchased 60 acres of land in the Napa Valley and six years later founded a winery called L. Pocai & Sons Winery and Vineyards. 1906 was also the year of the terrible earthquake in San Francisco and was the primary reason why he and his wife moved out of the city.
Bills grandfather on his paternal side, John Ballentine moved to the Napa Valley in 1922 and in a gutsy move (considering this was early Prohibition years) purchased 160 acres and a winery in the hills of what is now known as the community of Deer Park. This site was the original home of John Sutter Wine Company (later founded as Sutter Home Winery by the Trinchero family at their current location in the southern part of St. Helena). Today Bremer Family Winery operates on the old John Sutter Wine Company property. And if you ever wondered how Deer Park got its name (no, it wasn't named for the deer that used to and still sometimes roam the hillsides), rather John Ballentine named it after his family farm in Ireland.
As soon as Prohibition ended, John produced his first wine in 1933, bottled under John J. Ballentine in Sanitarium, California (Sanitarium, named for the nearby hospital was the original name of this community before Deer Park).
Bill grew up almost across the highway from William Cole Vineyards – where his family still operates Ballentine Vineyards. He is the 4th generation in his family to make wine in the Napa Valley. Before founding William Cole Vineyards Bill worked for Gallo, his own family (Ballentine Vineyards) and the now closed nearby St. Clement Winery.
The name of the winery comes from combining his own name and his son Cole (Cole is 5th generation Napan and is the assistant winemaker). William Cole handcrafts a single vintage Cabernet Sauvignon each year from their estate property called Cabernet Sauvignon Cuvée Claire (named after his daughter).
2.5 acres are planted on site and extreme micro management goes into the making of this wine – there are even micro terroir (soil) regions within the small property and each of these regions is treated as its own unit during harvest, fermentation, aging and the actual winemaking.
Everyone has their own taste in Cabernet Sauvignon wines; we were extremely impressed when we tried their Cuvée Claire Cabernet Sauvignon for the first time. Our visit here was very early on in our project and after tasting this wine this was the first winery where we said "yes, we get it"!
Select Wines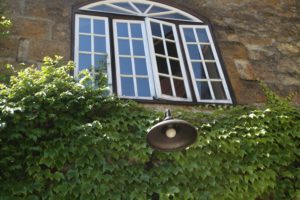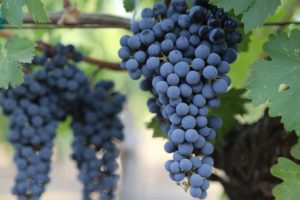 We are always looking for excellent Cabernet Sauvignon wine during our Napa wine odyssey and this is definitely one of those. A local winemaker we met with previously describes special "it" wines as having that special richness combined with elegance. One wine is produced from the tiny 2.5 acre vineyard on site – the Cuvée Claire (named in honor of Bill and Jane's daughter Claire) and always 100% varietal Cabernet Sauvignon.
The 2004 William Cole Vineyards 2004 Cuvée Claire is one of the nicer wines of this variety that we tried from this particular vintage in the Napa Valley. It is structured so that nothing dominates the wine, rather the acid, tannins and alcohol are extremely well managed and the overall structure is smooth and supple. The bouquet offers aromas of cherry and touches of vanilla from the French oak which lead to rich fruit flavors with a kiss of mocha. Everything contained within this wine is representative of a very high quality Napa Cabernet Sauvignon.
The 2009 William Cole Vineyards Cuvée Claire Cabernet Sauvignon is dark red in color with bright aromatics including blackberry and black licorice. Also offers an elegant note of old cedar box – not an overtly woody cedar box aroma but more subtle. Superbly balanced on the palate the fruit is still bright. And the texture is highly pleasing; finer grained tannins are well integrated by this point (10 years after the vintage date at the time of our re-tasting) anchoring a smooth and supple finish.
The 2015 William Cole Vineyards Cuvée Claire Cabernet Sauvignon offers pretty aromatics including dried rose petal, cassis and other red fruits. Superbly balanced with both red and darker fruits on the palate. Lively. Lingers with red fruits and chalky dusty tannins which are very well-integrated.
Beginning in 2011 William Cole began producing non estate wines. Today they produce the Small Lot Series, wines usually produced in quantities of around 50 cases from select vineyard sites that Bill has worked with over the years – many of which he discovered while operating a vine removal service during the phyloxxera years of the mid 1980s through the mid 1990s. The vineyard sites change every year. Stonemaiden is a red blend sourced from Howell Mountain. William Cole also produces a Chardonnay, named in honor of Jane – Cuvée Jane Marie. And a one time multi vintage offering was Ten, a barrel selection of Cabernet Sauvignon from the estate with vintages blended together from 2000 through 2009 and released in 2012.
The Winery/Property
The estate is gorgeous; it is located directly next to Highway 29 North and one can drive by their location day in and day out and never know its there due to its hidden location behind the trees and bushes as well as the non signage. The tiny 2.5 acre vineyard on site is planted entirely to Cabernet Sauvignon.
This is one of the early stone wineries built in St. Helena (completed construction in 1873) and originally opened as the JC Weinberger Winery. The Weinbergers purchased the original 240 acre estate from prominent vintners Charles and Carolina Krug in 1868. In our experience every ghost winery we have visited in the valley has some interesting history – sometimes tragic. Starting in 1883 Hannah Weinberger became Napa Valley's first woman winery owner. This was because her husband, German born John Weinberger was a victim of St. Helena's first murder after a disgruntled former employee tricked him with a bogus telegram requesting a meeting at the Lodi Train Station near St. Helena and then shot him in broad daylight with a Smith & Wesson 6 shooter at the train platform as the train pulled away.
Immediately following shooting John, the assassin killed himself. The man's anger was a result of his unwanted advances on John's daughter Minnie (neither appreciated by father or daughter); John eventually fired him. The murder was March 21, 1882. But it was not John's first encounter with death; in 1869 while on a stagecoach from Los Angeles to San Bernardino, he was held up by robbers – one of whom he shot as the robber ran away and the other he shot and killed. Extremely well liked and a prominent member of the community – John's funeral by all accounts was a sizable affair.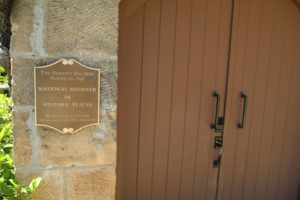 After John's death, Hannah ran the winery until the start of Prohibition in 1920 when she was forced to close down her production. She died in 1931 at age 91.
In a historical side note, one of Weinberger's wines, an 1887 Riesling was placed in the original cornerstone of the nearby Greystone Cellars on June 15, 1888 along with only 6 other bottles of wine from some of Napa's most historical wineries.
After Prohibition the property changed hands several times until the Ballentines purchased it. They then spent 5 years restoring both the home and winery (their home is located on the top two floors above the winery which was converted decades ago from its original winery production space). Parts of a prior restoration date from 1938 including the pool – one of the oldest Napa winery pools in the county. The gardens behind the winery were designed by well-known landscape architect Thomas Church who in a career that spanned over 40 years designed hundreds of private gardens and also was the landscape design consultant to Stanford University. He also designed the gardens for the former Draper house near La Perla Winery on Spring Mountain (part of Spring Mountain Vineyards) but this unfortunately burned to the ground including the gardens in the 2020 Glass Fire. The William Cole Winery and gardens are on the National Register of Historic Places.
By 2004 the restorations were complete and the winery was ready for production – over 80 years between vintages.
Red Lake Vineyard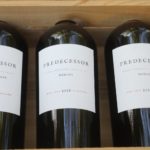 William Cole also owns a 41-acre site high on the slopes of Howell Mountain – planted to 7 acres of vines. Their inaugural release from this vineyard was the 2015 vintage bottled under the Predecessor Estate label – a small section of the vineyard provides the grapes for the William Cole Stonemaiden wines. Bill's son Cole also runs Smoking Gun wines, a Cabernet Sauvignon focused brand.
—
And William Cole Vineyards in the Napa Valley is not related in any way or to be confused with the winery of the same name, based in the Casablanca Valley about a 35 minute drive from Valparaíso or an hour drive from Santiago, Chile – Viña William Cole. Incidentally, this Chilean winery was founded in 1999, the same year the Ballentine's purchased their property in St. Helena. Today, Viña William Cole is owned by Tapihue Wines, a family owned collection of several wineries in the region.
William Cole typically places within the top barrel lots at various Napa Valley charity auctions.
A visit here is for extremely serious wine enthusiasts and collectors; all visits and tours are private and the estate is opened for your party only. For more information and to join their mailing list for access to their allocation list, visit: www.williamcolevineyards.com