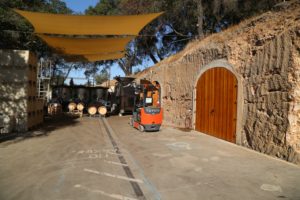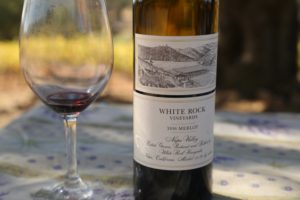 White Rock Vineyards is a small hidden winery typically not found on many Napa Valley winery lists or maps. Family run, their focus is about crafting limited-production, food friendly and balanced wines. Tours and tastings are offered on a limited basis for serious wine enthusiasts.
Modern day White Rock Vineyards was founded by Henri and Claire Vandendriessche (Claire is from the Napa Valley). Henri, born in northern France, moved to California to study economics at UC Berkeley in 1960 and is also where he met Claire. After they moved to Paris for a short while, they returned to California.
In the mid 1970s for three years, he and Claire looked for property in the Napa Valley – focusing their efforts on the western side of the valley. At one point Henri came close to purchasing land in Carneros. Several factors contributed to finding this property – his father-in-law mentioned this particular piece of land was for sale and Henri also saw it listed in the paper. Originally this was part of a much larger land grand owned by Salvador Vallejo (brother of Mariano Vallejo, the namesake of the town of Vallejo).
Henri and Claire purchased the 64-acre property in 1977. The original stone winery was still standing – built by vintner John Pettingill (a dentist originally from Massachusetts) in 1870 from rock hand-quarried from the property. It was Pettingill who chose the name, White Rock Cellar for his operation. His wines were estate grown – produced from 20 acres of Riesling that he planted.
Rather than reintroduce winemaking inside the original winery, Henri and Claire converted this old stone building into their family home. Unfortunately, in October 2017 the devastating fires in this part of the Napa Valley burned through their house – leaving only the stone walls still standing. Remarkably they lost only about 1/2 acre of vines (the edges of the vineyard) although they were one of the only producers in the valley who sustained damage within their cave. Several 1/2-ton plastic bins were stacked outside next to one of their cave entrances – the fire burned these so hot they turned into ash and caused the nearby wooden door to burn – the fire then entered the cave and destroyed about 1,000 cases of wine they were getting ready to ship out to club members.
All the vines had been pulled out by 1965. A well-known polo player from San Francisco had the vines replaced with a horse training facility. Henri planted vines in the late 1970's, sold fruit to other wineries for several years and ultimately started making his own wine – the first vintage of White Rock is from 1986 – and for about 15 years, they only produced two wines each year, a Chardonnay and their Claret (a red blend). The first wine produced commercially from the Vandendriessche's was actually in 1983 – for three years they bottled under the name Vandendriessche Vineyards.
Prior to the winery cave being completed, the wine was produced in a number of places including the first two vintages in the basement of the original stone winery (which Henri and Claire were living in by this time).
Henri is still very much involved in White Rock but today his two sons manage and run the winery operations. Christopher is the winemaker – he was at the University of Santa Cruz studying physics when he decided he wanted to focus on wine. He has significant international experience working at wineries for several years in France and later in Spain. He took over winemaking for White Rock in 1999). And Chris's wife Sarah is also a winemaker in the valley.
His brother Michael (who lives on site) is the vineyard manager.
The Vineyard

The property is tucked away, a 'hidden' part of Napa Valley located at the base of the Stags Leap District and features a diversity of hillsides above a small valley. The family planted Chardonnay in a lower section of the property (the coolest area – where the wind machines are located) and Cabernet Sauvignon on the hillsides. A small block is planted to several red varieties and is the source for their claret wine. In the 1970s few Napa Valley based vintners were making a wine from blended red varieties. Henri planted part of the vineyard to the red varieties with the intention of making a red blend. Whiterock Vineyards was the first in the Napa Valley to officially label a wine as a claret – a word that is associated with the British – referring to fine wines made from Bordeaux red varieties.
The soils here are very rocky yet crumbly and during the dry season the vineyard can be a very dusty place. About a foot of topsoil is on the hillside part of the vineyard and below this is a white volcanic rock called tufa or compressed volcanic ash. Vines have to truly work to force their roots down into the ground – finding cracks and other soft spots in this particular type of rock. The vineyards are all managed organically (no pesticides or herbicides).
The Cave
Caves were dug in 1987 and true to its name, a sizable portion of the front of the caves were dug through chalky white volcanic rock. Parts of the cave are left raw (no gunnite), and one can easily see the white tufa. The cave also extends through a different type of rock that is very red iron rich and much harder than the tufa. Napa Valley wine cave pioneer Alf Burtelson (a general engineering contractor), in the right circles, referred to as the Godfather of the modern-day Napa wine cave oversaw the drilling of their cave.
Alf is well into his 80's now and long since retired although is still living in the northern part of Napa Valley. Henry had Alf excavate ten 4-5-foot-deep alcoves within the cave. These were not dug to house an art collection – rather they were specifically created for aging their red wines. Four sets of bottles are stacked tightly from the bottom of the cave to the top – ultimately completely filling these alcoves with previous vintages of their wines.
Each of these alcoves can hold between 4,000 to 6,000 bottles – and with the number of alcoves built into the cave, up to 45,000 bottles of wine can be stored at any one time. During the Napa earthquake in August 2014 White Rock lost no barrels of wine – however bottles equivalent to about 50 cases fell down from one of the alcoves – approximately 25 cases worth of wine actually broke. In all the years of wine making here, this has been the only damage to wine at the winery Henri has seen from an earthquake.
After visiting 1,000+ Napa wineries and producers to date, there is only one other winery in the Napa Valley that uses this type of stacked bottle aging system for some of their wines, not all – and that is Far Niente. And the sparkling producer, Schramsberg ages their sparkling wines in this manner. For those who have never heard the sound made by fermenting wine, a number of years ago White Rock Vineyards creatively recorded an almost 3-minute audio. However, don't expect a Pavarotti type performance.
Over the years this cave has been used by several small producers who rent out space to make their own wines. Perhaps the most prominent of these, was Hudson Vineyards who made their wine here before their own winery was built at their ranch in Carneros.
Select Wines
For many years White Rock specialized in Chardonnay, the Claret red blend and later a Cabernet Sauvignon. However, in more recent years they began producing several very small production wines from newer plantings in the vineyard of Syrah, Viognier and Malbec. These wines are usually only a barrel or two and all are made by hand using a small basket press.
White Rock vineyards produces some of the more intriguing Chardonnays coming from the Napa Valley. And these are wines that can age more than most Napa Valley produced Chardonnays. Their primary Chardonnay is made in a Burgundian style – barrel fermented and barrel aged (but with only a small percentage of new French oak). Their Chardonnays are fermented using indigenous yeast as much as possible. Additionally, this wine does not go through malolactic fermentation. The most recent vintage we tried, the 2016 White Rock Vineyards Chardonnay is straw yellow in color – offers aromas of citrus, melon, green apple and a minerality component. It retains excellent acid, is crisp and clean and impeccably balanced across the palate. During its aging it is left on the lees and regularly stirred which gives it a slight weight and creamy texture. Certainly not a style that is oak-driven or buttery.
Other extremely limited production Chardonnays including a reserve in which about half the wine is allowed to undergo full malolactic fermentation and half goes through primary fermentation. And the Breccia, a Chardonnay aged entirely in once-filled barrels – a wine that shows elements of oak without being overly oak influenced. The 2016 White Rock Vineyards Breccia Chardonnay went through 50% malolactic fermentation – aromas of green apple, gooseberry and floral notes including honeysuckle and citrus show on the bouquet. There is a noticeable intensity of fruit across the palate with a balance of sweetness of fruit complemented nicely by bright acidity. A beautiful showing and a wine well worth seeking out.
The Claret is a blend of Cabernet Sauvignon, Cabernet Franc, Merlot and Petit Verdot and is barrel aged for up to 2 years, then bottle aged for up to two more years so by the time it is released, it has had 4 years of aging. Very few Napa Valley wineries have the luxury of aging a wine this long. The Claret blend typically changes each year, but Cabernet Sauvignon is always the majority variety. The 2016 White Rock Vineyards Claret has an appealing bouquet dominated by fruit including plum with undertones of dust and tobacco leaf. Offers flavors of blackberry with a noticeable density of tannins on the finish. Firm, dusty but still finely polished in texture. Drinks very well by itself.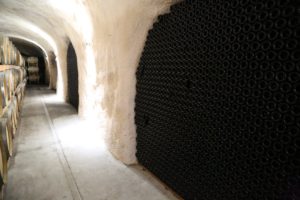 The White Rock Cave Hill Cabernet Sauvignon is not made every year – this very terroir specific wine is 100% varietal Cabernet Sauvignon sourced from a tiny 1/2 acre block – one of the most premium vineyard blocks on the property. The site was formerly an apricot orchard. As Henri says, "it finally became obvious I would never eat a ripe apricot from this orchard," (due to the birds and other wildlife eating the fruit before it was fully ripe) so he decided to finally remove the trees and plant grapes.
Originally a high school project for Chris and Michael – the two boys planned and planted the vineyard (doing all the work themselves from pounding in the end posts to the trellising). Henri asked them if they wanted to be paid for their work once the vineyard planting was completed or if they wanted to share in future profits. Wisely they elected the latter.
All of their red wines tend to be very age worthy.
To purchase wine online, to join their wine club or for more information visit: www.whiterockvineyards.com
Outdoor/Vineyards

Cave