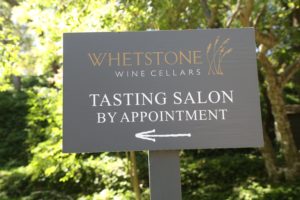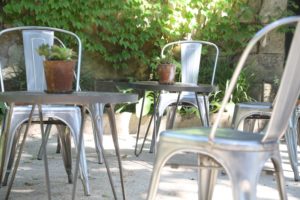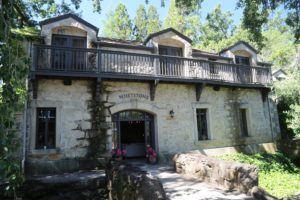 Whetstone Wine Cellars. In 2013 Whetstone Cellars opened a tasting salon in an old French-style chateau building (dates from 1885) on a 2-acre property located on Atlas Peak Road (next to Del Dotto Winery) and a short drive from the Silverado Country Club. This was a significant upgrade from their prior shared tasting room in downtown Napa.
Tastings are by appointment; special experiences are also offered including lunches or vineyard tours (also by appointment). Their property and salon offer a number of options for tastings – when the weather is cold, private tastings can take place inside where you can cozy up next to their warm fireplace or in the Spring through Fall months, weather permitting, several simultaneous seated tastings are offered outside under the stately oak trees.
This is a very relaxed and quiet space to enjoy their wines. The hosts are welcoming and knowledgeable; they will walk you through the tasting at your own pace. Owners, Jamey and Michelle Whetstone live "around the corner" and Michelle is often in the tasting room.
This very historic building was founded by Morris M. Estee (a politician and the first president of the Napa Viticultural Society, serving in 1881). His winery was designed by noted architect, Hamden McIntyre, perhaps the Howard Backen of the times (Howard is a well-respected contemporary architect responsible for some of Napa's most creative and innovative wineries). Hamden designed a number of prominent wineries including Far Niente (also dating from 1885), the wooden Eschol Winery (now Trefethen Vineyards), Inglenook and the Greystone building housing what is now the Culinary Institute of America.
The winery was in operation until the start of Prohibition and then again after, from 1934 until 1949 it was part of the Hedgside Winery & Distillery. The Del Dotto family operate the original Del Dotto Vineyards in the historical building next door to Whetstone Cellars (this entire complex of buildings was part of the Hedgside Winery & Distillery).
Remarkably the building that now houses the tasting room for Whetstone Cellars was vacant for about 15 years until Whetstone moved in. This was the "find of the year" in Napa in 2011 – they spent 2 years cleaning, upgrading and moving into this space prior to opening.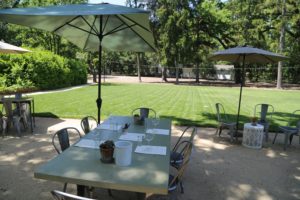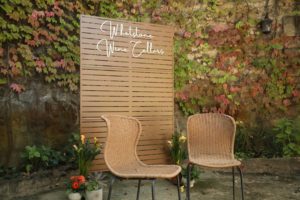 Whetstone focuses on Pinot Noir from neighboring Sonoma County utilizing the county's top Pinot Noir producing regions of the Sonoma Coast and the Russian River Valley. They also produce a Viognier from the Russian River and one wine from Napa, a Syrah. The winery was founded by Jamey Whetsone (originally from South Carolina) – he is the winemaker and his wife Michelle who grew up in Napa, oversees the rest of their operations. All their wine is made at a custom crush facility located just north of the city of Napa.
Jamey moved to the Napa Valley from South Carolina; his initial job was a manager at Mustards Grill just north of Yountville before working at Turley Cellars. When you are passionate and focused about making wine sometimes any door into the wine industry will do; Jamey was hired to drive a tractor for Turley Cellars in 1998 where he accumulated invaluable winemaking skills. He helped plant and managed many acres of vines from Mendocino down to Paso Robles and ultimately became Turley's assistant winemaker. Jamey also worked at Domaine Dujac in Burgundy France in 2001 – working closely with Pinot Noir. Branching out on his own, he started Whetstone in 2002; eventually he also started consulting for other boutique producers.
Select Wines
The 2014 Whetstone Cellars Viogner is one of the few 100% varietal wines of this variety produced from a Napa Valley based winery. With that said, the fruit source is from the Russian River in Sonoma County. Along with one of their Pinot Noir's, this wine was one of the first two wines Jamey produced under the Whetstone label. It is always barrel fermented in neutral oak – this vintage was aged 16 months, sur lees. Shows a nice mix of citrus, tropical and stone fruit notes on the bouquet and the palate including apricot and peach with a lemon zest. Rounded with some baking spices on the palate. Very clean finish.
Whetstone Cellars produces several Sonoma County Pinot Noirs – two of which we tried from the 2014 vintage, the Whetstone Cellars Terra de Promissio and the Whetstone Cellars Pleasant Hill. This is a classic example of how terroir creates different styles of wines. The Terra de Promissio is perhaps a bit more complex, layered and restrained while the Pleasant Hill is riper, sweeter – a more robust wine of this variety.
The Whetstone Syrah comes from the Phoenix Ranch located only about 1/4 mile north of the tasting salon – located off of Atlas Peak Road. This part of the Napa Valley features a cooler climate in relation to the northern part of Napa Valley. The vineyard experiences a long hang time in part from the cooling influences of the San Pablo Bay to the south.
The 2006 Whetstone Cellars Syrah shows powerful aromatics straight from the bottle into the glass. It has a pretty nose with wild berry and a floral component; the integration of the fruit and floral driven aromas make this an inviting wine to smell. It is a dark inky wine and was bottled unfined and unfiltered. Pleasant spices show from the mid palate to the finish including black and white pepper and vanilla. The finish is well integrated with smooth tannins and notes of brown chocolate. The mouth feel is rather soft and rounded with good acid balance. Merely 250 cases of the 2006 Syrah were produced.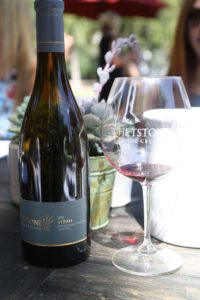 Whetstone Cellars sourced from the Phoenix Ranch for their Syrah through the 2017 vintage – unfortunately the Syrah vines were removed and replaced with Cabernet Sauvignon. The Whetstone Cellars 2013 Syrah was fermented about 70% with stems and aged for 28 months in neutral barrels. As it opens it reveals an appealing complexity of aromas – a bouquet with character if you will. Very savory, shows aromas of crushed pepper, cedar box and smoked meat. While it has all these other characteristics, it also shows plenty of fruit both on the bouquet and the palate. Reveals flavors of plum along with red and darker cherry flavors complemented with slightly chalky tannins (not out of balance).
Several tasting options are available including their classic pour (current releases), a Pinot Noir only tasting, or a tasting/bottle pour of a specific one of their wines. Some of the tastings are paired with delicious rosemary almonds (sourced from a local Napa company, SMOKE (the owner is a friend of the Whetstone's) and bags of these tasty treats are available for sale inside the salon.
The winery maintains their own parking lot – a driveway just north of the tasting room and also 1 or 2 parking spaces next to Atlas Peak Road right next to some of Del Dotto's parking spaces. And two bathrooms – one upstairs above the tasting room and a stand-alone next to the path leading from their own parking lot.
Spotlight on Florence, South Carolina
Florence, population around 39,000 is located about a 2 hours' drive from either Charlotte North Carolina or Charleston South Carolina. Other cities of this size (or even 2 and 3x this size does not normally support such an infrastructure and variety of attractions. Florence has a prominent performing arts center (Francis Marion University Performing Arts Center), a symphony and several museums including the sizable Florence Museum of Art, Science & History. And Francis Marion University is located a short drive from downtown.
The historic downtown has plenty of character and is easily walkable. Arguably among the best restaurants in town, is called Town Hall (not to be confused with the same name of the restaurant in Jacksonville Florida). Also known for being the hub city on the South Carolina Pecan Trail – focusing on establishments that use pecans in their products.
Florence was also the site of a prominent civil rights sit-in in 1960 in which high school students marched up to the lunch counter at the former S.H. Kress store but were refused service. As part of the same protests, 48 protesters were arrested simply by walking up to store.
Jamey is also an owner and co-founder of Manifesto! Wines. Walk-ins can be accommodated when there is space available but reservations are strongly recommended. For more information, to purchase wine, to join one of several wine club offerings and or to schedule a visit at Whetstone Cellars, visit: www.whetstonewinecellars.com
Exterior

Interior