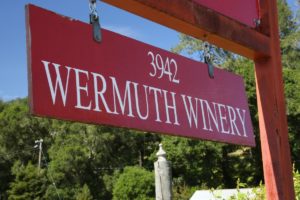 Wermuth Winery, Rancho de las Flores falls completely off the Napa Valley winery scale – this is not your typical Napa Valley Winery. If you are looking for sophistication do not stop here. If you are looking for a simple, down to earth experience, a visit in which you will probably be the only one here even on busy summer weekends, and meeting face to face with a long time winemaker then a stop here is a must.
The red modern bright looking sign just off of Silverado Trail might lead you to believe you will be tasting at another fancy tasting room – this is not the case as it is a complete contrast to the actual tasting experience. And this is one of the last remaining ultra small wineries in the valley where you can just walk in without needing a tasting appointment and meet with the owner.
There is no website (the only Napa winery with a tasting room not to have a website), so don't even bother checking, the tasting room is very small and somewhat dusty; it is located next to the owners house, and this winery has no outside distribution whatsoever. There are maybe 3-4 Napa wineries who have this feel; it is not the "Napa sophistication" that you find up and down Highway 29 – that's for sure. Recently the main winery phone number stopped working so the only way to contact Wermuth Winery is to physically be here when Ralph is open.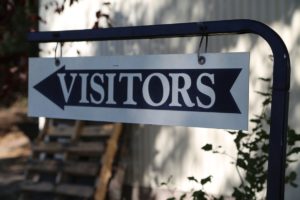 Compared to the more than 950 Napa wineries/producers we have visited with to date, a visit here is weirdly refreshing. Ralph is typically open from 11-4pm but it all depends on his schedule on any given day. The bonded winery is on site and Ralph is the owner and winemaker. A small dirt parking lot is adjacent to the tasting room and can accommodate no more than 3-4 cars at any one time! Due to space restrictions, back in for ease of departure.
If Ralph is not in the tasting room or you cannot visually spot him on the grounds, ring the bell at the tasting room or simply make a short beep or two with your car horn. When open, only Ralph pours his wines as he has no employees. The bearded bespectacled Ralph Wermuth is the aforementioned owner and he falls into the "character" very nice guy category. He has a chemistry background and is a physician. Ralph told us he's been making wine on the property for at least 30 years, but the years are running together so he can't really give an exact date. During another one of our visits we narrowed him down to find out that his first commercial vintage was 1982.
The vineyard you see in front of the tasting room is the source for his wine. Its less than an acre so as a result his wine is produced in quantities of under 200 cases annually. The wines are made in a small building adjoining the tasting room – definitely one of the smallest Napa wineries you will ever see.
Ralph can also tell you about the "old days" along the Silverado Trail, when grass grew through cracks in the middle of the pavement or the high cost of sending kids to college these days and will be happy to hit upon any topic you wish to discuss. It is extremely easy to spend an hour or more here talking with Ralph. Today he focuses on Cabernet Sauvignon – he used to make Gamay, Zinfandel and one year made a Cabernet Franc as those wines were sourced from area vineyards.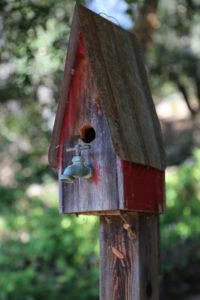 Tasting is $3 – not an amount you will see at any other Napa wineries. All tastings are poured in Ralph's trademark small almost port like glasses. They won't be the crystal clean glasses you are used to finding at area tasting rooms. As a result when we went to swirl, we spilled some right over the top, not being used to such small volume glasses. His wines have a very distinctive bouquet and a bit of a metallic almost tangy finish. The 2003 Cabernet Sauvignon is light to medium bodied. If you let them open up and breath there are some interesting fruit flavors on the palate. Wermuth's wines are typically lower in alcohol than most of the Napa Cabernet's you will find, typically they are in the low 13 percent range. Ralph doesn't let his grapes get overly ripe before picking.
The price of his Napa Cabernet will be among the lower priced Cabernet wines in the valley. Look for the small black chalkboard hanging on the wall – this is supposed to be used to provide pricing; when we were there it looked like the prices had been crossed out a number of times so we couldn't even read them!
Ralph will sign all purchased bottles. When he made white wine, his label simply read "white wine"! He also used to make a wine simply called "Amigo Viejo" translates from Spanish to English as 'Old Friend'. Also of note his wife Smitty (an accomplished astrologer) also paints and her colorful cards are available in one corner of the tasting room. Besides wine, Ralph is interested in photography – he mentioned that its hard to get good film anymore; he will take a photo of you in his vineyards if you request.
Note: Contrary to what Yelp has said in the past, "closed" – this winery is still in business. Although – we drive by Ralph's place every week and in early to mid 2018 we noticed that Ralph no longer hangs out the open sign – his tasting room has not been open at all for tastings throughout all of 2018 and so far into 2019. Note we heard Ralph has died – we will archive this review soon – waiting to hear more details about what will become of the property.