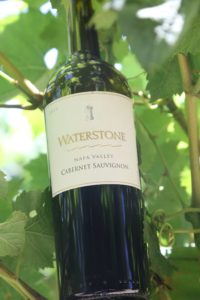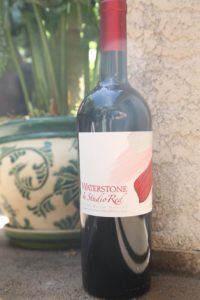 Waterstone Winery was founded in 2000 by two partners who have a long history in the Napa area wine business; winemakers Brent Shortridge and Philip Zorn. The parent company, Anders-Lane Artisan Wines produces both the Waterstone wines from Napa Valley as well as Mandolin, using grapes sourced from California's Central Coast.
Brent has worked in a wide range of wine related jobs – he began his wine career at California's oldest winery, Buena Vista for a summer job. While there he worked with famed winemaker and viticulturist, André Tchelistcheff. From what was supposed to be a short stay with the winery turned into a much longer career – Brent ended up working at Buena Vista as a chemist, then in their export and finance department and later as their vice president of Marketing. After leaving Buena Vista he continued his pursuit of wine marketing by serving as the marketing director for the Napa Valley Vintners Association and today works with several well-known industry organizations.
Philip was born in the United States but raised in Germany – in fact his first winemaking job was in Germany. After his family moved back to the United States (Napa Valley), Philip took a job at Sunny St. Helena Winery (now known as Merryvale Vineyards) and later other wine making jobs in Sonoma and Monterey. Philip was involved until 2016 and after leaving the company, Brent is now the sole proprietor.
Their premise for starting this winery was to produce luxury wines available at affordable pricing. They have certainly done this as all of their wines including Cabernet Sauvignon are priced extremely reasonably. And they have been able to do this by not owning any vineyards – they source from premium appellations within the Napa Valley including Oakville and Rutherford based on relationships developed over the years. Often times a Napa Valley based producer with such reasonably priced wines will be sourcing their grapes from outside of the Napa Valley. Not so with Waterstone – the focus has always been wines from Napa Valley. Their first vintage was from 2000 – any Napa Valley based producer that lasts longer then 10 years is doing something well – they celebrated their 20th anniversary in 2020.
Waterstone is one of four brands bottled under the parent company, Anders-Lane including Z-52 Wines (single vineyard Zinfandel wines – although appears to no longer be producing), Mandolin Wines (a variety of wines sourced from California's Central Coast) and Estrada Creek (also appears to no longer be producing).
Select Wines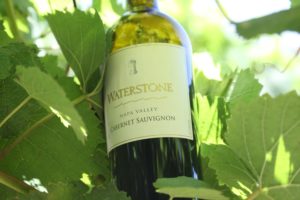 The 2005 Napa Valley Reserve Cabernet Sauvignon is priced higher than their other wines (still remarkably reasonably priced when compared to the prices of Napa Cabernet Sauvignon). The fruit for this wine is from premium undisclosed vineyard locations in the heart of Napa Valley's Cabernet Sauvignon country – the Oakville and Rutherford Appellations. It sees entirely 100% new French Oak and undergoes extended maceration before the wine is moved into oak for aging. There is a lot going on with this wine with complexity of aromas and flavors – the nose has some cedar, and the palate has notes of chocolate and tobacco. This wine features a very long finish.
The 2014 Waterstone In Studio Red is a blend of 54% Cabernet Sauvignon, 28% Syrah and 18% Petite Sirah. Well-endowed on the bouquet, offers an elegant aromatic set of blackberries, white pepper, plum and old cedar box along with hints of mocha as the wine continues to evolve in the glass. The bouquet shows more darker fruits then red fruits. Balanced, clean and flavorful across the palate – the tannins show more on the front of the palate rather than the end. Slightly dusty and smoky in nature – their grip is noticeable but finely so. Very supple finish. This is an everyday drinking Napa Valley red blend that over delivers for the price – IE, this wine won't lighten your wallet too much.
The 2015 Waterstone Napa Valley Cabernet Sauvignon was sourced from vineyards in Rutherford, Carneros, and Oakville. This wine offers a fine bouquet that is enjoyable to smell. An aromatic balance if you will where nothing dominates. Features more darker fruit then red fruits, old cedar, black licorice, plum, rhubarb, blackberry, darker spices and a white pepper note. A density of fruit and tannins quickly hits the palate – not course but gravelly in texture, the finish shows both grape and wood tannins. Slightly chewy texture. On the palate flavors of plum and blackberry. Like on the bouquet, more dark fruit then red fruit. A very good value Napa Valley Cabernet Sauvignon – it is becoming more difficult to find such wines in this price range.
The 2005 Waterstone Napa Valley Merlot is a juicy wine layered with flavors of fruit including plum and cherry; one can pick up just a hint of vanilla from the oak aging. This is an elegant Merlot. This was the first Waterstone wine we tried – please excuse our short tasting notes. Our tastings early on in our work on the Napa Wine Project mimicked our lack of wine tasting experience at that time.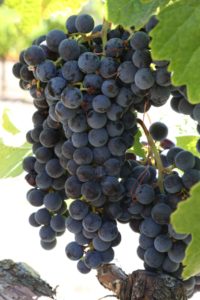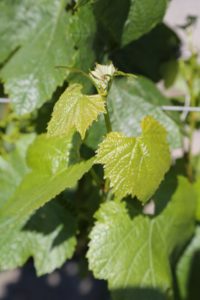 Waterstone also produces Chardonnay, Pinot Noir and Zinfandel.
—
Waterstone operated a corner tasting room across from Gott's Roadside next to the Oxbow Public Market in downtown Napa for several years (we originally met Brent and Philip in their offices and later visited the tasting room for a follow up tasting). They shared this tasting room with Mahoney Vineyards – a long time Carneros producer. Interestingly enough, Brent and Philip first met Francis Mahoney in 2000 when they were looking to purchase grapes from Carneros). However, in late 2014 both parties closed this tasting room – and it has long since been converted over to The Wine Thief, a multi winery collective.
The logo resembles a bird bath or a 'waterstone' if you will – and with a quick glance appears that several birds are enjoying a drink. But a closer glance reveals what looks like a bird is actually a bunch of grapes. A waterstone can also mean a stone for sharpening knives.
The wines are distributed to select restaurants and retail outlets – locally you can sometimes find their wines in the Oakville Grocery. For more information or to join their mailing list, visit: www.waterstonewines.com