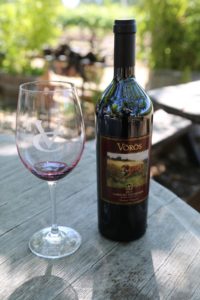 Vörös Cellars. After living in the Napa Valley for 25 years, founder of Vörös Cellars Patsy Pope, Jr. has been gripped by the wine bug in a big way. This interest and passion for educating herself about wine came later in her life. As she says, "I am now doing what comes naturally for so many vintners in the Napa Valley".
Farming, however is not a new lifestyle for her. Her parents George and Patsy, were farmers and ranchers raising usual crops including grapes and almonds as well as cattle and sheep. In addition, they also had race horses including several prominent animals; Decidedly won the Kentucky Derby in 1962 and Mysterious won a number of highly regarded races. Patsy was introduced to both farming and horses through them.
Patsy has enjoyed a diversity of careers including working for several cruise lines, running a flower business, and working in real estate. But today wine is her focus; she is taking wine making classes at Napa Valley College and wine and marketing classes at Santa Rosa Junior College (SRJC).
One piece of advice resonated with her from her marketing instructor at SRJC – be true to yourself and your interests and reflect this in your marketing and packaging of the wines. Patsy has taken this to heart – the label is an image of a painting she purchased in New York titled 'Im Dilemma' by Austrian artist Carl Reicher. The depicted dog has a partridge in it's mouth but spots a rabbit on the ground – hence the Dilema.
Discovering that many potential winery names relating to her personal history were already in use or trademarked Patsy turned to her dogs for inspiration. She owns a number of Voros Vizslak's – a Hungarian breed of dog. Vörös (pronounced Voro-sh) means 'red' in Hungarian – appropriate since this is the color of her Cabernet Sauvignon. Patsy is donating 5% of her profits from the first vintage to the Vizlsa Rescue Haven, an organization that rescues and cares for these types of dogs.
When one wants to make wine for the first time, those you know and the connections you have already made in the wine industry often play a significant role in both who makes your wine, vineyard sources and style of wine. Patsy met Yvonne Brown (a former fitness instructor at Meadowood Napa Valley (luxury resort) many years ago who then introduced Patsy to her husband and vintner, Greg Brown.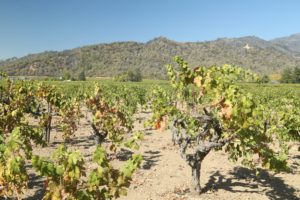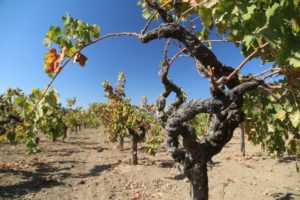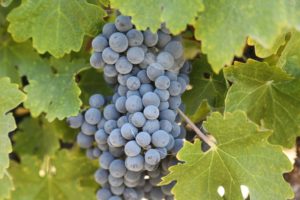 Patsy became very good friends with both of them and considers them her "guardian angels" (tragically both passed away at an age far younger than they should have) as she moves forward with her wine business. We had the good fortune of meeting and interviewing Greg when he owned T-Vine Cellars. Since his passing we've met several vintners who owe their careers directly to him. Greg loaned several "new" vintners at the time, interest free money to start their own wine-making and other projects.
It was through Greg and Yvonne that Patsy met her winemaker Fernando Candelario. The two work well together – Fernando loves sharing his knowledge about wine making and Patsy enjoys learning as much as she can about the industry.
In 2008 she purchased an approximately 10-acre property on Old Lawley Toll Road (north of the town of Calistoga). Plans call for a small cave and a winery to be built on site (currently they are custom crushing at another winery).
She plans to keep production small and grow slowly each year. The focus is on two wines, a Chardonnay and a Cabernet Sauvignon. She has enjoyed the style of Chardonnay that Kistler (Sonoma County) makes and is emulating a similar style. The first vintage is from 2014 (not yet released at the time of this review).
The Frediani Vineyard is located just southeast of the town of Calistoga and is owned by long time Napa family the Fredianis'. Patsy has been familiar with this vineyard for many years – she remembers her first introduction to the vineyard was when she helped pick grapes during harvest.
Select Wines
Her inaugural vintage was the 2012 Frediani Vineyard Cabernet Sauvignon. She has used fruit from this vineyard for her first several vintages and will continue to do so. This vintage shows very appealing ripe fruit aromas in the glass including black berry, black cherry and a hint of desert like spice and mocha. The wine is very well made, balanced and has good acidity across the palate. The tannins linger softly;- structurally the wine is already balanced at a young age. Only approximately 100 cases of this wine as made. Later vintages saw slightly higher production amounts.
—
Two wine competitions have validated their work – she earned a Best in Class, Gold from the Sunset International Wine Competition (2,900 entries) and a Silver from the San Francisco Wine Competition (4,900 entries). Currently all wine is sold direct to consumer via her website – because production is so small she has no distributors but plans to make the wine available in select restaurants in Napa Valley.
For more information and to order wine, visit: www.voroscellars.com