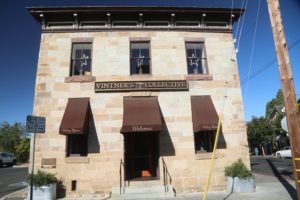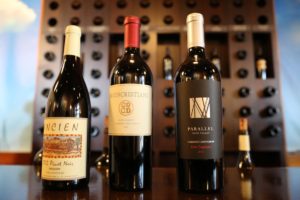 Vintners Collective was founded and opened in 2002 by Garret Murphy and Eric Mercier (Tela Wines). Garret was born in Boston, grew up in Paris and came to Napa Valley as a consultant for several premium restaurants including Auberge du Soleil and Meadowood. He also spent a few years working at Chateau Potelle on Mt. Veeder.
Vintner's Collective showcases wines from a select group of mostly Napa Valley based producers – most of which do not have their own tasting rooms. And it's not easy to have one's wines represented here. Vintner's Collective has an in-depth vetting process to make sure the wines match what their customers are interested in, including varieties, price points and wine styles. Demand from producers far exceeds space available in their portfolio; with only one of up to 40 interested brands being selected for placement.
The inside is beautifully decorated with the visual centerpiece being a long tasting bar counter. Friday afternoons are one of our favorite times to stop by; regardless of when you visit, the staff is always friendly, attentive and quite knowledgeable; they do a great job keeping track of many different wines from all their vintners and their related stories. Former tasting room manager at the time of one of our visits, Jeremy Maron refers to Vintner's Collective as the "punk rock of Napa Valley" and the brands represented as the "indie bands". He used to work at Tower Records and described his job back then of introducing music for clients to very similar to what he did at Vintner's Collective, introducing a variety of wines to visitors.
The tasting flights differ everyday which is certainly part of the appeal for visitors. Unless you are acutely tuned into the world of boutique Napa Valley producers, you probably will never have heard of any of the labels that are being poured – this is not a bad thing. These wines represented are typically from producers who have a maximum production of 1000 cases. A number of tasting flights are offered – geared towards all levels of wine interest and prior knowledge.
More private tastings are held upstairs in their "vintner's room" and are available by appointment only. The tastings take place on a wooden table which has hosted both hundreds of visitors over the years and good times as evidenced by the numerous wine stains on the top. This room is surrounded by a number of paintings hanging on the walls including one of the original madame of the bordello.
And depending on where one tastes on the first floor, and which wines one is tasting, you can look directly at photographs hanging on the wall of each of the vintners. Usually the brands provide the photos for the wall but sometimes Garret will take their photograph and use the resulting image. Along with painting, Garret also enjoys photography.
In some cases, Vintner's Collective has poured wines from wineries whose first retail presence was here – back when they were not yet established or very well known. Some of these vintners included Melka Wines. A couple of producers have been represented since the early years including Longfellow and Tela.
If a winery opens their own tasting room or winery, Vintner's Collective sometimes will remove the wine from its inventory. This is Napa boutique at its best. They try to cater to the taste of guests so visitors can pick wines based upon personal preferences from bottles which are open at any given time. One varietal they find customers have strong feelings about is Chardonnay. As a result, they offer a number of various styles of Chardonnay to match one's palate preference. Or even if bottles are not open, they can probably Coravin a wine for you. Typically, wines from approximately 18 producers are represented at any one time.
As of our latest update to this review there are approximately 40 winery tasting rooms in and around downtown Napa. Vintner's Collective is one of the oldest still operating tasting rooms in the city of Napa and is always one of our favorites. When they opened there were very few other tasting rooms in the city of Napa. Gustavo Thrace also opened in 2002 and was initially a wine collective, Dan Dawson, the founder of Backroom Wines (a wine shop which also offered tastings) opened in 2002 and JV Wines, also a wine shop which is no longer in business was offering tastings for their clients at that time.
And you never know who you will meet at Vintner's Collective on any given day. During one of our latest visits we met Rex Pickett, the author of the Sideways film.
Building History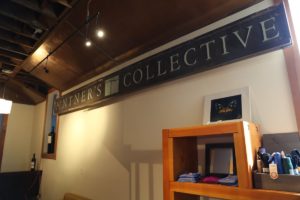 The collective is located in Napa's oldest stone building having been built in 1875 it was originally known as the Barth Building for the Barth Brewery. An article in the July 19, 1889, issue of the Napa Register mentions all the pine studding that was used in the original construction had rotted away and was being replaced – but that the redwood used was still in fine condition. This same article mentioned much of the material for the building was originally shipped around the horn.
This historic building used to house a brothel, saloon & a deli. Reminiscent of the buildings' "brothel days" one might see a few "Position of the Day" books lying around. For strangers standing next to each other at the bar, this book can be an exotic erotic conversation starter! Hard to believe now, but this section of Napa (Clinton Street) used to be home to a thriving Red-Light District. And in homage this this part of Napa's history, a single red light hangs above the stairway leading up the second floor.
The building is known as the Pfeiffer Building or to some, the Sam Kee Building named after Sam Kee, not to be confused with the world's narrowest commercial office space building, the Sam Kee building in Vancouver, British Columbia. Kee was a Chinese immigrant who started a laundry service here (downtown Napa) in 1937; the building was used for laundry services until the 1970s. Immediately prior to Vintner's Collective taking over the space, the building was home to Andrew's Meat Co.
In early 1970s a push to preserve some of the city of Napa's oldest buildings was spearheaded by St. Helena couple and Napa Valley historians David and Kathleen Kernberger (both deceased). They successfully added this building to the National Register of Historic Places in 1974. They even wrote a book together inspired by their efforts to save old buildings in downtown Napa – called Mark Strong's Napa Valley, 1886-1924. And also, directly resulting from their initial preservation efforts, they helped form the Napa Historic Preservation Society in 1973. Kathleen was a founding board member of the St. Helena Historical Society.
Sam Kee building, Vancouver (not associated with Vintner's Collective)

Las Bonitas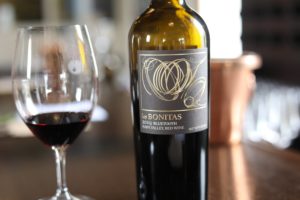 Garret's own wine label is called Las Bonitas, from Spanish to English it translates to the pretty ones; he founded this brand several years after starting Vintner's Collective. This wine is always very small production, and the types of varieties and vineyard sources vary each year depending on availability – although their focus is on Cabernet Sauvignon and red blends. Generally, the wines are from either Napa Valley or neighboring Sonoma County. The Las Bonitas label features a series of circular locks of golden hair, representing the hair of Garret's two daughters.
The 2020 Las Bonitas Pinot Noir, Santa Rita Hills (Santa Barbara) was sourced from this part of California rather than their normal source in Sonoma County due to the Sonoma vineyard site having smoke taint from the Glass Fire. And what has become a pleasant surprise, this particular bottling has become Las Bonitas's most popular ever vintage of Pinot Noir. And we can see why after tasting it; it is what we call a crowd pleaser. It is medium ruby in color; the bouquet is highly expressive dominated by fruit and showcases a 'bright sweetness' of aromatics including dark raspberry, dried rose petals, a hint of soy, licorice and rhubarb. Garret has noticed an umami quality about this wine as it relates to the aromatics. The palate offers primarily red fruit including cherry and strawberry. This wine delivers the perfect balance between acid, texture and richness of fruit. It lingers with a light grip of slightly drying tannins.
The 2019 Las Bonitas Pinot Noir, Sonoma Coast is pale ruby in color; the bouquet offers aromas of dried herbs, white pepper, red cherry and strawberry. This wine is nicely balanced from start to finish but with a noticeable richness and ripeness of flavor. Offers flavors of pomegranate, cranberry and red cherry without any of the sometimes tartness associated with these fruits. The tannins are super supple; the wine lingers with red fruit and a hint of darker spices on the finish. This wine drinks very well by itself.
The 2019 Las Bonitas Bluetooth, Napa Valley Red Wine is 63% Cabernet Sauvignon, 20% Syrah (both from Coombsville), 12% Cabernet Franc from Yountville and 5% Petit Verdot from Mt. Veeder. This wine is dark ruby in color; the bouquet is appealing with aromas of dark plum, black berry, cassis, a hint of dark chocolate and darker baking spices. As the wine evolves in the glass, the bouquet offers additional aromas of graphite and a dust nuance. There is both a darkness of fruit and a sweetness to the bouquet. Balanced in its youth across the palate, this wine offers flavors of both red and dark fruits including of cherry and currant. It is medium bodied with still youthful somewhat tightly woven tannins at the time of our tasting (3 years post vintage date). Lingers with mouthwatering red fruits on the long finish. The name Bluetooth is not a reference to wireless connectivity nor to the Bluetooth Vineyard on the southern part of Silverado Trail, but rather to the color one's teeth can become after wine tasting.
—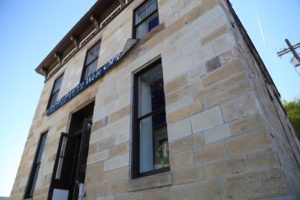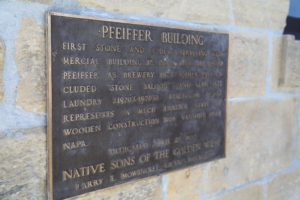 Vintner's Collective is within walking distance of First Street (the core of downtown Napa) and there is ample street parking in the area if for some reason you cannot find space in the decent sized parking lot behind the building.
In addition to being a hub for tasting wine from small producers, Vintner's Collective also can secure special rates on hotels, can help with private winery tours and reservations and provides exclusive access to La Casita Bonita, a Cottage under their same ownership located in historic downtown Napa. This small 2-bedroom home was built in 1927 and is located within walking distance of many of the tasting rooms and restaurants. Large plasma TV, gourmet kitchen and even hens producing fresh eggs are all part of the experience. Well received press from a variety of well-known newspapers and wine guides has made Vintner's Collective continuously one of the hottest places to visit in the downtown Napa area.
The building sustained significant exterior damage in the 2014 Napa earthquake. After a long period of retrofitting and redoing parts of the outside of the building along with significant scaffolding, the construction was completed. An earthquake memory wall is inside containing photos of before and after the earthquake as well as their outdoor sign that was damaged from falling rock. And those who tasted here during the rebuild, remember tasting in an air-stream trailer in the parking lot.
Vintner's Collective offers a number of creatively named wine clubs in homage to former uses of the building. Names such as The Red Light, The Madame, The Gentleman's Cabernet Club, and Bordello among several others are sure to invite inquiry when you tell someone you are a member of one of these clubs. In general, the allocation wine available for club members are different than the wines poured in the tasting room. And in recent years their wine clubs have earned top 10 placements in USA Today's 10 Best READER'S CHOICE as one of the best WINE CLUBS in the U.S.
For more information and or to join one of their wine clubs, visit: www.vintnerscollective.com
Kitchen Collective (now permanently closed, we keep our notes here for historical reference)
Garret Murphy was also the founder of Napa's Kitchen Collective, a private social club focused on unique culinary experiences and social events (with members having access to a state-of-the-art kitchen and the culinary team). Located in the building that used to house Cuvee Restaurant next to the River Terrace Inn (just north of the Wine Train Depot and the Oxbow Public Market).
Three levels of membership grant various access to certain parts of the property, access to the culinary team and select events (membership was capped around 200 members). Several Napa wineries who don't have their own tasting rooms are members and selectively hold their tastings here and winery members often hold special lunches or dinners on site. The space was also a gathering place for select Napa vintners as the space is conducive for either business transactions or for pleasure. The latest intel we have is that this space has been taken over by Chef Charles Phan, owner of the currently closed Slanted Door Restaurant in San Francisco.