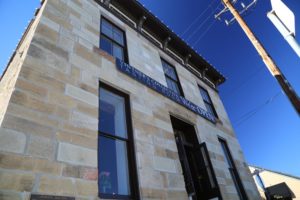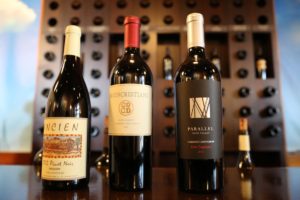 Vintners Collective was founded in 2002 by Garret Murphy. Garret was born in Boston, grew up in Paris and came to the Napa Valley as a consultant for several premium restaurants including Auberge du Soleil and Meadowood. He also spent a few years working at Chateau Potelle (a winery that was located on the remote slopes of Mt. Veeder).
Vintner's Collective showcases wines from a select group of mostly Napa winemakers – most of which do not have their own tasting rooms. The tasting flight differs everyday which is certainly part of the appeal for visitors. Unless you are acutely tuned into the world of boutique Napa Valley producers, you probably will never have heard of any of the labels that are being poured – this is not a bad thing. These wines represented are typically from producers who have a maximum production of 1000 cases.
As of our latest update to this review there are approximately 40 tasting rooms in and around downtown Napa. Vintner's Collective is one of the oldest in downtown Napa and always one of our favorites.
Garret's own wine label is called Las Bonitas. This wine is always very small production and the types of varieties vary each year depending on availability – although their focus is on Cabernet Sauvignon and red blends.
In addition, over the years Vintner's Collective has poured wines from wineries that got their start here when they were not yet very established or well known. Some of these vintners included Melka Wines.
If a winery opens their own tasting room or winery, Vintner's Collective sometimes will remove the wine from its inventory. This is Napa boutique at its best. They try to cater to the taste of guests so visitors can pick wines based upon personal preferences from bottles which are open at any given time. Or even if bottles are not open, they can probably Coravin the wine for you. Typically around 18 vintners are represented at any one time – with a special order list highlighting wines from other producers.
The collective is located in Napa's oldest stone surviving commercial building – over 140 years old. This building used to house a brothel, saloon & a deli. Reminiscent of the buildings' "brothel days" you might see a few "Position of the Day" books lying around. For strangers standing next to each other at the bar, this book can be an exotic erotic conversation starter! Hard to believe now, but this section of Napa used to be home to a thriving Red Light District.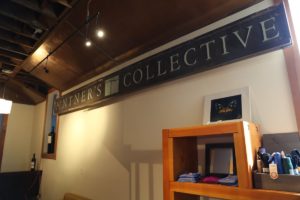 The building is known as the Pfeiffer Building or to some, the Sam Kee Building – named after Sam Kee a Chinese immigrant who started a laundry service here in 1937 – the building was actually used for laundry services until the 1970's. Immediately prior to Vintner's Collective taking over the space, the building was home to Andrew's Meat Co.
The inside is beautifully decorated with the visual centerpiece, the long tasting bar counter. Friday afternoons are a great time to stop by; regardless of when you visit, the staff is always friendly, attentive and quite knowledgeable (they do a great job keeping track of many different wines from all their vintners).
Vintner's Collective is within walking distance of the historical downtown Napa and there is ample street parking in the area if for some reason you cannot find space in the decent sized parking lot behind the building.
A number of tasting flights are offered – geared towards all levels of wine interest and prior knowledge. Several private tastings and pairings are held upstairs in their "vintner's room" by appointment only.
In addition to being a hub for tasting wine from small producers, Vintner's Collective also can secure special rates on hotels, can help with private winery tours and reservations and provides exclusive access to La Casita Bonita, a Cottage under their same ownership located in historic downtown Napa. This is a small 2-bedroom home built in 1927 and is located within walking distance of many of the tasting rooms and restaurants. Large plasma TV, gourmet kitchen and even hens producing fresh eggs are all part of the experience. Well received press from a variety of well-known newspapers and wine guides has made Vintner's Collective continuously one of the hottest places to visit in the downtown Napa area.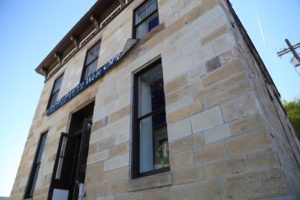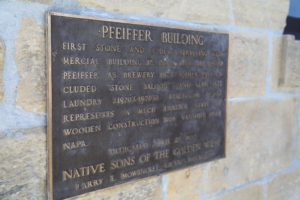 At any one time Vintner's Collective represents approximately 20-25 vintners of which nearly all are Napa based.
The building sustained significant exterior damage in the 2014 Napa earthquake. After a long period of retrofitting and redoing parts of the outside of the building (along with significant scaffolding – the construction was been completed). An earthquake memory wall is inside – with photos of before and after the earthquake as well as their outdoor sign that was damaged from falling rock. And those who tasted here during the rebuild, remember tasting in an air-stream trailer in the parking lot.
Vintner's Collective offers a number of creatively named wine clubs – playing off the former use of this building. Names such as The Red Light, The Madame, The Gentleman's Cabernet Club, and the Bordello among several others are sure to invite a question when you tell someone you are a member of one of these clubs.
Ask about the Downtown Napa Wine Tasting Card – multiple downtown area tasting rooms participate in this – for a one-time fee you can visit & taste at each of their tasting rooms. For more information and or to join one of their wine clubs, visit: www.vintnerscollective.com
Kitchen Collective (now permanently closed)
Garret Murphy was also the ounder of Napa's Kitchen Collective, a private social club focused on unique culinary experiences and social events (with members having access to a state of the art kitchen and the culinary team). Located in the building that used to house Cuvee Restaurant next to the River Terrace Inn (just north of the Wine Train Depot and the Oxbow Public Market).
Three levels of membership grant various access to certain parts of the property, access to the culinary team and select events (membership was capped around 200 members). Several Napa wineries who don't have their own tasting rooms are members and selectively hold their tastings here and winery members often hold special lunches or dinners on site. Also a gathering place for select Napa vintners as the space is conducive for either business transactions or for pleasure.