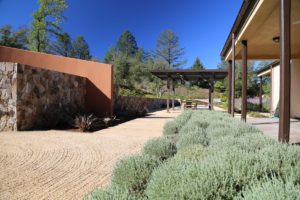 Vineyard 7 & 8. Founders Launny and Weezie Steffens purchased 40 acres of land high atop Spring Mountain in 1999. Both have traveled extensively in Asia and developed an appreciation for numerology – the numbers chosen for their name are considered lucky in many Asian cultures. In another tie into numbers, Launny has worked in the investment world for decades including for 15 years as the head of private-client business for Merrill Lynch & Co. Today he oversees Spring Mountain Capital, a private investment firm based in Manhattan that he founded in 2001. Weezie is a talented artist and some of her works are displayed at the winery including several paintings and over-sized corkscrews.
The winery was built from 2004 through 2008 (and includes an 8,000 square foot crescent shaped cave); the winery is located almost on top of the Spring Mountain ridge at an elevation of slightly above 2000 feet. The journey from the town of St. Helena on the valley floor to the winery takes about 15 minutes on a windy road through the forested slopes of the Mayacamas mountains. Any elevation of over 2000 feet in Napa County is among a select group of mountain vineyards and wineries. The Steffen family purchased the vineyards in 1999 and kept some of the original plantings from 1981 as well as planted additional vineyards. Grapes from the property used to be sold to Sunny St. Helena (whose location is now home to Merryvale Vineyards). Vineyard 7&8's focus is entirely on two varietals; Chardonnay and Cabernet Sauvignon both of which are planted on the property.
Chardonnay is not a variety that first comes to mind when discussing hillside vineyards in Napa, but Spring Mountain has several growers of this variety including Stony Hill, Smith Madrone and School House. Merely a few miles as the crow flies across from their winery sits the Howell Mountain Appellation. One would not even think of growing Chardonnay there, despite the relatively close proximity as that area is much warmer than Spring Mountain which sees more cooling coastal influences. A bit of snow often falls here in the winter and in the summer this area is typically above the fog. Growing conditions are unique in that in the summer the warmest parts of the day are usually in the mornings, becoming much cooler by late afternoon and then warming up a bit at night as the cooler air descends to the valley floor.
The winery sits a short ways in on the Spring Mountain "summit winery road" and affords one fantastic views of Mt. St. Helena and the neighboring mountains. The entrance to the winery is built to resemble a home and first-time guests to the property generally aren't aware of the size and functionality incorporated into the building.
A massive 700-pound copper door greets visitors at the entrance; this door is so perfectly balanced on its hinge that often the wind will blow it open. Once inside guests step into a room with a 180-degree windowed view of the surrounding mountains. On a clear day from this room, the views are absolutely awe inspiring. This main room contains a sizable table made from wood dated at over 40,000 years old. It is Kauri wood from New Zealand and is well preserved from being in an oxygen deficient environment in a bog. This type of wood is considered some of the oldest workable wood in the world. While sitting down at this table, look up – a satellite was creatively re-purposed as a chandelier with the exterior layered with a similar look as on the main door of the winery.
During the first few releases Vineyard 7&8 sold their wines via the wholesale market but have since expanded to now sell direct to consumer. Launny and Weezie's son Wesley is the Estate Director and the Assistant Winemaker; some of his prior experience in the business was as a cellar master at well-known Harlan Estate working with winemaker Bob Levy and at BOND Estates. Wesley also spent time working with Thomas Keller at the acclaimed French Laundry in Yountville.
Martha McClellan is the current Vineyard 7 & 8 winemaker; she has built an impressive resume in the valley with time spent working with properties such as Blankiet Estate, SLOAN Estate and currently at Checkerboard Vineyards. Founding winemaker was Luc Morlet (of Napa's Morlet Vineyards)
Ever since the Steffen Family purchased this property, great attention to detail has been placed on the nuances of managing their vines. Specific rows are picked only when they are ready thus ensuring that particular vineyard blocks are picked at multiple times allowing only fully ripe grapes to be fermented. A very unique water collection system is in place for the vineyard and features a small canal which wraps around part of the vineyard collecting excess water. A number of small tanks within the winery ensures that they have enough room to micromanage fermentations block by block.
A commercial kitchen is located on site and can be used for private events such as dinners. All tastings include several cheese pairings.
Select Wines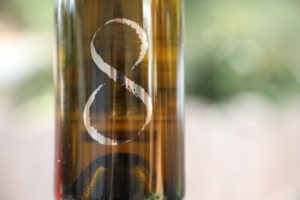 The 2004 Vineyard 7&8 Chardonnay is a pretty representation of what can be done with extremely rare Spring Mountain grown fruit from this variety. It's an elegant wine with attractive flavors including lemon, pineapple and some toasted nut nuances. Their Chardonnays can also be aged for several years, but perhaps not recommended for 19 years in a 375ml bottle at the time of our second tasting of this wine. After all this time its color had become a deep gold/amber color; the bouquet had turned into a union of nutty + honeyed characteristics and ripe stone fruits including apricot, recently torched crème Brule, vanilla and caramel. The palate offers flavors of walnut, honeycomb, baked apple, butter, apricot, peaches in light syrup (without any sweetness) and a rich flavor filled finish with a still noticeable brightness of acidity. The mouth feel is supple and creamy with an almost saline or briny texture. This wine is past its peak, although maybe it would not be as mature, had we tasted it from a magnum; surprisingly it is still quite drinkable.
The only vintage to date that was produced from non-estate fruit was in 2012 when they sourced grapes from the Lone Oaks Vineyard in the Russian River Valley. A beautiful showing, only 125 cases were produced but this wine was never released.
The 2011 Vineyard 7&8 Cabernet Sauvignon was a vintage that varied greatly in Napa Valley depending on site location. Some of the higher site locations within the valley often produced the most interesting wines from this vintage. This was a cool year in Napa Valley with rain both early and late in the season. The higher elevations tended to perform better because they were usually above the fog line and cooler conditions which persisted on the valley floor. Dark garnet with purplish tinges on the rim in the glass, the wine offers a bouquet that is not only about the fruit but plenty of other aromas including notes of mushroom, wet earth, cigar smoke, old cedar box, white pepper, darker spices and blackberry. Very polished on the palate, one immediately notices this wine's supple qualities including its smooth mouth feel and polished tannins which linger softly along with a subtle hint of menthol or herbal note.
The 2013 is a complete contrast to the 2011 vintage and was generally considered a robust vintage with plenty of accompanying texture in the wines. Also, equally dark in the glass, the 2013 Vineyard 7&8 Cabernet Sauvignon shows aromas of ripe blackberry, toasted oak, a tobacco spice, a hint of sage and dark chocolate undertones. Juicy and intensely flavored with excellent acidity, this wine has plenty of depth. More black fruit dominates than red fruits, offering a very long-lasting finish anchored by grainy and persistent tannins.
The 2004 Vineyard 7&8 Cabernet Sauvignon reveals an intriguing bouquet showing notes of mocha and various ripe berry fruit (raspberry and blackberry). The palate is nicely balanced, and the tannins integrate very well on the very smooth and long finish.
NOTE: this review has been identified as needing an update including current release tasting notes.
Correlation Wine Company
This brand was founded by Wesley and focuses on non-estate wines from grapes sourced from select vineyards throughout Napa Valley. Defined as a mutual relationship between two or more things, Correlation appropriately describes the relationships that Wesley has cultivated with various growers, winemakers and vineyard owners over the years. The inaugural release of Correlation included a 2014 Cabernet Sauvignon and a 2016 rosé.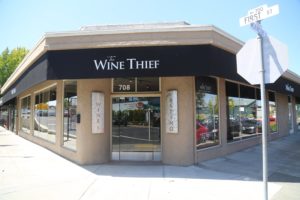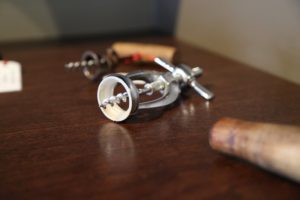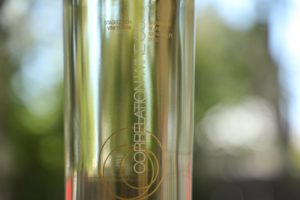 Correlation wines is a vintner partner at The Wine Thief in downtown Napa. This tasting room features small production wines from mostly Napa Valley based vintners and is located on the corner of First and McKinstry Streets directly across from Gott's Roadside Hamburgers and the Oxbow Public Market.
The vintners represented here are small and are usually in the 500 cases to 3,000 cases range. These producers focus on high quality limited production wines and unless you work in the Napa wine industry are names you generally will not have heard of. The focus of the wines offered are Cabernet Sauvignon and red wines but there are several whites available, Pinot Noir and a rosé. The wines are available at a wide range of price points.
To succeed in Napa as a collective strong relationships between vintner partners is a necessary criteria. The vintners represented all know each other and, in some cases, have been friends for years. Another important factor is the location of the tasting room; this is a prime corner spot in a busy part of Napa surrounded by several other tasting rooms. Correlation wines are available for tasting by walk-in at the tasting counter or appointments can also be made to try the current releases in one of the two private rooms on site.
Select Wines
Stagecoach Vineyard is located high on the slopes of Atlas Peak and is known for its Cabernet Sauvignon and other red varieties. One variety, however that it is not known for, is Sauvignon Blanc. So when we have opportunities to try this variety from this vineyard we are always interested in doing so.
The 2022 Correlation Wine Co Stagecoach Vineyard Sauvignon Blanc is medium straw color in the glass. The bouquet smells like spring florals with scents of orange blossom, jasmine along with pineapple guava; a fruit we know extremely well having harvested them every fall for the past 30+ years from bushes growing in the Odd Fellows Lawn Cemetery in Santa Rosa, CA, incidentally the cemetery where Robert Ripley of Ripley's Believe it or Not is buried. The aromatics also offers notes of lemon zest, lemon drop candy, lime juice and a flinty character. The palate is as balanced as the bouquet, offering mineralities, ripe tangerine, kiwi, passion fruit, grapefruit, pomelo and apple. Its texture is supple and creamy, adding a complementary weight to the richness of fruit and medium acidity.
The 2021 Correlation Wine Co Stagecoach Vineyard Sauvignon Blanc is pale to medium yellow in the glass; the bouquet is a vivid expression of the varietal characteristics, offering scents of lemongrass, citrus blossom, freshly cut grass and a lemon/lime note. This bouquet smells fresh and full of energy. This vivaciousness from the bouquet carries over to the the palate with flavors of lemon, lime and green apple, carried with a liveliness by the bright but not bracing acidity. We immediately thought of pairing this wine with fresh shellfish caught off of the California coastline. This high elevation Sauvignon Blanc is well worth seeking out.
The 2018 Correlation Cabernet Sauvignon Napa Valley is a blend of 91% Cabernet Sauvignon, 5% Merlot, 2% Petit Verdot, and 2% Cabernet Franc, primarily from the Atchley Vineyard at about 2,000 feet in elevation on Spring Mountain. It was aged for 26 months in 75% new French oak. This wine is deep ruby in color with an amaranthine rim; its almost opaque in the glass. This wine offers darkly fruited aromas of blackberry, boysenberry and ripe dark cherry with other scents including of tobacco leaf, pencil lead, chocolate, mocha, espresso and cocoa powder. As we spent about 30 minutes with this wine a hint of fennel seemed to come and go in the aromatics. The palate reveals flavors of plum, cherry, black currant and dark plum. This wine lingers savory and gamey with a woodsy spice, crushed peppercorn and grainy broadly distributed but not heavy tannins. This spice filled 'darkness' continues to persist for quite some time on the finish and far outpaces the fruit.
—
Tours and tastings at Vineyard 7 & 8 are by appointment and are for serious wine enthusiasts. Total production remains very small – typically only 1,000 cases produced annually with a small percentage of the wine distributed in select markets within Asia including China. For more information and to join their mailing list, visit: www.vineyard7and8.com
Exterior

Interior

Vineyards

Cave/Winery