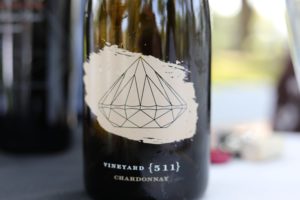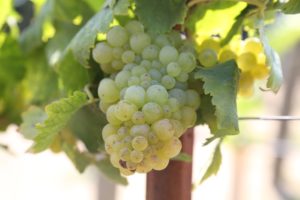 Vineyard 511. Living in Southern California with a shared passion for both travel and wine, proprietors of Vineyard 511, Irene and Ed Ojdana pondered having a home in Italy and France. But then as Irene told us, they thought about "jet lag and all the time they already spend in airports plus the great distance to travel" and they made a wise decision to search a bit closer. They were referred to a real estate agent from a friend who also owned a winery; this agent introduced them to some hillside property in the Diamond Mountain District. Their original intent was to purchase a home with a small existing vineyard. This property perfectly qualified in that regard.
They left previous careers – Ed was CEO of Experian Interactive and also the founder of FreeCreditReport.com while Irene worked in Human Resources at CCH Coputax, Inc and also taught English at several colleges around the country.
This tiny less than an acre vineyard is perched on a rocky (with plenty of volcanic white ash) west facing hillside in what feels like a very remote part of the Napa Valley despite being a short drive from Calistoga (and is where we met Ed and Irene). The surrounding hillsides are mostly wooded and rural – and steep. Nearby vineyard neighbors include the acclaimed Diamond Creek Vineyards, and the properties formerly housing Reverie and Von Strasser wineries. At about 750 feet above the floor and based on their particular location they do not experience frost during the critical late winter and spring months when the vines bud and then bloom. Their elevation also puts them above the fog line. Almost without fail during the growing season, winds blow through in the afternoon – helping moderate temperatures on the site.
The vineyard was planted entirely to Cabernet Sauvignon in 2001 and the fruit was sold to Duckhorn for several years. After Ed and Irene purchased the property in 2008 they sold the fruit to another small producer. Then in 2008/2009 the economy turned south and they were unable to find a buyer for their wine grapes. They decided to keep their fruit; 2009 was their first vintage.
The label design is a direct result of a cruise they took in the Caribbean. While on this small cruise ship they met a number of other passengers – who when they found out the Ojdana's were from Napa mentioned there was another couple from Napa on board and that they needed to meet. The individual they met was head of label design for Constellation Brands at the time. With perfect timing, they hired him to help design their own label. After a number of designs and input from friends and family they choose a classy looking outline of a diamond – which ties in well with their Diamond Mountain location.
Select Wines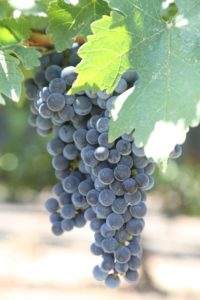 The inaugural release, the 2009 Vineyard 511 Cabernet Sauvignon, is more restrained than the 2010 vintage yet has elegant aromatics. It is a delicate bouquet showing red fruit and as it opens more of the oak influence shows while simultaneously revealing sweet vanilla. The palate is very much in balance between fruit and structure. Well integrated tannins anchor a pleasing finish. The mouth feel is smooth throughout. Their vision was to craft a wine that shows well upon release yet can age for 10-15 years. It is certainly drinking wonderfully as a youthful wine.
The 2010 Vineyard 511 Cabernet Sauvignon reveals a plethora of aromas in the glass – it is bursting with life, showing bigger fruit than the 2009 vintage. A sweet core of fruit shows – initially black berry, a hint of white pepper and as the wine opens, baking spices. But the fruit is always there and as it evolves in the glass notes of brown chocolate come forth – think chocolate covered cherries. The palate is balanced – with fine grained delicate tannins. A clean finish lingers with high toned fruit – and lasts for some time.
While known for their estate Cabernet Sauvignon they also produce micro amounts of Chardonnay and Pinot Noir from Carneros; these wines are for their club members and sometimes are poured at wine dinners hosted by Ed and Irene.
—
Both Ed and Irene are actively involved in the wine community. Ed has served a number of years on the Executive Leadership Board for the UC Davis Viticulture and Enology program. He helped raise money to fund the college's state of the art research winery. They are founding patrons of the Napa Valley Film Festival and Irene serves on their board. Ed was also Executive Producer of the critically acclaimed "culinary" movie – Jiro Dreams of Sushi – about a Sushi Chef in Tokyo who runs a 10-seat restaurant in a basement of a metro stop – which also happens to have earned the coveted 3-star rating from Michelin.
Vineyard 511 maintains a mailing list; much of their wine is sold direct to their customers and sometimes they attend select consumer tasting events. Select distribution includes several local Calistoga Restaurants – a few premium wine shops in Los Angeles including Manhattan Fine Wines and in Indiana. Ed is an alumnus of Notre Dame – after the college renovated the official hotel on the campus, Morris Inn – several changes were made to their wine program including featuring winemakers who are graduates of Notre Dame. Ed is in good company; other prominent Notre Dame winemakers or vintners with connections to the Napa Valley include Paul Hobbs, Ray Duncan co-founder of Silver Oak, Jack Novak (Spottswoode), Carmen Policy (Casa Piena), Jim Knighton (Knighton Family Vineyards) and Tim Busch (Trinitas Cellars), among others.
And while it is common for vineyard owners to have dogs, the Ojdana's have a pet peacock (not the first Napa based winery we have come across with this pet but one of the very select few). You know your in wine country, when your pet is named Cabernet.
The Vineyard 511 wines are poured at selective consumer and trade tastings throughout the year (mostly in the Napa Valley, San Francisco Bay Area and parts of Southern California) and they have offered special prices for at least one private members only club in the region. Locally one can sometime find their wines for sale at the Oakville Grocery. For more information or to join their Encounter wine club, visit: www.vineyard511.com