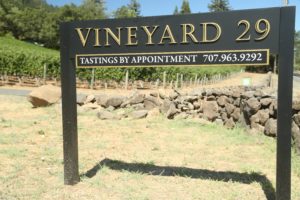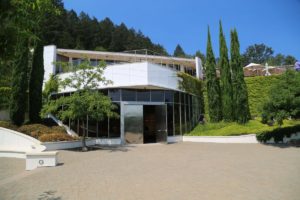 Vineyard 29 is located a few miles north of the town of St. Helena in the western foothills of the Mayacamas mountains with an address that mimics the name of the winery (2929 St. Helena Highway North). This "bench land" is some of the most coveted terroir in this particular part of the valley; Grace Family Vineyards are immediate neighbors and several other premium vineyard sites are also located nearby including Colgin's Tychson Hill property and the tiny one-acre Bure Vineyard.
The original founders of Vineyard 29, Teresa Norton and Tom Paine moved to Napa Valley in 1989 to 'retire'. Both worked for Hewitt Associates – Tom was one of the early partners in the company, now AON Hewitt – a major globally distributed human resources and consulting company. Influenced by their vintner neighbors, Dick and Ann Grace of Grace Family Vineyards – they decided to plant their small vineyard to Cabernet Sauvignon using cuttings from Dick's vineyard. The original Vineyard 29 vineyard was only 3 acres – planted by David Abreu in 1989. These cuttings are referred to as the Grace Clone of Cabernet Sauvignon – but previously originated from the Bosche Vineyard (Freemark Abbey).
Their first vintage was in 1992. Ready to retire for real, Teresa and Tom sold Vineyard 29 to Chuck & Anne McMinn in 2000 who have since expanded both their vineyard footprint, vineyard land (through several purchases in this immediate part of the valley including Aida, Railroad and Winner vineyards) and an increase in their overall production. In addition to the original small block of Cabernet Sauvignon still growing on the estate vineyard, even smaller plantings of Cabernet Franc and Sauvignon Blanc were later added.
The nearby Aida Vineyard (just to the north of the winery) spans from the edge of the valley floor on the west side to the east bordered by the Napa River. This site has been planted since the 1920s and today is home for their old-vine Zinfandel and several other much newer plantings of select Bordeaux red varieties.
It is interesting to note that the first seven vintages produced from Vineyard 29 were actually crafted next door in the small Grace Family Winery and then for several years at Miner Family. The winery itself was completed in time for the 2002 harvest.
Vineyard 29 is one of the leading Napa Valley winery users of technology both in the vineyards and in the winery. This makes sense when one takes into account Chuck's background in the telecommunications industry. He was Chairman for Covad Communications, an Internet Service Provider (voice and broadband services) who at its their peak serviced over 500,000 customers (Covad operated from 1996 through 2010). After more than 20 years of leading the operations at Vineyard 29, in 2022 Chuck retired.
Exterior

Estate Vineyard

Aida Vineyard

Winery/Interior

Winemaking
Chuck has spared no expense in their operations, incorporating cutting edge technology and innovation. One of his mottos which originally comes from Intel is "if you can't measure it, you can't improve it". A small control room within the winery measures conditions in the vineyards, the caves and the winery (temperature, humidity, soil moisture content ETC). Moisture probes are placed throughout the vineyards; these instruments record readings up to 6 feet below the soil surface and provide information for when to water and amounts of water needed. Special instruments are even installed on select vines to measure how much water runs through the vines throughout the day and night.
Attention to detail at Vineyard 29 is paramount – Chuck indicates, "jobs here can take up to 10x as long as at other area wineries". Their focus is on quality and producing limited production wines. Rather than harvesting grapes in large containers, they harvest grapes into small 40-pound boxes. Gentle handling is priority throughout harvest; grapes begin fermentation as soon as they are crushed. Vineyard 29's post picking efforts result in fermentation that starts when they want it to. Individual berries are hand-sorted several times and only the most desired grapes are allowed into tank, grape by grape.
During harvest, if one stands at the end of the sorting table, one will only see perfectly ripe berries – no jacks, stems or MOG (material other than grapes). This is aided by an optical sorter that can be programmed with an algorithm to only select certain sizes and shapes of grapes. Fermentation tends to be long as their winemaking team prefers to extract as much flavor as possible.
The actual winery and operations are extremely impressive. A number of large new French oak barrels are only used for five vintages and then replaced. How many Napa wineries can gravity feed wine from their main tanks located in a separate room into barrels in their caves? This state-of-the-art process was perfected by Vineyard 29 in which wine is transferred directly from their tanks through a conduit in the wall to the barrels in the caves. They generate their own energy on site and are one of the most environmentally friendly wineries in the Napa Valley.
Lights in the cave automatically turn on as visitors enter. The 13,00 square foot cave is elegant with a fine blend of function and beauty. Tours often culminate in their small but dramatic Library Tasting room where typically three wines are presented. This is definitely among the most elegant tasting rooms that we have visited in Napa Valley. These are also among the few sloped caves in Napa Valley; this helps with managing barrels, water flow and other wine-making efforts.
Their wines are extremely well made from vineyard to bottle with attention to detail being paramount during all steps of the wine making. The wines we have tried over the years are always well balanced between flavor, acidity and tannin structure. A bottle of Vineyard 29 contains the best fruit their vineyards can offer – it is a true balance between terroir and technology.
Over the years Vineyard 29 has employed several prominent winemakers including winemaker Philippe Melka (he was their winemaker for 18 vintages). Philippe is one of the more well-known Napa Valley based winemakers; he is involved with a number of other premium Napa wineries including Brand and Lail Vineyards. Heidi Barrett also made wine for four vintages (formerly at Screaming Eagle and is a well-respected consulting winemaker).
Select Vineyard 29 Wines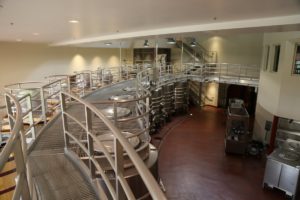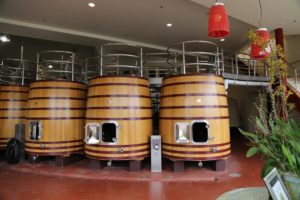 Zinfandel lovers take note; a delicious estate Zinfandel is produced from their Aida vineyard just north of the winery. Turley Vineyards used to produce Zinfandel from this vineyard and when Vineyard 29 purchased this property they replanted much of it to Cabernet Sauvignon – fortunately they left a smaller block of old-vine Zinfandel intact.
The Aida Late Harvest Zinfandel is noteworthy, due to its uniqueness and age both in the vineyard and in the winery (the vines date back to 1973). It is created every year in slight twist on the traditional solera style. The first vintage of this was produced in 2002 and every year it is again produced and then is added to existing barrels which are blends of prior vintages. A current release of this wine is always a combination of the previous vintages dating back to 2002 and every year only about a barrel worth of wine is bottled and then later released.
The estate Cabernet Franc is one of their more sought out wines; the 2011 vintage was one of the finer Napa Valley Cabernet Franc wines that we tried from this particular challenging vintage).
The 2017 Vineyard 29 Estate Cabernet Franc is medium to dark ruby in color; immediately shows notes of spicy plum on the bouquet. It offers plenty aromatic diversity and intrigue including of darker aromatics: blackberry, leather, cedar, cardamom, a hint of tobacco, dark chocolate, mocha and some ripe floral notes including violets. Lovely. Packs plenty of flavor across the palate without any heavy texture. The tannins are gravelly, but round out given some time, and linger with darker fruits along with notes of dried tobacco leaf. This wine was made with vines planted in 2000 and was aged for 20 months in 70% new, 100% French oak.
Their Estate Sauvignon Blanc is from a tiny 2/3-acre block on a hillside above the driveway near their tiny parking lot. There are a select few truly premium Sauvignon Blancs in the valley – of which Philippe Melka has had a hand in creating several over the years; this is certainly one of them. We tried the 2013 Vineyard 29 Sauvignon Blanc after it had already been opened a full day. The bouquet is appealing as it breathes it alternates between captivating lemon-zest and tropical aromas including honeysuckle. The palate has exceptional balance for a wine still so young at the time of our tasting, along with pleasing acidity.
Select CRU Wines
The first vintage of CRU wines dates from 2004. Vineyard 29 was producing such limited quantities of wines that they became allocated to their wine club members, leaving no other wine for additional placement in retail locations. Chuck and Ann decided to start CRU with the intent to produce wines under this label in higher quantities and at a different price point then their Vineyard 29 wines and place them in distribution. In addition, the sources for the CRU wines are from non-estate properties but are carefully managed with input from their own vineyard management team.
The 2019 CRU Sauvignon Blanc is medium yellow in the glass; offers aromas of honeydew melon, honeysuckle, bright mineralities, pineapple, fresh cut grass, honeycomb and a hint of sweeter vanilla deeper into the aromatics. Shows plenty of flavor across the palate including of mandarin, apricot, and red apple. Slightly rounded in texture but not creamy. Finishes very bright with some lemon/lime notes. This wine was harvested over a span of 10 days from both hillside and valley floor sites. It spent 11 months aging in 30% new French oak.
An unusual offering for a Napa producer is a Pinot Noir from the Willamette Valley in Oregon. Long time Vineyard 29 Director of Wine making, Keith Emerson decided to purchase grapes from the Willamette Valley one year to make a Pinot Noir under his own label. Hearing about this, Chuck asked Keith where and how he was going to process the grapes since the vineyard source was so far from Napa. Chuck ultimately recognizing the logistics issue of this and offered some of his own picking equipment, bins, and helped facilitate a refrigerated transport of the grapes from Oregon to Napa. Keith offered a barrel of his Pinot Noir to Chuck as a thank you for his help – Chuck tried the wine and realized it's high quality – and then decided that they should also make a Pinot Noir (bottled under the CRU label).
Only 500 cases were made of the 2014 Willamette Valley grown Pinot Noir. There is a reason select vintners from Napa have sourced Pinot Noir from here despite the geographical distance. This wine shows delicate aromas on the bouquet – somewhat floral at times with a noticeably spicy characteristic (white pepper) along with a dusty characteristic. The bouquet is quite appealing with notes of cherry and raspberry. On the palate this wine is silky smooth, rounded and delicate. A lingering tartness shows with fine-grained well integrated tannins.
Only 23 cases of the 2014 CRU Merlot were produced from their AIDA Vineyard. This is a tasting room exclusive and a rare wine – with increased production planned for this variety in future vintages. This wine is super dark in the glass and shows darker fruit aromatics with a dessert spice sweetness. Blackberry aromas shows; the palate is layered and lingers for some time. The tannins are somewhat sediment like with a slightly chewy texture. This is a rich example of a Merlot.
The 2014 CRU Cabernet Sauvignon is dark red with purplish tinges on the rim; the bouquet shows notes of both blackberry and raspberry – on the entry it is rounded but quickly gains in complexity of flavor with a tannin profile that is earthy and long lasting. Somewhat chalky feel on the finish. Excellent acidity.
Vineyard 29 Tasting Room, downtown Napa
This elegantly furnished 'satellite tasting room for Vineyard 29 and CRU had its soft opening, late morning of Wednesday July 14, 2021, with its official opening occurring the first week of August. And we must mention a personal note: we were the first ever customer later that morning to purchase wine from this space; we made their first ever sale 🙂 The interior design was overseen by Richard Von Saal but also with in-house contributions including from Lauren Nicholsen. This tasting space is located on a prominent part of 1st Street, with great restaurants and many other tastings within a very short walk. The Vineyard 29/CRU tasting room is located at 1300 First St. Suite 305 directly next to the California Brandy House (owned by Gallo family).
Guests are welcome by walk-in, although reservations are recommended for busy weekends, especially on Saturdays. Several flights are offered for tastings including current release wines of CRU, Vineyard 29 and a Collectors Tasting, featuring their flagship Cabernet Sauvignon wines.
A large flip board is located on the wall next to the tasting counter space – a product of Philadelphia based Oat Foundry whose motto is "we build cool stuff". Certainly. Looking like one of the sign boards one may see at a train station somewhere in Europe, this flip board rotates a variety of inspirational messages provided by founder Chuck McMinn. There is no commercial kitchen on site, but small bites and charcuterie plates are prepared by their chef at Vineyard 29 and then brought to the tasting room. Open 7 days a week from 11am until 7pm.
Vine Trail
In the 1990s Tom Shelton began to conceptualize a biking and hiking path in Napa. Tom passed in 2008 of brain cancer and formerly was the president of Joseph Phelps, served on the board of directors for the Napa Valley Vintners and was married to Laurie Shelton who operates CAMi Vineyards in Calistoga. After moving to Napa Valley in 2004 Chuck worked with Tom and took his initial vision and founded in 2008, the Napa Valley Vine Trail Coalition. When completed (hopefully in 2027) this will be a free-to-the-public 47-mile trail for bikes and pedestrians leading from the Vallejo Ferry Terminal in the South to Calistoga in the north. For the most part the trail will be completely separate from roadways. Other sections that will open or are under construction including between St. Helena and Calistoga in the north and from Vallejo to American Canyon in the south. Some have taken to calling this trail, the 'spine' of Napa Valley.
As of our latest update to this review, currently 22.5 miles of the trail are complete running from Kennedy Park south of the city of Napa (with a couple of blocks of surface streets in downtown Napa), passing through the Rail Arts District (known for its industrial feel and outdoor hand painted murals) and then paralleling the train tracks and Highway 29 up to Yountville. This section was completed in 2016 and is used by both tourists and locals alike and parts of it can easily be seen from Highway 29. Additional right of way access is still needed for much of the northern part of the trail – especially for places that run through private vineyard lands. More than 10 miles were built in 2022. And a short section of the trail is also completed, running from Dunaweal Lane to the town of Calistoga, passing by several wineries, through vineyards and the Calistoga Water Reclamation plant, which often attracts a variety of birds and other aquatic creatures. A major section of the Vine Trail will run between Calistoga and St. Helena with completion of this portion of the trail by late 2023.
Two Vine Trail shelters are located along the trail (one in Napa and one just south of Yountville) – provide shade, a place to sit down, Vine Trail information placards, bicycle locks, a bicycle pump and a port-a-potty. The Vine Trail Footprints program allows donors ($500 or more) to be recognized for their financial contributions with an engraved aluminum footprint with the donor's name or company name on it (up to 40 characters on two lines) installed into the concrete next to the trail at one of these shelters.
CRU @ The Annex
NOTE: CRU moved out and closed this tasting room in 2020. We keep our notes here for historical reference.
This stand-alone tasting room opened on an auspicious date – 9/29 2016. The focus of tastings was on CRU wines from Vineyard 29 as well as select Vineyard 29 wines. This tasting room was open to the public by walk-in and is located next to the Oxbow Public Market and overlooking the Oxbow Commons.
Appointments were made for more private tastings and through working with local food vendors, they offered select culinary experiences paired with the wines. Several different tasting flights were offered – each one unique to the CRU wines, AIDA wines, a Cabernet Sauvignon only tasting or the Vineyard 29 wines. Wines were able to be ordered by the glass or bottle.
—
Their wines often score very well among wine writers especially with Robert Parker before he retired. A mailing list is offered through the website.
Vineyard 29 historically supports a variety of charities; one of their wines was hand crafted to support hurricane relief efforts and raised more than $150,000, all of which was donated.
Vineyard 29 offers several extremely personalized experiences. Typical visits are not short; allow at least 90 minutes to 2 hours depending on the experience. All tastings are seated, either outdoors on the terrace (weather permitting) or inside the beautiful Library Room.
Some Vineyard 29 wines are found locally at select premium Napa restaurants. The wines are also sold through their website, but one must join the mailing list before gaining access to an allocation of wines within their shopping cart. And in early 2021 for the first time in their history, Vineyard 29 began offering a wine club. For more information, to schedule an appointment or to join their wine club, visit: www.vineyard29.com