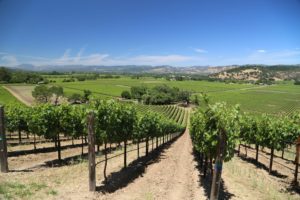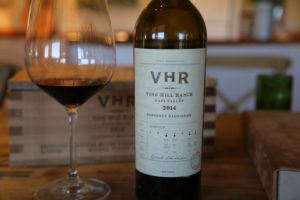 Vine Hill Ranch. After more than ten years of tasting up and down Napa Valley on a project that alternates between passion and obsession (The Napa Wine Project), I realized I had somehow visited with nearly 900 unique Napa based wineries and producers. In setting up my auspicious visit number 900 I carefully looked for a producer with a unique vineyard pedigree, history in the valley, perspective of the region, passion and premium wines. Vine Hill Ranch was on my short list of producers I had not yet visited with, who fit these qualifications.
The roots of Vine Hill Ranch began in western Marin County where architect and rancher Bruce Kelham owned a several thousand-acre ranch. After selling his property as part of efforts by the government to create what is now the Point Reyes National Seashore, Bruce began to look at the Napa Valley because of its existing diversity in agriculture, considering two sites – one on the valley floor in Rutherford and one in Oakville. Ultimately, he fell in love with the Mayacamas mountains and the varied terrain of where these mountains meet the valley floor. He purchased over 1,000 acres in 1959 – today the property encompasses over 400 acres in the southwest corner of the Oakville appellation. Approximately 70 acres are planted to grapes with the remaining land rugged, steep and forested.
In the 1950s the landscape of Napa Valley was significantly different then today; at that time, it was a diverse agricultural landscape. Their own ranch was used for farming hay (on the benchland soils) while walnuts were one of the primary crops on site with walnut trees still producing through the early 1980s. Grape varieties on site were not the same as today; at that time their vineyards were planted to Chenin Blanc, Chardonnay, Sauvignon Blanc and Pinot Noir. It was a time when Chardonnay fetched a higher price per ton then Cabernet Sauvignon. And this is not exactly a part of the valley ideally suited to these cooler weather preferring varieties.
Bruce's daughter Alexandra and her husband Bob Phillips moved to the property in 1978 – raising their family here, managing the ranch and becoming grape growers. Today their son Bruce and his two sisters, Alexandra and Katharine are partners in Vine Hill Ranch.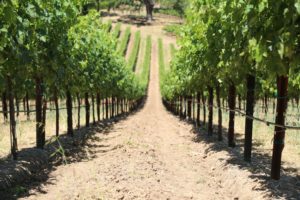 By the mid 1980s a shift in consciousness was beginning in the Napa Valley – and Bob and Vine Hill Ranch played an important role in this shift. This was a change from a commodity mindset to one of quality and site-specific farming. It was also tied into the changing dynamic of up until that time was a fairly uneducated consumer market and a shift in consumer trends towards higher quality wines. The synergy between growers and vintners today certainly did not exist back then.
And the natural world caused this shift to accelerate to a great extent; Bruce recalls the harvest of 1985 when they first noticed six vines showing symptoms of being sick; by the next year the results of Phylloxera had spread throughout their own vineyards as well as continuing to spread throughout the valley. There was a shift in ownership in the valley at this time, coinciding with the devastating setbacks of Phylloxera but also with economic factors.
With significant replants needing to happen on the ranch, the Phillips' invested heavily over two years in learning more about their property, both above ground and below. They worked with UC Davis, brought in noted vintner Tony Soter and dug numerous soil pits in various parts of the vineyard to better understand their soil architecture. They identified various unique vineyard sites (now 7 vineyard blocks) and further divided these into sub blocks. By 1991 they had completely redeveloped their vineyard map – changing the density of the plantings, rootstock, variety and clonal selections and modified their canopy management.
It is rather remarkable that a significant amount of Napa's vineyards (up to 2/3) were replanted between the 1985 and 1993 and the change from quantity production to one of a quality mindset happened so quickly.
Their vineyard is dry farmed and very carefully managed. They have a zero-virus tolerance – if a vine shows symptoms of a virus, it is removed and then eventually replanted with a young vine. The focus is on maintaining a healthy vineyard environment – with this careful attention to their health hopefully increasing the length of their production.
Over time they formed partnerships to provide grapes to some of Napa's premier producers including Araujo Estate, Cakebread Cellars (they produce a Vine Hill Ranch vineyard designate), BOND Estates, Lail Vineyards and Robert Mondavi Winery among others.
Bruce reflects on Napa Valley with a sense of pride of how far it has come just in his own lifetime. And also, it's prized proximity to UC Davis and other universities – schools that have built strong viticulture and oenology programs. Today the valley attracts people from around the world who want to focus on site-based wines, individuals who are constantly testing and embracing innovation and the availability of wine making and vineyard practices we did not have at our disposal simply 30 years ago.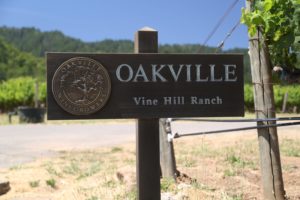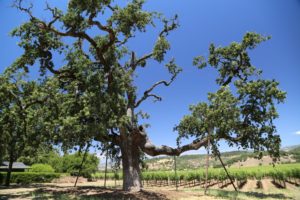 Bruce remembers walking the vineyard in 1998 with his father and Bob posed the following question, "how much of the quality and characteristics of wine is related to our particular site and how much to the talents of the winemaker". This wasn't a question Bruce could necessarily answer at the time – however with a number of producers sourcing grapes from their property they soon created an innovative tasting to help answer this question.
Wines soured from their vineyard (made by Napa producers) were placed on tables within the various blocks that they were sourced from. This very unique tasting made them realize the dramatic differences in terroir and its effect on the wines simply based on which part of their property the grapes were sourced from. A 'vineyard toolbox' as Bruce calls it.
Bob's focus had always been on growing grapes rather than producing wines from the property. However, Bruce was inspired by this tasting and eventually presented the idea of making their own wines to the family in 2000. Their first release was in 2008 – approximately 300 cases which has since grown to slightly over 800 cases with the 2014 vintage.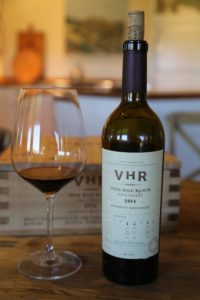 Looking for a winemaker who would respect the characteristics of their site while highlighting the nuances of each vintage and not put a winemaker's 'stylized stamp' on the wine, they eventually chose well respected winemaker Françoise Peschon, noted for her work at Araujo Estate (now Eisele Vineyard).
Arguably one of the most highly sought after parts of the ranch is Block 1. This elevated block is on bench land soils, elevated with vines growing on slopes up to 26 degrees. The original plantings here were on hand dug terraces. After a redevelopment in 1990 there are no longer terraces – rather the vines follow the slope directly down to the valley floor. Also noteworthy is BOND Estates first wine, Vecina was sourced from this particular block.
And there is a difference in character of the grapes from the lower sites to the upper sites. Grapes from the lower deeper soils often produce brighter fruit flavors with fine tannins whereas the higher slopes produce fruit that tends to be more earthy and even have a garrigue quality (chaparral). Each year grapes from seven blocks are harvested and vinified separately (using indigenous yeasts) with the final blend resulting from a barrel selection.
The focus of Vine Hill Ranch is on one wine each year, a Cabernet Sauvignon. The labels on each vintage are altered to reflect several important factors in the wine. All seven blocks are listed but the blocks used in that year's vintage have holes punched out on the label, the number of vines in each block are listed as is the harvest date and the yield in tons/acre.
History of grapes growing on the ranch dates back to the 1860s. Bruce has a number of important documents relating to the property including an 1885 document that was filled out in pencil by Morgan Whitton, prior owner of the property. One note catches the eye when reviewing this particular document – in pencil at the top of the paper, Mr. Whitton has simply written "12 acres, good vineyards".
Select Wines
The 2014 Vine Hill Ranch Cabernet Sauvignon is noticeably dark purple/red in the glass. One certainly notices the dark color but more so the aromas. These are generous and rich aromatics, a bowl of ripe blackberries, mocha, brown chocolate even a mineral note. As it breathes it shows more of a floral component – perhaps dried rose petals. The palate is voluptuous, layered yet supple in its feel. Flavors of ripe plum, black cherry and blackberry show. The slightly earthy and chewy tannins are soft spoken but loud enough to let you know they are there but smooth enough to not detract from its enjoyment in its youth. Bruce calls the 2014 a sleeper vintage after the well regarded 2012 vintage and certainly the showier 2013 vintage.
Despite a lengthy history in the valley and the valuable contributions to the industry that the Phillips have made from a farming perspective, their wines tend to be under the radar – and we suspect that is by design and also fits the personality of the family – preferring to stay more in the background – simply letting their remarkable terroir speak for itself.
The wines are selectively distributed Internationally including Japan, Taiwan, Denmark and Switzerland. Domestic outlets are mostly focused on restaurants. Locally they have good placement in a variety of restaurants including Auberge du Soleil, the French Laundry and Redd – and 750 Wines in St. Helena.
Rather than focusing entirely on the direct-to-consumer market they have directed their efforts on selectively building brand awareness and have done so through specific markets, namely restaurants and premium wine retail outlets. For more information, to order wine or to join their mailing list, visit: www.vinehillranch.com
Video, James Suckling

Baker & Hamilton
In 2022 the Phillips family released their inaugural Baker & Hamilton bottling of a limited production Cabernet Sauvignon (2019 vintage). The name is highly personal to the family and is deeply rooted in the history of California starting with the gold rush of 1849. The story begins on Mormon Island, an early California mining town that is now underneath Lake Folsom although during extreme drought years, parts of this old town may be exposed as the water drops. For reference its exact coordinates are: 38.7035°N 121.1174°W. This was the site of California's second major gold strike following James Marshall's discovery at Coloma.
In August of 1849 Colonel James Lloyd LaFayette Warren arrived in California from Boston at age 44 with an agreement to act as a business manager for Sweden Mining Company. However, when the employees of this company arrived in California, they soon left to try finding riches on their own accord. It is worth noting that Warren was already a very successful businessman in Boston and had been strongly interested in horticulture since his childhood. No longer having a position with Sweden Mining Company he started a letter transport service between San Francisco and some of the mining camps. In November 1849 he began an agricultural business on Mormon Island selling seeds, agricultural equipment and mining supplies and called it, Warren & Company.
It was also on Mormon Island that Livingston Low Baker and Robert Muirhead Hamilton (Bruce Phillip's great great grandfather) first met. Baker arrived in August that year from Boston after a long 5-month journey and Hamilton in December from Airdrie, Scotland (both via San Francisco). After starting out as employees, they soon became partners in Warren's fledgling but quickly growing business.
In 1850 Warren moved his operations to Sacramento and for the next two+ years Baker & Hamilton ran the day-to-day operations while Warren become more involved in various agricultural pursuits. The site of his store is now an empty lot in Old Town Sacramento; incidentally, it is on this site that Warren introduced the Camellia flower to California.
According to a paragraph in the September 11, 1852, edition of the Placer Herald, Warren & Co conceived and arranged what he called The Great Agricultural and Horticultural Fair held at his store with certain rooms he called the "Agricultural Hall" in Sacramento City. His fair was generally referred to as Colonel Warren's Fair and was the first ever Agricultural Fair ever held in California. Awards were given for the best items in the show. It is noteworthy that this event was held only three years after Warren began operations. Of historical interest, the Placer Herald was one of California's early newspapers with its first publication in 1852; California's first newspaper, The Californian was published in Monterey merely 6 years before in 1846. Warren would later go on to co-found California Farmer newspaper (which was published from 1854 until 2013) and was instrumental in forming the California State Agricultural Society.
In 1853 Warren began thinking about starting a newspaper dedicated to agriculture which required his moving to San Francisco; he couldn't start this newspaper and run Warren & Co simultaneously, so he offered Baker & Hamilton the opportunity to purchase his business (which if he sold would also help with funding to start his newspaper). Baker & Hamilton were only in their early 20s; in late 1853, they purchased complete ownership of Warren & Co, kept the same business operations but renamed the business to Baker & Hamilton. The first advertisements in newspapers from Baker & Hamilton began to appear in 1857, not only in Sacramento but in other northern California newspapers. The business grew quickly; by 1865 an article in the Chico Weekly Courant mentions, "This firm is one of the largest on the Pacific Coast, and the most extensive dealers in the articles they advertise". Their operations were located on J Street in Sacramento and an article dated September 18, 1880, from the Sacramento Record Union indicated their original storeroom in Sacramento was tiny – encompassing a space of 40 feet wide by 85 feet long. This same article references that by 1880 the operations had grown to nearly 50,000 square feet spanning several buildings along Front and Second Streets (between I & J Streets), with prominent wording on the front of one warehouse reading as: Baker & Hamilton Hardware & Agricultural Implements. This is the heart of Old Town Sacramento, now a popular tourist destination.
Robert Hamilton eventually married May Carolan (daughter of a Sacramento merchant) and they lived in a large home on the northeast corner of P and Third Streets (now across from the Crocker Art Museum grounds) and on site of what are now modest apartment buildings. In the early 1860s Baker & Hamilton applied to the City Council for a business permit to build street cars (a much-needed mode of transportation in those years due to the fast-growing city). Without ever producing street cars, they turned around and sold their streetcar business to serious investors who ultimately built Sacramento's early streetcar transportation system.
Returning to their gold mining roots, in the late 1860s they purchased Confidence Gold Mine in Tuolumne County near Twain Harte (California Sierra Nevada foothills) and continued to operate it successfully for the next 20 years.
Both founders died within a year of each other in 1892 and 1893 (Robert was only 63 at the time of his death). Two of their sons, Wakefield Baker and Alexander Hamilton took over the business in 1893 and incorporated their operations. In 1918 Baker & Hamilton merged with Pacific Hardware & Steel Company, an operation that also was rooted back to the early mining days. Collis P. Huntington and Mark Hopkins each started hardware businesses in Sacramento catering to miners and in 1850 joined efforts and formed Huntington-Hopkins. They operated the business for several years, sold it, and eventually it merged and took the name Pacific Hardware & Steel Company. Both Huntington and Hopkins were extremely successful and played prominent roles in building the country's first transcontinental railroad. Both men are part of a group of prominent individuals in California's history referred to as the Big Four: Huntington, Stanford, Hopkins, and Crocker.
Baker & Hamilton Mementos

Baker & Hamilton Heritage Sacramento

Baker & Hamilton Building San Francisco

After the merger in 1918 the company was known as Baker, Hamilton & Pacific Company. On August 17, 1942, the company changed its named back to Baker & Hamilton. Over the decades, they became one of California's largest supply stores with numerous items sold through their massive catalogs (one of which is in the Smithsonian's National Museum of America History collection) and select retail locations. We have seen several references in old newspaper articles to their products earning medals and awards for quality and craftmanship at several fairs and competitions including as early as 1858, taking a silver medal at the California State Fair for one of their circular harrows (a piece of equipment used for breaking up soil after it has been plowed) and in 1885, numerous medals at the Mechanics Institute Fair.
Over the years, Baker & Hamilton expanded their physical operations from Sacramento including opening their first branch office in San Francisco at 17 and 19 Front Street in late 1867 (which was later destroyed in the San Francisco earthquake of 1906) and at one point a second location at 109-111 Pine Street (also destroyed in the same earthquake) and their final location in San Francisco on 601 Townsend Street (currently home to Adobe Systems). The Townsend Street building was built in 1905 and survived the big earthquake and fire the following year. The 13 foot high Baker & Hamilton sign perched on top of the building was erected sometime between 1948 and 1956. The building became a historic landmark in 1989. These letters were removed in 2023 and replaced with new lettering later that same year.
Baker & Hamilton also maintained a location in Los Angeles, a business office in New York for some years and manufacturing centers in San Leandro (opened in 1868) & Benicia (Agricultural Works).
The Baker & Hamilton Catalogue was an impressive publication; its first edition was published in 1874 and at the time was the first catalogue to be printed by a Pacific Coast business. Eventually it grew to more than 3,200 pages.
After a 125+ year run, Baker & Hamilton finally ceased operations in the 1980s (we are still trying to determine the exact year of closing) after moving their operations from San Francisco to Los Angeles. Those interested in pursuing more about this company's fascinating history can do so by reading, A century of hardware and steel: the story of Baker & Hamilton, a business institution which has helped to write the history of California and the Pacific Coast by David Warren Ryder with the foreword written by Wakefield Baker.
The Wine
The 2019 Baker & Hamilton Cabernet Sauvignon (100% varietal) is dark ruby in color and almost opaque with purplish tinges on the rim in the glass. The bouquet offers aromas of dark plum, black currant, violets, forest floor, bramble, dried tobacco leaf and old cedar box. This wine's texture is supple across the palate with a gentle grip of ripe and rounded tannins anchoring the flavor filled finish. It lingers with flavors of dark cherry and blackberry with light notes of toasted oak and some darker spices. This bottling is extremely approachable and balanced in its youth. It was aged for 23 months in 100% French oak of which 85% was new.
This wine is both about simultaneously drinking from an exceptional vineyard site (Vine Hill Ranch) as well as acknowledging the important role that Baker & Hamilton played in California's history as a direct result of the 1849 Gold Rush and the ensuing influx of settlers to the state that quickly followed the early mining years.

From a historical perspective, this was the most significant new Napa Valley wine brand released in 2022.
The label was created from images of tools shown in early Baker & Hamilton catalogs. For more information, visit: www.bakerandhamilton.com